Hot News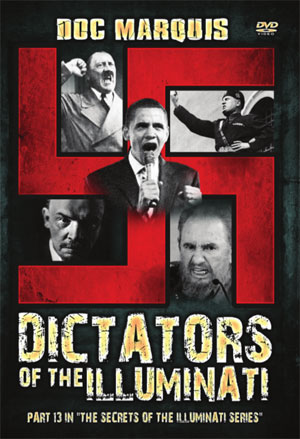 I. Will the beheading of a woman in Oklahoma City by a recent Islamic convert result in harsher dictatorial laws being imposed?
The timing of this attack could not have come at a more difficult time, as Western leaders have warned repeatedly in the past few weeks that Western radical Islamic fighters would carry out terror attacks at home after they returned from fighting in the Middle East.
The only problem is that the attacker had not returned from the Middle East!
NEWS BRIEF: "Oklahoma Beheading: FBI probing suspect's recent conversion to Islam", Fox News, 9/27/2014
"FBI officials are investigating a beheading at an Oklahoma food distribution center after co-workers said the suspect tried to convert them to Islam after his own recent conversion. The suspect, Alton Nolen, 30, was recently fired from Vaughan Foods in Moore prior to Thursday's attack. Moore Police Department Sgt. Jeremy Lewis told KFOR that Nolen drove to the front of the business and struck a vehicle before walking inside. He then attacked Colleen Hufford, 54, stabbing her several times before severing her head. He also stabbed another woman, 43-year-old Traci Johnson, at the plant."
Notice that this attacker was prevented from killing another woman by a man wielding a concealed gun! This should be one of the greatest lessons coming out of this tragedy: an off-duty policeman, the owner of the food distribution plant, ran to the crime scene, saw the carnage being carried out, and used his gun to subdue the criminal, and prevent any more lives being lost. One local policeman, Sgt. Jeremy Lewis, called Mark Vaughan a "hero" for pulling out his gun and preventing any more deaths at the hands of this crazed man.
Local Muslims are afraid of retaliation and are taking defensive steps.
"Saad Mohammad, a spokesman for the Islamic Society of Greater Oklahoma City, told NewsOK.com that leaders of the society's mosque are taking security precautions to protect Muslims who gather there from any potential retaliatory violence. Mohammad said any anti-Muslim sentiments local residents might have could be heightened due to the beheadings and violence overseas by Islamic State militants. 'They have this ISIS thing on their minds and now this guy has brought it to America', Mohammad told the website."
Now, let us return to this subject of a gun carried legally at the scene prevented this lunatic from beheading anyone else.
NEWS BRIEF: "Oklahoma Beheading Shows Need for Firearms: Gun Law Expert", Expert Click, 9/27/2014
"An Islamist's beheading of an Oklahoma woman Thursday and his being stopped by a man with a gun shows that Americans need personal firearms to defend life from Islamist terrorists," gun rights expert John M. Snyder said here today ... the company owner, Mark Vaughan, stopped the suspect by shooting and wounding him ... Moore Police Sgt. Jeremy Lewis said Vaughn, a reserve deputy sheriff, was "a hero in this situation." Vaughan was carrying his own concealed firearm and acting as a private citizen at the time. "
"Americans should be ready to face these fanatics. You cannot expect police authorities to be first responders in every case. People must assume responsibility for their own security and that of their families. Americans must be able to use personal force to repel personal aggressors. THAT MEANS GUNS!"
We could not agree more!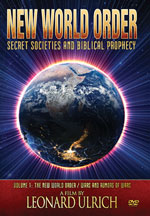 II. ISIS militant forces are said to be within one mile of Baghdad, despite Western airstrikes.
Will this development provide the President the excuse to actually put American soldiers on the ground?
NEWS BRIEF: "ISIS 'just one mile from Baghdad' ", The Independent (U.K.), Monday, 29 September 2014
"Isis fighters are reportedly just one mile away from Baghdad as reports emerge of al-Qaeda militants bolstering their ranks in Syria ... 'The Islamic State are now less than 2km away from entering Baghdad', a spokesperson said ... 'They said it could never happen and now it almost has. Obama says he overestimated what the Iraqi Army could do. Well you only need to be here a very short while to know they can do very very little'."
For weeks now, President Obama has reiterated over and over again that he would not throw American ground troops back into combat in Iraq. But, now, events and political pressure from Republicans may force him to do just that - put American "boots on the ground".
NEWS BRIEF: "Boehner: 'At Some Point, Somebody's Boots Have to Be on the Ground' ", The Wall Street Journal, 9/28/2014
"House Speaker John Boehner (R., Ohio) indicated Sunday that sending in American combat troops into Iraq or Syria could become necessary to eliminate the threat posed by Islamic State extremists ... Mr. Boehner suggested U.S. combat troops might be needed if the international coalition can't come together to defeat the militants."
" 'At some point, somebody's boots have to be on the ground', Mr. Boehner said in an interview with ABC News' 'This Week' that aired Sunday ... 'we have no choice', Mr. Boehner said of the possibility of sending in U.S. fighters. 'These are barbarians. They intend to kill us. And if we don't destroy them first, we're gonna pay the price'."
The Elite has always sought to force their planned changes with conflict they have created and which they control. Consider this news story:
NEWS BRIEF: "ISIS Trained by US Government", Guardian Liberty Voice News, June 30, 2014
"In a surprising development, it appears that the group known as ISIS (The Islamic State of Syria and Iraq) may have actually been trained by the United States government. According to a report published in Reuters, the Syrian rebel group was trained in Jordan over the last two years by US government officials and military experts ... The report continues to point out that 200 men were trained at the facility and that over 1200 will be added in a plan to prepare to free Syria from the rule of President Bashar Al-Assad. Besides the American trainers, it is reported that French and British advisors were present as well to aid in the training."
This development demonstrates one of two possible things:
1) Western leaders were so naive to believe that Sunni radical militants could be trusted to fight Syria's President Assad if they are just trained and equipped. This scenario then demonstrates the complete lack of understanding of the "facts on the ground" and of the true nature of Islam and of the true historical conflict between Sunni and Shi'ite on the part of Western politicians.
2) The Western Elite planned to raise up this army to force the final planned outcome of this conflict. What is that planned outcome? The Pentagon has planned for years now to use Bush's invasion of the Middle East as a weapon by which they could force the map of the region to be redrawn. We reported this fact in 2007 in NEWS2213, entitled, "President Bush's 'New Middle East Map' Is Enraging Friends and Foes Alike".
Study this map, because this entire conflict with an ISIS group we created will be used as the catalyst by which this new map is finally established.
The use of force -- or the threatened use of force -- to accomplish a desired outcome, is well-known in Illuminati circles. In 1823, a Masonic German teacher printed his theory, and the Illuminati seized on it immediately. World events since 1823 have been carried out according to this principle.
Masonic Maxim; "Conflict Brings About Change".
Corollary Maxim: "Controlled Conflict Brings About Controlled Change"!
This Maxim is called the "Dialectic Struggle" and has been responsible for all the wars of the 20th and 21st Century!
Doubt it not.
---
New DVD - Doc Marquis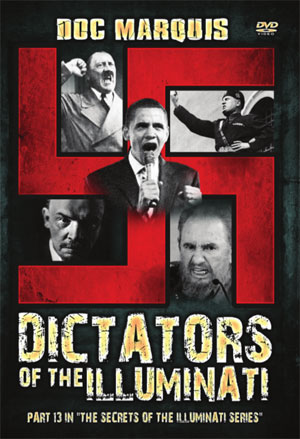 "Dictators of the Illuminati"
In order to understand the present, you must examine the past, and only then you comprehend the future.
Almost 6 years ago when Barak Obama entered the White House people have been saying, 'What is going on?', 'Obama is destroying everything,' 'None of this makes sense anymore.' Actually, it all makes perfect sense if you understand the plans and the inner dealings of the Illuminati.
Barak Obama is following a very well-honed plan of the Illuminati, one that had also been meticulously followed by Lenin, Stalin, Mao Tse Tung, Fidel Castro, Adolf Hitler and other such dictators. This plan is so devious and deceitful that even with all of her media savvy, famed journalist, Barbara Walters said: "We thought that he (Obama) was going to be...the next messiah."
National/International author, producer, lecturer and ex-Illuminati which, Doc Marquis takes us through the annals of history and reveals the origins of the Illuminati plan that past dictators had used to bring their nations under the subjugation of the Illuminati. Next, he will show how Obama is using the same Illuminati plan in the present time. And, then Doc will unveil how this same Illuminati plan will be used by the coming antichrist as found in the Book of Revelation.
Regularly $24.99, http://www.cuttingedge.org/detail.cfm?ID=2636
---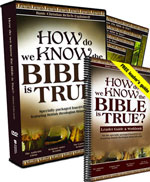 "How Do We Know the Bible is True?"
4-DVD SET - PLUS Leader Guide and Workbook
How Do We Know the Bible Is True? is an essential primer of basic Christianity and Apologetics that every believer should know. Can you defend the authority of the Bible? Government and media leaders have been eliminating the Bible and its teachings from society for years. Now there are Christian professors, pastors, and other church leaders who cast doubt on the reality of Adam, the age of the earth, and the inerrancy of the Bible.
A 4-part DVD collection, plus written leaders guide, it is excellent both for personal enrichment and small group studies.
Packaged in a sturdy library case, each DVD features the acclaimed British theologian and Bible teacher Brian Edwards (one of Ken Hams favorite apologists). http://www.cuttingedge.org/detail.cfm?ID=2648
---
Halloween - Satan's Hell-Night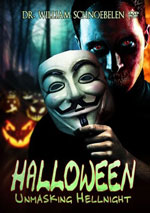 "Halloween: Unmasking Hell Night"
New DVD by Bill Schnoebelen
Do the gates of Hell really open up on Halloween night? Did you know that Satanists believe that, beginning October 1, the veil separating this Earthly dimension from the Abyss begins to thin. On Halloween, that veil disappears for 24 hours, allowing free access by the demonic realm into Earth.
Ritual murders are committed during the 24 hours of Halloween day / night. Former Satanist, Bill Schnoebelen, helps us comprehend the desperately wicked demonic celebration, Halloween.
In this teaching, Bill shares compelling historical and Biblical evidence about Halloween's origins and proves that this day is a Biblically 'unclean thing' in which no Christian -- or their child -- should participate (1 Cor 6:17).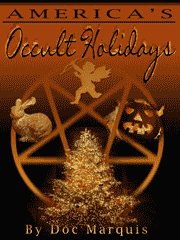 ""America's Occult Holidays"
DVD by Former Satanist, Doc Marquis
Former Satanist, Doc Marquis, delivers a knockout punch against the practice of all our major holidays, providing details only a former Witch would know.
Doc begins by demonstrating how the Illuminati effected the change in our calendar and how that change has affected a dramatic change in our everyday lives. The Illuminati copied heathen holidays from Satanism and then just gave them Christian names. You will be shocked to realize how very pagan our annual celebrations are! You will be shocked to realize how most of the symbols used in our holidays originated within Satanism.
Too many Christians are enthusiastically celebrating Luciferian holidays, thinking they are Christian. Once you understand how very pagan America and the rest of the Western world has become, you can see how God's judgment cannot be far behind.
Doc Marquis only uses the King James Bible
Download printable Occult calendar shown in this video
---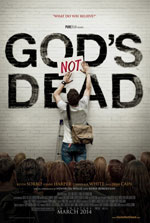 "God's NOT Dead DVD"
You Will Laugh, Cry, Shout Out Loud
Regularly $24.99, Now Only $19.99
Present-day college freshman and devout Christian, Josh Wheaton (Shane Harper), finds his faith challenged on his first day of Philosophy class by the dogmatic and argumentative Professor Radisson (Kevin Sorbo).
Radisson begins class by informing students that they will need to disavow, in writing, the existence of God on that first day, or face a failing grade. As other students in the class begin scribbling the words 'God Is Dead' on pieces of paper as instructed, Josh find himself at a crossroads, having to choose between his faith and his future.
Josh offers a nervous refusal, provoking an irate reaction from his smug professor. Radisson assigns him a daunting task: if Josh will not admit that 'God Is Dead', he must prove God's existence by presenting well-researched, intellectual arguments and evidence over the course of the semester, and engage Radisson in a head-to-head debate in front of the class. If Josh fails to convince his classmates of God's existence, he will fail the course and hinder his lofty academic goals.
With almost no one in his corner, Josh wonders if he can really fight for what he believes. Can he actually prove the existence of God? Wouldn't it just be easier just to write 'God Is Dead' and put the whole incident behind him?
GOD'S NOT DEAD weaves together multiple stories of faith, doubt and disbelief, culminating in a dramatic call to action. The film will educate, entertain, and inspire moviegoers to explore what they really believe about God, igniting important conversations and life-changing decisions.
Your soul will be filled with the Joy of Heaven by the message of this video. You will not only find fresh reasons for your faith in God, but you will want to buy this video for unsaved friends and loved ones.
120 minutes
---
New "Biblical Worldview" Teaching DVD Series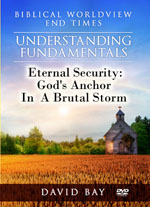 "Eternal Security"
"God's Anchor In A Brutal Storm"
New DVD by David Bay -
For centuries, a debate has raged amongst Christians, 'Can I lose my salvation', and 'Am I eternally saved the moment I received Jesus'? Proponents have argued endlessly about this subject, with many people believing that the question carries little to no real importance, and it is not worth dividing the brethren over it.
BUT -- the world stands at the End of the Age, and every Christian will discover that their belief on this subject may be the most important topic in the world. As Christians face the possibility of tortures at the hand of Antichristian forces, what kind of confidence do we have as we turn to face the enemy of our souls?
Did you know that Russian Communist prison guards believed they could force a person to lose their salvation? These guards delighted into so torturing the body, mind and soul of Christians that even devout Christians would commit a sin at the very end of their life that would plunge them into Hell. The future prison guards we will face will believe the very same doctrine and will specifically attempt to make you lose your salvation.
What does the Scripture say on this most important issue? What does Jesus say, and the Apostle Paul and others? The truth is that no believer can lose their salvation, and once you understand this doctrine thoroughly, you can face any torturer with absolute confidence. The message of this DVD arms you with that sure knowledge, thus becoming a true 'Anchor of Your Soul'!
See Other Three Titles Below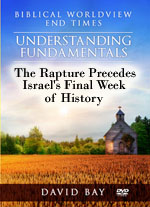 "The Rapture Precedes Daniel's 70th Week"
New DVD by David Bay
Is there a tie-in between the Rapture and the beginning of Daniel's 70th Week, which is known as the Great Tribulation?
Consider the Global rapture. Every Born Again believer will be instantaneously snatched from this dimension. Will be like a strong magnet passed over a bed of steel and aluminum fragments. What happens? The steel flies through the air to attach themselves to the bottom of the magnet while the aluminum pieces remain in the bed.
Jesus Himself will appear in the air over the Earth and utter a strong shout for His Church. At that instant, believers will be snatched from their earthly dimension and will fly through the air to meet Jesus, getting a glorified body along the way.
The 70th Week is the 7-Year Tribulation, whose major purpose is to further purify Israel to accept Jesus as their Messiah. The Christian Church is not in view here because Gods purpose is to finally deal with Israel.
Once God removes His Church, He can deal with Israel's last punishment and her preparation to receive Jesus as the Jewish Messiah.
Exciting times. Do not miss the Rapture of the Church! Watch Dynamic Trailer
One hour long http://www.cuttingedge.org/detail.cfm?ID=2637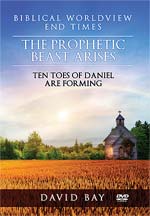 "The Prophetic Beast Arises: Ten Toes of Daniel Are Forming"
New DVD by David Bay, Director, Cutting Edge
One of the most exciting End Times' prophecies is that, at the End of the Age,all nations of the world are going to be reorganized into Ten (10) supernations, each one with a leader (Daniel 7:7-8).
Antichrist can arise only after this global reorganization has been completed. The Club of Rome created a global reorganization in 1972, and it printed the plan in a book entitled, 'Mankind At The Turning Point'.
After many years of moving forward on this plan very slowly, the pace has suddenly jumped forward! Antichrist may be closer to appearing than we had previously believed.
Yet, even though the majority of news every single day is moving the world rapidly toward this prophesied 10-Nation set-up, none of the Mass Media and very few of the Christian media are even aware that this exciting prophetic advance is being made.
We examine each of the 10 Supernations being created, and demonstrate how the news of the day is propelling the fulfillment of this great prophecy. You will be amazed and thrilled to learn how events that you had written off as being of no lasting value are really working hard to re-create the world into the 10 Toes (Supernations) of the prophet Daniel!
One hour long - http://www.cuttingedge.org/detail.cfm?ID=2633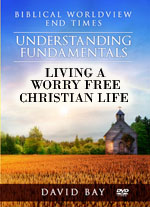 "Living A Worry-Free Christian Life"
by Cutting Edge Director David Bay
How is a Christian to live during these evil End Times? Most Christians are in some degree of depression because our values are constantly under cultural and moral attack, and because times are hard economically, with wars raging on all continents save one, with hatred and anger raging on the Daily News. How does one live a 'Worry Free Life'?
We must live our lives in strict adherence to Biblical teachings. For Example: 1) How can we begin practicing this kind of joyful day-by-day living? We start to 'cast and release'. Psalm 55:22 "Cast thy burden upon the LORD, and he shall sustain thee: he shall never suffer the righteous to be moved."
'Cast and release' * Examples in daily living
* Notice from the IRS
* Mechanical difficulty with the car
* Distressing call from a loved one
* Distressing news from your job
* Unexpected bill & you don't have the money
The Psalmist understood this 'cast and release' principle as a means to lift his spirits during hard times. "Why art thou cast down, O my soul? and why art thou disquieted within me? hope thou in God: for I shall yet praise him, who is the health of my countenance, and my God." (Ps 43:11)
Peter understood this principle of releasing the weight of our troubles. 1 Peter 5:7, "Casting the whole of your care, all your anxieties, all your worries, all your concerns, once and for all on Him, for He cares for you affectionately, and cares about you watchfully."
This "worry-free life" brings us that most important state in which we can rest:
Heart Peace
Run Time is 1 hour Order now
---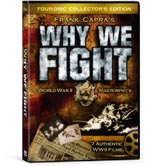 "Why We Fight"
4-DVD Collectors Edition Set - by Frank Capra
Regularly $39.99, Only $9.99, Saving You $30.00!
'Why We Fight' is an incredible overview of the events leading up to America's involvement of WWII. Master Filmmaker, Frank Capra, was commissioned by the US Army to produce this documentary series to show the soldiers what they were fighting for, and what evils they were fighting against. This video adds a new dimension to the study of history, a dimension that books and photos cannot match.
Capra provides you a greater understanding of the issues, the battles, heroes, and villains of WWII, as told from America's perspective. The films in this series are as compelling as any war movie, but the battle-weary soldiers are not actors, they are real soldiers fighting a real war, with death menacing at every angle.
Far from perfect, 'Why We Fight' stumbles over ideas like religious pluralism and President Roosevelt's New Deal. Viewers will have to sharpen their worldviews by keeping their minds engaged. The hope is that this video set will enable viewers to learn from the past so they can copy the triumphs of past generations and learn from the past.

Far from perfect, 'Why We Fight' stumbles over ideas like religious pluralism and President Roosevelt's New Deal. Viewers will have to sharpen their worldviews by keeping their minds engaged. The hope is that this video set will enable viewers to learn from the past so they can copy the triumphs of past generations and learn from the past. http://www.cuttingedge.org/detail.cfm?ID=2644
---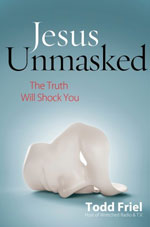 "Jesus Unmasked"
"What Jesus Taught About Himself"
"The Truth Will Shock You"
How much does God hate sin and how much does He love you? If you ever doubt how kind, good and loving God is look at the Cross. Jesus' brutal death on the Cross is God's greatest and clearest demonstration of His holy wrath and perfect love.
Jesus Unmasked will blast a bright light into a dark and dying world. Give the book to the atheist in your life. -- RAY COMFORT
Todd Friel has written the book you always wanted to give to your friends. Jesus Unmasked is clear, direct, and simple all without ever being shallow. Get several copies so you can share them with friends who need Jesus. -- TEDD TRIPP
No matter where you are in the Christian walk, you'll find "Jesus Unmasked" a profitable and spiritually uplifting study. -- PHIL JOHNSON
224 pages - Download a free preview - Watch the prom
---
Have the interventionist overthrow actions -- in Iraq, Afghanistan, in Northern Africa, the Middle East and Central and Southern Africa -- by Bush/Blair/Obama failed or have they succeeded beyond anyone's wildest imagination?
---
May Jesus Richly Bless You,
David Bay, Director
Cutting Edge Ministries
800-451-8211