Stand by for insights so startling you will never look at the news the same way again.
YOU ARE NOW ON
THE CUTTING EDGE
Copyright © 2005 Cutting Edge Ministries. All rights reserved. See full copyright notice below.
PRESIDENT BUSH -- MORE UNHOLINESS
UNHOLY TRINITY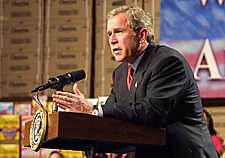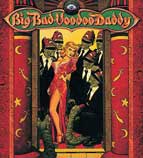 Now that President Bush has been reelected, he evidently feels no need to keep up appearances to his Fundamental Christian supporters. On April 30, 2005, First Lady Laura Bush delivered a stand-up comedy routine at the annual White House Correspondents Ball. With full prior knowledge of the President -- and with him laughing uproariously -- Laura cracked jokes about her husband committing bestiality with a male horse, said she was as sexually unsatisfied as one of the "Desperate Housewives", and revealed that she and Lynne Cheney were regularly frequenting male stripper bars like Chippendales! (NEWS2033 and NEWS2036 for full details)
Now, another example of extremely evil spiritual fruit has now surfaced. On June 14, 2005, the Republican National Party is sponsoring its annual fundraising gala at the Washington Convention Center. This is one of those $2,500-per-plate affairs designed to raise millions of dollars from the wealthy for campaign funds. This year, the Republican Party hopes to raise $23 million from this single event.
Even though this fundraising dinner is officially sponsored by the Republican National Committee, a current WorldNetDaily article correctly identified this affair as a "presidential dinner". Remember the cardinal rule of politics: the senior elected politician is never, ever surprised or embarrassed. This rule is especially tightly enforced regarding the President of the United States.
Two elements of this fundraising gala are troublesome if one believes that President Bush is genuinely a Born Again Christian.
1). Mary Carey, a porn star from California, will attend this presidential dinner with her Director. Mary will not only attend, but will perform before the dinner gets started in order to "display" her dinner outfit. Given that Carey is an active hardcore porn star, one can wonder whether Ms Carey's "fashion" performance will display her amply buxom body more than her outfit.
2) A most unchristian music group, "Big Bad Voodoo Daddy" will supply the music. We shall review some of their more popular songs and the symbolism of their posters so you can reach a reasonable conclusion as to what they are all about.
MARY CAREY - PORN STAR
NEWS BRIEF: "Bush fete with porn star to raise $23 mil for GOP: McClellan refuses to comment on propriety of tonight's event", WorldNetDaily, June 14, 2005
"WASHINGTON – Pornographer Mark Kulkis says tonight's presidential fund-raiser, which includes him and his date, XXX porn star Mary Carey, will make pop-culture history ... The House GOP dinner donors include adult film executive Kulkis, who plans to take porn actress and former California gubernatorial candidate Carey, who says she will stage a fashion show and news conference to display her dinner outfit before the gala. Meanwhile, White House spokesman Scott McClellan yesterday refused to answer questions about the attendance of the porn star and her boss at the presidential dinner."
Can you imagine President Bush allowing a porn director and one of his main female stars to attend this fundraising event? For that matter, Kulkis insisted that he had been "personally invited" to attend. Can their $5,000+ in donations be possibly worth the aggravation which this sad event is going to cause amongst the President's Conservative and/or Christian supporters? Or, are these loyal Bush supporters being sent the same message as Laura Bush sent when she cracked her unbelievably filthy jokes? What can that message mean? That President Bush is now going to act himself, since he no longer needs to win another election?
Mark Kulkis told the press how excited he was to meet with President Bush and what message he wanted to give him.
"Kulkis, who says he was personally invited to the dinner, has been using the opportunity to promote his company, 'Kick A-- Pictures', and the pornography industry ..." (Ibid.)
When someone in the Republican National Party "personally invited" Mark Kulkis and Mary Carey to this event, they just conferred a mantle of legitimacy upon the entire pornography industry! Now, kids by the tens of millions will come to the conclusion that, if President Bush and the Republican Party feel that pornography is so legitimate that their top participants can meet with the President, sex outside marriage and pornography must be all right activities for them, too. Polls since President Clinton have revealed that many millions of teens worldwide listened when he told them that Oral Sex is not really sex, giving rise to today's current explosion of teens having oral sex and providing just this kind of excuse! Now, how many teens are going to believe that pornography must be all right, as well as the value of sex outside of marriage which is so central to the pornography industry -- thanks to the example of President Bush and the Republican Party?
When I typed in "Mary Carey" and "porn" into Google, Advanced Search, I was immediately taken into listings of deep pornography. Many people will believe that we took the picture, above, with Carey wrapped in the American flag from the WorldNetDaily article, which did run the photo; however, we took it from Political Humor, which showed the full picture. Immediately below Carey's elbow is the rest of the picture -- her completely nude buttocks and legs. The Mary Carey portions of the pornography website listed by Google advertised Carey performing sex on video in the most varied of ways, all deep dark sin.
This is the porn star the President is legitimizing by meeting with her and her porn director during this fundraising meeting. You must ponder this fact very carefully. By allowing these two pornographers to meet with the President as part of the general audience, and by accepting their money as campaign donations, President Bush is conferring a mantle of official acceptance upon the entire pornography industry! Many Christians who have fought pornography tooth-and-nail will rightly feel betrayed by a President whom they had accepted as genuinely Born Again.
This is the end of this news story, about Mary Carey and her pornography boss being "personally invited" to this fundraising gala. However, I did find another recent story about Mary Carey which gives even more insight into the character of President Bush; he is meeting with a porn star whom police recently arrested for publicly touching herself in an illegally suggestive manner -- in front of paying male customers!
NEWS BRIEF: "Porn Star Mary Carey Who Ran for CA Guv Arrested", StrangeCosmos.com, April 19, 2005
"LAKEWOOD, Wash. - Mary Carey, a pornographic film star who ran for California governor in a recall election in 2003, has been arrested in a raid on a new strip club in this Tacoma suburb ... Carey ... was among five people who were arrested early Saturday at Club Paradise, and 11 others were given citations, police Lt. Bret A. Farrar said ... All 16 were accused of violating the local adult cabaret ordinance, some by getting too close to customers and others - including Carey_ by touching themselves in a sexual manner."
Mary Carey was charged with sexually touching herself in a suggestive manner in front of paying male customers! THIS is the person with whom President Bush is going to rub elbows with, and accept monies from, during this presidential dinner. This is the person who is said to be performing before the dinner, "displaying her dinner outfit"! Once again, we are left with the reality that this affair reveals just as much of the condition of President Bush's heart as his wife's lewd jokes, at which he laughed heartily.
The President was asked two weeks ago -- according to this WorldNetDaily article -- about this event. WorldNetDaily revealed that Presidential spokesman, Scott McClellan, refused to speculate on whether the guest list was appropriate. Therefore, President Bush and his people have had ample warning that Mary Carey and her porn boss, Mark Kulkis, had been invited and that Carey was going to perform. As of the time this article went to press, we have not heard that the White House forced a cancellation. If they did not, this episode will go into the history books as yet another example of President Bush's evil spiritual fruit.
NOTE: As we were about to post this story, a recent New York Daily News article broke, stating that Mary Carey and her boss had been given the tickets to the dinner and that Secret Service agents had asked to have their photos taken with Ms Cary. ("Porn queen gets date with Dubya", NY Daily News, June 14, 2005)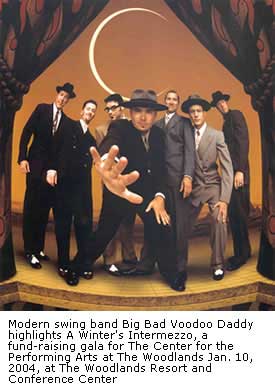 BIG BAD VOODOO DADDY
NEWS BRIEF: "GOP Hopes to Raise $23M at Bush Gala", Fox News, June 13, 2005
"WASHINGTON — Congressional Republicans expect to add at least $23 million to their party campaign funds Tuesday night at an annual fundraiser featuring President Bush ... At least 5,000 people were expected to attend the $2,500-per-ticket dinner at the Washington Convention Center. Some donors were giving more than the ticket price. The swing band Big Bad Voodoo Daddy was scheduled to perform, and the suggested attire was suits for the men and cocktail dresses for the women .... The House GOP's dinner donors include adult film executive Mark Kulkis, who planned to take porn actress and former California gubernatorial candidate Mary Carey. Carey planned to hold a fashion show and news conference to display her dinner outfit before the gala."
Perhaps the best way to determine who the "Big Bad Voodoo Daddy Band" is would be by examining selected lyrics from some of their popular songs. After all, we gained a significantly important insight into the heart of both Ozzy Osbourne and the President Bush who honored him twice in one month when we looked at the lyrics of the songs Bush said were his favorites (Read NEWS1758, "OZZY'S WHITE HOUSE -- "Bush's Headbanger's Ball")
We shall list the title of the song, and the pertinent lyrics; you may click on the title to view the complete lyrics.
* "13 Women" -- "Last night I was dreamin, Dreamed about the H-Bomb, Well the bomb went off and I looked around, And I was the only man left on the ground; 13 women and only one man in town ... The only living man in town was me ... I had 3 gals doin the mambo .. 3 gals ballin' the jack, And all-a those gals really did their best, They were all alive and stacked"
* "Big time operator" -- "... like to sneak a drink, and roll my smokes ... I'm a sinner VIP ... I like mixed drinks ... You know I pick your pockets clean"
* "Minnie the moocher" -- "Folks, now here's the story 'bout Minnie the Moocher, She was a red-hot hootchie-cootcher .... Now, she messed around with a bloke named Smoky, She loved him though he was cokie..."
* "Jump with my baby" -- "Now, I'm the King of the Swinger's Ball. Jumbo V.I.P. ... Now, don't you mess with me, Maker, I made a deal with you. What I desire is man's red fire ... So I can be just like you. Now, don't you mess with me, Maker, And screw me out of you."
* "Jumpin' jack" -- "Jump with my baby ... I wanna jump all night, it's gonna be all right with her."
* "Go daddy o" -- "Hey Scotty...Yeah...What's it gonna be? A gin & tonic sounds mighty mighty good to me ... Man I know I gotta go it's the same thing every time, but I don't think another drinks' gonna make me lose my mind. So I think about my next drink, and it's you & me and the bottle makes 3 tonight ... I've been fine with my whiskey, wine and gin."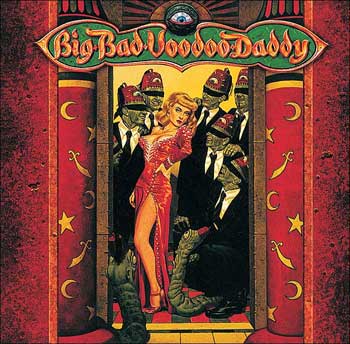 ANALYZING SYMBOLS OF BIG BAD VOODOO DADDY
Now that you can see the unchristian lyrics sung by this group, let us take a look at one of their symbols. Remember that symbols are very important to both the artist and to the occultist. So many Christian people place no importance in "mere symbols", thinking they are totally void of meaning. Such is most definitely not the case. Since the occultist believes that symbols take on inherent occult energy once they are created, they very carefully design the symbol to communicate exactly what the artist and/or the group who commissioned the symbol wants to communicate.
The first point which jumps out at you is that this image is of an infamous Masonic Shriner private party, where the booze flows and paid scarlet women pay a great deal of attention to the Shriners. In this picture, you see just such a scarlet woman, dressed and posed provocatively. Around her are Shriners with blindfolds on, seemingly trying to figure out what she is like simply by her fragrance.
The second feature which pops out is the All-Seeing Eye at the top of the door. This Satanic symbol literally brands the Shriners for whom they really are. We have posted some very revealing articles on the occult All-Seeing Eye (NEWS1731) and heartily suggest that you study this symbol, for then you will truly be more prepared to understand the significance of the Eye atop this poster image.
Once you realize that the name of the group -- Big Bad Voodoo Daddy -- is emblazoned directly beneath the Eye, and is drawn in such a manner as to suggest the Eye is part of the group logo, you have to ask yourself whether one of the messages intended is that this swing band is guided by principles of the occult. If this is true, you can understand why Skull & Bones President Bush is comfortable with this swing band. After all, Skull & Bones is very comfortable with the symbolism of the All-Seeing Eye.
Now, look at the green monsters which look like snakes leering upwards toward the lewd woman, peering intently with their All-Seeing Eye! Green snakes are also very prevalent within the occult Illuminati, a symbol of Wisdom, a symbol of Lucifer.
Finally, the standard chess-board squares so typical of Freemasonry are depicted at the front of the door. This scene is definitely within a Masonic Lodge, at a Shriner's party, where the men are lewdly looking at a scarlet woman. You can fill in the rest of the blanks in understanding.
This is one of the album covers of "Big Bad Voodoo Daddy" swing band performing at the "presidential dinner" of the Republican National Party fundraising event. Both this band and the invited pornographer director with his XXX-rated porn star, do demonstrate the true character and heart of this Bush Administration. Accordingly, we have added this terrible event to our table of President Bush's Evil vs Good Spiritual Fruits.
Do you have the courage to believe this truth of this man? Truly, Jesus was correct when He prophesied unparalleled political deception at the End of the Age in Matthew 24:24. President Bush is leading this nation down the road to the New World Order and the Final Birth Pangs which will produce Antichrist. Are you spiritually ready? Is your family? Are you adequately protecting your loved ones? This is the reason for this ministry, to enable you to first understand the peril facing you, and then help you develop strategies to warn and protect your loved ones. Once you have been thoroughly trained, you can also use your knowledge as a means to open the door of discussion with an unsaved person. I have been able to use it many times, and have seen people come to Jesus Christ as a result. These perilous times are also a time when we can reach many souls for Jesus Christ, making an eternal difference.
If you have accepted Jesus Christ as your personal Savior, but have been very lukewarm in your spiritual walk with Him, you need to immediately ask Him for forgiveness and for renewal. He will instantly forgive you, and fill your heart with the joy of the Holy Spirit. Then, you need to begin a daily walk of prayer and personal Bible Study.
If you have never accepted Jesus Christ as Savior, but have come to realize His reality and the approaching End of the Age, and want to accept His FREE Gift of Eternal Life, you can also do so now, in the privacy of your home. Once you accept Him as Savior, you are spiritually Born Again, and are as assured of Heaven as if you were already there. Then, you can rest assured that the Kingdom of Antichrist will not touch you spiritually.
We hope you have been blessed by this ministry, which seeks to educate and warn people, so that they can see the coming New World Order -- Kingdom of Antichrist -- in their daily news.
Finally, we would love to hear from you.
God bless you.
Copying and distributing this article in violation of the above notice is also a violation of God's moral law.