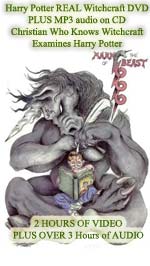 Harry Potter Combination Offer
1) DVD- Harry Potter REAL Witchcraft
AND
2) MP3 CD Christian Who Knows Witchcraft Examines Harry Potter
Regularly $39.98
Now Only $29.98
You Save $10.00
This combination offer gives you the answers you need to give to your friends, loved ones, and co-workers who think that Harry Potter is Christian, or is at least okay for children to read.
"Harry Potter: REAL Witchcraft" DVD - This is a full 2 hours of teaching about the Harry Potter phenomenon and what parents should do about it. This has lots of new material, including information on the Potter films. It is also presented in a dynamic, town hall forum-type format. Cutting Edge has seen this video and can attest to the volume and depth of information included. Bill Schnoebelen begins the video with some of his Satanic background so that all watching can see that he speaks from a position of experience in Witchcraft and Satanism. It is filled with well researched information that will help you in dealing with friends or church members who feel they can read and watch Harry Potter and still have a good relationship with God.
"Christian Who Knows Witchcraft Examines Harry Potter" on MP3 critically examines the Potter phenomenon from a combination knowledge of Black Magick Witchcraft and Bible teaching on Witchcraft. This Harry Potter 6 Session audio Set answers all your questions revelations you will get nowhere else because no one else knows Black Magick Witchcraft. Session 1. General Review; 2. Book Reviews One/Two; 3. Book Reviews Three/Four; 4. Vivid Colors Used in Satanic Magick; 5. Movie Review -Sorcerer's Stone; 6. Movie Review of "The Lord of the Rings" [Individual tape #CER1176].
Just as Harry Potter is preparing children up to age 12 for Antichrist, so "The Lord of the Rings" is preparing people 12 years of age through Adulthood, for Antichrist. Thus, we have a logical tie-in between Harry Potter and "The Lord of the Rings", a total of 3 1/2 hours of instruction.
This combination offer provides 5 1/2 hours of instruction for only $29.98! A great value!