JEWS AND PROTESTANTS WIN VAST MAJORITY OF NOBEL PEACE PRIZES!! TRULY, GOD'S TRUTH IS NEVER LEFT WITHOUT A WITNESS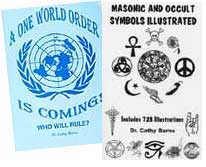 ---
The vast majority of winners of the Nobel Peace Prize have been Jews and Protestants. How can this be so? Why is this so? The truth of the matter may shock you!
The New World Order is coming! Are you ready? Once you understand what this New World Order really is, and how it is being gradually implemented, you will be able to see it progressing in your daily news!!
Learn how to protect yourself, your loved ones!
Stand by for insights so startling
you will never look at the news the same way again.
YOU ARE NOW ON
THE CUTTING EDGE
NEWS BRIEF: "Is It True, Jews Win More Nobel Prizes Than Anyone Else?", The Jewish Press, Friday, May 9, 1997, Page 72.
"Is it true that Jews win more Nobel Prizes than any other ethnic group? The answer is 'yes'. According to Gail Lichtman, writing in the Jerusalem Post, 'It's no bubbe meise. Jews do win more Nobel Prizes in science proportionately than any other religious or ethnic group.'"
Ms. Lichtman interviewed John Hulley, a former senior economist with the World Bank in Washington, D.C., who has been living in Jerusalem for the past 14 years. Hulley is author of the book, Comets, Jews, and Christians, published in 1996. According to Hulley, 86% of Nobel Science prizes from 1901 through 1990 have been won by Jews and Protestants, with Jews taking 22% of the prizes. Jews are also 40 times more likely to win the Science Prize than projected, based on a per capita basis."
Wow!! This is a heavy hitting statement. Jews, who represent less than 1% of the population of the world, have historically captured 22% of the prizes. And, this percentage translates into winning 40 times more than one should expect them to win, based upon their small population numbers. Is there a reason for this? Could there be a Biblical reason for this phenomenon? At this point, anti-Semites would claim that these results are the result of a conspiracy favoring Jews. While we are aware that the Nobel Peace Prize process has been under the control of the New World Order leadership for over 50 years now, we are not ready to ascribe these results to this simple theory.
We believe that God's Word has ample answer for this phenomenon. Consider these verses:
1) Proverbs 14:34, "Righteousness exalteth a nation: but sin is a reproach to any people." Here, God is telling all who will listen that a nation whose people follows after His righteousness through obedience to His Word will be exalted; conversely, any nation whose people deliberately live in disobedience to God's Word shall be brought low, or kept in a low state.
2) 2 Chronicles 7:14, "If my people, which are called by my name, shall humble themselves, and pray, and seek my face, and turn from their wicked ways; then will I hear from heaven, and will forgive their sin, and will heal their land"
Again, we see that God will bless a nation whose people are called by His Name, and live lives obedient to His Word. We know that God's First Covenant with Abraham chose the Jewish people as His Chosen Nation and Race. In Genesis 17:1-2, we see this First Covenant between God and Abraham, out of which came the Jew and his nation, Israel. "And when Abram was ninety years old and nine, the LORD appeared to Abram, and said unto him, I am the Almighty God; walk before me, and be thou perfect. And I will make my covenant between me and thee, and will multiply thee exceedingly." Notice God's warning here, as He told Abraham to "walk perfect" before Him. This physical Covenant was conditional upon Israel living in obedience to God's commands. In Deuteronomy 28, we see that Moses clearly warns the Jew of the conditional nature of this Covenant, and foretelling the Great Dispersion amongst the nations of the world if they did not obey. Then, in Hosea, we see that God gives Israel a Divorce Decree, thus clearing the way for the Second Covenant.
Then, we see the Second Covenant, through Jesus Christ, extended to all Gentiles, "Even the mystery which hath been hid from ages and from generations, but now is made manifest to his saints: To whom God would make known what is the riches of the glory of this mystery among the Gentiles; which is Christ in you, the hope of glory:" [Colossians 1:27-28]
As soon as Jesus Christ died and resurrected, He established the Second Covenant, which included Gentiles and Jews. As the writer to the Hebrews so clearly explains, when God established the Second Covenant, He abolished the First Covenant. However, in Romans 11, we see Paul foretelling the time when Israel would once again be God's Bride.
Are you aware that, throughout history, only two nations have been created at their national foundations according to God's Word?
1) Consider Israel -- God conceived the nation Israel in a miraculous manner which was reminiscent of the birth of Jesus Christ. In both instances, God intervened in the normal physical birth process. In the conception of Jesus, God supernaturally impregnated the egg in Mary's womb. In the conception of the nation Israel, God supernaturally reversed the condition of the aged womb of Sarah, Abraham's wife, so that she could conceive Isaac, thus creating the nation Israel. When God established Israel, tiny in number compared with her neighbors, He received the glory and the honor, especially when tiny Israel repeatedly dominated her more populous neighbors, both economically and militarily.
God's requirements for His chosen nation: "to fear the Lord thy God, and to walk in all His ways, and to love Him, and to serve the Lord thy God with all thy heart, and with all thy soul."
2) Now consider the United States of America -- When our Founding Fathers were creating this nation, they chose Christianity as the basis for the Foundational Building Blocks of our Government, i..e, our Constitution and Bill of Rights. Do you realize that no other nation in world history established their nation according to Christian principles from the very beginning?
Thus, God chose the nation established according to the Second Covenant through Jesus Christ [United States of America] to be THE main instrument by which He brought Israel [established according to God's First Covenant] back to her land!!
But, the fact remains that the United States and Israel were the only nations in world history to be established, at their very foundations, according to God's Covenant.
Now, back to our feature article of this day: Jews and Protestants win more Nobel Peace Prizes than anyone else. To what does the Jewish author of this article ascribe this phenomenon to?
"It is Hulley's thesis that the winners come from Bible-based cultures. 'I am talking about societies which read the Bible and follow commandments. There are two obvious cases -- Jews and Protestants. One of the most important prophesies in the Bible is in Deuteronomy 28 where G-d says that those who follow the commandments are going to lead progress.' "
[Author's note: this promise to Israel is found in Deuteronomy 28: 1-14. God foretells great national blessings upon Israel, covering every possible aspect of her existence, if she will only obey God. We reprint this promise for you, below. Emphases are ours.]
"And it shall come to pass, if thou shalt hearken diligently unto the voice of the LORD thy God, to observe and to do all his commandments which I command thee this day, that the LORD thy God will set thee on high above all nations of the earth: And all these blessings shall come on thee, and overtake thee, if thou shalt hearken unto the voice of the LORD thy God.
3 Blessed shalt thou be in the city, and blessed shalt thou be in the field.
4 Blessed shall be the fruit of thy body, and the fruit of thy ground, and the fruit of thy cattle, the increase of thy kine [cattle], and the flocks of thy sheep.
5 Blessed shall be thy basket and thy store.
6 Blessed shalt thou be when thou comest in, and blessed shalt thou be when thou goest out.
7 The LORD shall cause thine enemies that rise up against thee to be smitten before thy face: they shall come out against thee one way, and flee before thee seven ways. [Note: God promises that Israel will never suffer military defeat, even though her enemies outnumber her greatly. All Israel has to do is to obey God's commandments. Israel today is being protected by God militarily, against her Arab enemies, in precisely this way!!]
8 The LORD shall command the blessing upon thee in thy storehouses, and in all that thou settest thine hand unto; and he shall bless thee in the land which the LORD thy God giveth thee.
9 The LORD shall establish thee an holy people unto himself, as he hath sworn unto thee, if thou shalt keep the commandments of the LORD thy God, and walk in his ways.
10 And all people of the earth shall see that thou art called by the name of the LORD; and they shall be afraid of thee.
11 And the LORD shall make thee plenteous in goods, in the fruit of thy body, and in the fruit of thy cattle, and in the fruit of thy ground, in the land which the LORD sware unto thy fathers to give thee.
12 The LORD shall open unto thee his good treasure, the heaven to give the rain unto thy land in his season, and to bless all the work of thine hand: and thou shalt lend unto many nations, and thou shalt not borrow. [Economic blessings. Israel will be the dominant nation on Earth, economically]
13 And the LORD shall make thee the head, and not the tail; and thou shalt be above only, and thou shalt not be beneath; if that thou hearken unto the commandments of the LORD thy God, which I command thee this day, to observe and to do them:
14 And thou shalt not go aside from any of the words which I command thee this day, to the right hand, or to the left, to go after other gods to serve them."
As you can see, God promised blessings in every single aspect of Israel's life if she would only lives their lives in obedience to His commands. And, God's commands were meant to protect Israel, not to keep her from having fun.
America, also, experienced God's blessings in every area of her national life, because we were established as a Jesus Christ, God-fearing nation from our very beginning. This is why we have prospered so much in our 200+ years of existence; and this is why our nation is doomed once it completely moves away from God, and comes to the point, nationally, when she actually repudiates God. We believe America has crossed this line with God.
Now, let us return to our article.
"According to Hulley, Protestants have taken two thirds (66%) of the Nobel Science prizes. The Catholics are behind the Jews, with 11% of the prizes. It is interesting to point out that the Catholics who win are from countries which have a lot of Protestant influence. Catholic countries in which there is a minimum of Protestant influence, have won few or no prizes."
"Ms. Lichman asked, 'Why does the Bible make the difference?' "
"Mr. Hulley replied, 'Scientists and inventors need a favorite [possibly mistake, meaning favorable] social environment, one which is fair. Human relations and standards of behavior make a very big difference -- they must be based on justice. In non-Bible societies', Hulley declared, you can't expect justice. They are organized on power relations. Only in Bible-based societies is there the concept of fairness.' "
This is a heavy hitting idea: a society based upon the Bible is going to stand head and shoulders above non-Bible based societies in encouraging human development in areas like Science. When people feel threatened by their society, they are not nearly as likely to be able to fearlessly engage in scientific research.
Truly, God is proven correct again, when He states that Righteousness is a blessing to any people.
Now, Hulley continues: "However, there are big differences between Protestantism and Judaism. Both are based on the Bible but only one is based on our Oral tradition. The result is that Protestants have turned out to be very good at building national cultures favorable to scientists, and Jews have turned out to be the leaders on an individual level. But there is a common element of fair play. Bible-based societies respect the rights of individuals within the framework of law."
Mr. Hulley does not fully develop a couple of statements, above, so we will so you can more completely understand his position. First, his statement about one of the two religious groups being based also on Oral tradition, refers to Judaism. Judaism relies both on the Bible and the Traditions of the Fathers, while Protestantism relies solely on the Bible, literally interpreted. This is a huge difference, because Jesus constantly repudiated the Jews for their Oral Tradition, which in many cases, contradicted God's Holy Word!! Second, his statement that Protestantism develops national cultures favorable to scientists is primarily true of the United States. Because of our national government based upon Biblical principles, America has experienced NO periods of Inquisition, where people are persecuted and murdered for their religious beliefs. The Jews in America have experienced not one Pogrom; rather, Jews have been protected by our Bill of Rights and our Constitution. Europe has developed this kind of system only since the late 1890's, once she was able to throw off the weighty political burden of Roman Catholicism.
This article concludes: "Ms. Lichman asked, 'But the bulk of scientists who have won the Nobel Prize, especially Jewish scientists, have not been religious. How do you explain this?' "
"Hulley answered, 'What we are talking about is the social environment. It is the religious people who create the environment and the secular who benefit from it. Fairness is in the backbone of both Jewish and Protestant cultures.' "
More true words have seldom been spoken!! All of a nation's laws stem from its religious beliefs. When a society bases its laws on a literal interpretation of God's Word, the society creates fairness and freedom throughout all of its institutions; however, history also reveals the opposite to be true. When a nation bases its laws and customs on some other foundation, the society creates trouble, and persecution, and a climate of fear. This type of society does not produce great scientists and other inventors.
Thus it is with great sorrow that we realize that America is busy today completely repudiating our society based upon a literal interpretation of God's Bible, while Israel is busy moving more toward Orthodox Judaism. America is killing the Goose that lays the Golden Egg. But, the Bible foretold that this would happen at the End of the Age, so we should not be surprised to see it occurring. But, it is shocking to see that a Jewish historian/economist can see this truth so plainly.
We are also surprised that this Jewish author, John Hulley, knew history and religion well enough so that he did not lump together Protestants and Roman Catholics into one group called 'Christian'. Most Jews and Gentiles never see this huge difference. They just lump Protestants and Catholics together.
America and Europe are far, far down their planned path to reorient their societies turning their fundamental governmental institutions away from the Bible and toward the New Age principles of Neo-Nazism. What will be the practical result of this tremendous change? We will see a society that practices unbelievable repression and murder of its citizens, just as the Bible foretells will happen at the End of the Age.
Are you spiritually ready? Is your family? Are you adequately protecting your loved ones? This is the reason for this ministry, to enable you to first understand the peril facing you, and then help you develop strategies to warn and protect your loved ones. Once you have been thoroughly trained, you can also use your knowledge as a means to open the door of discussion with an unsaved person. I have been able to use it many times, and have seen people come to Jesus Christ as a result. These perilous times are also a time when we can reach many souls for Jesus Christ, making an eternal difference.
If you have accepted Jesus Christ as your personal Savior, but have been very lukewarm in your spiritual walk with Him, you need to immediately ask Him for forgiveness and for renewal. He will instantly forgive you, and fill your heart with the joy of the Holy Spirit. Then, you need to begin a daily walk of prayer and personal Bible Study.
If you have never accepted Jesus Christ as Savior, but have come to realize His reality and the approaching End of the Age, and want to accept His FREE Gift of Eternal Life, you can also do so now, in the privacy of your home. Once you accept Him as Savior, you are spiritually Born Again, and are as assured of Heaven as if you were already there. Then, you can rest assured that the Kingdom of Antichrist will not touch you spiritually. If you would like to become Born Again, turn to our Salvation Page now.
We hope you have been blessed by this ministry, which seeks to educate and warn people, so that they can see the coming New World Order -- Kingdom of Antichrist -- in their daily news.

Finally, we would love to hear from you. You can write us at:


God bless you.


Return to currently in the news index to select additional articles.

Return to [ Index of Free Radio Show Transcripts ] [ Currently In The News ] [ Meet Your Pastor ] [ Supporting Your Internet Outreach Ministry ] [ Cutting Edge Seminars On Tape ] [ Cutting Edge Book Store ] [ Freemasonry ] [ Newsletters Archives ]









Christian site for those who seek information about or related to a wide variety of subjects including Bible Evangelical religion Billy Graham Bob Jones Christ Church James Dobson evangel faith God Hour of Power Jack Van Impe Jesus Jimmy Swaggert Kenneth Copeland Lutheran Baptist Methodist Ministry New Testament Old Testament Pentecostal prophecy protestant rapture religion Robert Schuller Roman Catholic spiritual The 700 Club Oral Roberts Baker tribulation