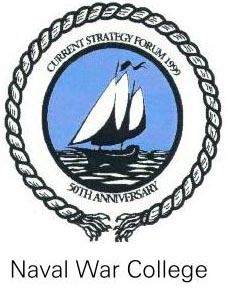 Title: OPENING REMARKS BY VICE ADMIRAL CEBROWSKI, CURRENT STRATEGY FORUM OF NAVAL WAR COLLEGE -- JUNE, 1999
Subtitle: VADM Cebrowski sets the tone for the entire Current Strategy Forum Discussion, "Navy After Next, 2010+"



---
The New World Order is coming! Are you ready? Once you understand what this New World Order really is, and how it is being gradually implemented, you will be able to see it progressing in your daily news!!
Learn how to protect yourself, your loved ones!
Stand by for insights so startling you will never look at the news the same way again.
YOU ARE NOW ON
THE CUTTING EDGE
VICE ADMIRAL CEBROWSKI
We are going from an Industrial Age to an Information Age. The US is a "Status Quo" power in a rapidly changing age -- where we have caused the change.
Economic Polarization is increasing, as political entities are fragmenting
Old perspectives are no longer valid, necessarily. To rigidly follow a past theme is a formula for failure.
Electronic activity is determining today's world commerce.
David Bay, Director

Cutting Edge Ministries, Inc.

CUTTING EDGE CONCLUDING REMARKS
The trends briefly mentioned by the Vice Admiral, above, are further explained by other speakers during this forum. Suffice it to say that the U.S. military leadership is totally committed to the same global concepts as are the civilian leaders in this country. Both civilian and military leaders are totally committed to the same New World Order Plan as was enunciated prior to World War II in the New Age books we have quoted.

Truly, the Kingdom of Antichrist, now being called the New World Order, is very close at hand.

Are you spiritually ready? Is your family? Are you adequately protecting your loved ones? This is the reason for this ministry, to enable you to first understand the peril facing you, and then help you develop strategies to warn and protect your loved ones. Once you have been thoroughly trained, you can also use your knowledge as a means to open the door of discussion with an unsaved person. I have been able to use it many times, and have seen people come to Jesus Christ as a result. These perilous times are also a time when we can reach many souls for Jesus Christ, making an eternal difference.

If you have accepted Jesus Christ as your personal Savior, but have been very lukewarm in your spiritual walk with Him, you need to immediately ask Him for forgiveness and for renewal. He will instantly forgive you, and fill your heart with the joy of the Holy Spirit. Then, you need to begin a daily walk of prayer and personal Bible Study.

If you have never accepted Jesus Christ as Savior, but have come to realize His reality and the approaching End of the Age, and want to accept His FREE Gift of Eternal Life, you can also do so now, in the privacy of your home. Once you accept Him as Savior, you are spiritually Born Again, and are as assured of Heaven as if you were already there. Then, you can rest assured that the Kingdom of Antichrist will not touch you spiritually.

If you would like to become Born Again, turn to our Salvation Page now.

We hope you have been blessed by this ministry, which seeks to educate and warn people, so that they can see the coming New World Order -- Kingdom of Antichrist -- in their daily news.

Finally, we would love to hear from you.

You can contact us by mail or email.

God bless you.

Subscribe to our email updates and messages from our editor by entering your email address below


Return to: