Title: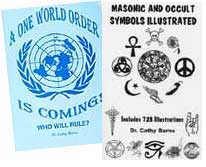 WARNING! INTERNET FILTERS ARE PREPARED BY PEOPLE WHO DO NOT NECESSARILY SHARE YOUR CHRISTIAN VALUES. YOU MAY SUDDENLY FIND FUNDAMENTAL CHRISTIAN MINISTRIES BLOCKED -- CUTTING EDGE INCLUDED.
Subtitle: Subscribing to a service offering Internet Filters that will block out all the smut and morally objectionable sites sounds like such a good idea -- until you realize that the people compiling the list of the "Objectionable" sites are adding Fundamental Christian Internet Sites to the blocked list!
The New World Order is coming! Are you ready? Once you understand what this New World Order really is, and how it is being gradually implemented, you will be able to see it progressing in your daily news!!
Learn how to protect yourself, your loved ones!
Stand by for insights so startling you will never look at the news the same way again.
YOU ARE NOW ON
THE CUTTING EDGE
NEWS BRIEF: "Net Porn Seen By Nine Out of Ten Children", by Martin Bentham, Social Affairs Correspondent, The London Telegraph, 11-25-1, reprinted by Rense.com, http://www.rense.com/general17/porn.htm
"Nine out of 10 children aged between eight and 16 have viewed pornography on the internet, according to research to be published tomorrow. The research, by academics at the London School of Economics, also found that about half of those in the age group had been approached by strangers in 'chatrooms', sometimes with a view to an under-age relationship. In most cases, the sex sites were accessed unintentionally when a child, often in the process of doing homework, used a seemingly innocent sounding word to search for information or pictures."
Truly, pornography streaming in to every home in America in a seemingly endless flood. Pornographic sites also have become masters at selecting website domain names that are so very close to a legitimate domain that, if the person typing in the address makes a little mistake, they could find themselves suddenly looking at porn site, a very tempting situation for a young boy.
A good example of this type of domain name look-alikes is the White House website. The legitimate URL address is www.whitehouse.gov; however, if the child were to enter www.whitehouse.com, they would get a pornography site! we have watched for some years now, as Federal and State governments have sat back and allowed pornography to stream into our homes, doing nothing about it. Now, we see that they undoubtedly wanted pornography to come in like a flood so that well-meaning Christian parents would become so upset over the whole issue that they would turn to a "solution" offered them.
This solution seems to be "Family Filter" systems now being offered Christian parents by various Internet Service Providers. As you read the following facts about these "Family Filter" systems, please understand that they have become Trojan Horse, a deadly threat, to the Internet existence of Fundamental, Bible-believing ministries, like Cutting Edge Ministry.
UNDERSTANDING "FAMILY FILTER" INTERNET SYSTEMS
The first understanding you need to gain is that the people who are compiling the lists of those "objectionable" Internet sites may not possess the same Fundamental Christian values and attitudes you possess. Most Christians have no idea that the Internet Service Providers who offer this type filter buy the list of objectionable Internet sites from an outside agency, an agency staffed by people who may not even Born Again Christians! What irony! Born Again Christian parents are buying a list of "objectionable" Internet sites from an Internet Service Provider who has bought the list from another agency which might not even be Christian!
Here is the list of blocked material from http://www.cxp.com/services/smutfree.asp
Blocked Material Categories:
Nudity
- the absence of clothing or exposing any and all parts of the human genitalia. Exceptions- classical nudity (Michelangelo's "David")
Adult Content
- any material that has been publicly labeled as strictly for adults
Sexual
- any description or depictions of sexual acts and any erotic material
Violence
-
Drug, Tobacco and Alcohol
- advertising information on the web. Exceptions- drug rehabilitation programs
Gambling
- on-line gambling services
Profanity
- crude or vulgar language or gestures
Discrimination
- denigration of others' race, religion, gender, nationality and/or sexual orientation
The key category that snares Fundamental Christian ministries like Cutting Edge is "Discrimination". The descriptive write-up sounds like it could even have been taken, word for word, out of a pro-homosexual publication. "Sexual Orientation" is clearly a reference to homosexuality and lesbianism.

Therefore, when a ministry like Cutting Edge speaks the Biblical truth that God hates the homosexual lifestyle and will bring it into physical judgment, we are guilty of "denigration". We will be placed on the "Family Filter" list so that our pages are blocked and inaccessable. If you have our exact URL address, you will see a dialog box pop on your screen telling you that Cutting Edge Ministries is excluded from this Internet Service Provider because we are a site that is guilty of "discrimination". Some "Family Filters" even have us listed as a "Hate Site".

Notice how well we fit under Discrimination just by being Biblical. Speaking out against Catholicism, Freemasonry, witchcraft or apostate religion of any kind puts us in this filtered category. If family friendly filters take out fundamentalist Christian ministries, we are only left with the apostate ones. Imagine what would happen if some of the major providers started using filters like this. We are shut down without the government lifting a finger as the family friendly types filter us out while preparing the "Apostasy Driven Church" to welcome Antichrist. Christians sign up to be protected from the porn and the truth is silenced with it.

Step 1. The government allows vile pornography to permeate the net and endanger our children.

Step 2. Families look for help to protect their children from evil on the web.

Step 3. Filters step in to solve the problem and in the process filter out fundamentalist Christian ministries on the web.

The first 3 steps have already happened. The government doesn't have to shut us up. You only have to have us filtered under the disguise of "Family Friendly Filter" . We don't attempt to hide anything and we do nothing illegal. Laws will change during the tribulation that will make what we say illegal but the filters will get us long before that. Our readers need to be aware that taking a filtered service may one day cut us off from them. I am all for filtering porn out of my life but I am really concerned when the good guys filter us out. We got taken off the list that Lifeline uses because we spoke out. If we don't take up this issue, we will be watching things like magic lantern in the left hand while not seeing the right hand that has filtered us out with the porn.

Note that there is nothing in any of these filtered categories under which Harry Potter, witchcraft or any of the cults would be filtered out. Is this the dialectic or what?

Current Internet filters are silencing us already because we speak out against false religions, homosexuals, abortion, and other topics. We live in an age -- the End of the Age -- in which most people do not want to hear what the Bible has to say about sin, the inherent sinfulness of man, and of ultimate judgment. We further live in that period of the End of the Age of which the Apostle Paul spoke in 2 Thessalonians 2. Listen:

"Let no man deceive or beguile you in any way, for that day [Day of the Lord, Tribulation Period] will not come except the apostasy comes first, unless the predicted great falling away of those who have professed to be Christians has come, and [then] the man of lawlessness is revealed, who is the son of doom of perdition." [2 Thess 2:3; Parallel Bible, KJV/Amplified Bible Commentary].

Thus, we live in an era in which entire Protestant denominations have turned Liberal, denying key Christian doctrines and filling their parishioners with sheer humanism couched as "Godly wisdom". You do not know for sure -- and too many good-hearted Christians assume -- that the people who are making these lists share the same Fundamentalist Christian views as you do. Such an assumption would be totally wrong.

Remember, too, that we live in the End of the Age, a time of unparalleled spiritual deception. Three times Jesus warned in Matthew 24 against being deceived during the approach of the Kingdom of Antichrist and during his Tribulation Period. In verse 24, Jesus actually said that the deception would be so very, very good that, if it were possible, even God's Elect would be deceived! Thus, the one single Hallmark characteristic of the End of the Age is spiritual deception of historically high levels and of extraordinary effectiveness.

We are being sold the values of "Family Filters" according to this false premise. Beware!

WHAT CAN YOU DO?

First, if you really feel that you need a filter to protect your young children from pornography, be very selective and very questioning in choosing the filter. Ask for a written statement on what they use as a basis for selecting sites that are to be filtered out. If you see "Discrimination" listed as one of the criteria, you may safely assume your favorite Christian Fundamental website is on the filtered list. You would not be able to access that site once you install the Internet Service Provider using that filter.

Secondly, ask to see an alphabetical list of the companies currently on the filtered list. A quick glance should enable you to see if you would have a problem with that list.

Third, if you have a filter currently in place, and suddenly cannot access your favorite Christian site, you must vigorously call to complain, and we would appreciate hearing about it as well. You can email us to tell us we have been placed on this particular list by emailing the Cutting Edge Webmaster, at webmaster@cuttingedge.org.

One of our volunteers chose to switch Internet Service Providers to Lifeline Communications because of their vaunted "Family Filter" screening program. The day after he installed Lifeline on his computer, he typed in the Cutting Edge address, only to see a dialog box pop up, saying Cutting Edge Ministries was filtered out of this system because it was a "hate group". This volunteer immediately informed our webmaster, who informed me. I called the representative at Lifeline and complained. The representative stated that they did not make up the list internally, but bought the list from a third party, and he agreed that there was no way in the world that Cutting Edge could be considered a "hate site". The next day, he called me back to tell me that he had gotten this ministry removed from the filtered list. As of right now, we are just entering this field of "Family Filters", so that complaints can make a difference.

When we checked out what ministries were being filtered, we discovered that Texe Marrs was also on the filtered list! We will take that kind of company anyday.

Truly, this is persecution of Fundamental Christian ministries, through the back door, so to speak. Are you spiritually ready? Is your family? Are you adequately protecting your loved ones? This is the reason for this ministry, to enable you to first understand the peril facing you, and then help you develop strategies to warn and protect your loved ones. Once you have been thoroughly trained, you can also use your knowledge as a means to open the door of discussion with an unsaved person. I have been able to use it many times, and have seen people come to Jesus Christ as a result. These perilous times are also a time when we can reach many souls for Jesus Christ, making an eternal difference.

If you have accepted Jesus Christ as your personal Savior, but have been very lukewarm in your spiritual walk with Him, you need to immediately ask Him for forgiveness and for renewal. He will instantly forgive you, and fill your heart with the joy of the Holy Spirit. Then, you need to begin a daily walk of prayer and personal Bible Study.

If you have never accepted Jesus Christ as Savior, but have come to realize His reality and the approaching End of the Age, and want to accept His FREE Gift of Eternal Life, you can also do so now, in the privacy of your home. Once you accept Him as Savior, you are spiritually Born Again, and are as assured of Heaven as if you were already there. Then, you can rest assured that the Kingdom of Antichrist will not touch you spiritually.

If you would like to become Born Again, turn to our Salvation Page now.

We hope you have been blessed by this ministry, which seeks to educate and warn people, so that they can see the coming New World Order -- Kingdom of Antichrist -- in their daily news.

Finally, we would love to hear from you.

You can contact us by mail or email.

God bless you.

Subscribe to our email updates and messages from our editor by entering your email address below


Return to: