Title: U.S. MARINES AGAIN SIMULATING ATTACK ON URBAN CITIES!

Resources to aid your Understanding
Subtitle: The Marines are preparing to attack cities and fight street-to-street. The major question is, whose cities are they preparing to invade? You may be very surprised.
The New World Order is coming! Are you ready? Once you understand what this New World Order really is, and how it is being gradually implemented, you will be able to see it progressing in your daily news!!
Learn how to protect yourself, your loved ones!
Stand by for insights so startling you will never look at the news the same way again.
YOU ARE NOW ON
THE CUTTING EDGE
NEWS BRIEF: "Marines will play war games in Boise: Downtown will be training zone for urban battles", by Patrick Orr, The Idaho Statesman, 2/20/2002.
"Boise probably will be invaded by a small, stealthy group of U.S. Marines this fall -- creeping along the Greenbelt, near back yards, and inside buildings ... relax -- it´s just an exercise. In an effort to better understand urban warfare and get some valuable experience in reconnaissance and intelligence-gathering in a real city instead of a simulation, the Marine Corps plans to visit Boise for some interactive war games. 'This is going to be great training for them to test new techniques, to help teach them to (work) in an urban environment,' Boise Police Chief Don Pierce said. 'It is going to be an interesting and fun community event. There will be a role for citizens to play.' "
Prior to the disaster at Waco, Texas, no American city was ever subjected to this kind of military "exercise". The possee comitatas act forbade such exercises, since it subjected American citizens to the force of the regular military. However, once Clinton was able to override the possee comitatas act at Waco, slaughtering all those men, women, and children using regular military force, we have seen increasing instances in which this type of military "training" is occurring.
This article then goes on to explain that an exercise is currently underway in which the Marines are going much further. Listen:
"Unlike a 12-day exercise currently going on in North Little Rock, Ark., Marines in the Boise exercise will not conduct car and building searches or carry weapons on city streets."
Once again, this type of exercise was unheard of before Waco. American citizens are being conditioned to accept as normal the sight of soldiers carrying heavy weapons, dressed in full combat gear, entering homes without warrants, and generally acting as authorities in a police state.
These are truly dangerous times. To see how we have been mightily conditioned to accept the trappings and the reality of a police state, let us examine the times in the recent past when Marines have carried out these urban fighting scenarios.
NEWS BRIEFS: AMERICAN MILITARY CARRYING OUT REPEATED MOCK ASSAULTS ON AMERICAN CITIES -- NEVER BEFORE IN HISTORY!
May 2, 1998 -- Chicago, IL -- "Urban Warfare In Chicago: A Windy World War 3", by Jenifer Loven, Associated Press.
"The Marines want to learn how to maneuver around city infrastructure, communicate while near the enemy and minimize the impact on civilians." This exercise was apparently the first in a series of exercises in large cities and did not actually have Marines on the ground in full combat gear, supported by helicopters, as did later exercises.
"The program, begun last summer, has included training in a four-block model town at Camp Lejeune, N.C., and envisions later practice war games in Charleston, S.C., and Jacksonville, Fla. It is to culminate in a mock battle in an as-yet-unidentified West Coast city."


June 5, 1998 -- Pittsburgh, PA -- Here is an exchange between myself and a gentleman from Scranton PA. His local news made no mention of this bizarre military exercise. This is from an unidentified email I received from a very shaken person in Pittsburgh, Pennsylvania. In this exercise, no citizen living in the city was forewarned of a military "exercise". What follows is an eye-witness account.
"Army [might have been Marine] Helicopters take city by surprise! SPECIAL ARMY UNITS TRAINING FOR URBAN COMBAT SWOOPED LOW OVER THE CITY EARLY TUESDAY MORNING WHILE EXPLOSIONS OF BLANK AMMUNITION SHOOK NEIGHBORHOODS BELOW."

"About 200 ground troops, helicopter crews and support teams drilled from just after dark Monday until about 1 a.m. There was no mention of this on the televised news or in our local papers in the Scranton/Wilkes-Barre area. Maybe someone from Pittsburgh could fill us in on the details?"
This very shaken resident then asked the most lucid question possible on this subject. "Why is it, for the first time in our military's history, the military feels the need to perform secret unannounced training missions with local law enforcement agencies in our own neighborhoods? Why is this suddenly necessary when it wasn't before?"
Exactly. The reason our military has never before undertaken such training exercises against our own cities is that never before in our national history have we been this close to the final push into the New World Order, the Kingdom of Antichrist. The scenario is designed to so panic the American people they will accept nearly anything they think might restore peace and tranquility, and so they hope, their freedoms.
I guess the American people have never heard of the plans drawn up supernaturally nearly 100 years ago that pertains to this very subject. Listen to the arrogance and amorality of these Illuminist leaders, obviously writing under supernatural control.
"WE ARE WOLVES -- The [people] are a flock of sheep, and we are their wolves. And you know what happens when the wolves get hold of the flock? ... we have the power whenever we like to create disorders or to restore order ... There is another reason also why they will close their eyes: for we shall keep promising them to give back all the liberties we have taken away as soon as we have quelled the enemies of peace and tamed all parties ..... It is not worthwhile to say anything about how long a time they will be kept waiting for this return of their liberties ...." [Protocols of the Learned Elders of Zion, Protocol #11, The Totalitarian State; Emphasis added.] This is one of most insidious Satanic Plans to achieve the New World Order ever created. But, even more insidiously, this Plan is being followed like a roadmap by our current Illuminist leaders from President Clinton, to Congress, to most world leaders today.
Do not be deceived: once Martial Law is declared -- under whatever pretense -- Americans will never get their precious liberties restored! These military exercises are designed only to accomplish this very purpose, taking away our liberties claiming to restore them once the chaos is eliminated and order rules.

July 24-7, 1998 -- Jacksonville, FL -- "Marines 'Seize' Downtown: Urban Warfare Is Exercise's Aim", by John Fritz, Times-Union staffwriter, July 24, 1998.
"... for a group of about 100 Marines, Jacksonville was a city under siege, ripped asunder by the fighting of the fictitious 'Jaguer' and 'Dolphenes' political factions, the latter headed by the evil military boss, Gen. Danne Marinoe. Participating in a cuttingedge military exercise known as 'Urban Warrior,' these Marines' mission was to figure out how to wrest control of key parts of the city. They had to take over the besieged Main Street bridge, City Hall and an abandoned building posing as a national bank safeguarding $5.7 billion of gold ingots. The exercise, which runs through today, does not involve any weapons, aircraft or military vehicles."
July-August, 1998 Birmingham, AL -- "More Marine Training In U.S. Cities: Unit Set For Urban Combat Exercise In Birmingham", WorldNetDaily.
"A special unit of U.S. Marines will arrive in Birmingham, AL, next Monday to prepare for an exercise in countering urban guerrilla warfare. Some 243 soldiers will have assault rifles in hand to execute secret missions and perform various maneuvers in the city, according to Marine spokesmen. The 24th Marine Expeditionary Unit exercise is part of a program called TRUE, or Training in the Urban Environment. The Marines will stay at Fort McClellan in Anniston for the nearly two-week exercise, said Staff Sgt. Chris Cox, head of public affairs for the unit."
"All of the operations, including the exact timing of the exercises, was being kept secret from the public ... Since similar exercises have been conducted recently in Chicago, Jacksonville, FL, and other U.S. cities, the question on some minds is: Who exactly are the Marines preparing to wage war with in America's urban environments?" The officer to whom this last question was asked, danced all around the issue, never actually answering the question.
"In Jacksonville last week, a group of 100 Marines played war games that assumed the city had been ripped asunder by two political factions. The Marines' job was to wrest control of key parts of the city."
September 2, 1998 -- Hebron, MD -- "TONIGHT. MARINES EXPLAIN A PLANNED URBAN ATTACK SIMULATION. TO FOLKS IN THE QUIET TOWN OF HEBRON.", DelMarVa Television 47 News.
"I'M SUE BEVINE. NEW AT 11 TONIGHT. MARINES FROM QUANTICO. VIRGINIA ARRIVED ON THE PENINSULA TONIGHT TO TALK ABOUT A MULTI-FACETED TRAINING EXERCISE. SCHEDULED THIS WEEK IN HEBRON. DELMARVA 47'S CHERYL FRAZEL IS LIVE IN HEBRON NOW WITH MORE ... ONE PART OF THESE TRAINING DRILLS WILL PREPARE OFFICERS FOR FUTURE URBAN WARFARE. THESE MARINES BELIEVE THEIR MILITARY BASE DOES NOT PROVIDE THE RIGHT ATMOSPHERE FOR THIS EXERCISE. SO THEY'RE COMING TO HEBRON. A TOWN THEY SAY HAS ALL THE INFRASTRUCTURE OF A CITY."
This report continues with an interview with Captain Charles Black, coordinator of the exercises. Captain Black stated that this exercise was designed to train his men in how to properly handle "natural disaster" situations. But, the National Guard is the properly designated force to respond to natural disasters or to riots in the cities. You see, our Founding Father understood something we have totally forgotten. They understood that one of the best defenses a people could have against tyranny from a central government was a "well-regulated militia" controlled by state governors, with soldiers who were as close to the local people as possible. Conversely, military forces controlled by central governments can be hand-picked to contain the most brutal personnel possible, with the express intent of brutally repressing the people.

December 19, 1998 -- Monterey, CA -- "Mock Invasion Targets Monterey", Joint military exercise an experiment In dealing with terrorists, By Calvin Demmon, Herald Staff Writer Monterey Herald, 12/19/98. In the first story, above, in Chicago, we learned that the last staged "invasion" of a U.S. city would take place somewhere in a West-coast city. Certainly, Monterey would be an ideal place to carry out an attack in December, because it is warm. Notice that the word, "battle" is used to describe this exercise. I find it highly instructive that these exercises began peacefully -- without weapons and helicopters -- only to end up described as "battles". Do not be deceived: "Anti-terrorist" activities are simply and only a cloak behind which the military can train in the tactics best suited to take over and subdue an American city.
"Terrorists seize the Naval Post graduate School. Several hundred Marines make an amphibious assault on the beach and secure the school. But there are terrorists at the Defense Language institute Too. The Marines convoy to the Presidio, where they stop the bad gays and disable a very bad weapon ... All that, with simulated jet strafing runs thrown in for good measure ... It's what the marines call an 'urban warfare experiment', and it will be, according to a Marines spokeswoman, the first time in history that the Defense Department has conducted anything on this scale in any city."
"By early morning on Saturday, March 13, five large Navy ships will have arrived in Monterey Bay. At 7 a.m., six amphibious landing craft - the fan-driven kind that skim across land and water on cushions of air - will head for the beach ... The Marines will land near the old municipal sewer plant, disembark in their troop carriers, and proceed to the nearby Navy school."
"Meanwhile, the city of Monterey will have activated its Emergency Operations Center at the downtown fire station. City Personnel will escort the troop vehicles and provide crowd control, said Fred Cohn, deputy city manager. Some city employees will also join the actual 'experiment', putting their emergency procedures to the test."
"At the Presidio, the Marines will be met by more troops ferried in via helicopter from the ships. Jets will conduct mock strafing runs through simulated anti-aircraft fire. Ground combatants, wearing sensors and firing laser beams, will be 'killed' or 'wounded'. Eventually, experts will locate the weapon and disable it. By 5 p.m., the Marines, having saved the day, will be back aboard their ships offshore."
WHY ONLY THE MARINE CORPS AND NEVER THE ARMY?
All throughout these exercises, I kept asking myself two questions: 1) Why the Marine Corps in al these exercises, and absolutely no Army? 2) Why wasn't the possee comitatis act prohibiting these kinds of exercises of American military units against Americans? Possee comitatis simply states that conventional military forces cannot be used against the American civilian population, along with their highly destructive weapons. Believe me, the restrictions placed upon our military byposse comitatis is a really good thing.
The answer came from the Jacksonville Florida Times-Union, July 24, 1998. "The Marines, as part of the Navy, are not under the posse comitatis restrictions that prohibit the Army from domestic law enforcement."
Thus, the Federal Government has discovered a loophole in the law large enough to drive a Mack Truck through. They seem to be preparing the Marine Corps for the task of attacking American cities once the general panic has set in. Remember, the New World Order scenario designed to so panic the peoples of the world they will accept Antichrist involves the following multiple crises, overlapping one another: World War III between Israel and her immediate Arab neighbors [this is Pike's demonic vision of the final war to produce Antichrist and Obadiah 15-18 prophecy]; Korean Peninsula War, possibly with unconventional weapons; Chinese takeover of Taiwan; Arab Oil Embargo; Arab Terrorism in our cities [which will provide the pretext for this attack on our cities]; economic collapse; natural disasters.
1952 ILLUMINIST PLAN FOR AMERICA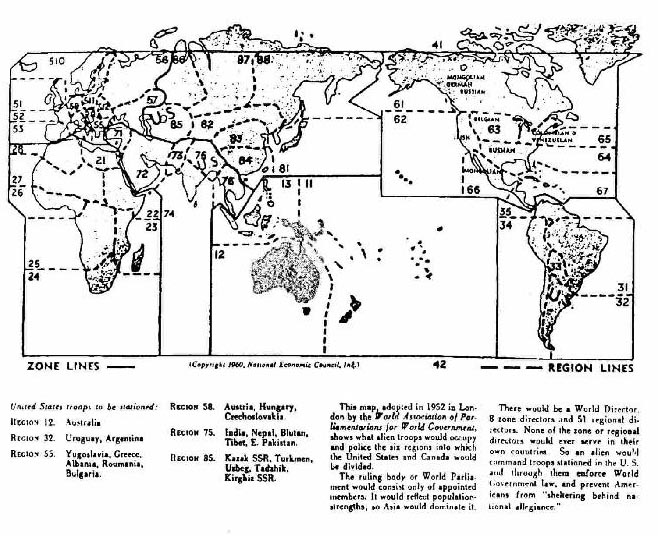 In 1952, the Illuminati redrew the nations of the world, a map which eliminated sovereign nations, replacing them with Military Patrol Zones. In the early 1920's, Russian Communist leaders learned a very valuable lesson: they learned that ethnic troops could not be depended upon to be brutal to their own people . Therefore, Russian Communists devised a plan whereby Muslim Russian troops would be stationed in non-Muslim areas, and vice versa. Therefore, troops would have no difficulty oppressing, jailing, and murdering people not their own. As you will shortly see, this plan applies these lessons worldwide. We have much to fear, as you will see in just a few moments.

In 1952, the World Association of Parliamentarians for World Government decided which areas of the world would be occupied and patrolled by which troops. These worldwide forces would be commanded by a World Director, who would have an organization of 8 zone directors and 51 regional directors. No regional director would ever be responsible for his own country, and no military troops would ever be stationed within his own country.
[This information taken from the National Economic Council of New York City, 1962]

American troops were assigned six regions of the world, as we have listed below.

Region 12 -- Australia

Region 32 -- Uruguay, Argentina

Region 75 -- India, Nepal, Turkmen, Uzbeg, Tadzhik, Kirghiz, SSR

Region 58 -- Austria, Hungary, Czechoslovakia

Region 55 -- Yugoslavia, Greece, Albania, Romania, and Bulgaria -- the Balkans Region [NOTE: Serbia, Bosnia- Herzegovina, Croatia, and Macedonia were originally part of Yugoslavia; See CIA map of this Central Balkans Region.

Thus, American troops would be responsible for a huge chunk of Europe, from Czechoslovakia to Greece, and as far east as the border of the Ukraine and Turkey!

In 1952, American troops were planned to ultimately be stationed on the ground in Region 55, precisely the region in which we attacked in the Bosnia war! Was this war the ruse to get American troops on the ground in Region 55?

Now you know for certain that President Clinton was acting in perfect accord with the Illuminati Plan to insert American troops into the Balkans, just as this 1952 plan dictates.

TROOPS TO BE STATIONED IN UNITED STATES, CANADA, AND MEXICO

Let us now examine the troops that are to be stationed in North America according to this 1952 plan.

1. Northeast -- Colombian and Venezuelan troops

2. Southern America all the way to California -- Russian troops. The line begins at Virginia and goes straight West to the border of California.

3. Midwest -- Belgian troops

4. Northwest, including California -- Irish troops

5. Canada -- Mongolian [Chinese] and Russian troops

6. Mexico -- Mongolian [Chinese] troops. I find it highly interesting that the Mexico portion over which the Chinese are to exercise control includes San Diego, California! The Clinton Administration attempted to give the Chinese Communists control over an "abandoned" U.S. Naval base, in Long Beach. Now you know even more conclusively that Clinton and Congress are part of this 1952 Plan, and were acting entirely at the control of the Illuminati to end American sovereignty and unite the world under the banner of the coming Antichrist.

Foreign troops would be in total control of the entire North American continent. No sizeable American troops would be allowed in this country. Then, what needs to happen to the 1,146,959 American troops now stationed in this country? They will either have to be disbanded or deployed overseas. We encourage you to visit our World War III page [https://www.cuttingedge.org/news/ww3.html] and read the articles on the three planned wars that are designed to produce Antichrist. You will see that, when the planned world war erupts, American forces are going to be flung to the corners of the globe, virtually emptying our forces out of this country, the scenario could then be set for United Nations troops to be called upon to maintain order in our country.

Thus, you have to understand that these Marines may not be training to fight in American cities, but in cities and towns in the areas for which they are responsible in Europe. On the other hand, forces who have been given responsibility for American sectors are probably currently undergoing similar training in their cities and towns. Russia is getting great training in fight in Chechnya and Colombian troops are getting training in fighting the Marxist insurgency right now.

Truly, events seem to be rushing to a completion on so many fronts at once. The End of the Age seems near.

Are you spiritually ready? Is your family? Are you adequately protecting your loved ones? This is the reason for this ministry, to enable you to first understand the peril facing you, and then help you develop strategies to warn and protect your loved ones. Once you have been thoroughly trained, you can also use your knowledge as a means to open the door of discussion with an unsaved person. I have been able to use it many times, and have seen people come to Jesus Christ as a result. These perilous times are also a time when we can reach many souls for Jesus Christ, making an eternal difference.

If you have accepted Jesus Christ as your personal Savior, but have been very lukewarm in your spiritual walk with Him, you need to immediately ask Him for forgiveness and for renewal. He will instantly forgive you, and fill your heart with the joy of the Holy Spirit. Then, you need to begin a daily walk of prayer and personal Bible Study.

If you have never accepted Jesus Christ as Savior, but have come to realize His reality and the approaching End of the Age, and want to accept His FREE Gift of Eternal Life, you can also do so now, in the privacy of your home. Once you accept Him as Savior, you are spiritually Born Again, and are as assured of Heaven as if you were already there. Then, you can rest assured that the Kingdom of Antichrist will not touch you spiritually.

If you would like to become Born Again, turn to our Salvation Page now.

We hope you have been blessed by this ministry, which seeks to educate and warn people, so that they can see the coming New World Order -- Kingdom of Antichrist -- in their daily news.

Finally, we would love to hear from you.

You can contact us by mail or email.

God bless you.

Subscribe to our email updates and messages from our editor by entering your email address below


Return to: