Title: BELTWAY SNIPER KILLS IN ASPEN HILL, MARYLAND, WITHIN 100 YARDS OF SHOT #1 WHICH MISSED HIS TARGET AND DID NOT KILL INITIALLY

Resources to aid your Understanding
Subtitle: This is the second time the sniper has returned to a shooting location in which he did not get a kill. He seems to be ensuring that he gets a kill at each shooting location! We have notified Law Enforcement of this pattern!
The New World Order is coming! Are you ready? Once you understand what this New World Order really is, and how it is being gradually implemented, you will be able to see it progressing in your daily news!!
Learn how to protect yourself, your loved ones!
Stand by for insights so startling you will never look at the news the same way again.
YOU ARE NOW ON
THE CUTTING EDGE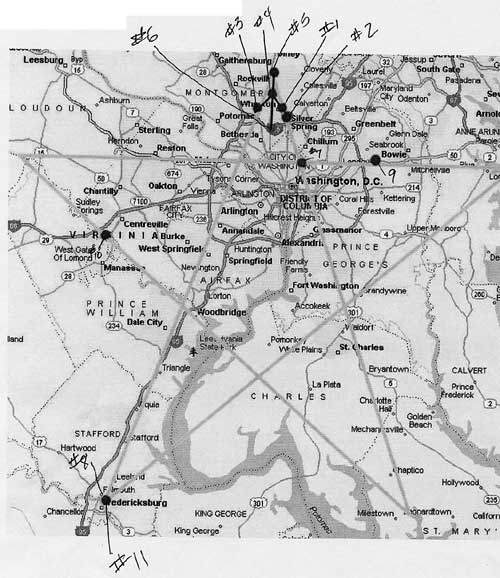 NEWS BRIEF: "Bus Driver Shot in Maryland Dies", by STEPHEN MANNING, Associated Press Writer, The Frederick News Post, October 22, 2002, 13:05 ET

"ASPEN HILL, Md. (AP) — A bus driver was shot and killed early Tuesday in an attack that bore the hallmarks of the serial sniper who has slain nine other people in the Washington area this month. Conrad Johnson, a 35-year-old father of two, was shot as he stood at the top of the steps of the bus shortly before 6 a.m., Montgomery County police said. The location ... is less than a half-mile from where the rampage began Oct. 2."

Actually, our calculations show that this fatal shot was less than 100 yards away from the October 2 shot at the Michael's Craft Store location, a location we have labeled "Shot #1". This shot completely missed any human target, whistling just behind the head of a cashier and hitting a Prayer of Jabez book. Within a few minutes, the shooter killed a person at Shot #2, which was very close to the first shooting location.

You can see how close Shot #2 was to Shot #1. This location was significant because it formed the right hand portion of the Broken Cross that was formed by the first six shots. You can see how we have drawn in the Broken Cross pattern on this map.

Therefore, this sniper returned to the spot of his first shot in order to kill someone at this location. Remember our premise, that since the sniper is putting a pattern on the ground, the location is important, not the exact person being killed! Since the pattern is a pentagram with a Broken Cross located on the uppermost pyramid, we have believed from the beginning that we were dealing with a ritual pentagram; thus, it is logical that a human sacrifice needs to be recorded at each selected spot on the pentagram.

In this sniper spree before this killing, nine people were killed, three wounded, with one miss [Shot #1]. If a person that was "merely" wounded at a location, does this killing mean that the sniper must return to that location to get a kill? He certainly did that here. Is there another instance in which a location that resulted in a wounding rather than a kill, was revisited by the sniper in order to get a kill at that location?

Yes, and we did not realize what was happening at the time!

Fredericksburg

On October 4, at 2:30pm, a woman was shot and wounded in a Michael's Craft store parking lot in Fredericksburg. She was wounded but did not die; to this time, her identity was not made public. On the day after she got out of the hospital, the sniper struck in that area again, this time at 9:30am on October 11! These two locations were very close, one exit on I-95 apart.

Therefore, the sniper returned to the scene of his Shot #8, in order to record a kill at Fredericksburg! Thus, this kill this morning is the second time the sniper has returned to the scene to record a kill at a location in which he only got a wounding the first time.

Since there were three woundings, we now realize that the sniper has returned to two locations to record a kill. Therefore, will he return to the scene of the Bowie Middle School location where Shot #9 resulted only in a wounding of a 13-year-old boy? We do not profess to know, nor are we predicting anything, but we feel this is a valuable piece of information.

If the police watch very carefully in the general location of Shot #9, they might either prevent another killing or catch the sniper attempting another shot there, or both. We have contacted Law Enforcement with this information, for it is the very "pattern" for which homicide detectives look as they are trying to solve the crime.

Please be in much prayer at this most terrible time in our nation's history.

Truly, we are living in a time when "wicked men shall wax worse and worse".

Are you spiritually ready? Is your family? Are you adequately protecting your loved ones? This is the reason for this ministry, to enable you to first understand the peril facing you, and then help you develop strategies to warn and protect your loved ones. Once you have been thoroughly trained, you can also use your knowledge as a means to open the door of discussion with an unsaved person. I have been able to use it many times, and have seen people come to Jesus Christ as a result. These perilous times are also a time when we can reach many souls for Jesus Christ, making an eternal difference.

If you have accepted Jesus Christ as your personal Savior, but have been very lukewarm in your spiritual walk with Him, you need to immediately ask Him for forgiveness and for renewal. He will instantly forgive you, and fill your heart with the joy of the Holy Spirit. Then, you need to begin a daily walk of prayer and personal Bible Study.

If you have never accepted Jesus Christ as Savior, but have come to realize His reality and the approaching End of the Age, and want to accept His FREE Gift of Eternal Life, you can also do so now, in the privacy of your home. Once you accept Him as Savior, you are spiritually Born Again, and are as assured of Heaven as if you were already there. Then, you can rest assured that the Kingdom of Antichrist will not touch you spiritually.

If you would like to become Born Again, turn to our Salvation Page now.

We hope you have been blessed by this ministry, which seeks to educate and warn people, so that they can see the coming New World Order -- Kingdom of Antichrist -- in their daily news.

Finally, we would love to hear from you.

You can contact us by mail or email.

God bless you.

Subscribe to our email updates and messages from our editor by entering your email address below


Return to: