Title: LIBERAL THEOLOGIAN SAYS NEITHER JESUS NOR PAUL ARE "CHRISTIANS"! Apostasy Leading To Antichrist -- Part I
Resources to aid your Understanding
Subtitle: "Take heed that no man deceive you." -- Jesus, Matthew 24:4
"...many false prophets shall rise, and shall deceive many." -- Jesus, Matthew 24:11
"For there shall arise false Christs, and false prophets, and shall show great signs and wonders; insomuch that, if it were possible, they shall deceive the very elect." -- Jesus, Matthew 24:24

"... after my departing shall grievous wolves enter in among you, not sparing the flock." -- Paul, Acts 20:29


The New World Order is coming! Are you ready? Once you understand what this New World Order really is, and how it is being gradually implemented, you will be able to see it progressing in your daily news!!
Learn how to protect yourself, your loved ones!
Stand by for insights so startling you will never look at the news the same way again.
YOU ARE NOW ON
THE CUTTING EDGE
NEWS BRIEF: "St. Paul not a Christian says theologian", Christopher Guly and Randy Boswell, The Ottawa Citizen, November 23, 2002.
"Regarded today as Christianity's greatest missionary and the premier apostle whose writings in the New Testament promulgated Jesus' message, St. Paul would be 'perplexed and dismayed' at the role ascribed to him as one of the principal founders of a new religion, says an American theologian. 'Paul would not be happy with this characterization -- he doesn't even use the term 'Christian,' 'said Dan Schowalter, a professor of religion and classics at Carthage College, based in Kenosha, Wisconsin.
"Mr. Schowalter argues that Paul, a Jew, believed that Christ embodied the "fulfillment of Judaism" and was the genuine messiah of Jewish prophecy. Yesterday, Mr. Schowalter delivered a lecture entitled, Paul was not a Christian, at the annual meeting of the Washington, D.C.-based Biblical Archaeology Society held in Toronto ... Jesus, a Jew, was also not calling for the establishment of a new church and he was not, as the term is currently used, a Christian, maintains Mr. Schowalter."
As with most theological lies, this argument carries with it a speck of truth. Christianity is an outgrowth of First Covenant Judaism; Jesus Christ is the fulfillment of all Old Testament Messianic prophecies and types. The Apostle Paul did recognize this truth, as he espoused in Romans 11:24, where he stated that the root of the tree called Christianity is a Jewish root; but, then Paul stated that the Jews had been temporarily cut off from that root because they rejected the truth of Jesus Christ. Paul did recognize that the Christian Church was a separate entity from old Judaism, he understood the symbolism of the tapestry between the Holy of Holies and the Sanctuary being ripped in two the moment Jesus commanded His spirit to leave His body. Paul did recognize that the Church of Jesus Christ was prophesied of old and that Jesus fully intended to establish His Church!
ONLY CHRISTIAN CHURCH CAN OPEN DOOR FOR ANTICHRIST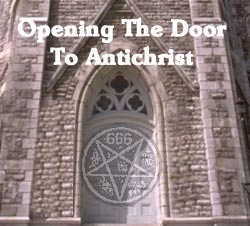 Before we get further into this discussion, let us review prophetic truth regarding the Church of Jesus Christ and the appearance of Antichrist. The Apostle Paul, speaking under the influence of the Holy Spirit, told us that the Christian Church held the key to the appearance of Antichrist. As long as the Christian Church remained true to the fundamental doctrines of the faith, Antichrist could not arise; however, the Holy Spirit foretold that one of the firm signs that the world was approaching the End of the Age was that the Christian Church would go into deep and prolonged apostasy, an apostasy that would literally open the door for Antichrist to enter the world scene!
Let us review this prophecy:
"Let no man deceive you by any means: for that day shall not come, except there come a falling away first, and that man of sin be revealed, the son of perdition; Who opposeth and exalteth himself above all that is called God, or that is worshipped; so that he as God sitteth in the temple of God, showing himself that he is God." [2 Thessalonians 2:3-4]
Every time a Liberal theologian departs from the faith, he is opening the door to Antichrist just a little bit more. This is a prophetic fact. Israel came back into her land in 1948, the same year the World Council and National Council of Churches was created. Ever since, the Christian Church has consistently moved further and further away from the fundamental truth of God's Word. This latest proclamation is simply the latest in a long line of Biblical reinterpretations that today will allow the hollow "christian" church to move into the worldwide Ecumenical Religion of Antichrist.
Let us now examine this declaration that neither Jesus nor Paul intended to establish a church separate from Judaism, from a Biblical perspective:
EXAMINING JESUS FIRST
"Jesus, a Jew, was also not calling for the establishment of a new church and he was not, as the term is currently used, a Christian', maintains Mr. Schowalter. 'Both Jesus and Paul fit better as a continuation of the prophetic traditions of the Jewish Bible'."
As usual, this proclamation does contain an element of truth: Jesus was born into a First Covenant reality; He carried out His ministry and He died, in that First Covenant situation. The Christian Church did not begin until the Day of Pentecost, Acts 2:1. The reason Jesus caught the Apostle Paul into the Third Heaven [2 Corinthians 12:2] was to show him how to apply the principles of His Second Covenant to the burgeoning Christian Church; the Christian Church has been operating according to Paul's teachings ever since. As you read the four Gospels, understand they were given in the context of the First Covenant, and Jesus' ministry to the Jews. Jesus recognized the prophetic reality that His primary mission was to the Jewish people, as He laid out for them His credentials as the Jewish Messiah for whom the nation of Israel had been long awaiting. Listen:
"Go not into the way of the Gentiles, and into any city of the Samaritans enter ye not: But go rather to the lost sheep of the house of Israel." [Matthew 10:5-6]
"He answered, 'I was sent only to the lost sheep of the house of Israel." [Matthew 15:24]

But, does all this mean that Jesus wanted only a continuation of the First Covenant of Judaism? Does all this mean that Jesus did not intend to establish a Church to be His Bride, a church later called "Christian" at Antioch [Acts 11:26]? By no means! Jesus foretold that He would establish a church, under a new Covenant!
Listen:

"And I tell you, you are Peter [Greek, Petros--a large piece of rock], and on this rock [Greek, petra--a huge rock like Gibraltar] I will build My church, and the gates of Hades (the powers of the infernal region) shall not overpower it [or be strong to its detriment or hold out against it]. I will give you the keys of the kingdom of heaven; and whatever you bind (declare to be improper and unlawful) on earth must be what is already bound in heaven; and whatever you loose (declare lawful) on earth must be what is already loosed in heaven." [Matthew 16:18-19; Parallel Bible, KJV/Amplified Bible Commentary]
Listen to Jesus' key Words again: "on this rock, I will build My church". Did you hear that, Liberal theologian? Jesus declared His firm, unshakable, and prophetic plan to establish His Church!
Jesus declared here to the Apostle Peter, with other apostles listening, "I will build my Church on the huge rock of faith you just demonstrated in Me, (verse 16) and the gates of Hell shall not prevail against it."! (Note also that the apostles were further charged in this passage to ensure that, as they operated Jesus' new church, they should do so in such a way as to maintain the standards of conduct already decreed in Heaven. Jesus gave no authority to anyone to make new church laws that do not conform with Heaven's established decrees! Thus, Jesus felt it necessary to catch Paul up to the Third Heaven to teach him the proper application of His Gospel to the Gentile Church)

"And if he shall neglect to hear them, tell it unto the church: but if he neglect to hear the church, let him be unto thee as a heathen man and a publican." [Matthew 18:17] If Jesus was implying ancient Judaism here, He would have said, "tell it unto the priest", just as He repeatedly did after curing someone. But, He did not say "tell it unto the priest"; He ordered the matter to go before His church! At no time in the First Covenant was the word, "church" used; the people went to the synagogue, or to the Temple, and they were ruled by priests. The concept of "church" is a New Covenant reality, applicable only after Acts 2:1.

Now that we have seen Jesus' intention to build His church, separate from Judaism, let us look into the ancient Hebrew Scriptures -- Old Testament -- to see the prophetic truth that God intended early on to build a Gentile church that would be separate from ancient Judaism. As you read these prophecies, remember the truth of John 1:1-14, that Jesus created the world, and spoke the Old Testament into existence through the prophets of old. These are Jesus' prophecies we are about to study.
SEPARATE GENTILE CHURCH PROMISED PROPHETICALLY

"And in that day there shall be a root of Jesse, which shall stand for an ensign of the people; to it shall the Gentiles seek: and his rest shall be glorious." [Isaiah 11:10]
This "Root of Jesse" is the promised Messiah, the office Jesus gloriously fulfilled. As the writer to the Hebrews stated in Hebrews 1:3, Jesus so completed His work that He sat down at the right hand of the Father in Heaven. The writer to the Hebrews further stated, in 10:12-14, that Jesus sanctified His church through His one-time offering, and then sat down at the right hand of the Father. We see Jesus at the right hand of the Father in: Romans 8:34; Ephesians 1:20; Colossians 3:1; Hebrews 8:1; 10:12; 12:2; 1 Peter 3:22.

"Behold my servant, whom I uphold; mine elect, in whom my soul delighteth; I have put my spirit upon him: he shall bring forth judgment to the Gentiles." [Isaiah 42:1]
Of course, the "servant" prophesied here is none other than Jesus Christ; it is He Who will bring forth salvation and judgment to the Gentiles.

"I the LORD have called thee in righteousness, and will hold thine hand, and will keep thee, and give thee for a covenant of the people, for a light of the Gentiles; [Isaiah 42:6]
The entire prophetic passage here in Isaiah 42 speaks of the coming Messiah, of Jesus Christ. Notice that Messiah -- Jesus -- will be given a "covenant" for a light unto the Gentiles. Bible scholars call the covenant of Jesus Christ the Second Covenant. In Hebrews 7:11-28, the First Covenant of Judaism was canceled outright! The destruction of the Temple in 70 AD made this prophecy literally come true, as Judaism lost its Temple for sacrifices, without which it cannot function.
Hebrews 9 speaks of the First Covenant, and then a separate, "Better Covenant", a "New Covenant [Testament], verse 15.
"[Christ, the Messiah] is therefore the Negotiator and Mediator of an [entirely] new agreement (testament, covenant)..." [Parallel Bible, KJV/Amplified Bible Commentary]

"And he said, It is a light thing that thou shouldest be my servant to raise up the tribes of Jacob, and to restore the preserved of Israel: I will also give thee for a light to the Gentiles, that thou mayest be my salvation unto the end of the earth." [Isaiah 49:6]
Notice that prophecy foretells that Messiah would be given two completely distinct entities: 1). Israel -- "raise up the tribes of Jacob and restore the preserved of Israel; 2) "a light to the Gentiles", the Christian Church. Bible scholars refer to this "light to the Gentiles" period as the Church Age, an age begun at the Day of Pentecost, and will end with the Rapture of the Church. This is the reason the Church is not mentioned from Revelation 4 onward. All the judgments from Revelation 6-18 are accomplished with the Christian Church in Heaven, having been Raptured before Antichrist signs the covenant with Israel's religious leaders.

"Thus saith the Lord GOD, Behold, I will lift up mine hand to the Gentiles, and set up my standard to the people:" [Isaiah 49:22a]

"And the Gentiles shall come to thy light ..." [Isaiah 60:3a]

"And the Gentiles shall see thy righteousness ..." Isaiah 62:2]

"O LORD, my strength, and my fortress, and my refuge in the day of affliction, the Gentiles shall come unto thee from the ends of the earth..." [Jeremiah 16:19]
With all these prophecies that Messiah would set up a "covenant" for the Gentiles [Isaiah 42:6], along with all these other Gentile church prophecies in the writings of Ancient Judaism, is it any wonder Jesus declared: "On this rock, I will build My church"?
PROPHETICALLY TURNING TO THE GENTILES

" But when the Jews saw the multitudes, they were filled with envy, and spake against those things which were spoken by Paul, contradicting and blaspheming. Then Paul and Barnabas waxed bold, and said, It was necessary that the word of God should first have been spoken to you: but seeing ye put it from you, and judge yourselves unworthy of everlasting life, lo, we turn to the Gentiles." [Acts 13:45-46]
Once again, we see that Paul and Barnabas turned their backs on the traditional Judaism because of the hardness of their hearts, and began a separate work amongst the Gentiles. Then, to ensure that everyone -- including these spiritually blinded Jews -- understood that their actions fulfilled Old Testament prophecy, they quoted Isaiah 42:6. Listen:
"For so hath the Lord commanded us, saying, I have set thee to be a light of the Gentiles ..." [Acts 13:47]
Paul is saying the the Lord Himself commanded him to begin the Gentile Church!


THE APOSTLE PAUL
Now, let us examine Paul's epistles, to see if he intended to establish a new church separate from Judaism

"Paul, an apostle, (not of men, neither by man, but by Jesus Christ, and God the Father, who raised him from the dead;) And all the brethren which are with me, unto the churches of Galatia." [Galatians 1:1-2]
"Afterwards I came into the regions of Syria and Cilicia; And was unknown by face unto the churches of Judaea which were in Christ:" [Galatians 1:21-22]

Paul obviously considered that he was ministering to the churches of Jesus Christ. He did not say that he was ministering to the churches of Jesus Christ who were part of Judaism! Paul knew the prophecies and the mind of Jesus, and so he knew of the Second Covenant with the Gentiles.
The Apostle Paul considered traditional Judaism as his sworn enemy, the enemy of the Gospel of Jesus Christ. Listen as he calls the "Judaizers" a very bad name. Who were the Judaizers? They were Jews who taught that, while Jesus was the Messiah, one had to keep the observances of Ancient Judaism in addition to the Gospel. If Paul were really seeking to only make Christianity a "continuation" of Judaism, he would have no trouble with the Judaizers Instead, Paul rails:

"Look out for those dogs [Judaizers, legalists], look out for those mischief-makers, look out for those who mutilate the flesh. For we [Christians] are the true circumcision ..." [Philippians 3:2-3]
If Paul were really trying to just make followers of Jesus Christ a continuation of Judaism, he would not have taught that these new believers did not have to be circumcised, for circumcision is the heart and soul of Judaism! This fact alone should demolish this lying argument! Then, beginning with the rest of verse 3 and continuing through verse 6, Paul recounts how he was the most fundamental of Judaizers; he had more to brag about his heritage and his accomplishments in Judaism than the most fundamental of Judaizers. Yet, in verse 7-8, Paul tells us what all these credentials and accomplishments in Judaism meant in the long run:
"But whatever former things I had that might have been gains to me, I have come to consider as [one combined] loss for Christ's sake. Yes, furthermore, I count everything as loss compared to the possession of the priceless privilege (the overwhelming preciousness, the surpassing worth, and supreme advantage) of knowing Christ Jesus my Lord and of progressively becoming more deeply and intimately acquainted with Him [of perceiving and recognizing and understanding Him more fully and clearly]. For His sake I have lost everything and consider it all to be mere rubbish (refuse, dregs, dung), in order that I may win (gain) Christ (the Anointed One)..." [Parallel Bible, KJV/Amplified Bible Commentary]

Paul said this about the importance of Judaism. It was:

1). "[one combined] loss"

2). "counted everything as loss

3). "mere rubbish (refuse, dregs, dung)"
If Paul were trying to establish a continuation of Judaism, he would not have said that it amounted to nothing more than a pile of garbage, a pile of dung, manure! These are strong words, meant to impart a strong message, that the Church of Jesus Christ -- called 'Christian' in Antioch -- is completely different than Judaism, and so much better it was an "overwhelming preciousness", giving a Christian a "supreme advantage" because he knew Jesus Christ, while the Judaizer does not!
Remember this fact forever: the leaders of Ancient Judaism had taken the practice and the people far, far away from where God had originally intended. And then, when Jesus appeared right on schedule to be the long-awaited Jewish Messiah, Ancient Judaism rejected him. The leaders of Judaism prompted the people to cry out to Pilate, "His blood be on us, and on our children."
The entire 1,900 years of Jewish Dispersion may be properly understood as an outworking of this self-proclaimed curse, a generational curse that will not completely end until the end of the Tribulation Period, when Jesus appears to a one-third remnant who will recognize Him as Israel's Messiah.
Why would Jesus want to continue a weak, helpless, and ineffective religion? Common sense seems to dictate that God intended to set up a New Covenant with His Son. You will see later in this article that God did, indeed, create just such a new covenant.

LIBERAL WORD GAMES
This Liberal theologian bases his claim partly on the fact that the Apostle Paul never used the term, "Christian"; maybe he did not use it directly, but Paul's attempted conversion of King Agrippa gives us a direct look on the fact that converting unbelievers into Christians was Paul's personal aim. Listen to Agrippa as he gives Paul his decision after the venerated apostle tried his best to convert him to Christianity:
"Then Agrippa said unto Paul, Almost thou persuadest me to be a Christian."
Obviously, the Apostle Paul had made it so clear to Agrippa that he wanted to convert him so as to make him a "Christian" that Agrippa said, in effect, "you are not going to succeed in making me a Christian". Now, if Paul was trying to convert Agrippa to being a Christian, does that not mean that Paul considered himself to be a "Christian"? Of course it does!
REVELATIONS FROM HEBREWS
While a great amount of controversy has erupted concerning the authorship of the book of Hebrews, the vast majority of fundamental scholars believe the author was the Apostle Paul. The book to the Hebrews provides the greatest possible refutation to this Liberal lie imaginable. It is no wonder these Liberal scholars began attacking the Pauline authorship of Hebrews many years before they had the gall to state that Paul did not intend to establish a separate Christian Church, or to state that Paul and Jesus were not "Christians".
Listen to some of these Scriptures where Paul clearly draws a line between the First Covenant and the Second Covenant, between Ancient Judaism and the new Christian Church.

Hebrews 3 -- Paul argues that Jesus is the founder of the Second Covenant, while Moses was the author of the First Covenant. Paul says: "So then, brethren, consecrated and set apart for God, who share in the heavenly calling, [thoughtfully and attentively] consider Jesus, the Apostle and High Priest Whom we confessed [as ours when we embraced the Christian faith]. [See how] faithful He was to Him Who appointed Him [Apostle and High Priest], as Moses was also faithful in the whole house [of God]. Yet Jesus has been considered worthy of much greater honor and glory than Moses, just as the builder of a house has more honor than the house [itself]."
Not only is there a huge Divine gulf between the covenant of Jesus and the covenant of Moses, but the vast superiority of Jesus makes the Second Covenant enormously more precious and powerful than the First!

Hebrews 4 -- Paul argues that God had shut out the Jews practicing the First Covenant because they did not have faith. Listen: "the message they heard did not benefit them, because it was not mixed with faith ..." [4:2]
Then, Paul says that these First Covenant Jews were not able to enter into God's rest, whereas Christians relying solely on Jesus Christ would enter into God's precious and coveted rest. [4:3-5]. In verse 5, Paul was especially bold. Listen: "And [they forfeited their part in it, for] in this [passage] He said, They shall not enter My rest."

In Hebrews 4:14-16, Paul gloriously declares the superiority of Christians having Jesus Christ as High Priest, compared to the lifeless, powerless Judaism.
"Inasmuch then as we have a great High Priest Who has [already] ascended and passed through the heavens, Jesus the Son of God, let us hold fast our confession [of faith in Him]. For we do not have a High Priest Who is unable to understand and sympathize and have a shared feeling with our weaknesses and infirmities and liability to the assaults of temptation, but One Who has been tempted in every respect as we are, yet without sinning. Let us then fearlessly and confidently and boldly draw near to the throne of grace (the throne of God's unmerited favor to us sinners), that we may receive mercy [for our failures] and find grace to help in good time for every need [appropriate help and well-timed help, coming just when we need it]. [Parallel Bible, KJV/Amplified Bible Commentary]



Hebrews 5-7 lay out the premise that Jesus drew His High Priestly office directly from Melchizedek, to whom Abraham gave obeisance. But, by going back to Melchizedek as the source of His authority, Jesus goes back in history far beyond Moses, upon whom the First Covenant was based! However, if you want to argue that the priests of Judaism also derive their authority from Melchizadek, you still have a major problem: if Jesus were just trying to establish a continuation of Judaism, He would have based His new covenant upon Moses, not Melchizadek! If Christianity were to be a continuation of Judaism, the line of authority would be:
Melchizadek -- Moses -- Jesus
But, the line of authority is: Melchizadek -- Jesus, thus proving that Jesus was going back to the original source to establish a brand new church! Thus, the Apostle Paul is able to exclaim: "For it is witnessed of Him, You are a Priest forever after the order (with the rank) of Melchizedek. So a previous physical regulation and command is cancelled because of its weakness and ineffectiveness and uselessness." [7:18]
Did you get that? The First Covenant -- Judaism -- was weak, ineffective, and useless! Therefore, God cancelled Judaism! That is the meaning of the symbolism of God ripping the tapestry separating the Holy of Holies from the Sanctuary the moment Jesus died. At that moment, God cancelled the entire First Covenant, even though He waited until 70 AD to abolish the Temple and its worthless, useless animal sacrifices.
Then, Paul says: "... Jesus has become the Guarantee of a better (stronger) agreement [a more excellent and more advantageous covenant]." [7:22b]

In Hebrews 7-8, Paul continues to wax eloquently about the differences between the First and Second Covenants, always ensuring to point out that the Second Covenant was superior to the First. In 8:13, Paul states: "When God speaks of a new [covenant or agreement], He makes the first one obsolete (out of use). And what is obsolete (out of use and annulled because of age) is ripe for disappearance and to be dispensed with altogether." [Ibid.]
That is exactly what God did with Judaism: He annulled it, and dispensed with it altogether! Liberal theologians like this one have not one Biblical leg upon which to stand.

Hebrews 9 is most precious, for Paul clearly delineates in great fashion the clear differences between the rules of the First Covenant that merely pointed to the ultimate Second Covenant,-- whose High Priest is officiating in Heaven, washing man's sins by His spilt blood! We encourage you to read this passage carefully, for you can clearly see that Jesus' Church is clearly separate from Judaism, is clearly superior to Judaism, and is the new covenant of which God foretold.
Listen to 9:15: "[Christ, the Messiah] is therefore the Negotiator and Mediator of an [entirely] new agreement (testament, covenant)..."
An entirely new covenant, not just a continuation of the old!

Romans 10 deals with the shedding of blood that undergirded both covenants; once again, the blood of Jesus Christ that sanctifies the Second Covenant is vastly superior to the blood of animals that sanctified the First Covenant. The heart and soul of this chapter is in verse 9b:
"Thus He does away with and annuls the first (former) order [as a means of expiating sin] so that He might inaugurate and establish the second (latter) order." [Ibid.]

CONCLUSION
Clearly, the foretold End of the Age apostasy of the Christian Church is in full swing. The Apostasy is a general falling away of the current church from long-held fundamental doctrinal positions; its height, depth, and breadth not only take your breath away, but should tell us that the time of the appearance of Antichrist seems very close. According to Paul in 2 Thessalonians, this apostasy is the only event in the world that can open the door to Antichrist. Clearly, the Christian Church is opening that door wider and wider, until finally, in God's complete timing, Antichrist will come striding through. While the Roman Catholic Church is using the Virgin Mary to unite all the pagan religions of the world together, Rome's perceived "Christianity" is drawing Liberal Christianity into its web. When Antichrist arises, he will find all religions of the world united into one, with the Pope as the head -- the False Prophet [Read NEWS1052 for full details]
However, while we liken the appearance of Antichrist to the opening of a spiritual doorway, Jesus likens his appearance to the birth of a baby. What are "birth pains" the world will have to endure for Antichrist to finally come through that birth canal and out into the world? Jesus told us:
1. Wars and rumors of wars

2. Nation will rise against nation

3. Kingdom against kingdom

4. Famines

5. Earthquakes in place after place
This current example of apostasy is not occurring in a vacuum, but is occurring at a unique time in world history when events are occurring or seem about to occur, that fulfill these five types of birth pangs. Even as the planned World War III seems ready to explode, with the Middle East, a Korean nuclear war confrontation, and a Chinese attack on Taiwan, we see famines and earthquakes literally worldwide.

If these events exploded tonight, what would be your spiritual condition before Jesus Christ? Are you spiritually ready? Is your family? Are you adequately protecting your loved ones? This is the reason for this ministry, to enable you to first understand the peril facing you, and then help you develop strategies to warn and protect your loved ones. Once you have been thoroughly trained, you can also use your knowledge as a means to open the door of discussion with an unsaved person. I have been able to use it many times, and have seen people come to Jesus Christ as a result. These perilous times are also a time when we can reach many souls for Jesus Christ, making an eternal difference.

If you have accepted Jesus Christ as your personal Savior, but have been very lukewarm in your spiritual walk with Him, you need to immediately ask Him for forgiveness and for renewal. He will instantly forgive you, and fill your heart with the joy of the Holy Spirit. Then, you need to begin a daily walk of prayer and personal Bible Study.

If you have never accepted Jesus Christ as Savior, but have come to realize His reality and the approaching End of the Age, and want to accept His FREE Gift of Eternal Life, you can also do so now, in the privacy of your home. Once you accept Him as Savior, you are spiritually Born Again, and are as assured of Heaven as if you were already there. Then, you can rest assured that the Kingdom of Antichrist will not touch you spiritually.

If you would like to become Born Again, turn to our Salvation Page now.

We hope you have been blessed by this ministry, which seeks to educate and warn people, so that they can see the coming New World Order -- Kingdom of Antichrist -- in their daily news.

Finally, we would love to hear from you.

You can contact us by mail or email.

God bless you.

Subscribe to our email updates and messages from our editor by entering your email address below


Return to: