Stand by for insights so startling you will never look at the news the same way again.
YOU ARE NOW ON THE CUTTING EDGE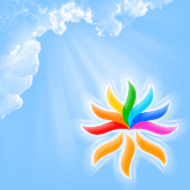 NEWS BRIEF: "A call for 'United Nations of Religions': Kazakhstan conference brings together leaders of 18 faiths", WorldNetDaily, September 30, 2003.
"As a two-day conference of major religions ended in Kazakhstan, key leaders of 18 faiths agreed to meet regularly under the banner 'Congress of World and Traditional Religions'. One delegate hoped the group would translate into a 'United Nations of Religions'."
The "United Religions" has been a growing force for much of the decade of the 1990's. As always, the Roman Catholic Church has been instrumental in leading this gathering of all the world's religions into the prophesied religion of the Antichrist. We view this gathering in two ways: First, this gathering is probably just another in a long series of meetings designed to overcome the divisions that remain; secondly, this gathering seems symbolic, for it is the first time we have seen exactly 18 religions represented. The number "18" is a hidden "666", for the addition of "6+6+6" equals 18. Whenever an occultist wants to communicate a "666" to other adepts, they use the number "18".
Why would Kazakhstan be selected for this type of global meeting? One article said it was "this historical crossroads of East and West". ["The Dialogue of Confessions", Congress of World and National Religions, Conference September 23-24, 2003]
Further, Kazakhstan is viewed as a model of "religious tolerance".
Now, let us examine who attended this global religious meeting. We could not find an article that lists all participants:
* The secretary-general of the Muslim World League, Sheikh Abdullah Al-Turki, from Saudi Arabia
* Jonah Metzger, the chief rabbi of Israel
* Cardinal Josef Tomko of the Vatican
* Russian Orthodox churches
* Hindus from India
* Muslims from Pakistan
* Taoists and Buddhists from China
* Shinto delegation from Japan. Rev. Minoru Sonoda, director of the Association of Shinto Shrines in Japan
* Secretary General of the Lutheran World Federation
* Orthodox Church of Constantinople


This gathering seems to continue to propel the religions to the world into the final Ecumenical Religion of Bible prophecy. However, we can learn much of the nature of this "United Religions" by going back to some earlier meetings. You will discover that these 120 participants from 18 different religions is one of the smallest meetings of all!
The most important global Ecumenical religious meeting of all was held August 28-31, 2000, a global religious meeting that was planned nearly a decade ago as part of a triad of meetings that would provide enough "psychic power" to stage Antichrist! In fact, at the end of the third meeting (September 10, 2000), the "baby" New World Order was officially "born"! While we cover this subject thoroughly in NEWS1395, we will quote relevant portions of this most important "United Religions" meeting, a gathering that helped "birth" Antichrist.
August 28-31, 2000 -- Millennium World Peace Summit -- RELIGIOUS SUMMIT
This summit is a gathering of religious and spiritual leaders from all over the world. United Nations Secretary-General Kofi Annan will convene the key global spiritual leaders to "investigate ways religious leaders can erase tensions in areas of conflict". This religious summit would fulfill the New Jerusalem Covenant Plan as outlined by Bill Lambert of the House of Theosophy on August 19, 1991 [Read NEWS1052 for full details]
You can get more details about his summit from http://www.millenniumpeacesummit.org/aboutframe.html which is the official website for this event. We all need to take note of the religious leaders taking part in this summit. Anyone attending will be automatically labeled as working for the coming Antichrist; we will then know the truth about anyone attending. [We did take note of the religious leaders attending this meeting that helped "birth" Antichrist - NEWS1402. You will find the list of participants at this open Antichrist meeting very interesting!]
INTERNATIONALIZED JERUSALEM
Thus, it does appear that the concurrent -- nearly simultaneous -- meetings of key global leaders in the realm of Religion, Economics, and Politics that were planned back in 1991 as being necessary to produce the Ecumenical Jerusalem they envisioned, indeed did take place between August 28 - September 10, 2000. These meetings were designed to clear the way for agreement to internationalize Jerusalem and create a religious meeting house for all three Monotheistic Religions -- Judaism, Muslim, and Christian.
After describing these three meetings, House of Theosophy Director, Lambert then said: "At the proper moment in history, the Pope will visit the combined Jewish/Christian/Moslem sector of Jerusalem to announce that all religions should be combined into one. This action will then finally break the Middle East logjam." [Read NEWS1052]
Just as the Bible states, the attention of the world is on tiny Jerusalem, insignificant in terms of commerce or military power, but powerful because prophecy uttered by Almighty God is being fulfilled there. The importance the Illuminati places upon Jerusalem is one of those exciting instances when the most powerful men in the world concoct a plan that completely fulfills Bible prophecy.
God says: "Behold, I will make Jerusalem a cup of trembling unto all the people round about ... And in that day will I make Jerusalem a burdensome stone for all people" [Zech 12:2-3]
The Illuminati waxes poetically:
"This hour is not the end of anything But just the pause
Before the massive wheels of circumstance
Grip firmly once again
Iron to iron
Pulling to Jerusalem" ["The Armageddon Script", by Peter Lemesurier, p. 253]

The Illuminati desperately wants the International United Nations to control Jerusalem. They plan for their Christ to make his headquarters there for the first seven years of his reign [Page 235]. Further, they want to gain control of Jerusalem in order to force a permanent and dramatic decline in Orthodox Judaism [NEWS1052] and they want control in order to rebuild the Temple of Solomon [NEWS1643]. The "Illumined Ones" believe only such a combination of events shall bring peace to a Jerusalem wracked by incessant war since May 14, 1948, when Israel officially became a nation.
UNIQUE "UNITED RELIGIONS"-- OTHER MEETINGS
The Roman Catholic Church has repeatedly taken steps beyond the Ecumenical and the Charismatic Movements. In 1986, the Church of Rome sponsored the Vatican Interfaith Conference. This was not another effort to bring rebellious Protestants back into the fold of the "Mother Church." This was a council of WORLD RELIGIONS. The conference included Catholics, Protestants, Buddhists, Hindus, Zoroastrians, Native Americans, African Animists, and Aboriginal Snake Worshippers (Kah, Gary. "The Demonic Roots of Globalism", Huntington House Publishers, Layfeyette, LA., 1996, p.140]
This was an effort to find common ground, common values, and learn tolerance—the building blocks of the One World Church.
Since 1986, many other groups have begun similar efforts. In 1993, Chicago hosted the Council for a Parliament of the World's Religions. This meeting generated a proclamation for a Declaration of Human Values (The Council,for a Parliament of the World's Religions brochure, Chicago, IL, 1993]
This declaration included those values common to all religions. Also in 1993, Rev. William Swing (Episcopal) announced the formation of the United Religions (UR). The UR is to be fully functional by the year 2000, and will serve as a NGO (non-governmental organization) to the UN. One goal of the UR is the establishment of a "Value Bank" that will allow people to invest their money to "promote the values of the UR." The UR also desires to be a "symbol of unity in a world of disunity" (Swing, William. "Invitation to Share the Vision," United Religions, San Francisco, CA., p.3]
The World Conference of Religion and Peace, organized in 1970, gathered at Melbourne, Australia, in July 1997. This organization stressed "Acceptance, Tolerance, and Collaboration" among all religions EXCEPT those who hold to any form of exclusivity (i.e. "no man cometh to the Father but by me") or absolutism (i.e. absolute truth). They also endorsed the UR and sought the common values found in all religions (Howard, W.B. "World Conference of Religion and Peace," Despatch magazine, August 8, 1997, http://www.cth.com.au]

The One World Church is nearing fruition. The UR and similar organizations are aggressively seeking to bond all world religions. The leaders of world religions are actively seeking common ground, common beliefs, and common values. The World Council of Churches is determined to participate in and aid these efforts. The pope and Church of Rome are "seizing the moment" to finally grasp their goal of establishing the so-called "Kingdom of God" on earth. Absolutism and exclusivity are rapidly becoming labeled as intolerance and bigotry.
This latest United Religions (UR) meeting in Kazakhstan is simply the latest in a long string of such meetings, to continually work for the uniting of all religions. As the world spins onward, getting closer and closer to the time Antichrist will step on to the world scene, aided and abetted by his False Prophet -- whom we know will be the Roman Catholic Pontiff [NEWS1052] -- we should expect these types of meetings to continue. The obstacles to be overcome are daunting, even for unredeemed men of false religions; therefore, the meetings are continual.
However, such meetings are truly a "sign of the times".
Are you spiritually ready? Is your family? Are you adequately protecting your loved ones? This is the reason for this ministry, to enable you to first understand the peril facing you, and then help you develop strategies to warn and protect your loved ones. Once you have been thoroughly trained, you can also use your knowledge as a means to open the door of discussion with an unsaved person. I have been able to use it many times, and have seen people come to Jesus Christ as a result. These perilous times are also a time when we can reach many souls for Jesus Christ, making an eternal difference.
If you have accept Jesus Christ as your personal Savior, but have been very lukewarm in your spiritual walk with Him, you need to immediately ask Him for forgiveness and for renewal. He will instantly forgive you, and fill your heart with the joy of the Holy Spirit. Then, you need to begin a daily walk of prayer and personal Bible Study.
If you have never accepted Jesus Christ as Savior, but have come to realize His reality and the approaching End of the Age, and want to accept His FREE Gift of Eternal Life, you can also do so now, in the privacy of your home. Once you accept Him as Savior, you are spiritually Born Again, and are as assured of Heaven as if you were already there. Then, you can rest assured that the Kingdom of Antichrist will not touch you spiritually.
We hope you have been blessed by this ministry, which seeks to educate and warn people, so that they can see the coming New World Order -- Kingdom of Antichrist -- in their daily news.
Finally, we would love to hear from you.
God bless you.