Title: BOTH PRESIDENT BUSH AND HIS FATHER SUPPORT "AMERICAN CLERGY LEADERSHIP CONFERENCE" (ACLC) -- A REV. MOON ORGANIZATION PUSHING FOR CHURCHES TO THROW OUT THEIR CHRISTIAN CROSSES!
Resources to aid your Understanding
Subtitle: In NEWS1932, we reported that a collection of our own political leadership -- both Democrat and Republican -- had crowned Moon in a Messiah-type ceremony in the Dirksen Building at the Capitol, to begin a new era of "Global Governance". As part of this report on Moon's current activities, we discovered Rev. Moon was encouraging Christian Churches to bury the Christian Cross in the ground.
Now, we discover both Presidents Bush supporting the ACLC, the group which is encouraging their American churches to throw their Christian Crosses in the trash -- literally toss it into a dumpster!
The New World Order is coming! Are you ready? Once you understand what this New World Order really is, and how it is being gradually implemented, you will be able to see it progressing in your daily news!!
Learn how to protect yourself, your loved ones!
Stand by for insights so startling you will never look at the news the same way again.
YOU ARE NOW ON
THE CUTTING EDGE
Copyright © 2004 Cutting Edge Ministries. All rights reserved. See full copyright notice below.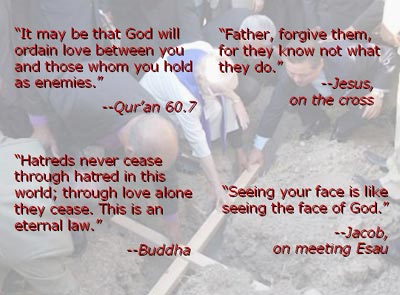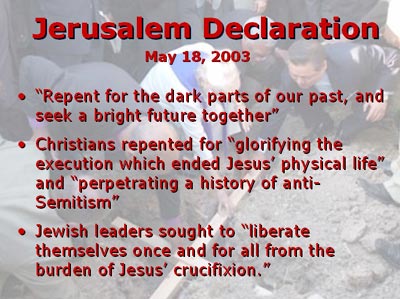 As you can see from these two pictures, these people are actually committing the blasphemous act of burying the Christian Cross in the ground, in a cross-shaped hole. They are taking this terrible action at the behest of Rev. Moon at the "Jerusalem Declaration" of May 18, 2003, Seoul World Summit. As you can see from this picture, Rev. Moon was declaring that the following objectives were being met by burying this Christian Cross:
* "Repent for the dark parts of our past, and seek a bright future together."

* "Christians repented for 'glorifying the execution which ended Jesus' physical life' and 'perpetrating (sic) a history of anti-Semitism"

* "Jewish leaders sought to 'liberate themselves once and for all from the burden of Jesus' crucifixion
Of course, such activity is of the spirit of Antichrist, for the Apostle Paul declared the true spirit of genuine Christians toward the Cross:
"But God forbid that I should glory, save in the cross of our Lord Jesus Christ" [Gal 6:14]
However, many American Christians might disregard the significance of this action, because it does not seem to hit too closely to home. After all, this declaration was made in Seoul, South Korea on May 18, 2003, and the name of the declaration carried the far-away connotation of "Jerusalem". However, such Christians have not realized that an American christian organization with firm ties to Moon's Unification Church has consistently advocated a very similar method of getting rid of the crosses in christian churches -- throwing them into a dumpster.
This American christian organization encouraging its churches to throw their crosses away, is the American Clergy Leadership Conference -- ACLC. We encourage you to take a moment to click to their Home Page, for you will see immediate confirmation that this group is a Moonie organization. On their Home Page, you will find the following references to either the Rev. Moon or his Unification Church:
* WORLD PEACE AND UNIFICATION CENTERING ON THE TRUE LOVE OF GOD - Rev. Dr. Sun Myung Moon's Address

* "Without God's love
there cannot be any progress,
and where there is absence
of God's love, existence itself
will be destroyed.
- Father Sun Myung Moon

* "A church exists for the purpose of God, and a school for the future generations. God's will always rests on the future generations.
Through the sacrifice of an individual person He seeks for great
happiness of the descendants. He knows that a great nation and world
for the future generation will come, through the sacrifice
of this generation. God has put his heart and soul into the work
of teaching people to be able to fulfill their duties."
- Father Sun Myung Moon
There is no doubt whatsoever that ACLC is a Moonie organization, fully supportive of the global goals of the Rev. Moon.

The really, really big news is that President Bush and his Father are fully supportive of the ACLC! Listen:

NEWS BRIEF: "Bush supports cross-hating movement: President's father also praises work of Rev. Moon-linked clergy group", WorldNetDaily, December 21, 2004

"Both President Bush and his father have expressed their support for a group of mostly black church leaders that endorses the practice of throwing the cross into the trash – literally. According to an online column by John Gorenfeld, the American Clergy Leadership Conference sponsored a nationwide "Tear Down The Cross" day for Easter, 2003 during which pastors led ceremonies where traditional sanctuary crosses were tossed into dumpsters. Over 100 crosses reportedly were trashed. Writes Gorenfeld, "This [cross removal], movement leaders said, cleared the way for a new age and second messiah."

The information within this paragraph takes us back to the pictures, above, in which followers of the Rev. Moon are actually burying the Christian Cross into a cross-shaped hole in the ground, in their effort to "move beyond the cross" in order to remove the barriers of hatred which the cross supposedly brings into the world. The ACLC is urging its clergy and their churches to take the cross down from their walls in order to throw it into the dumpster!

What is the purpose of this blasphemous exercise? To clear "the way for a new age and second messiah"!

This goal is the stuff of which Antichrist is made! In fact, the "New Age" and the "Second Messiah" refer to the coming Antichrist. In NEWS1932, we saw that the secret ceremony at the U.S. Dirksen Capitol which virtually crowned the Rev. Moon as Messiah was inexplicably linked to the cross-burying ceremony espoused by the "Jerusalem Declaration" of May 18, 2003, Seoul World Summit.

Let us now return to this WorldNetDaily article to see how President Bush ties into the ACLC.

"Last week, the movement's leaders (ACLC) presided over a Washington prayer breakfast featuring messages of thanks from both Bush presidents ... Two sponsors of last week's breakfast, the International and Interreligious Federation of World Peace and the American Family Coalition, are both affiliated with Moon .... Moon was the keynote speaker at the Washington breakfast last week ... The columnist says Bush sent a 'warm letter' of support presented at the breakfast by a state senator, in which the president and first lady sent best wishes to the sponsors -- and thanked them for rallying his 'armies of compassion'."

The old American saying, "Birds of a feather flock together" certainly applies here. Even though President Bush has not -- to my knowledge -- urged Christian churches to take down their crosses so they could throw them into the dumpster, when the President sends a "warm letter of support" to Rev. Moon, and when he offers support of the ACLC at last week's prayer breakfast, he is indirectly supporting the cross-burying activities of that organization.

Now, let us turn to the expose' to which WorldNetDaily refers in its article to get even more pertinent information.

NEWS BRIEF: "Tear Down the Cross: Why is President Bush supporting a group trying to convince African-American churches to literally throw their crosses in the trash?", by John Gorenfeld, Contributor, 12.21.04

"This wintry season, as the faithful continue to receive alarming reports from the news that Republicans are all that stand between them and the outlawing of Christmas itself by hordes of secular humanists, the two presidents Bush have endorsed a powerful conservative interest group specializing in removing the cross -- not from schools or courthouses, but from churches ... this group, calling itself the American Clergy Leadership Conference (ACLC), sponsored a nationwide 'Tear Down The Cross' day for Easter, 2003. Last week, leaders in this radical cause presided over a Washington prayer breakfast featuring messages of thanks from the presidents. Former Senator Bob Dole came in person."

For years, Cutting Edge has been pressing the truth that our politicians are not what they claim to be, but are as supportive of the coming Kingdom of Antichrist -- the New World Order -- as any New Age adherent or occultist. Here, we learn that President Bush and his Father have endorsed the ACLC, a "powerful conservative interest group specializing in removing the cross".

Now, notice the various ways in which both Presidents Bush are vitally connected to the ACLC:

* "On Wednesday, a video file containing the elder President Bush's message to the ACLC disappeared from the movement's web site, though both Bush endorsements were reported in the Washington Times. Neither the White House nor the ACLC returned requests for comment on the breakfast and President Bush's participation." (Ibid.)

In the Washington Times article, hot linked, above, notice the warm support President Bush gives to several groups, including the American Clergy Leadership Conference. Notice also, that the Rev. Moon attended this prayer breakfast and was its keynote speaker.

* "According to a report in the Washington Times, as well as video found on the Moon-affiliated Web site FamilyFed.org, the elder Bush made a taped appearance before the ACLC's 3,000-strong crowd, which he thanked for their work. 'I thought about parachuting into the building', he joked about wishing he could make it. And he paid lip service to Moon's unwieldy religious jargon, using phrases like 'peace centered on God', a goal that he called 'right on target'." (Ibid.)

* "His son, George W. Bush, wrote a warm letter of support presented at the event by a state senator, in which the president and his wife Laura sent his best wishes to the sponsors -- and thanked them for rallying his 'armies of compassion'. It is unclear what the ACLC has done for society's problems, though its Web site is selling a video called "Beyond The Cross," , and an affiliated Moon front group, Free Teens USA, has received almost half a million dollars under Bush's Abstinence-Only program." (Ibid.)

* "The elder Bush once explained his cooperation with Moon's Unification Church to the Washington Post, through a spokesman, as follows: 'This group is about strengthening the family and that's what President and Mrs. Bush are deeply focused on'." (Ibid.)

* "One ex-member is Cathryn Mazer, whose grieving family was filmed in 1993 by the 'Today Show' as they tried without success to enter a Moon dormitory where Cathryn was staying. She says photos of Moon with Bush played a major role in the seminar that indoctrinated her into the cult -- used to sell potential converts on the legitimacy of Moon." (Ibid.)

" "Reuters reported in the mid-'90s that the elder Bush trekked to Argentina as a paid spokesman for Moon, whom he introduced as 'the man with the vision'. During the Clinton years, Bush also tagged along with Moon's speaking tour in Japan, where the former president had kind words for his strange bedfellow, an ex-convict. Bush is estimated to have received upwards of $1 million for these appearances. Moon also gave $1 million to Bush's presidential library. And when Bush was Vice President, it was a generous check from Moon that opened Oliver North's Contra Freedom Fund." (Ibid.)

* "In Monday's video, Bush declared: 'I want to salute a man I respect: Wes Pruden', referring to the Times editor, whose paper frequently publicizes Moon projects that most newspapers would ignore. On December 7, he ran a piece by ACLC Rev. Donnie McLeod, who has argued for the removal of the cross in sermons covered by Unification Church publications. The cross-disposal theologian wrote: 'as the president is now free from the election concerns and can never be reelected, he can now build a legacy for America and the world." ACLC leaders, he said, 'are ready to see the president as I see him, a man to God who is truly ready to make the sacrifices and commitments to create a legacy of faith and family that will guide our nation for the next 200 years'." (Ibid.)

Did you catch this statement from ACLC's Rev. Donnie McLeod -- that "cross-disposal theologian" -- who said that, since President Bush did not have to worry about being re-elected "he can now build a legacy for America and the world"? Indeed, now that President Bush is now free from election concerns, we are going to see his true spiritual condition coming to the forefront, and genuine, discerning Christians are going to be terribly dismayed! True Christians who voted for President Bush are going to realize -- albeit too late -- that President Bush has such a legacy of rotten spiritual fruit that he cannot possibly be a genuine Christian.

Consequently, we have added President Bush's support for Rev. Moon and his organizations like the cross-removing ACLC to our list of "Evil Fruits vs Good Fruits" list.

Related Article reporting the number of Evangelical Christian leaders who have received money from Rev. Moon: NEWS1818. You will discover this group of evangelicals who have taken support from Rev. Moon are the same group who are urging their followers to follow Bush and to realign with the Roman Catholic Church!

Truly, this "Spirit of Antichrist" is raising the call to christian churches all over the world to take down that "terribly divisive" Christian Cross and either bury it in the ground or throw it into a dumpster. Once this offending Christian symbol is gone from christian churches, Moonie organizations like the ACLC believe it will be much easier to meld the religions of the world into a One World Religion.

Can you hear the approaching hoofbeats of the Four Horsemen of the Apocalypse? Are you spiritually ready? Is your family? Are you adequately protecting your loved ones? This is the reason for this ministry, to enable you to first understand the peril facing you, and then help you develop strategies to warn and protect your loved ones. Once you have been thoroughly trained, you can also use your knowledge as a means to open the door of discussion with an unsaved person. I have been able to use it many times, and have seen people come to Jesus Christ as a result. These perilous times are also a time when we can reach many souls for Jesus Christ, making an eternal difference.

If you have accepted Jesus Christ as your personal Savior, but have been very lukewarm in your spiritual walk with Him, you need to immediately ask Him for forgiveness and for renewal. He will instantly forgive you, and fill your heart with the joy of the Holy Spirit. Then, you need to begin a daily walk of prayer and personal Bible Study.

If you have never accepted Jesus Christ as Savior, but have come to realize His reality and the approaching End of the Age, and want to accept His FREE Gift of Eternal Life, you can also do so now, in the privacy of your home. Once you accept Him as Savior, you are spiritually Born Again, and are as assured of Heaven as if you were already there. Then, you can rest assured that the Kingdom of Antichrist will not touch you spiritually.

If you would like to become Born Again, turn to our Salvation Page now.

We hope you have been blessed by this ministry, which seeks to educate and warn people, so that they can see the coming New World Order -- Kingdom of Antichrist -- in their daily news.

Finally, we would love to hear from you.

You can contact us by mail or email.

God bless you.

Copyright © 2004 Cutting Edge Ministries. All rights reserved. This password protected article and its contents are protected under the copyright laws of the United States and other countries. This article is provided by subscription only for use by the subscriber and all other rights are expressly reserved by the copyright owner. Copying and pasting this article, in whole or in part, into e-mails or as attachments to e-mails or posting it on the Internet is strictly prohibited and may subject the offender to civil liability and severe criminal penalties (Title 17, United States Code, section 501 and 506).

Copying and distributing this article in violation of the above notice is also a violation of God's moral law.


Become a Headline news subscriber HERE.

Subscribe to our free email updates and messages from our editor by entering your email address below :

Return to: