Title: PRESIDENT BUSH CONTINUES TO PROMOTE PAGAN RELIGIONS - CHRISTIAN LEADERS ARE FORBIDDEN BY SCRIPTURE TO PROMOTE ANOTHER RELIGION
Resources to aid your Understanding
Subtitle: "... what concord hath Christ with Belial? or what part hath he that believeth with an infidel? And what agreement hath the temple of God with idols?" [2 Cor 6:15-16]
God does not allow a leader of a nation to set aside Biblical principles as he conducts the affairs of state!

The New World Order is coming! Are you ready? Once you understand what this New World Order really is, and how it is being gradually implemented, you will be able to see it progressing in your daily news!!
Learn how to protect yourself, your loved ones!
Stand by for insights so startling you will never look at the news the same way again.
YOU ARE NOW ON
THE CUTTING EDGE
Copyright © 2004 Cutting Edge Ministries. All rights reserved. See full copyright notice below.
INTRODUCTION: NATIONAL RULERS HELD TO BIBLICAL STANDARD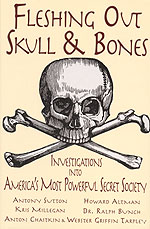 One of the most hotly debated subjects since January 20, 2001, when President Bush took his Oath of Office has been whether the President is genuinely Born Again or whether his spiritual fruits are so rotten as to lead a Christian to conclude that he is likely not to be genuinely saved. Toward this end, Cutting Edge has offered several critically important resources:
* NEWS1314 -- "Texas Governor George W. Bush Is Member Of Skull & Bones Satanic Secret Society" - Posted June, 1999
* NEWS1398 -- "Is George W. Bush Genuinely Born Again?" - Posted April, 2001
* NEWS1758 -- "Ozzy's White House: Bush's Headbanger's Ball" -- The Day President Bush Promoted Ozzy Osbourne
* President Bush: Evil Fruits vs Good Fruits
With these articles as background, please allow us the opportunity to share some of the numerous ways in which President Bush is blatantly promoting pagan religions, most often placing them in the public eye as equal to Christianity. Of course, no genuinely Born Again believer in whom the Holy Spirit dwells would actually do such a thing, for the Scriptures quoted in the above Subtitle forbid such a thing.
One of the more common defenses Christians throw up when confronted by some of his evil deeds is that a President is the leader of all the people and must do things to please his non-christian citizens. Such a concept is Biblically nonsensical and totally without merit, as there is no place in Scripture where God allowed the leader of Israel to set aside Biblical Truth and foundation just because he became the top national leader. In fact, God holds kings to the same high moral standards to which He holds individuals. Consider the following Old Testament examples:
2 Chronicles 16-21: King Uzziah, who was considered a good, godly king up until this point in his 50-year reign, suddenly invaded the temple to burn intense on the altar, an act reserved just for the priests. Listen to this account:
"But when [King Uzziah] was strong, he became proud to his destruction; and he trespassed against the Lord his God, for he went [a]into the temple of the Lord to burn incense on the altar of incense.

17 And Azariah the priest went in after him and with him eighty priests of the Lord, men of courage.

18 They opposed King Uzziah and said to him, It is not for you, Uzziah, to burn incense to the Lord, but for the priests, the sons of Aaron, who are set apart to burn incense. Withdraw from the sanctuary; you have trespassed, and that will not be to your credit and honor before the Lord God.

19 Then Uzziah was enraged, and he had a censer in his hand to burn incense. And while he was enraged with the priests, leprosy broke out on his forehead before the priests in the house of the Lord, beside the incense altar.

20 And as Azariah the chief priest and all the priests looked upon him, behold, he was leprous on his forehead! So they forced him out of there; and he also made haste to get out, because the Lord had smitten him.

21 And King Uzziah was a leper to the day of his death, and, being a leper, he dwelt in a separate house, for he was excluded from the Lord's house. And Jotham his son took charge of the king's household, ruling the people of the land. [2 Chronicles 16-21; Parallel Bible, KJV/Amplified Bible Commentary]
God demonstrated that He would not allow a King of Israel to change His temple rules just because he had become a powerful, prosperous, and popular human ruler. God then delivered this same kind of message to King David in his affair with Bathsheeba (2 Samuel 11). The Scripture below is God's judgment upon King David for his adultery with Bathsheeba, and married woman, and for his murder of her husband, the warrior in King David's army:
"When Uriah's wife heard that her husband was dead, she mourned for Uriah. And when the mourning was past, David sent and brought her to his house, and she became his wife and bore him a son. But the thing that David had done was evil in the sight of the Lord." [2 Samuel 11:26-27; Ibid.]

God sent the prophet Nathan to confront David with his sin: (2 Samuel 12:1a) Nathan is speaking to David here, giving him God's judgment:

"Why have you despised the commandment of the Lord, doing evil in His sight? You have slain Uriah the Hittite with the sword and have taken his wife to be your wife. You have murdered him with the sword of the Ammonites. Now, therefore, the sword shall never depart from your house, because you have not only despised My command, but you have despised Me .... Thus says the Lord, Behold, I will raise up evil against you out of your own house .... because by this deed you have utterly scorned the Lord and given great occasion to the enemies of the Lord to blaspheme, the child that is born to you shall surely die.

"Then Nathan departed to his house. And the Lord struck the child that Uriah's widow bore to David, and he was very sick ... And on the seventh day the child died." [2 Samuel 12:9-11, 14, 15, 18a; Ibid.]
David's kingdom was rent asunder after the reign of his son, Solomon. Further, while David lived, his own household was torn apart in strife, with his son, Absalom actually attempting to seize David's throne, a rebellion which would have required him to kill his own father. King David suffered terribly at the hands of a holy God for his adultery with Bathsheeba and the murder of her husband.
Nowhere in the Bible is it recorded where Almighty God allows a human ruler to set aside established Biblical standards just because he has ascended to rulership. President Bush will be held to the same standard to which God held King David, King Uzziah and all the other kings in Israel's Old Testament history.
But, President Bush's sin is even more severe, for he is promoting pagan religions, acts which, by the virtue of Bush's office, stamp them with his stamp of approval; further, since President Bush is seen as a Born Again Christian President, his acts promoting these pagan religions are seen as acts which label these false religions as being equal with Christianity. When President Bush, by his actions, equates Jesus Christ with a god and goddess of the Hindu religion, that is a serious sin, indeed. And when a Christian attempts to defend the President's actions, that Christian becomes guilty of participating in that sin. Listen:
"If there come any unto you, and bring not this doctrine, receive him not into your house, neither bid him God speed: For he that biddeth him God speed is partaker of his evil deeds." [2 John 1:10-11]
PRESIDENT BUSH PROMOTING PAGAN RELIGIONS
NEWS BRIEF: "Text of Bush's Kwanzaa 2004 Message", Las Vegas Sun, December 23, 2004
"I send greetings to those observing Kwanzaa. During Kwanzaa, millions of African Americans and people of African descent gather to celebrate their heritage and ancestry. Kwanzaa celebrations provide an opportunity to focus on the importance of family, community, and history, and to reflect on the Nguzo Saba or seven principles of African culture. These principles emphasize unity, self-determination, collective work and responsibility, cooperative economics, purpose, creativity, and faith. Kwanzaa strengthens the ties that bind communities across America and around the world and reflects the great promise and diversity of America. Laura joins me in sending our best wishes for a joyous Kwanzaa."
Since most Christians have never heard of this newly-created pagan holiday, let us examine what Kwanzaa represents.
NEWS BRIEF: "What Is Kwanzaa?", ChrisoCentric, http://christocentric.com/Kwanzaa/whatiskw.htm
"Kwanzaa was created in 1966 by Dr. Maulana Ron Karenga, who is the leader of the Black nationalist cultural group US, and also professor and chair of the Department of Black Studies at California State University, Long Beach ... Kwanzaa is a seven-day holiday that was created by Dr. Karenga ... "Kwanzaa was a continental African holiday rather than Afro-American one. On the contrary. I have always stressed that although Kwanzaa has some historical roots in Africa, it is essentially a product of the particular social conditions and self-determined needs of the Afro-American people'."
Therefore, we are alerted to the fact that Kwanzaa comes from the African religious tradition, and that it was adapted to the "Afro-American people". This fact should immediately raise concerns because the traditional African religion is pagan Shamanism. Out of this religion, the extremely evil brand of voodoo sprang. In fact, these concerns are well justified, as the next bit of information proves.
"The Kwanzaa celebration consists of seven days to celebrate seven principles (the Nguzo Saba), with emphasis on one principle a day. The seventh day culminates in a feast, patterned much like the first-fruits celebrations of ancient Africa. There are activities such as the pouring the libation for ancestors, lighting of candles, raising names of ancestors (also referred to by many as 'ancestor worship' - discussed more in detail later), and gift-giving." (Ibid.)
Our concerns are justified, as we see that Kwanzaa emphasizes the pagan concept of praying to, and worshipping, dead ancestors -- a practice forbidden in the Bible. This pagan practice is called, "Necromancy". Listen to the dictionary definition of "Necromancy" so you can see the kind of abomination this worshipping of ancestors truly is in the sight of God.
"Necromancy -- The art that professes to conjure up the spirits of the dead and commune with them ... Magic, especially Black Magick or sorcery .. Related word, "Necrology", worship of the dead." [The Tormont Webster Illustrated Encyclopedic Dictionary]
Upon this occult foundation is built the edifice of ancestor worship by so many non-Christian religions today, from the Far East to Africa.
Isaiah 8:19-22, Leviticus 19:31, 1 Samuel 28:3-19, 2 Kings 21:6; 23:24; and 2 Chronicles 33:6 either forbid any kind of practice as Necromancy/Necrology, or show God's abhorrence of such practices. Kwanzaa promotes ancestor worship. Now, let us go back to "ChristoCentric" to realize that the major purpose of Kwanzaa is to create an entirely new way of life for its adherents, not to just have a one day holiday to remember old African religious and cultural traditions.
"Dr. Karenga shows more evidence of his desire to create not only just a 7-day holiday, but a way of life complete with principles to be followed daily." (Ibid.)
Now, let us taken yet another close look at Kwanzaa, to see, from their own words, that this celebration does practice ancestor worship.
NEWS BRIEF: "Ancestor Worship", ChristoCentric, http://www.christocentric.com/Kwanzaa/ancestor.htm
"In Kwanzaa, yet another very religious like-ceremony takes place and that is the honoring of the ancestors ... we already have in Kwanzaa the lighting of candles, spiritual principles found in the Nguzo Saba, and now parts of the ceremony which include the pouring of water from a cup, reciting libations and roll calling of ancestors' names as is done in ancient African religions ... Libation: Karenga considers this a very important ritual and actually quotes from an ancient Egyptian religion book called Ani (also known as the Egyptian book of the Dead) ... Although strongly denying that there is no ancestor worship and that Africans worship only God5, Karenga's description of the honoring of the ancestors resembles very closely to that of ancestor worship practiced by many religions. Here is Karenga's description of that portion of the ceremony (See Links section for examples of libation prayers and Kwanzaa ceremonies):
"Thus, their profound respect for the ancestors, which admittedly has a spiritual dimension, is best called veneration. The ancestors are venerated because they are:
- A source and symbol of lineage
- Models of ethical life, service and social achievement
- Because they are spiritual intercessors between humans and the Creator."

This latter quote places a Kwanzaa adherent squarely in the midst of a religious ceremony and religious act. Only Jesus can be an Intercessor between man and God (1 John 2:1; Hebrews 7:25; Ephesians 2:18; 1 Timothy 2:5). Thus, any religion which states that dead ancestors are "spiritual intercessors between humans and the Creator" is a false, non-christian religion and must be rejected.
Therefore, what is this "christian" President doing promoting Kwanzaa?
PRESIDENT BUSH PROMOTING OTHER PAGAN RELIGIONS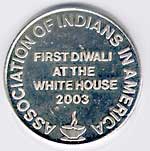 The Festival of Diwali At The White House

Causing dismay once again amongst his Christian apologists, President Bush hosted a Hindu celebration within the White House. Listen:

NEWS BRIEF: "A Historic moment at The White House: Association of Indians in America News Release on the occasion of the festival of Diwali at the White House", Khazana, October 23, 2003, Carried In Daily News Updates 12/5. See http://www.khazana.com for the Hindu official version of this terrible display of pagan religion inside the White House.

"Today marked an historic time for Hindus in the United States as well as around the world. The White House celebrated its first ever Diwali event ... In an ceremony rich with tradition, a 'dipak' (lamp) was lighted by Mr. Karl Rove, Special Advisor to President George W. Bush, in front of the Lord Ganesha and Goddess Laxmi to invoke their blessings during this age-old Festival of Lights celebration."

While Bush was in Pearl Harbor at this time, Rove left no doubt that the president approved of this religious ceremony when he stated: "I just spoke with the President who called from Pearl Harbor; he sends his Diwali greetings to you and to the Hindu community worldwide.' He added, 'The President would have been here today, had it not been for his trip to Asia and Australia'."

The leaders of Indian Hinduism were understandably ecstatic:

""There were at least two very significant items; the event was held at The White House within six weeks of the request to the President and representatives from all major Indian organizations were present at the event including Muslims, Sikhs, Jains and Christians ... "President Bush deserves our sincere ´gratitude´ for creating history by opening the door of The White House for a Hindu ceremony.." [Dr. Piyush C. Agrawal, National President of the Association of Indians in America]

Can you imagine this blasphemy? A "christian" President actually approved of a pagan ceremony in the White House intended to invoke the blessings of a Hindu god and goddess -- "the Lord Ganesha and Goddess Laxmi"! Further, he apologized for not being there in person! Dr. Agrawal was right: Bush did open a door when he approved of this ceremony, but it was the door creaking open to a formerly forbidden practice in formerly Christian America! A demonic door just opened in the White House!

What affront this is to a holy, pure Jesus Christ Who warned emphatically:
"I am the way, the truth, and the life: no man cometh unto the Father, but by me." [John 14:6]

"Come out of her, my people, that ye be not partakers of her sins, and that ye receive not of her plagues." [Rev 18:4]
The Apostle John, writing under the power of the Holy Spirit, took matters a bit further than just separating from unbelievers and their deeds. Listen:
"If there come any unto you, and bring not this doctrine, receive him not into your house, neither bid him God speed: For he that biddeth him God speed is partaker of his evil deeds." [2 John 1:10-11]
We are not to give any validity or encouragement to unbelievers, nor are we even to wish them well, for that would make us a "partaker of his evil deeds." Thus, when Bush approved of this pagan religious service, he became a partaker of the Hindu rites, soiling Jesus' Name in the process. In previous writings, we noted the Bush apologist, the President of the Southern Baptist Ethics & Religious Commission, attempting to downplay the significance of Bush's declaration that Islam and Christianity worshipped the same god, by stating, that Bush "is Commander-in-Chief, not theologian-in-chief".

How would he defend this Hindu religious rite within the White House? At this point, we are reminded of a similar incident in Japan recently: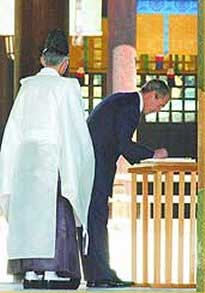 President Bush and Mrs. Bush Worship At Shinto Shrine

NEWS BRIEF: "President Bush and Mrs. Bush worship at Shinto Shrine", by Dr. Morey author of the Islamic Invasion, http://www.cephasministry.com/nwo_bush_goes_to_shinto_worship.html

"American Christians were both grieved and shocked when President Bush, professing Christian, went to a Mosque and joined in prayer with the Muslims to the 'Universal God'. President Bush evidently assumes that all religions worship the same 'Universal God' under different names ... President Bush and his wife have now managed to alienate the Japanese and Korean Christian communities by going to a Shinto shrine and worshipping the demon spirit in the shrine. They both bowed to the demon and clapped their hands to awaken him. Then they signed the book of those who have worshipped the demon spirit who inhabits the Shrine ... Japanese Christian leaders confirm that the Bushes engaged in pagan worship and not just a show of respect. The Japanese news services used the religious term 'sanpei' to describe the worship performed by the Bushes at the temple."

Japanese and Korean Christians were properly horrified when they saw President Bush and Laura worshipping at this Shinto Shrine, thus validating the religion. Listen as Dr. Morey further explains.

"During WW II, Japanese and Korean Christians who refused to worship the demon-spirit at Shinto shrines were put to death. Now, their descendents see the Bushes making a mockery of those who, like Daniel and his three friends, refused to bow before a heathen idol. According to the Japan Times, the Prime minister of Japan remained in the car because he could not join the Bushes in worshipping at the shrine. This was due to a wall of separation between temple and state set forth in the Japanese Constitution. It forbids the heads of state from participating in Shinto worship because that was the religion that motivated the carnage of WW II and the attack on Pearl Harbor." (Ibid.)

Even discerning World War II veterans of the Pacific Theater knew enough about the Japanese religion and 20th Century history to be upset.

"American WWII veterans are particularly outraged at the Bushes worshipping the spirit of past Japanese Emperors as this was the motivating force behind the Japanese attack on America." (Ibid.)

But, undiscerning American Christians of this era simply sleep on. Genuine Christian, when oh when are you going to wake up from your spiritual stupor, realizing that the terribly evil fruits perpetrated by President Bush add up to the firm conclusion that he cannot actually be a genuine Christian?

President Bush Announced -- Again -- That Christians and Muslims Worship And Serve The Same God!

NEWS BRIEF: "Christians, Muslims worship same God, Bush tells reporters", BP News, Nov 20, 2003, By Michael Foust, http://www.bpnews.net/bpnews.asp?ID=17133

"LONDON (BP)--In an answer likely to upset evangelicals and other members of his Christian base, President Bush said Nov. 20 that Christians and Muslims worship the same God ... 'I believe we worship the same God'. The answer was in response to a question specifically asking him how he reacts to those who say the god of Islam is not the God of Christianity."

While the President of the Southern Baptist Ethics & Religious Commission tried to downplay this statement by flippantly stating, "we should always remember that he is Commander-in-Chief, not theologian-in-chief". He then simply stated that President Bush was "mistaken".

However, repeatedly since the 9/11 attacks, President Bush has wasted no opportunity to embrace the Islamic faith. He has worshipped in an Islamic temple and he has praised Islam in the White House. Go through our Daily News Updates these past two years and you will discover instance upon instance where Bush has made this type of statement. Every single time, Fundamentalist Christians have flippantly defended him using this same flawed logic.

It is time to pull that mental trigger and admit that President Bush has displayed absolutely no good spiritual fruit during this four long years of Presidency. His bad spiritual fruits are labeling him. In fact, President Bush boldly stated his belief that the God of Islam and Christianity are identical just days before the 2004 Presidential election! Were you listening and/or paying attention? More to the point, did you have the courage to belief what Bush said on national television?

President Bush removed his Christian mask on Tuesday, October 26, when he told Charlie Gibson on an ABC's 'Good Morning America' interview that he supported the right of gays to have "civil unions" and that Christians pray to the same god as do Muslims.

NEWS BRIEF: "Bush breaks with GOP on same-sex unions", United Press International (UPI), 10/26/2004

"WASHINGTON, Oct. 26 (UPI) -- President Bush broke with the Republican Party platform in supporting states' rights to permit same-sex civil unions. 'I don't think we should deny people rights to a civil union, a legal arrangement, if that's what a state chooses to do so. ... I view the definition of marriage different from legal arrangements that enable people to have rights. And I strongly believe that marriage ought to be defined as between a union between a man and a woman.

"Now, having said that, states ought to be able to have the right to pass laws that enable people to be able to have rights like others," Bush told ABC's Charlie Gibson in an interview broadcast Tuesday on "Good Morning America."

As if he could not believe his ears, Gibson then asked the President the next logical question:

So the Republican platform on that point, as far as you're concerned, is wrong?" Gibson asked the president, to which Bush replied: "Right."

Then, later in the interview, President Bush dropped another huge bomb: he said he believes that Christians and Muslims pray to the same god!

NEWS BRIEF: "Bush On Religion And God: President Believes Muslims and Christians Pray To The Same God", ABC News, October 26, 2004

"Oct. 26, 2004 -- While the president often refers to God during public addresses to his supporters, Bush's religious convictions don't always seem to reflect those of the conservative Christians who make up his political base. In an exclusive interview with ABC News' Charles Gibson, Bush said he believes that both Christians and Muslims worship the same God. 'I think we do. We have different routes of getting to the Almighty', Bush said. 'But I want you to understand, I want your listeners to understand, I don't get to get decide who goes to heaven. The Almighty God decides who goes to heaven and I am on my personal walk', he said."

This last sentence is designed to trigger the false belief in undiscerning Christians that one cannot "judge" whether a person is right with God, thus hiding his damning earlier statement. This admonition to "Judge not that ye be not judged" (Matt 7:1) has been so twisted that Christians really believe they cannot know from a person's fruits as to whether that person is genuinely saved; however, the chapter headline on Matthew 7 in my KJV Bible says, "Christ, ending His sermon on the mount, reproves rash judgment". This is precisely correct! Jesus was warning against reaching a spiritual conclusion based upon little or no real evidence.

Proof this Biblical fact is Jesus' other admonition, "Judge not according to the appearance, but judge righteous judgment" (John 7:24) We are to judge righteously, based upon solid fact. Thus, Matthew 7:1 and John 7:24 go hand-in-hand with Matthew 7:16-20, where Jesus emphatically declares, "Ye SHALL know them by their fruits".

Therefore, this one TV interview is staggeringly important, as it reveals that President Bush cannot be a Christian if he is as deceitfully double-minded as to support gay civil unions and if he believes that Christians pray to the same god as the Muslims! We have warned about Bush's Ecumenism many times before, and it is certainly on display here.

Christian, are you listening with an open mind?

The next question is "why President Bush would say these things just days before the election, risking loss of his Christian support base"? The New York Times feels they have the answer.

NEWS BRIEF: "With the Christian Right In the Bag, Bush Now Says His Party Is Wrong to Oppose Gay Civil Unions", By ELISABETH BUMILLER, New York Times, reprinted by Raiders Newsupdates, October 27, 2004

"President Bush said in an interview this past weekend that he disagreed with the Republican Party platform opposing civil unions of same-sex couples and that the matter should be left up to the states. Mr. Bush has previously said that states should be permitted to allow same-sex unions ... But Mr. Bush has never before made a point of so publicly disagreeing with his party's official position on the issue.

"According to an ABC transcript, Mr. Gibson then noted to Mr. Bush that the Republican Party platform opposed civil unions. 'Well, I don't', Mr. Bush replied. Mr. Bush has sought to walk a careful line between pleasing conservatives who oppose same-sex marriage and not alienating more moderate voters who might see bigotry in his views. Mr. Bush's support for civil unions and his opposition to his party on the issue is in part an effort to reach out to swing voters, whom he needs to win on Nov. 2."

Too may fellow Christians were so "in the bag" of President Bush that they voted for him, even though he had clearly lowered his mask for all to see?

Of course, these events are just a few of the many unchristian actions taken by this most deceptive President. To read a more thorough list, we encourage you to study our table, "President Bush's Evil Fruits vs Good Fruits".

Are you spiritually ready? Is your family? Are you adequately protecting your loved ones? This is the reason for this ministry, to enable you to first understand the peril facing you, and then help you develop strategies to warn and protect your loved ones. Once you have been thoroughly trained, you can also use your knowledge as a means to open the door of discussion with an unsaved person. I have been able to use it many times, and have seen people come to Jesus Christ as a result. These perilous times are also a time when we can reach many souls for Jesus Christ, making an eternal difference.

If you have accepted Jesus Christ as your personal Savior, but have been very lukewarm in your spiritual walk with Him, you need to immediately ask Him for forgiveness and for renewal. He will instantly forgive you, and fill your heart with the joy of the Holy Spirit. Then, you need to begin a daily walk of prayer and personal Bible Study.

If you have never accepted Jesus Christ as Savior, but have come to realize His reality and the approaching End of the Age, and want to accept His FREE Gift of Eternal Life, you can also do so now, in the privacy of your home. Once you accept Him as Savior, you are spiritually Born Again, and are as assured of Heaven as if you were already there. Then, you can rest assured that the Kingdom of Antichrist will not touch you spiritually.

If you would like to become Born Again, turn to our Salvation Page now.

We hope you have been blessed by this ministry, which seeks to educate and warn people, so that they can see the coming New World Order -- Kingdom of Antichrist -- in their daily news.

Finally, we would love to hear from you.

You can contact us by mail or email.

God bless you.

Copyright © 2004 Cutting Edge Ministries. All rights reserved. This password protected article and its contents are protected under the copyright laws of the United States and other countries. This article is provided by subscription only for use by the subscriber and all other rights are expressly reserved by the copyright owner. Copying and pasting this article, in whole or in part, into e-mails or as attachments to e-mails or posting it on the Internet is strictly prohibited and may subject the offender to civil liability and severe criminal penalties (Title 17, United States Code, section 501 and 506).

Copying and distributing this article in violation of the above notice is also a violation of God's moral law.


Become a Headline news subscriber HERE.

Subscribe to our free email updates and messages from our editor by entering your email address below :

Return to: