Title: PRESIDENT BUSH WANTS TO SCREEN WHOLE U.S. POPULATION FOR MENTAL ILLNESS! -- Part 1
Resources to aid your Understanding
Subtitle: Amidst the most flowery rhetoric, President Bush is intent upon gaining the authority to force anyone in the population to submit to a mental illness screening. Power over people and huge profits for the drug companies will rapidly ensue.

The New World Order is coming! Are you ready? Once you understand what this New World Order really is, and how it is being gradually implemented, you will be able to see it progressing in your daily news!!
Learn how to protect yourself, your loved ones!
Stand by for insights so startling you will never look at the news the same way again.
YOU ARE NOW ON
THE CUTTING EDGE
Copyright © 2004 Cutting Edge Ministries. All rights reserved. See full copyright notice below.
CONTROLLING ENTIRE POPULATIONS
Anyone who has ever studied the in-depth Illuminati plan to force the world into Global Government, Economy, and Religion will understand that one of the most coveted pieces of the entire effort is infinite, historically unprecedented control over people. Christians who know their Bible should not be too surprised, for the Bible foretells exactly this type of control over all the peoples of the world. Listen:
"And he (False Prophet) causeth all, both small and great, rich and poor, free and bond, to receive a mark in their right hand, or in their foreheads: 17 And that no man might buy or sell, save he that had the mark, or the name of the beast, or the number of his name." [Rev 13:16-17]
The only way in which the False Prophet could exercise this kind of exceedingly close control over everyone in the world is if the politicians who paved the way for him previously established this kind of tight control, 24 hours per day, 7 days per week. Please consider that this passage means that a man may not even hire a high school student to mow his lawn except he pays him through the Mark of the Beast system. Barter may even be excluded. Today's developing tight surveillance with cameras and audio technology may very well provide the type of exceedingly close surveillance needed to precisely fulfill this prophecy.

As I have read the occult literature which details the plan by which the Illuminati plans to reorganize the world so their "Christ" superman may arise to take control, I have been repeatedly struck by their thirst for power over people. Listen to a couple of pertinent quotes.
4. WE ARE WOLVES -- The gentiles are a flock of sheep, and we are their wolves. And you know what happens when the wolves get hold of the flock? .....

5. There is another reason also why they will close their eyes: for we shall keep promising them to give back all the liberties we have taken away as soon as we have quelled the enemies of peace and tamed all parties .....

6. It is not worthwhile to say anything about how long a time they will be kept waiting for this return of their liberties ..." [Protocols of the Learned Elders of Zion, "The Totalitarian State"]

"For us there are not checks to limit the range of our activity. Our Super-Government subsists in extra-legal conditions which are described in the accepted terminology by the energetic and forcible word -- Dictatorship. I am in a position to tell you with a clear conscience that at the proper time we, the law-givers, shall execute judgment and sentence, we shall slay and we shall spare, we, as head of all our troops, are mounted on the steed of the leader. We rule by force of will, because in our hands are the fragments of a once powerful party, now vanquished by us. AND THE WEAPONS IN OUR HANDS ARE LIMITLESS AMBITIONS, BURNING GREEDINESS, MERCILESS VENGEANCE, HATREDS AND MALICE. [Ibid., "Re-Education"; Emphasis was in the original]

As we have followed the activities of the Bush Administration since 9/11, we have come to believe that the President refuses to acknowledge any check on the range of his authority. This attitude could very well lead to the kind of terrible dictatorship which the Learned Elders of Zion describes, above.

"Our State, marching along the path of peaceful conquest, has the right to replace the horrors of war by less noticeable and more satisfactory sentences of death, necessary to maintain the terror which tends to produce blind submission. Just but merciless severity is the greatest factor of strength in the State..." [Ibid.]

Power over people. Thirst for power.
Thus, we should not be too surprised when we see procedures proposed and/or implemented which would control whole populations once the laws which have been passed actually begin to be enforced. Many of the laws passed after 9/11 will result in dictatorship once they are enforced; today, we retain our freedoms only because these type of laws have not yet been implemented.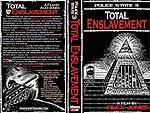 We have written much of this type of future threat, as the following sampling demonstrates:
NEWS1580 -- "'DOMESTIC TERRORIST' REPORTED IN CLINTON-ERA F.B.I. FLYER HAS NOW BEEN CODIFIED INTO LAW! PATRIOT ACT WILL BE OUR UNDOING

NEWS1739 -- "WE CAN NOW SEE THE HIDEOUS, OCCULT FACE OF PRESIDENT BUSH'S HOMELAND SECURITY AGENCY, THE U.S.A. PATRIOT ACT AND ALL OF ITS SUPPORTING LAWS!"

NEWS1772 -- "SECRET ARRESTS! NEW DEATH PENALTIES! ELIMINATE JUDICIAL OVERSIGHT!"

NEWS1885 -- "BUSH - ASHCROFT ARGUING TO 9TH CIRCUIT COURT THAT THEIR GOVERNMENT CAN TORTURE AND SUMMARILY EXECUTE PRISONERS WITHOUT THE COURTS HAVING ANY JURISDICTION WHATSOEVER!"

NEWS1878 -- "WHILE PEOPLES OF THE WORLD WERE ENTHRALLED BY SADDAM'S CAPTURE, PRESIDENT BUSH WAS QUIETLY SIGNING INTO LAW THE MOST DICTATORIAL POWERS ACT IN AMERICAN HISTORY"

NEWS1879 -- "U.S. SUPREME COURT SEVERELY ERODES FIRST AMENDMENT RIGHT TO "FREE SPEECH" BY UPHOLDING THE CONSTITUTIONALITY OF "CAMPAIGN-FINANCE REFORM"
Control of Population
NEWS1577 -- "MARTIAL LAW - PART 1 -- IN THE CITIES -- STATES TO BE GIVEN BROAD "SWEEPING" AUTHORITY TO FIGHT SMALLPOX ATTACK - QUARANTINE ENTIRE CITIES!"

NEWS1797 -- "SARS -- SEVERE ACUTE RESPIRATORY SYNDROME -- PANIC IS BEGINNING TO HIT WITH FULL FORCE WORLDWIDE. IS THIS "MANAGED PROPAGANDA" OR A REAL THREAT? Why would President Bush issue an Executive Order on 4/4/2003 authorizing quarantine of healthy individuals for a disease for which no test had yet been devised to even determine if that person was truly infected?"

NEWS1632 -- "U.S. STATES STRUGGLING TO PASS MODEL STATE EMERGENCY HEALTH POWERS ACT"

NEWS1492 - "OFFICIALS IN IOWA AND MINNESOTA CONSIDERING IMPOSING MARTIAL LAW IN ORDER TO "DEAL" WITH FOOT-AND-MOUTH DISEASE!"
As you can see from these articles, control of entire populations, either urban or agricultural, is the key goal of the legislation passed and proposed. From the time of the Protocols of the Learned Elders of Zion (150 years old) to present-day, Illuminist leaders are absolutely consumed with control of large populations; at the time Antichrist appears, that control will extend so thoroughly to individual citizens that "no man man might buy or sell, save he that had the mark".
SUBJECTING EVERYONE TO FORCED SCREENING
With this concept of control firmly in your mind, let us now examine this current news story. Implications are not reassuring.
NEWS BRIEF: "Bush plans to screen whole US population for mental illness", by Jeanne Lenzer, New York, BMJ Journal, 19 June 2004
"A sweeping mental health initiative will be unveiled by President George W Bush in July. The plan promises to integrate mentally ill patients fully into the community by providing 'services in the community, rather than institutions', according to a March 2004 progress report entitled New Freedom Initiative (www.whitehouse.gov/infocus/newfreedom/toc-2004.html). While some praise the plan's goals, others say it protects the profits of drug companies at the expense of the public. Bush established the New Freedom Commission on Mental Health in April 2002 to conduct a 'comprehensive study of the United States mental health service delivery system'. The commission issued its recommendations in July 2003. Bush instructed more than 25 federal agencies to develop an implementation plan based on those recommendations. The president's commission found that 'despite their prevalence, mental disorders often go undiagnosed' and recommended comprehensive mental health screening for 'consumers of all ages', including preschool children. According to the commission, 'Each year, young children are expelled from preschools and childcare facilities for severely disruptive behaviours and emotional disorders'. Schools, wrote the commission, are in a 'key position' to screen the 52 million students and 6 million adults who work at the schools."
Please take note of the one single pertinent sentence: "The president's commission ... recommended comprehensive mental health screening for 'consumers of all ages', including preschool children." [Emphasis added]
I find it highly indefensible to allow the government to require "all ages" of children to submit to a vaguely defined "comprehensive mental health screening" which may not conform to my parental religious values. New Age literature abounds in which authors brag about how occult Modern Psychology is part of their program -- created by occult pioneers -- and how it is so very important in the global goal of advancing the New World Order.
Indeed, occult authors consider that all mankind is in need of psychological rehabilitation! Is that what this Bush initiative is intended to accomplish?
"... the psychological rehabilitation of humanity will be the outstanding need, paralleling that of economic re-adjustment." ["Externalisation of the Hierarchy", Alice A. Bailey, channeling Master D.K., p. 328, Published in 1959]
Modern Psychology is so important to the Illuminati that an entire demonic spiritual hierarchy is devoted to its implementation. Listen:
"Let us now pass on to a brief indication of the work of the eighth group, which is psychological service." [Ibid., p. 58]
Within each occult "Group" are many "Rays", which are periods of time where the demonic host works intently through possessed humans to achieve a particular goal for the Spiritual Occult Hierarchy. Listen to the discussion of the development of Modern Psychology:
"The Sixth Ray influence produced the appearance of the modern school of psychology and that science has been its consummating glory." ["Esoteric Psychology", by Alice A. Bailey, channeling Master D.K, p. 364, Published 1936]
Psychology is man's attempt to solve all of man's problems from within man -- without any spiritual help from the Bible or the Holy Spirit. To establish this endeavor, the demonic hierarchy established the "Eighth Group" called Modern Psychiatry. For this reason, Psychiatry has no real answers for the human condition; rather, its major aim is to replace God and His Word in the minds of the entire population of the world, professing great knowledge and even greater answers for the mental and emotional problems mankind faces. With what or with whom does Modern Psychology intend to replace God in the minds of the people? Remembering that the world entered into the final End of the Age when Satan was allowed to form his Masters of the Illuminati on May 1, 1776, let us examine Prophetic Scripture to see with whom Satan intends to replace God.

"... all the world wondered after the beast. And they worshipped the dragon which gave power unto the beast: and they worshipped the beast, saying, Who is like unto the beast?" [Rev 13:3-4]

Modern Psychology was created by the demonic host for the express purpose of replacing a trust in the Person, the Word, and the Spirit of Jesus Christ with a trust in the spirit of The Beast -- Antichrist. No truly Born Again Christian should ever place any confidence in Psychology or Psychiatry, for its principles come straight from the Evil One. The values of Modern Psychology are unchristian and unholy.
Too many Christians do not understand this basic principle.
Now, Americans have a Masonic Skull & Bones President who is initiating a Modern Psychological program to be implemented on a very wide scale, possibly even nationwide. This program is proposing to force all children in Public School to be available for vague testing as to their "mental condition". We cannot forget that Communism made similar use of Modern Psychology against its enemies; because the enemies of the Communist State did not share the values and attitudes of the State, authorities simply declared them insane or mentally ill, or mentally incompetent, imprisoning many of them for decades.
Whether a person is deemed mentally well or ill depends entirely on the standards set; when the standard to be imposed is far different from Biblical standards, a situation can easily develop where this program is used against enemies of the coming global superstate in a situation akin to that of Communism. Do not be deceived for this is exactly the plan.
What is the answer Modern Psychology suggests to "cure" these mental illnesses they uncover in this Bush proposal? Drugs. Listen:
"... The commission's recommendation for increased screening has also been questioned. Robert Whitaker, journalist and author of 'Mad in America', says that while increased screening 'may seem defensible', it could also be seen as 'fishing for customers', and that exorbitant spending on new drugs 'robs from other forms of care such as job training and shelter programmes'." [Op. cit., BMJ Journal, 19 June 2004]

Drugs are indispensable to the practice of Satanism. Satanists and occultists always depended upon drugs to "expand their consciousness". Drugs are critical to the practice of Satanism and the New Age. (Alice Bailey, The Light Of The Soul, p. 377) The importance of drugs of the practice of the occult is simple" no drugs, no Satanism. Thus, since World War II, as America has progressed further into the practice of Satanism, her people have become more and more dependent upon drugs, of all kinds.

Not surprisingly, the answer as to how to deal with the kinds of mental illnesses this program may "uncover" centers on drugs. And on the profitability of such drugs.

Drug Company Tie-in With President Bush

"The Texas project started in 1995 as an alliance of individuals from the pharmaceutical industry, the University of Texas, and the mental health and corrections systems of Texas. The project was funded by a Robert Wood Johnson grant—and by several drug companies ... Olanzapine (trade name Zyprexa), one of the atypical antipsychotic drugs recommended as a first line drug in the Texas algorithm, grossed $4.28bn (£2.35bn; 3.56bn) worldwide in 2003 and is Eli Lilly's top selling drug. A 2003 New York Times article by Gardiner Harris reported that 70% of olanzapine sales are paid for by government agencies, such as Medicare and Medicaid.

"Eli Lilly, manufacturer of olanzapine, has multiple ties to the Bush administration. George Bush Sr was a member of Lilly's board of directors and Bush Jr appointed Lilly's chief executive officer, Sidney Taurel, to a seat on the Homeland Security Council. Lilly made $1.6m in political contributions in 2000—82% of which went to Bush and the Republican Party. Jones points out that the companies that helped to start up the Texas project have been, and still are, big contributors to the election funds of George W Bush. Bush was the governor of Texas during the development of the Texas project, and, during his 2000 presidential campaign, he boasted of his support for the project and the fact that the legislation he passed expanded Medicaid coverage of psychotropic drugs.

"Bush is the clear front runner when it comes to drug company contributions. According to the Center for Responsive Politics (CRP), manufacturers of drugs and health products have contributed $764 274 to the 2004 Bush campaign through their political action committees and employees—far outstripping the $149 400 given to his chief rival, John Kerry, by 26 April. Drug companies have fared exceedingly well under the Bush administration."

One principle of the Illuminati is that, while they are proceeding on the road to the global New World Order system, they are sure to make lots of money along the way. This proposal simply reeks of this type of greed.

A REAL AND PRESENT DANGER -- FOR ENEMIES OF THE STATE

The probability is that, if this mental illness program passes, it will not be implemented right away. Rather, the program will lay unused -- like most of the provisions of the Patriot Act -- until the time of the planned crisis is upon us. Then, to weed out the dissenters within the population and to separate their children from parents, this program could be implemented nationwide. Likely, children of parents not deemed troublesome to the Illuminati would never be troubled.

Ignore the flowery rhetoric. The reality is very ugly and most unchristian.

These are truly troublesome times in which we live. Signs of nationwide and worldwide oppression are everywhere.

Are you spiritually ready? Is your family? Are you adequately protecting your loved ones? This is the reason for this ministry, to enable you to first understand the peril facing you, and then help you develop strategies to warn and protect your loved ones. Once you have been thoroughly trained, you can also use your knowledge as a means to open the door of discussion with an unsaved person. I have been able to use it many times, and have seen people come to Jesus Christ as a result. These perilous times are also a time when we can reach many souls for Jesus Christ, making an eternal difference.

If you have accepted Jesus Christ as your personal Savior, but have been very lukewarm in your spiritual walk with Him, you need to immediately ask Him for forgiveness and for renewal. He will instantly forgive you, and fill your heart with the joy of the Holy Spirit. Then, you need to begin a daily walk of prayer and personal Bible Study.

If you have never accepted Jesus Christ as Savior, but have come to realize His reality and the approaching End of the Age, and want to accept His FREE Gift of Eternal Life, you can also do so now, in the privacy of your home. Once you accept Him as Savior, you are spiritually Born Again, and are as assured of Heaven as if you were already there. Then, you can rest assured that the Kingdom of Antichrist will not touch you spiritually.

If you would like to become Born Again, turn to our Salvation Page now.

We hope you have been blessed by this ministry, which seeks to educate and warn people, so that they can see the coming New World Order -- Kingdom of Antichrist -- in their daily news.

Finally, we would love to hear from you.

You can contact us by mail or email.

God bless you.

Copyright © 2004 Cutting Edge Ministries. All rights reserved. This password protected article and its contents are protected under the copyright laws of the United States and other countries. This article is provided by subscription only for use by the subscriber and all other rights are expressly reserved by the copyright owner. Copying and pasting this article, in whole or in part, into e-mails or as attachments to e-mails or posting it on the Internet is strictly prohibited and may subject the offender to civil liability and severe criminal penalties (Title 17, United States Code, section 501 and 506).

Copying and distributing this article in violation of the above notice is also a violation of God's moral law.


Become a Headline news subscriber HERE.

Subscribe to our free email updates and messages from our editor by entering your email address below :

Return to: