Stand by for insights so startling you will never look at the news the same way again.
Doubt it not! Scientists today control all manner of weather, even tornadoes, jet streams, hurricanes, flooding, drought, and earthquakes. And, scientists exercise this control exactly as Secretary Cohen stated: through electromagnetic waves!
As these two Illuminati Card Game cards, above, further indicate, powerful earthquakes are planned to be very effective ways in which to create the chaos out of which the Illuminati can bring a New Order, the Novus Ordo Seclorum on the back of the American One Dollar Bill.
Since the Illuminati can control such events as earthquakes, and since earthquakes are such effective instruments in creating the chaos needed to overthrow the Old World Order, you would expect that the major quakes are pre-planned as to location and timing. As our recent research has indicated, the past three major earthquakes since December, 2003, have an interval which contains a shocking "occult signature" of the numbers, "11", "911" and "13".
HUGE EARTHQUAKE -- INDIAN SUBCONTINENT - OCTOBER 8, 2005
NEWS BRIEF: " Screams follow huge quake", By Izhar Wani in Srinagar, The Weekend Australian, October 08, 2005
" KASHMIRIS poured into the streets in panic today as a powerful earthquake measuring 7.6 on the Richter scale rattled the region ... The quake, centred about 100km north of the Pakistan capital Islamabad, has also killed dozens of people in Pakistan. Screams were heard from across Srinagar, the summer capital of Indian Kashmir, as people fled homes, shops and offices fearing they would be buried under rubble ... Men spontaneously started reading out verses from the Koran, the Muslim holy book, and women beat their chests in a traditional display of bereavement."
"A tremor of magnitude seven is a serious earthquake capable of causing widespread heavy damage ..."
This horrible earthquake struck early in the morning, on Saturday, October 8, 2005. To view a map of this earthquake, view the Texas University Map Center, entitled, "South Asia Earthquake, October, 2005"
Please note the official timing of this initial quake shown on this map: 3:50, UTC, or 8:50 local time, October 8, 2005. Of course, discerning readers will realize that the local time adds to a "13" (8+5), which is the occult number for extreme rebellion against God's constituted authority.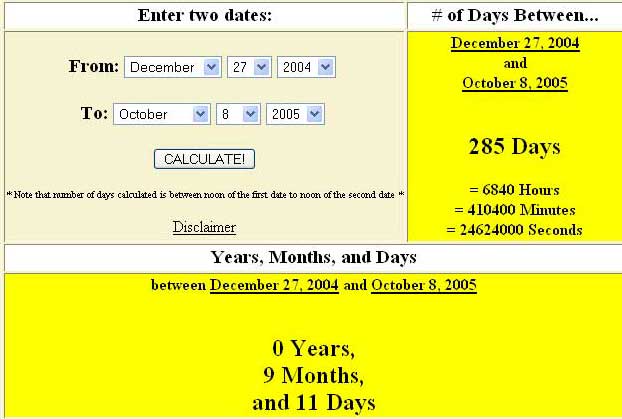 Remember the devastating 9.3 earthquake which struck in the Indian Ocean just off shore from Sumatra, Indonesia, on December 26, 2004? That quake literally rocked the earth on its axis and created such a devastating tsunami wave that estimates of the dead still are in the range of 100,000 and will never be truly known. This tsunami smashed into the Indian continent in the Bay of Bengal area, in the same general geographical area as this most recent quake of October 8, 2005.
Please note that the interval between the Indian Ocean quake/tsunami of December 26, 2004, and the most recent quake of October 8, 2005, is precisely 9 months, 11 days! This interval thus shows forth a "911" -- another "911".
Please carefully examine this Calendar Calculator, which shows this interval. The day of the Indonesian quake was December 26, 2004, which makes December 27 as Day One of the interval. Therefore, the interval of time between these two quakes shows an occult signature of "911". The meaning of this "911" is the same as it was on September 11, 2001, when the Illuminati hit the Twin Towers and The Pentagon, i.e., the number "9" means "final things" and the number "11" is the number of the coming Masonic Christ; therefore, "911" designates the final push of the Illuminati in their effort to stage their Christ. Since they plan World War III as the Final Birth Pangs which will produce their Christ, we knew on 9/11/2001 that the world had entered the final phase of producing the Final Birth Pangs War for Antichrist.
To see how pervasive the number "11" was in the operation of the 9/11 attacks, and to see how important September 11 has been to occultists, please take a moment to read our NEWS1756, "Events Continue To Come Down 'By The Numbers' -- Occult Sacred Numbers". You will be shocked to see the emphasis occultists throughout history have placed upon the numbers, "11" and "911".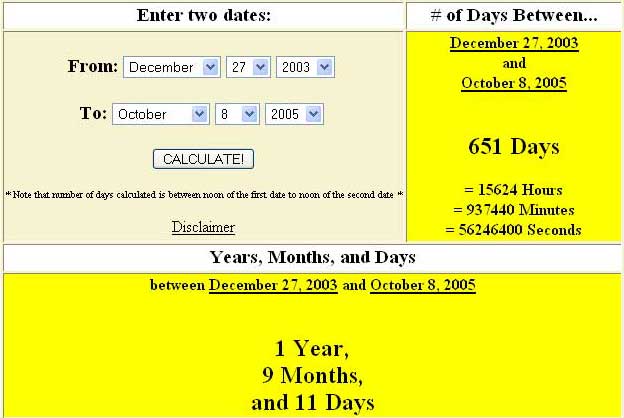 In our analysis article, NEWS1992, "Quake In Iran On 12/26/2003 And the Asian Quake on 12/26/2004 Contain Occult Signature", we reveal that the these two quakes were exactly 1 year, 1 day apart. Not only does this number form an "11", but waiting 1 year, 1 day carries great significance in Satanism. In Olde English Witchcraft, if a person wanted to join a coven who had a Christian background, that person had to renounce Christianity and then wait 1 year, 1 day afterward before they could join the coven! This period of time was to be spent as a period of "spiritual cleansing", so Christianity could be properly expunged from the candidate's life.
But there is more to this story! As we demonstrate in NEWS1789, the attacks on 9/11/2001 followed the actual "birth" of the New World Order on September 10, 2000, by "1 year 1 day"!. This reality means that the timing of 9/11 occurred according to the doctrines and thinking of Witchcraft and that the target of the attack is Christianity, since the time period came into being because the coven leader wanted to ensure that the Christianity in the background of the prospective member had been thoroughly eradicated.
Given all the instances where an "11" or a multiplication of "11" undergirded the entire attack episode on 9/11/2001, when we realized that the exact time period between the official birth of the New World Order and 9/11 was exactly one year, one day, the understanding that 9/11 was merely a staged, planned event to enable the Illuminati to make all the final changes necessary to stage their Antichrist became very clear and very firmly rooted.
Now, notice the Calendar Calculator, above, which shows that the interval of time between the Iranian quake of 12/26/2003 and the most recent Indian Subcontinent quake of 10/8/2005, is exactly 1 year, 9 months, 11 days!
At this point, can you see that these three earthquakes contain occult signatures which tell us two things very powerfully:
1) All these quakes contain a powerful "occult signature" of "11" and of "9"
2) All these quakes were pre-planned as to timing.
As the United States awaits the third and final "FEMA prediction", i.e., a major quake on the San Andreas Fault, we must now realize that the exact date and timing of this massive quake is undoubtedly pre-planned as to location, timing, and intervals. Exactly what previous event the Illuminati is using to plan this California quake is unknown and probably will remain unknown.
But, Californians know one thing for sure now: they and their beloved state has a bulls eye printed directly on them.
Jesus was truly correct when he foretold that, at the End of the Age, earthquakes will be one of THE signs that His appearance was close, even at the very doors. Truly, the End of the Age is upon the world.
Are you spiritually ready? Is your family? Are you adequately protecting your loved ones? This is the reason for this ministry, to enable you to first understand the peril facing you, and then help you develop strategies to warn and protect your loved ones. Once you have been thoroughly trained, you can also use your knowledge as a means to open the door of discussion with an unsaved person. I have been able to use it many times, and have seen people come to Jesus Christ as a result. These perilous times are also a time when we can reach many souls for Jesus Christ, making an eternal difference.
If you have accepted Jesus Christ as your personal Savior, but have been very lukewarm in your spiritual walk with Him, you need to immediately ask Him for forgiveness and for renewal. He will instantly forgive you, and fill your heart with the joy of the Holy Spirit. Then, you need to begin a daily walk of prayer and personal Bible Study.
If you have never accepted Jesus Christ as Savior, but have come to realize His reality and the approaching End of the Age, and want to accept His FREE Gift of Eternal Life, you can also do so now, in the privacy of your home. Once you accept Him as Savior, you are spiritually Born Again, and are as assured of Heaven as if you were already there. Then, you can rest assured that the Kingdom of Antichrist will not touch you spiritually.
We hope you have been blessed by this ministry, which seeks to educate and warn people, so that they can see the coming New World Order -- Kingdom of Antichrist -- in their daily news.
Finally, we would love to hear from you.
God bless you.
Copying and distributing this article in violation of the above notice is also a violation of God's moral law.