Stand by for insights so startling you will never look at the news the same way again.
Once again, the key point: "Ground surface deformation ... is a reliable indicator of an impending eruption."
For the rest of NEWS1852, we reported all the land deformation occurring in the entire caldera region known as Yellowstone National Park.
Now, let us turn our attention to the land deformation mysteriously occurring in Oklahoma!
GROUND DEFORMATION IN OKLAHOMA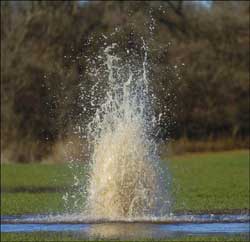 "Natural gas spews ground water into the air in a farmer's wheat field southwest of Kingfisher Monday. This is the largest of numerous geysers that have been spotted in Kingfisher and Canadian counties along Winter Camp Creek, which runs near Kingfisher and Okarche."
NEWS BRIEF: "Mysterious Kingfisher-area gas geysers leave officials puzzled", By Cass Rains, Staff Writer, The Enid News and Eagle, December 13, 2005, reported on Daily News Updates, December 16, 2005
"KINGFISHER -- Mysterious unrefined natural gas leaks erupting in rural Kingfisher County in recent days continue to have officials puzzled as to their cause. 'We originally thought a pipeline had exploded', said Matt Skinner, Oklahoma Corporation Commission public information manager. 'We had the pressure to zero pressure, and the leaks seemed to get bigger. So that's not it'."
Let us stop right here, to fully digest what we have just learned. We have learned:
* Unrefined natural gas leaks were erupting in Kingfisher County, as these on-site pictures attest.
* Officials were puzzled as to why they were erupting.
* Corporation experts thought a gas line had exploded, as the leaking gas seemed to be the same
* Gas eruptions were just getting bigger, even as Oklahoma experts noted
Now, let us return to this article in The Enid News and Eagle.
"Skinner had said at a press conference Monday geologists and hydrologists are beginning to study underground maps of the area to find an explanation. 'We've ruled out the probables, and now we're into the unprobables', he said. 'We've never seen one like this before, one that covers such a large area. It's another animal'. Skinner said the leak was unusual because of its size and that it was 'moving with no explanation'."
Again, this paragraph is simply filled with information:
* Expert scientists advising the state government are unable to explain how this unrefined natural gas could be exploding out of dry ground. They have ruled out all the possibilities based upon traditional science and upon what they have observed before, and nothing makes sense.
* Skinner, the Oklahoma Corporation Commission public information manager, admitted that these gas eruptions cover a very large area, and are moving. While traditional explanations may not make sense, the untraditional reality of a Yellowstone Caldera building up heated magma underneath virtually the entire area West of the Mississippi makes a lot of sense. Remember, the area of America, West of the Mississippi River, is really a very small area geologically speaking.
Magma building up under this entire region seems to be rising and may be starting to cause natural gas eruptions which this story details, above.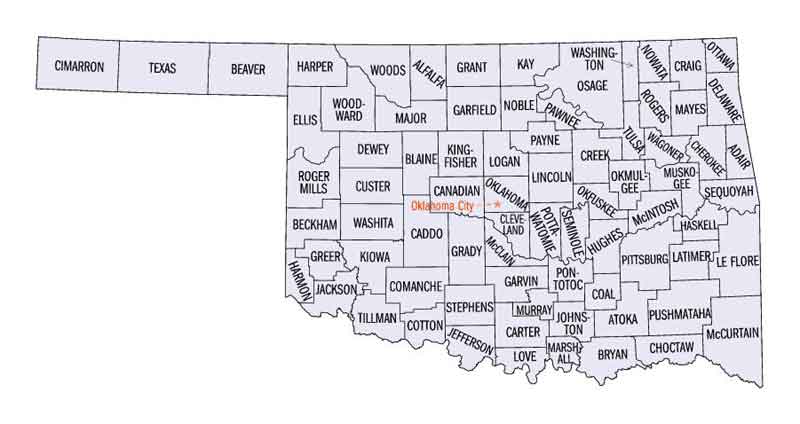 Matt Skinner then details the areas which are experiencing these natural gas explosions.
"Skinner said the leaks and geysers were occurring closest to Winter Camp Creek, formerly Dead Indian Creek. Sunday evening, one eruption was reported in Kingfisher Creek, 'up to within a mile' west of the city of Kingfisher ... Winter Camp Creek flows into Kingfisher Creek, which could explain why an eruption would occur near the city, he said. Kingfisher Fire Chief Jack Crawford said the leaks, which cover a stretch of 12 to 13 miles between Kingfisher and Okarche 'had not progressed toward Kingfisher' since Sunday afternoon. 'The bulk of the action is in the creek -- in terms of the visual', Skinner said. 'It's one long continuous leak'."
A "one long continuous leak" of unrefined natural gas leak of 12-13 miles is, indeed, one very, very long fissure in the ground!
You can see, from this map, that Kingfisher County is located just north and a bit west of Oklahoma City.
As we go back to our article, we learn even more about this most unusual gas leakage through the ground and rock formation in this area.
"Skinner said reports of the geysers were first received Friday by hunters who reported the gushing holes of gas, water and mud to the local game warden, who then contacted the Corporation Commission ... By Monday, smaller geysers had appeared about eight and a half miles west and a mile north of Okarche on a county road. For about 50 yards, small geysers pocked the north side of the dirt road, bubbling and spitting gas and mud. Sounding like a pot of boiling water, other geysers on the south side of the road, for a stretch of about 20 yards, did the same. Some of the geysers shot only inches into the air, but others shot water into the air as much as two feet."
This activity is very similar to the geysers and mudpots of the Yellowstone Caldera which have attracted untold millions of visitors throughout past centuries. Geysers and hot mudpots literally dot the landscape in the Yellowstone National Park; everyone understands this activity means that hot magma is flowing under and through the region. We should have no problem understanding that hot magma likewise is flowing under and through this region of Oklahoma.
Officials discount the likelihood that this natural gas could ignite, a denial which goes to the heart of our premise. However, these same authorities admitted it is "possible" for the gas pockets to be ignited -- but improbable in their view.
"The areas where the geysers have occurred have been cordoned off, and Crawford advised people to stay away. 'You don't know if it's coming up from 10 feet or 140 feet below ground', he said. 'It's very dangerous'. Officials have said the threat of the gas igniting is unlikely. Loftis said ignition would only be possible if there was direct contact with an open flame, as in a grassfire or use of a propane torch. 'It would be flammable if only you were right at the source', Loftis said."
Notice that this official admits that this natural gas could be ignited, but quickly states that it is highly unlikely, since he cannot fathom that erupting gas could possibly come in contact with a flame. However, we wonder if the terribly destructive fires -- which have seemingly defied the intense efforts of firefighting officials to bring it under control -- could have possibly been the result of an open flame coming into contact with this unrefined natural gas. Later in this article, we note in a news story that local residents in Colorado had been conducting "controlled burning" in the general area in which wildfires had sprung up. Such "controlled burning" could certainly ignite these exploding gas pockets.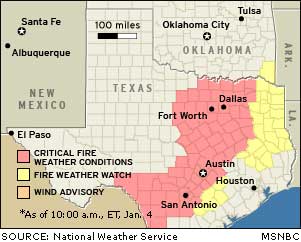 The big question is where these terribly devastating fires are located; is the burning area close to this gas exploding area in Kingfisher County? A local Cutting Edge subscriber tells us:
"I've also attached a pic of the Oklahoma counties so you can see where Kingfisher is - the fires have been west and south of OKC and towards the Texas/Ok line - and over towards Eufuala and Muskogee areas - which covers that area of earthquakes ..."
Earthquakes are not uncommon in the areas around Oklahoma City, southward, as the Oklahoma Seismic Hazard Map clearly shows.
Right now, Texas, Oklahoma, New Mexico, and Colorado are as dry as they have been in decades. Wildfires have been reported all across the region. Now, while we freely admit that wildfires are common, and can be set off by lightening, by arson, and by human accident, this eruption of unprecedented natural gas -- methane gas -- in the very region where the fires are located has caused us to seriously wonder if state officials are suppressing the facts that these fires are being fed by gas coming out of the ground.
For months, a Russian newsletter has been warning that the North American tectonic plate is fracturing, and releasing methane gas. Up to now, we have not reported this Russian story because we simply could not confirm that gas is coming from the ground from any other source. However, this story in The Enid News and Eagle has changed our skepticism to guarded acceptance. Therefore, please allow us to share with you what this Russian source has been saying.
NEWS BRIEF: "Massive North American Plate Fractures Fuel Horrific Fires In Oklahoma and Texas Regions for Second Time In 6 Weeks As Fears Of New Madrid Ocean Basin Forming Grows", By Sorcha Faal, 'What Does It Mean?', December 28, 2005
"Russian Scientists are reporting today that the fracturing of the North American Plate is violently increasing, and leading to outbursts of inner Earth methane deposits, and which in turn are fueling massive fires in both the United States Oklahoma and Texas Regions for the second time in six weeks. To the massive fires in these Regions six weeks ago we can read as reported by the CNN News Service in their November 28th article titled "Winds fuel wildfires in Oklahoma, Texas" and which said, "High winds on Monday hampered crews who for a second day battled wildfires that destroyed homes, forced hundreds to evacuate and injured firefighters in parts of Oklahoma and Texas."
"To the massive fires raging in these same exact Regions today we can read as reported by the MSNBC News Service in their article titled 'Oklahoma, Texas told to expect more fires', and which says, 'Texas Gov. Rick Perry issued a disaster declaration Tuesday after more than 70 fires were reported in the northern and central parts of the state. Firefighters from surrounding states were called in to help. At least 50 homes were destroyed in Texas, along with at least five homes and nearly two-dozen other buildings in Oklahoma'."
"The causing of these massive fires we had previously reported upon in our December 14th report titled 'North American Plate Fractures Reported As Major US Hydro Electric Dam Fails and Oklahoma Meer's Fault Zone Begins Outgassing', and wherein we had stated: 'The collapse of this dam also coincides with reports from the near Meer's Fault Zone Region in Oklahoma where a major outgassing event is currently taking place..."
Listen to this account of similar fissures opening up in Texas:
""On the Western side of the Ouachita Tectonic Front in the United States Texas Region we can read as reported by the First Coast News Service in their June 22nd article titled "Massive Crack Opens In Earth In Texas" and which says; "A massive crack in the earth opened up last week in Claude, Texas and it's creating a stir among geologists. Geologists said Tuesday the crack was a joint in the earth's crust. They believe the opening is the result of a weak point in the joint where one spot slips away from the other. Some parts measure more than 30-feet deep and it drained what used to be a pond. Experts say earth cracks are common but the size of the crack in Claude is not. On the Eastern side of the Ouachita Tectonic Front in the United States Texas Region we can read as reported by the KLTV News Service in their June 26th article titled 'Giant Sinkhole A Mystery' and which says; 'A sinkhole of historic proportions in Smith county, and its cause is still a mystery. This morning, someone passing through FM 724 saw the sinkhole in the middle of the road. It's about two miles north of Tyler Pounds Regional Airport, just outside New Harmony. Crews with TX-DOT say, ever since then, the hole has been growing steadily. They say it's now 40 to 50 feet in diameter and up to 100 feet deep. A DPS helicopter from Garland flew over the hole to try to figure out what happened. The location of that sinkhole, along a stretch of FM 724 between Highways 64 and 110 will be closed indefinitely." (Ibid.)
In posting our Daily News Updates, we have noted the presence of methane natural gas seemingly coming out of the ground in other parts of North America, even East of the Mississippi River.
NEWS BRIEF: "Lake Erie burps and nearby residents smell it", Post-Gazette, Friday, September 30, 2005
" ERIE, Pa. -- State and federal environmental officials are trying to determine the cause of a big stink reported along Lake Erie. Hundreds of residents called authorities or the National Weather Service yesterday to report the smell, which has been variously described as like gasoline, natural gas or even decaying garbage and rotten eggs..."
NEWS BRIEF: "Mysterious Stench Nauseates Northeast", The Washington Post, September 29, 2005
"Olive Taylor first noticed the odor Tuesday night outside her Northeast Washington home. By yesterday morning, the smell had turned into a stench so bad that it woke her up. 'It was so unlike anything that should have been in my home', said Taylor, 71. 'It wasn't really a gas smell. My son said it was a propane smell ... Scores of people in the District called authorities yesterday to complain that a similar odor was invading homes, businesses, a dozen schools and two police stations. Many mistakenly thought the trouble was a natural gas leak ... Some top fire officials initially worried about a major gas line rupture or equipment failure...".
Notice that people are reporting that they are smelling a horrible stench which they believe to be natural gas. Also note that officials are reacting as though it was a natural gas leakage. Virtually no one is tying these reports to the possibility that natural methane gas is leaking out of the rock formations and/or out of level ground, as The End News and Eagle reported.
Even people in Thunder Bay, Ontario, were reporting gas smells.
NEWS BRIEF: "Strange smell in Longlac", TB Television, 9/27/2005
"Municipal officials are urging Longlac residents to exercise caution as they investigate reports of 'gasoline-type' odours in the towns sewer system. The problem first cropped up about ten days ago in a variety of homes and businesses ... The Municipality of Greenstone says it still doesn't know if the smell is from sewer gases, natural gas or an industrial solvent."
The Russian newsletter then explains the difference in smell between refined methane gas and the natural gas coming through the ground as the result of volcanic-related activity.
"Methane used for industrial purposes, or that which is present in mining operations is almost always odorless, but methane from tectonic plate fracturing is accompanied by odors from decomposing organic materials and whose main outlet into the earths atmosphere is primarily through outgassing through mud volcanoes.'
TURNING BACK TO OKLAHOMA
The fire destruction situation in Oklahoma has now gotten so very bad that that President Bush has issued a federal disaster declaration. Notice that FEMA is now authorized to sink its talons into the region because of this disaster.
NEWS BRIEF: "Oklahoma officials applaud Bush's disaster declaration", KLTV News
"OKLAHOMA CITY: Emergency officials in Oklahoma say they're relieved that President Bush has issued a federal disaster declaration following a series of wildfires.
More than 380-thousand acres have been scorched in Oklahoma since November First, destroying more than 200 homes and killing two people. The Federal Emergency Management Agency says the president's declaration means federal funding will be available to people in 12 Oklahoma counties."
And, true to form, FEMA is making a mess of things.
"State officials had been criticizing FEMA for not releasing federal funds sooner. Governor Brad Henry yesterday characterized the delay as 'a hokey bureaucratic mess'." (Ibid.)
Sometimes, the more things change, the more they stay the same.
At the end of the first week in January, wildfires began spreading into Colorado and Arkansas. At this point, we cannot definitively state that they are related to the natural gas erupting out of the ground, but they surely seem to be following the pattern of Oklahoma and Texas.
NEWS BRIEF: "Plains Fires Move To Colo., Ark.", News 11, January 8, 2006
"AGUILAR, Colo.(AP) - Wildfire outbreaks that have been menacing the dry southern plains across Texas and Oklahoma spread to Arkansas and Colorado on Sunday, where wind-whipped blazes destroyed at least nine homes and forced hundreds of people to evacuate ... The evacuations in southern Colorado were forced by two fires that had destroyed five homes and burned at least 6,000 acres in Huerfano and Las Animas counties, not far from the New Mexico line ... In Colorado, fire officials believe human activity sparked the large fires, though they declined to provide further details. Residents said there had been some controlled burning in the area, where the open land is largely covered by dry sagebrush and grass, and the hills are dotted with pinon and ponderosa pine."
Note that residents had been conducting "controlled burning" in the area. An open flame from a controlled burn could ignite a gas erupting out of the ground, as the quote from The Enid News and Eagle reported. And again, we emphasize: on a geologic scale, the distance between the Oklahoma and Texas fires and the southern Colorado fires is very small. If natural gas is powerfully erupting through the level ground in Kingfisher County, Oklahoma, they could be erupting out of level ground in Southeastern Colorado. The distance between Kingfisher, Oklahoma, and Las Animas, Colorado is only 418 miles.
Once again, I go back to the phone call I had with the Oklahoma subscriber about the possibility that individual gas eruptions through the ground. This subscriber reported that, on the TV news showing the wildfires, she had seen individual brightly burning spots within the larger wildfire. At the time, she was puzzled as to what the brightly burning spots might be, but felt it made a lot of sense to believe they were pockets of burning natural gas coming out of the ground.
That explanation could also answer the question as to how difficult it was for firefighters to extinguish the blaze. Not only did the wildfire have plenty of dead plant life on which to feed -- thanks to the severe drought -- but it also would feed on the pockets of gas. One way to shut off that supply would be to bulldoze that area so that the gas pocket is filled. We noted that some of the firefighters were, indeed, using bulldozers.
One other note is in order. Everyone has agonized over the plight of the 13 miners trapped in the West Virginia mine. Initially, authorities declared that 12 of the miners were alive, but three hours later, announced that they were dead after all. In this news story, note that explosions and toxic gases were factors in this tragedy.
NEWS BRIEF: "Mine Survivor May Have Brain Damage", My Way News, January 5, 2006
"Ben Hatfield, president and CEO of International Coal Group (ICO), which owns the mine, guessed that McCoy may have been deeper in a barricaded area that he and 11 other miners created after the explosion early Monday, and therefore further from toxic gases.'
If this Russian newsletter is correct in maintaining that tectonic movements of the entire North American plate was causing these surges of natural gas through the rock and the ground, then West Virginia would not be exempt. Perhaps the reason authorities initially reported that 12 of the miners were alive for three hours until discovering otherwise was because methane gas leaked into the area the miners were staying after initial contact with authorities had been made.
One thing is certain: tectonic plate shifts, hot molten magma movement, and natural gas coming and/or erupting out of the ground is being reported almost from coast to coast.
CONCLUSION
We cannot be definitively certain that these wildfires were created and/or fed by these natural gas eruptions reported in Kingfisher County, Oklahoma. But, one cannot discount the possibility, either. Assuming that the scalar activity which is stoking the Yellowstone Caldera (NEWS1852), is now causing wide areas of North America to display one of the obvious signs of volcanic activity -- hot mudpots, geysers coming out of the ground, gas erupting from the ground, micro-quakes -- we can readily understand the danger posed to the entire continent.
Cutting Edge has always maintained that the economic superpower which dominates the world at the End of the Age in Revelation 18 is America (Read NEWS1830, second half). Since we believe that, listen to God's own prophecies concerning this economic superpower.
If you have accepted Jesus Christ as your personal Savior, but have been very lukewarm in your spiritual walk with Him, you need to immediately ask Him for forgiveness and for renewal. He will instantly forgive you, and fill your heart with the joy of the Holy Spirit. Then, you need to begin a daily walk of prayer and personal Bible Study.
If you have never accepted Jesus Christ as Savior, but have come to realize His reality and the approaching End of the Age, and want to accept His FREE Gift of Eternal Life, you can also do so now, in the privacy of your home. Once you accept Him as Savior, you are spiritually Born Again, and are as assured of Heaven as if you were already there. Then, you can rest assured that the Kingdom of Antichrist will not touch you spiritually.
We hope you have been blessed by this ministry, which seeks to educate and warn people, so that they can see the coming New World Order -- Kingdom of Antichrist -- in their daily news.
Finally, we would love to hear from you.
God bless you.
Copying and distributing this article in violation of the above notice is also a violation of God's moral law.