Headline News Analysis
1. Chinese President Xi orders his army to "prepare for war".
NEWS BRIEF: "Chinese President Xi Orders Army to 'Prapare For War'," Explain Life News, January 6, 2019
"Earlier this week Xi Jinping, the Chinese president provoked an angry rebuke from Taiwan's pro-independence president when he demanded during a landmark speech earlier this week that Taiwan submit to 'reunification' with Beijing."
"in another speech delivered on Friday during a meeting of top officials from China's Central Military Commission which he leads, Xi took his belligerent rhetoric one step further by issuing his first military command of 2019: that "all military units must correctly understand major national security and development trends, and strengthen their sense of unexpected hardship, crisis and battle."
In other words, President Xi ordered his Army to prepare for war!
" 'The world is facing a period of major changes never seen in a century ... prepare for a comprehensive military struggle from a new starting point', Xi said adding that 'preparation for war and combat must be deepened to ensure an efficient response in times of emergency'."
China is a major player all the way to the battle of Armageddon.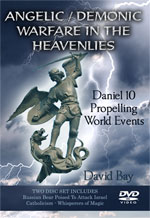 China will one day order her army of 200,000,000 soldiers to march across a modern road from China to the flat plains of Afghanistan and Iraq, taking up positions to attack Israel. This Chinese army will comprise most of the forces which surround Jerusalem, a force which our Lord Jesus will personally destroy in the Battle of Armageddon.
Let us examine a select portion of this prophecy:
"And the sixth angel poured out his vial upon the great river Euphrates; and the water thereof was dried up, that the way of the kings of the east might be prepared ... " (Revelation 16:10)
And, most interestingly, both Russian and Chinese leaders are forced to act according to God's will through the efforts of a demonic being who whispers into the ear of these leaders, enticing them to move to an attack which will prove fatal. In perfect fulfillment of the battle in the heavenlies found in Daniel 10, both these invading armies will be drawn to battle by a demonic overlord.
In the case of China, the demons who convince the "kings of the earth and of the whole world" to march into the Plains of Megiddo so they can be slaughtered in the Battle of Armageddon are a particularly nasty and powerful demon who takes the form of a green orb as they control their human victim. (Prophecy detailed in the DVD pictured above, "Angelic / Demonic Warfare In The Heavenlies: Daniel 10 Propelling World Events")
Listen to the prophecy:
"And the sixth angel poured out his vial upon the great river Euphrates; and the water thereof was dried up, that the way of the kings of the east might be prepared. And I saw three unclean spirits like frogs come out of the mouth of the dragon, and out of the mouth of the beast, and out of the mouth of the false prophet. For they are the spirits of devils, working miracles, which go forth unto the kings of the earth and of the whole world, to gather them to the battle of that great day of God Almighty." (Revelation 16:12-14)
Events today are exciting, as they portend the fulfillment of dramatic and unusual End Times prophecy.
Keep looking up, for our Redemption is drawing nigh!
Is the 200 million man army from the "East" Chinese?
2. Israel faces a "SYNERGY" of perils in 2019.
NEWS BRIEF: "Synergistic Perils For Israel, 2019: "Irrational Enemies" , Israel National News, January 8, 2019
"For 2019, Israeli analysts will have to look even more closely at the pace of Iranian nuclearization and the more-or-less corresponding pace of Palestinian statehood."
"... Contrary to long-prevailing conventional wisdom, Iran and Palestine do not represent discrete or unrelated hazards to Israel. Instead, they delineate intersecting, mutually reinforcing, and potentially existential perils. It follows, that Jerusalem must do whatever possible to remove or diminish corrosive security dangers on both fronts simultaneously."
Yes, Israel is getting ready to "remove or diminish corrosive security dangers on both fronts"!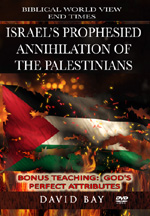 However, Israel's leaders have been planning the annihilation of the Palestinians since early, 1990! Since that moment, every decision taken regarding the recalcitrant Palestinian Authority has been based upon their understanding that, in a soon future war, they were going to have to annihilate the Palestinians, so that they could never get Weapons of Mass Destruction that they could use against tiny Israel.
Her enemies are irrational and heavily armed and bent for blood -- just as they were 2,600 years ago!
"And thy mighty men, O Teman, shall be dismayed, to the end that every one of the mount of Esau may be cut off by slaughter. For thy violence against thy brother Jacob, shame shall cover thee, and thou shalt be cut off for ever." (Obadiah 9-10)
Thank goodness that Israel has Almighty, Omnipotent God Who has guaranteed her existence.
"And at that time shall Michael stand up, the great prince which standeth for the children of thy people: and there shall be a time of trouble, such as never was since there was a nation even to that same time: and at that time thy people shall be delivered..." (Daniel 12:1, KJV)
"And I will bring again the captivity of my people of Israel, and they shall build the waste cities, and inhabit them ... And I will plant them upon their land, and they shall no more be pulled up out of their land which I have given them, saith the Lord thy God." (Amos 9:14-15, KJV)
3. When Islamic strategists look at Israel and the United States, what do they see that will encourage them to finally go to war?
NEWS BRIEF: "PM Netanyahu calls on accusers in graft cases to confront him", Hayom News, Jan 8, 2019
"In what was billed as a 'dramatic announcement', Prime Minister Benjamin Netanyahu used a prime-time television address on Monday night to again dismiss a series of corruption allegations against him. In his speech, the prime minister said it would be 'unjust' for him to be indicted ahead of the early general election, called for April 9, without a chance to respond to the claims against him. He noted that many legal experts concurred with his opinion."
"He said authorities had twice denied his requests to confront state witnesses in person – which he offered to do on live television – and had thus far refused to summon witnesses capable of proving his innocence."
If this whole situation sounds like the Democrat flailing of Brett Kavanaugh, you are exactly correct. The Prime Minister's political enemies are attempting to remove him from office on trumped up charges and then are attempting to hide this illegal attack on Netanyahu by refusing to allow him to defend himself fact-to-face, a right guaranteed in the Old Testament Bible!
NEWS BRIEF: "Day One: Democrat to Introduce Articles of Impeachment Against Donald Trump", Breitbart News, 3 January 2019
"Rep. Brad Sherman (D-CA) plans to introduce articles of impeachment against President Donald Trump on Thursday — the first day that Democrats control the majority in the U.S. House of Representatives ... Sherman, who was until recently considered a "moderate," is close to the Bill and Hillary Clinton wing of the Democratic Party. He backed Hillary Clinton over Sen. Bernie Sanders (I-VT) in the Democratic presidential primary in 2016 ... But in the two years since Trump won the presidency, Sherman has — like some other "moderates" — become obsessed with removing Trump."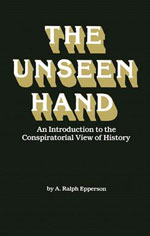 Might Islamic leaders misinterpret the political and military crises now enveloping both Prime Minister Netanyahu and President Trump?
Did you know that top American leaders worked mightily to manipulate Japan's thinking so that they would attack Pearl Harbor? Listen to Christian historian, Ralph Epperson:
"According to one historian, Charles C, Tansill, professor of diplomatic history at Georgetown University, war with Japan was planned as early as 1915. In a book entitled, "Pearl Harbor, Roosevelt and the Coming of the War", published by D.C. Heath and Company, Tansill makes this interesting observation: 'The policy of pressure upon Japan antedated [President Roosevelt's Secretary of War Henry] Stimson some two decades ... Under Woodrow Wilson, a three-pronged [diplomatic] offensive was launched against Nippon [Japan] in January, 1915 ..." (Ralph Epperson, "The Unseen Hand", p. 271-272).
On pages 272-278, Epperson traces how Roosevelt slowly maneuvered America into World War II, manipulating both Germany and Japan; while Germany refused to take any action that would provoke America to enter the war Roosevelt had promised his electorate they would never have to fight, Japan was foolish enough to strike Pearl Harbor.
But, when the Pearl Harbor 'investigative' panel returned its verdict as to how America could have been caught "unawares", the report cited an " intelligence failure", even though the planning to lure Japan into just such an attack had been continuing at the White House and State Department since 1915! Some things never change, do they? But, after all, when you have a strategy that works, why not continue? Now, do you see how important it was to the Illuminist global plan, to rewrite history in our Public School textbooks, so that the current generation of students will never learn the truth as to what happened in the past? If citizens are ignorant of history, leaders can continue to recycle past successful strategies.
In like manner, Islamic strategists are likely to view the current distress in which both Prime Minister Netanyahu and President Trump are currently embroiled. Both men face determined #Never resistance to nearly everything they do. And, both men face a political enemy which has redefined terms so that they both can be indicted and removed from office.
It is clear that Islamic strategists who guide both Iran and the Palestinian Authority might believe that Israel is uniquely weak right now because their leadership seems divided like never before. And, if they also believe that the American President is too entangled in political struggles's to effectively come to Israel's defense, they might strike now rather than later.
In short, Israel faces a genuine "clear and present danger" because Prime Minister Netanyahu may be indicted on "bribery charges". You see, the #Never resisters have redefined legal terms so that when Netanyahu accepted a box of cigars, he was guilty of "taking a bribe".
If both Netanyahu and Trump are fighting removal from office at the same time, the enemies of Israel might very well strike during that period of time.
And, just as Woodrow Wilson began to manipulate Japan into an attack in Pearl Harbor in December, 1942, all the way back in 1915, so I believe that Israel has been manipulating the Palestinians since 1990, when that Jewish Press Opinion Column was published.
After all, how else could Israel get the 30 years they needed to build those 15-foot-high concrete blast walls?
4. President Trump was correct in firing generals Mattis and Kelley.
NEWS BRIEF: "Steve Hilton, tired of critics dumping on Trump for firing generals, Mattis and Kelly, unleashes powerful take", BPR News, January 7, 2019
"Lost in all the hoopla over the departure of Trump White House Chief of Staff John Kelly and Defense Secretary James Mattis is that the former generals were backed by the liberal media, which is no friend to the military."
In fact, Hilton claims that these two generals were active "resisters" and successfully slowed Trump's military and diplomatic initiatives.
"Hilton said Kelly boasted to Democrat lawmakers last year that Trump had not been 'fully informed' when he promised a border wall and that the president 'evolved' on the issue after being educated by Kelly ... This same cabal opposed Trump's efforts to get America out of the endless wars in the Middle East, as seen when the president said he would withdraw troops from Syria and begin a reduction in Afghanistan.
The amazing irony being, as Hilton noted, the same liberals who criticized America's endless foreign wars attacked Trump for trying to get out of them ... He also said Mattis and Kelly 'tried to impose their military views, even after they'd been rejected by civilian leadership. They were self-righteous, subversive and disloyal. Oh, and swampy at the same time'."
Both men were firmly committed to the New World Order and its globalist institutions and were a constant drag on Trump's policies.
"James Mattis, John Kelly, Rex Tillerson, Gary Cohn and all the rest of you in the self-regarding and self-aggrandizing Committee to Save America ... your real problem is with President Trump's policies — policies which aim to overturn a half-century of your elitist ideological orthodoxy and which the American people explicitly voted for in an election."
"It is the establishment's efforts to block those policies that truly undermine democratic norms and represent a threat to our Constitutional republic and the rule of law."
Remember, support for this 'NOVUS ORDO SECLORUM" flows all the way to the top of the Pentagon brass.
5. President Trump will address the nation at 9pm tonight, to tell the American people why we need to build a wall on our southern border.
NEWS BRIEF: "Trump to deliver prime-time address, travel to Southern border amid shutdown standoff", Fox News, January 7, 2019
"President Trump announced that he will address the nation on Tuesday night before traveling later in the week to the U.S.-Mexico border, as he seeks to highlight border security and presses Democrats for wall funding amid the protracted standoff that triggered a partial government shutdown now stretching into its 17th day."
The President tweeted, "I am pleased to inform you that I will Address the Nation on the Humanitarian and National Security crisis on our Southern Border. Tuesday night at 9:00 P.M. Eastern ..."
Might he declare a "National Emergency" so he can spend funds to build that wall?
NEWS BRIEF: "President Trump Thinking 'Very Strongly' of Declaring National Emergency at the Border", Brietbart News, 3 January 2019
"President Donald Trump again confirmed Sunday that he was considering declaring a state of emergency to direct funding to build the wall. 'We're looking at a national emergency because we have a national emergency', he told reporters after returning from a staff meeting at Camp David on Sunday. 'Just read the papers. We have a crisis at the border … it is national security, it's a national emergency'."
If President Trump declares that the border situation with Mexico constitutes a "national emergency", he had better be prepared with quick Supreme Court intervention to squash all the lawsuits the Democrats will be throwing at him.
6. Give a Palestinian some limited authority as a Congresswoman and she immediately makes a fool of herself.
NEWS BRIEF: "Dem Palestinian-American Rep. Rashida Tlaib faces backlash for profanity-laced Trump impeachment vow", Fox News, January 4, 2019
"Within hours of being sworn into the 116th Congress, newly elected Rep. Rashida Tlaib, D-Mich., already is facing backlash for her comments on the job – after a profanity-laced pledge to pursue President Trump's impeachment ... we're gonna go in there, we're gonna impeach the motherf----r," Tlaib told the crowd, which roared with approval."
In America today, most people still take offense to the F*** and the M*****F****r words, so her profanity rant will lessen voter support for the Leftist Democrat Party and its platform.
In fact, Rashida violated House rules by this filthy language.
"House Rule:XXIII 1.A Member, Delegate, Resident Commissioner, officer, or employee of the House shall behave at all times in a manner that shall reflect creditably on the House."
---