Headline News Analysis
Middle East Map - Pentagon 2007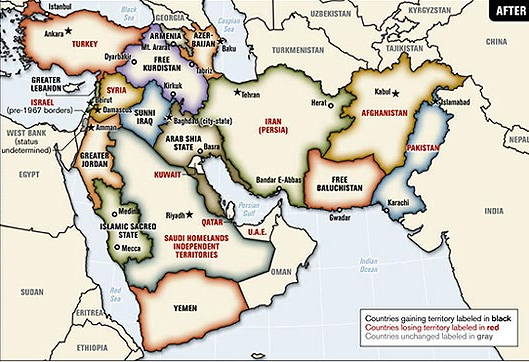 1. The International Conference declared by the Trump Administration last week has changed its focus just as we felt they would.
The initial focus last week about this conference was Iran.
Now, the focus is on the safety of the Kurdish peoples.
NEWS BRIEF: "Trump, Erdogan discuss Syria 'safe zone' in phone call", Rudaw News, January 14, 2019
"ERBIL, Kurdistan Region – Just hours after Donald Trump threatened to 'devastate' Turkey economically if it attacks Syria's Kurds, the US president held a phone call with his Turkish counterpart Recep Tayyip Erdogan ... They also discussed the idea of establishing a safe zone in northern Syria which might placate Turkey's security concerns, the statement added."
Despite Erdogan's denial that Turkey held any deeply-rooted animosity toward the Kurds, the fact is that Turkey has been trying to eradicate the Kurds from her soil for decades. The Kurdish armed forces have been the kind of determined foe against Turkey that the Taliban has proven to be against Russian forces and later, American forces, in Afghanistan.
Further, the Kurds remember all too well the massacre of 1.5 million Armenians in 1915 by the Ottoman Empire (Turkey) and later, Saddam Hussein's chemical attacks which killed tens of thousands of Kurds.
Over the past 2,000 years, the Kurdish people have been systematically murdered by various regional forces, and now, they are demanding their own nation. The Global Elite has decided to give the Kurds their own nation, as the Pentagon Map of 2007 -- shown above -- demonstrates.
NEWS BRIEF: "Pompeo: US mediating between Turkey and Syrian Kurds", Kurdistan 24 News, January 14, 2019
" 'We're fully engaged', US Secretary of State Mike Pompeo explained on Saturday. 'Ambassador [James] Jeffrey is fully engaged in conversations with the Turks, as well as with the SDF (Syrian Democratic Forces) in Syria'."
Pompeo spoke on Saturday, while in the United Arab Emirates, in the middle of a nine-nation tour of the Middle East ... The Secretary of State indicated that the understanding that the US is pursuing involves developing arrangements and assurances that Turkey will not attack the SDF, and the SDF will not attack Turkey. US President Donald Trump's surprise decision last month, following a telephone conversation with Turkish President Recep Tayyip Erdogan, to withdraw US forces from Syria raised serious questions about the fate of the US allies, even as Trump subsequently affirmed that Washington would ensure the continued protection of Syria's Kurds."
High American officials accompanied both Sec/State Pompeo and National Security Adviser, John Bolton (CFR) in this regional trip, forming the basis for the global summit next month.
"... an informed Washington source told Kurdistan 24 that Bolton's visit to Ankara was far more serious and productive than Erdogan's heated language suggested. Bolton was joined there by Gen. Joseph Dunford, Chairman of the Joint Chiefs of Staff, and Jeffrey, both of whom stayed in Turkey for further talks, after Bolton's departure. Indeed, on Saturday, Pompeo described Bolton's conversations in Turkey as 'very productive', suggesting that stories of a major split between Ankara and Washington had been 'misreported and overblown'."
Turkey has no chance whatsoever to avoid the changes which are about to be forced on her. On one side, she is facing King Kong America, led by President Trump and his officials. On another side of the table, she is facing the regional Superpower, Israel. And on the third side, she is probably going to face the representatives of Russia, who are fully supportive of this 2007 Middle East Map.
Turkey is facing overwhelming forces arrayed against her.
Then, once the Middle East map is redrawn as is depicted above, then Supernation #7 of the global reorganization Plan can be created, forming a major part of the prophesied 10-Nation Reorganization of Daniel 7:7-8, 2:40-45, and Revelation 17:12-17!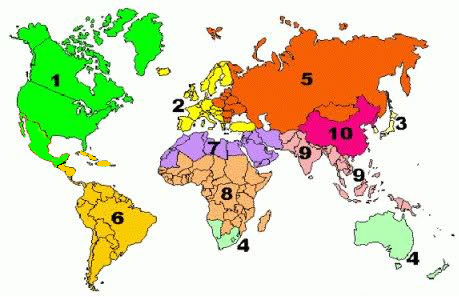 The plan to forcibly redraw the Middle East Map of 2007 is well underway.
2. Public rhetoric over the border wall is screeching into more tough talk.
NEWS BRIEF: "Gov. Jan Brewer (R-AZ) Warns: 'Our Country Is Going to Collapse' Without Border Wall", Breitbart News, 13 Jan 2019
"Former Gov. Jan Brewer (R-AZ) says the United States 'is going to collapse' as a nation without a border wall and end to mass illegal immigration ... the importance of a border wall should not be understated, noting that the U.S. has had 'a crisis for a long time' on the U.S.-Mexico border."
"I often used to say, a country with a border secured is like a house without walls, it collapses. You have to have your houses protected or it will collapse. And if you don't have a wall on the border, our country is going to collapse. It's as simple as that. And it doesn't seem to be something that's very hard to understand."
"The Democrats, the left-leaning liberal Democrats just want open borders. I think that's very plain."
Former Arizona Governor, Jan Brewer, hits the nail on the head. Leftist Democrats and RINO Republicans are so adamant about not enforcing our border security because they are committed to the New World Order concept of a "world without borders", a global government.
The Bible will call this global authority the "Kingdom of Antichrist!
Allowing mass invasion of our country by illegal immigrants is producing a tidal wave of death and destruction in America!
NEWS BRIEF: "Human Trafficking, Sexual Assaults Key Aspects of Crisis on Southern Border", The Epoch Times, January 13, 2019
"Rep. Crenshaw and a Texas sheriff explain the challenges their state faces from an unsecured border, and why a wall is needed ... the sheer number of people crossing the southwest border illegally—most of whom are families and children hoping to seek asylum—constitute a humanitarian crisis. In fiscal 2018, almost 400,000 people were apprehended by Border Patrol after illegally crossing the border."
"Two-thirds of migrants traveling through Mexico report experiencing violence during their journey, including abduction, theft, extortion, torture, and rape, according to Doctors Without Borders (MSF), which has been providing medical and mental health care for migrants and refugees in Mexico since 2012."
If the migrant caravan is composed of so many thieves, criminals and murderers, why on earth do we want to simply let them all in America without proper vetting the answer is "we don't" want this kinds of people!
"We're asking for about 234 miles of border wall. It's extremely effective. And I know this from being somebody in the military—when we need to get places, barriers matter. They're not easy to climb over. They're not easy to dig under. They're a mitigating factor, they're a huge mitigating factor." (Crenshaw)
Mainstream Media is so committed to open borders everywhere that they refuse to adequately cover those people who have lost loved ones to one of the crimes which illegal immigrants bring in their wake.
NEWS BRIEF: "Silence of the Moms: Media Refuse to Discuss Angel Families, Victims of Illegal Alien Crimes", Breitbart News, 13 Jan 2019
"Since January 1, neither CNN nor MSNBC has booked a single "Angel Mom" — mothers of children brutally murdered by illegal aliens — as guests on their networks ... The Angel Moms, or Angel Families, are the surviving family members of those Americans who were tragically killed by illegal aliens. Their plight is a particularly vivid illustration of the effects of unfettered illegal immigration. Had the federal government enforced immigration law and removed the illegal aliens who committed these heinous crimes before they committed them, the crimes never would have happened and their loved ones would presumably still be alive today."
Listen to the national statistics and weep for our grieving fellow Americans.
"In the last two years, ICE officers made 266,000 arrests of aliens with criminal records, including those charged or convicted of 100,000 assaults, 30,000 sex crimes, and 4,000 violent killings," Trump said in the nationally televised address. "Over the years, thousands of Americans have been brutally killed by those who illegally entered our country, and thousands more lives will be lost if we don't act right now."
When the Democrats brush these facts aside, they are literally saying to fellow Americans, "We do not care if you die at the hands of these criminals which we are allowing into this country"!
As President Trump threatens to declare a "National Emergency", a new caravan of illegal immigrants is getting underway from Honduras.
NEWS BRIEF: "Trump to declare border emergency unless Congress acts", The Washington Times, January 10, 2019
"President Trump signaled Thursday that he will likely declare a national emergency to have the military build his border wall unless Congress negotiates a deal to give him the money ... 'I have the absolute right to declare a national emergency', he said. 'If this doesn't work out, probably I will do it. I would almost say definitely'."
The President should have the phone numbers of one of the Conservative Justices of the Supreme Court in the "Contacts" area of his cell phone. As soon as he declares a national emergency, Democrats will file a lawsuit with a Fellow Traveler Federal Judge who will declare a halt to Trump's plan.
To keep this from dragging out forever, Trump would do well to have the path to the Supreme Court open and quickly accessible.
3. The Palestinian Authority Chairman is set to become the head of the UN "Group of 77" Committee.
NEWS BRIEF: "Abbas to assume chairmanship of UN's Group of 77: Allows PA to operate like a member state of the UN", Israel National News, Jan 15, 2019
"Palestinian Authority (PA) chairman Mahmoud Abbas arrived in New York City on Monday to assume the chairmanship of a major bloc of developing countries at the United Nations ... the Group of 77 ..."
What, you may ask, is the "Group of 77" at the United Nations?
"The Group of 77 (G77) at the United Nations is a coalition of 134 developing nations, designed to promote its members' collective economic interests and create an enhanced joint negotiating capacity in the United Nations. There were 77 founding members of the organization, but by November 2013 the organization had since expanded to 134 member countries (including China)." (Wikipedia)
But, you may ask, surely a member must be a nation prior to becoming a member of a group of 77 nations!? And, since the Palestinian Authority is not a nation, how can it be part of G77, much less the chairman?
Returning to our featured article, we read:
"In October, the United Nations General Assembly voted in favor of allowing the PA to chair the group in 2019, thus allowing the PA to act more like a full UN member state during meetings in 2019."
However, Palestinian Authority President Abbas has to grandstand in front of the world, asking for "protection" from Israel.
NEWS BRIEF: "Abbas Asks UN For Protective Force Against Israel Prior to Chairing G77", The Jerusalem Post, January 15, 2019
"The United Nations must provide the Palestinians with an international protection force, Palestinian Authority President Mahmoud Abbas said in New York on Monday, a day before taking over the chairmanship of the Group of 77, the largest bloc of United Nation member states."
Who is going to protect Israel from the Palestinians, who nearly daily attack innocent Jews wherever they can find them?
The Palestinians continue to try to attain Nationhood, in fulfillment of Isaiah 34:12!