1. Did the Gog-Magog War of Ezekiel 38-39 begin last Saturday?
NEWS BRIEF: "Did The Gog-Magog War Begin On Saturday Last?", Breaking Israel News, February 13, 2018
"Israel and Iran made direct military contact on Saturday for the first time, signaling a significant escalation in the multinational entanglement in Syria. This development contains unique elements that several end-of-days experts say presages the Messianic war of Gog and Magog."
Of course, the "direct military conflict" in view here was the Israeli shootdown of an Iranian stealth drone just after it crossed the Israeli - Syrian border. This drone had taken off from a Syrian military base. Thus, Israel and Iran indirectly came into conflict. Iran is Ancient Persia and she is prophesied to cooperate with Russia in the Gog-Magog War in Ezekiel 38-39.
"The confrontation on Saturday marks a serious escalation in an already volatile region that brings the armies of many nations in closer proximity with one another. This explosive mix is coming to a boil and last week, two other aircrafts were shot down. One of the aircrafts, a Turkish plane, was shot down on Saturday and a Russian close-support SU-25 one week earlier."
"Rabbi Pinchas Winston, a prolific end-of-days author and educator, believes that the confrontation on Saturday may very well have been a major step ... "What happened on Shabbat could easily be the trigger to set off. Shooting down an airplane, especially inside Israeli airspace as was the case with the F-16, is an act of war'."
Modern Judaic scholars believe that God-Magog War will bring the Jewish Messiah to Israel, so they are very excited to see the Russian/Iranian forces inside Syria, almost up to the Golan Heights, a logical jumping-off point for an invasion of the Jewish State.
Rabbi Winston concludes:
" 'It is not a matter of whether or not the War of Gog and Magog is coming. It is a matter of time and at this point, we are counting the days'."
In Ezekiel 38-39, Russia is identified as the leader and the equipper of the nations invading Israel.

Russia already has military forces in Syria and it was she who gave the order for the Syrian military to shoot down the Israeli F-16 using Russian air defense systems.
NEWS BRIEF: "Former Russian Diplomat: Russia Gave Syria Green Light To Fire on the Israeli F-16", Breaking Israel News, feb 13, 2018
"Russian Political Analyst and former diplomat, Viacheslav Matuzov said on Al-Jazeera TV that he believes Russia gave Syria a green light to take down an Israeli F-16 over the weekend."
Do not doubt that Putin is in solid control of all events in Syria right now. Even the United States is taking intensive care to ensure that our forces do not come into contact with Russian. Russia controls the northern approaches to Israel, just a prophecy dictates.
Iran's military is also on the ground in Syria and it was an Iranian drone that flew into Israel.
Prime Minister Netanyahu is under superficial attack from "Deep State" Israelis, left-wingers mostly. If Netanyahu is indicted on any charges whatsoever, are the Arab enemies going to view this moment one of "weakness", tempting them to start a war now?
NEWS BRIEF: "Analysis: Israel's 'Deep State' Targets Netanyahu with Bogus Charges", Breitbart News, 13 Feb 2018
"The Israeli police investigation against Israeli Prime Minister Benjamin Netanyahu shows remarkable similarities with the Special Counsel probe against President Donald Trump in the United States. During the prime time news broadcasts Tuesday evening in Israel, the dramatic news was announced that Israel Police investigators are recommending that Israel's Attorney General, Avichai Mandelblit, indict Prime Minister Benjamin Netanyahu on bribery and breach of trust charges in two investigations."
"If Netanyahu is cleared — and given the weakness of the charges against him, it's hard to see how he can be indicted — then the police will lose their credibility and the public trust."
2. Don't you find it interesting that Iran (Ancient Persia) is actively setting into motion another plan to annihilate Israel just days before the Jewish festival of Purim?
NEWS BRIEF: "Iran tests Israel, just in time for Purim", Israel National News, 2/14/2018
"Iran pushes Israel's envelope as the month of Adar approaches. Some folks never learn the lessons of history! It didn't end well for Haman, and it won't end well for the Ayatollah."
Purim celebration this year begins February 28 and concludes March 2.
What is the root of this most joyous Jewish holiday?
The word, 'Purim' -- phonetically pronounced 'poo-reem'—Strong's Greek & Hebrew Dictionary, Strong's Number H6332 -- is from the root word, 'puwr', Strong's Number, H6331, which literally means, "to bring to naught", to "break", and to "crush". The Purim celebration rejoices in the Divine deliverance of the Jewish entire nation from an elaborate plan of a government official -- Haman -- to completely annihilate all Jews.
For the complete account of the institution of Purim reference must be made to the Book of Esther. Only a brief statement is possible here. Haman, son of Hammedatha the AGAGITE who had been made prime minister by King Ahasuerus (Xerxes), bitterly hated the Jews, especially after the Jewess, Esther, was selected by the King to be his wife, replacing the disgraced Queen Vashti.
In his jealous fury Haman soon began to seek an opportune day to work his hate upon Mordecai and the whole Jewish people, and therefore resorted to the casting of the lots for the auspicious time; the lot pointed to the 13th day of the 12th month (Est 3:12ff). As the Scripture shows, the wisdom of Mordecai, Esther's heroism, and fasting and prayer availed to foil the dastardly scheme of Haman, who had already built the gallows on which his hated rival should be hanged. Haman was himself hanged on this gallows, while Mordecai was honored yet more (Est 7:10; Est 8:1, 2).
During Purim, Jews commemorate God's miraculous deliverance in Ancient Persia from a Persian ruler who was intent upon destroying all Jews!
Will Israel begin to fight the mighty battle against her Arab enemies, culminating in the destruction of all Palestinians (Obadiah - as we demonstrated in our DVD, "Israel's Prophesied Triumph Over The Palestinians") and the repeated onslaughts against Jerusalem as prophesied in Zechariah 12?
3. A "Free Kurdistan" continues to be in the Daily News, as Kurdish forces continue to actively engage the Turks, the Iranians, and the Iraqi forces, keeping the entire region in turmoil.
NEWS BRIEF: "KRG moving in right direction to end Baghdad blockade: Former Presidential Envoy to US", Kurdistan24 News, 2/13/2018
"ERBIL, Kurdistan Region (Kurdistan 24) – The Kurdistan Regional Government (KRG) is on the right track as it moves toward improving relations between Erbil and Baghdad, Sasha Toperich, a former diplomat and human rights advocate, told Kurdistan 24 in a recent interview.
"Toperich, currently a Senior Fellow and Director at Johns Hopkins University in Washington DC, spoke to Kurdistan 24 following a conference organized by the public policy think-tank, American Enterprise Institute. 'I think the Prime Minister, Nechirvan Barzani, and the KRG government are [moving in] the right direction' to resolve the ongoing disputes with Iraq and Kurdistan, he said."
Notice that this diplomatic envoy spoke about the Kurdistan Regional Government (KRG) as a government on par with Iraq. While the KRG is officially subservient to Iraq, this map below clearly shows that "Free Kurdistan" is a nation on par with any other nation in the region.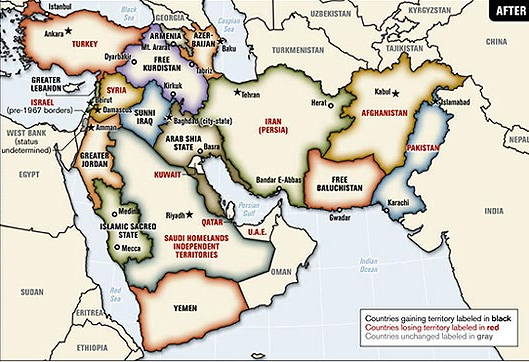 The day is coming soon when the "New Middle East Map" (2006) will be dramatically redrawn, just as the Pentagon envisioned. This new map will form the basis for the Plan of the Elite to establish Supernation #7, continuing the reorganization of the world into 10 Supernations (Daniel 2:40-45, 7:7-8, Revelation 17:12-17)
4. Negotiations over NAFTA (North American Free Trade Association) are said to be making "progress".
NEWS BRIEF: "U.S. Touts NAFTA Progress as Republicans Urge Trade Caution", Bloomberg News, Feb 13, 2018
"The Trump administration is signaling progress on Nafta talks, particularly with Mexico, as Republican lawmakers voice support for a trade deal President Donald Trump has threatened repeatedly to abandon. The U.S. is making "headway" in its efforts to renegotiate the North American Free Trade agreement, Trade Representative Robert Lighthizer said on Tuesday at a meeting with the president and a bipartisan group of lawmakers at the White House. He also downplayed the likelihood of a U.S. withdrawal. Talks are going well, 'particularly with the Mexicans', he said."
NAFTA is Nation #1 in this prophetic 10-Nation reorganization! See the map below: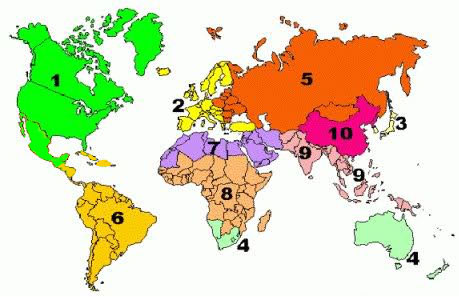 Will President Trump be the "Conservative" President who will lead America into forming this fulfillment of key prophecy?
---
Combination Offer Saves You $15.00
If bought separately -- $44.97
Special Combination Offer -- $29.97