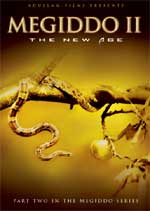 "Megiddo II -- The New Age: Foundation of the New World Order"
Chris Pinto reveals that Hillary Clinton is a channeler of spirits on the level of Aleister Crowley, Adolf Hitler, and Madame Blavatsky (House of Theosophy)!
Watch also "Megiddo I -- The March to Armageddon"
Buy Combination Offer and Save Money
"Megiddo I and Megiddo II Combination Offer "
See also Chris Pinto's Cutting Edge series "Secret Mysteries of America's Beginnings"
---
NEW DVD FROM CUTTING EDGE FILMS
REVELATION, Volume 2 - ARE WE IN EARTH'S FINAL HOUR?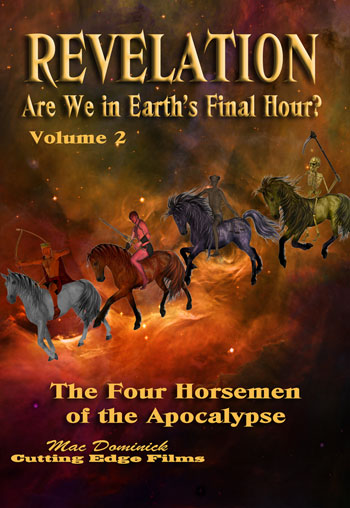 The Four Horsemen of the Apocalypse
New DVD by Mac Dominick
The control of the earth that Adam transferred to Satan is documented in Heaven in the form of a Title Deed of the Earth. As we take up our study in Revelation chapter 5, we are given by God in this inspired account the details of the exercising of this title deed. As with any deed that is held by a lienholder, payment for the property will eventually come due. In Disc 2 and following, we become witnesses to this payment and the judgment for the abuse of said property by those who were entrusted with its care. The Book with Seven Seals, a seven-sealed scroll, is this very title deed, and as the Lord Jesus Christ breaks each of these seals, the demand for payment is executed.
Disc 2 details the breaking of the first four of the seven seals, and with the breaking of each of these seals, the lien-holder (God) allows the empowerment of Satan and his minions their opportunity to exercise their will over the earth and mankind. The manifestation of the will of Satan is illustrated as 4 horsemen who are loosed and empowered to work their evil will over the planet earth and its inhabitants. The results are both tragic and devastating:
• Satan will install his man to rule the earth over a one-world government
• This ruler will deceive the Jews into believing he is their long-awaited Messiah and the savior of the world by instituting world peace.
• However, because this is a false peace, war will break out that reveals the evil that controls the planet.
• Subsequently, there will be famine, pestilence, and death to more than one-third of the earth's inhabitants
• Finally, the world ruler will declare war on the Jews and set up his image in a rebuilt Jewish Temple.
Disc 2 will detail this account, establish its credibility with prerequisites that show exactly how these events can and will take place, and prepare the viewer for the breaking of the remaining seals that initiate the wrath of Almighty God upon the earth dwellers.
Disc 2 includes answers to the following questions:
• Who is Antichrist, and where will he originate?
• Will the Antichrist be a Muslim as many Evangelicals now teach?
• Will Israel declare war on her Arab neighbors, and finally live in peace and safety?
• Is Russia a threat to Israel, and what does Scripture teach concerning this?
• How will the Jews realize that Antichrist is not their Messiah but rather, evil incarnate?
Buckle your seat belts and join us---this is a wild ride. Order - watch trailer here .
"REVELATION: ARE WE IN EARTH'S FINAL HOUR?" VOL. 1
'Jesus' Warning To His 7 Churches', New DVD by Mac Dominick of Cutting Edge Films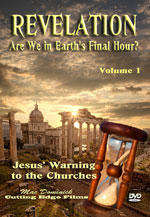 We are going to examine in this series areas which no other teacher has even addressed, but you should expect this kind of in-depth valuable information from Cutting Edge Ministries! Jesus wrote this prophetic book through John the Apostle, addressing:
7 Christian Churches in Asia Minor
7 Prophetic Seals
7 Trumpet Judgments
7 Histories (Persons)
7 Bowls (Vials)
7 Judgments (Dooms)
7 New Things
Since God considers the number Seven as His Perfect Number, we can see that God is offering a final prophetic book which consists of 7 subjects, each of which contains 7 events. A Divinely Perfect Book in all ways!

We are living in an age in which the question, Is there any hope for mankind? seems to become more relevant with each passing hour. Every waking hour is filled with reports of a new crisis, new disasters, new terror threats, and the realization that the fate of all of mankind is spinning out of control.

Additionally, this generation is facing more onslaughts of pure evil than has ever been witnessed in the entire history of man. As we search for answers, we must realize that God has given us a guidebook to prepare us for the future, and that guidebook is none other than the last book of the BibleThe Book of Revelation.

While there have been any who have taught and studied this book, most who teach it either teach it out of the context of the balance of the Word of God or fail to ask the hard questions surrounding the prophecies in this book. We at Cutting Edge Ministries are presenting this series to provide answers to not only the mysteries of this book, but also to deal with difficult subjects and answer the hard questions.

A few of the points we will cover in Volume 1 include:

The Rapture of the Church true or false?

Will the Antichrist be Islamic?

How do we understand Islamic eschatology?

Who is ISIS, and will ISIS conquer the Middle East?

What is the true bloodline of the Antichrist?

What is the fate of Russia?

How can the stars fall to earth from heaven?

Was there any prophetic significance to Nazi Germany?

Can we find the USA in the Book of Revelation?

We will teach the book in a survey format that will mingle a traditional, contextual approach to the book with a digression to apply these teachings and prophecies to cover the influence (or lack of influence) of the events we see taking place right before our eyes.

Run Time is nearly 2 hours Watch the Trailer
Hot News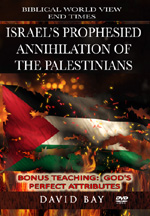 1. Israel continues to make the kinds of strategic diplomatic moves one would expect if they are preparing to fulfill the prophecy of Obadiah 15-18.
The Palestinian's days are numbered and will not be prolonged.
What kind of maneuvers should a person expect if Israel is getting close to annihilating the Palestinians?
* Israel would want to remove her people, both civilian and military
NEWS BRIEF: "Palestinians want French initiative to set timetable for Israeli West Bank withdrawal", The Jerusalem Post, 5/16/2016
"The new French peace initiative should set a timetable for an Israeli withdrawal to the pre-1967 lines, Palestinian Authority Prime Minister Rami Hamdallah told reporters during an English-language press conference in Ramallah on Monday afternoon."
Notice that this Palestinian plea for an Israeli withdrawal is being conducted through the French, not through the Americans or through the Israelis. Do not the Palestinians realize that Israel wants her citizens to be removed from the Palestinian prior to the prophetic onslaught?
"...maybe we can set a time limit for the withdrawal of the Israeli troops and a time limit for the establishment of the Palestinian sovereign independent state over the 1967 borders with east Jerusalem as our capital', he added."
Now, the Palestinians extend their diplomatic initiative to include the withdrawal of all Israeli Defense Forces. Once again, this action is very coveted by Israel, and the fact that the French are aiding Israel in this grave matter is of utmost surprise.
The French are helping the Palestinians prepare their own grave.
* Israel must have a Unity Coalition Government in place during and after the annihilation. Further, this Coalition Government must be broadly based enough to withstand the shock of the diplomatic "blow-back" from this awful loss of Palestinian lives.
Right now, the Prime Minister's party coalition holds a "wafer thin margin" of seats in the Knesset, not enough to undertake such a bold and controversial action.
NEWS BRIEF: "MK Liberman sets conditions for joining coalition government", Israel National News, 5/18/2016
"Yisrael Beytenu party leader Avigdor Liberman has reacted to reports he rejected a generous offer to enter the coalition government, dismissing claims he was offered the defense ministry and a chance to implement his party's election pledge to impose a death penalty for terrorist murderers. At the same time, however, Liberman for the first time publicly declared his openness to joining Binyamin Netanyahu's government..."
Likud Party leaders were very pleased that Liberman had met with PM Netanyahu on this most important subject.
NEWS BRIEF: "Likud ministers overjoyed at Liberman meeting with the PM", Israel National News, 5/18/2016
"Likud ministers responded jubilantly on Wednesday to the developing talks between Prime Minister Binyamin Netanyahu and Yisrael Beytenu head MK Avigdor Liberman, over the possibility of Liberman's party joining the coalition ... Tourism Minister Yariv Levin praised the developments, saying, 'the goal of widening the government is within reach'."
"The Likud Minister called on Liberman "to come and complete the negotiations this very day."
Watch Israel carefully because she is the key prophetic figure in God's plan for the End of the Age!
2. President Obama creates the first LGBT Presidential Council, a huge official step toward America becoming the first official homosexual nation since Sodom.
Since this entire issue is coming straight out of the Pit of Hell, it is only fitting that the last name of the first official of this council is only one letter away from being "Satan"!
NEWS BRIEF: "President Obama appoints UCC transgender leader to presidential council: Her name is Barbara Satin", United Church of Christ News, May 13, 2016
"A member of the United Church of Christ's former Executive Council and a transgender leader within the denomination has been appointed to serve on President Barack Obama's Advisory Council on Faith-based Neighborhood Partnerships. Barbara Satin is the first transgender woman to serve on the advisory council."
Of course, the public rhetoric behind this official government LGBT initiative was flowery and filled with the tears of those people moved at the thought of how many Transgendered students are bullied every day in America!
No one stops to think how many people God is going to send into eternity at the time of His choosing, just like He did in Sodom and Gomorrah! And, that kind of judgment awaits this once Christian nation!
Do not wonder why America is now passing through the steps required to become a nation of Lesbians/Gays/Bi-sexuals/Transgendered citizens. Jesus predicted, 2,000 years ago, that one of the signs that we had entered into the End of the Age was that homosexuality was again going to be accepted on par with heterosexuality. Listen:
"Likewise also as it was in the days of Lot; they did eat, they drank, they bought, they sold, they planted, they builded; But the same day that Lot went out of Sodom it rained fire and brimstone from heaven, and destroyed them all. Even thus shall it be in the day when the Son of man is revealed." (Luke 17:28-30)
Based largely upon this verse, Bible scholars since the Reformation have taught that Jesus' Words here mean that society at the End of the Age would be as open to homosexuality as any nation has been toward heterosexuality! We are getting to this place very quickly now.
NOTE: This Newsletter continues after the advertisement, below.
---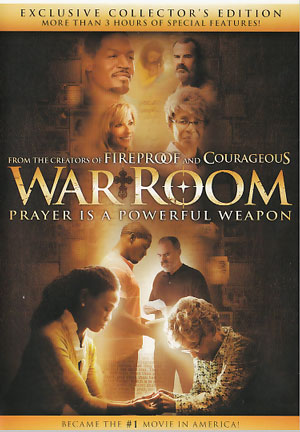 "War Room" DVD
Prayer Is A Powerful Weapon
Filled with heart, humor, and wit, 'War Room' follows Tony and Elizabeth, a couple who seemingly have it all---good jobs, a beautiful daughter, and their dream home.
But their appearances are deceiving: Tony relishes in his professional success and flirts with temptation, while Elizabeth resigns herself to increasing bitterness. Their marriage is on the verge of
crumbling until their lives take an unexpected turn. When Elizabeth meets Miss Clara, she challenges Elizabeth to create a battle plan of prayer for her family by establishing a 'war room'.
This new film from the Kendrick brothers is a vivid reminder that prayer is powerful weapon.
'War Room' is a terrific movie, gripping and inspiring! It has that dynamic mix of good acting, an interesting storyline, and humor tossed in at the right moments.
Run Time: 120 Minutes
---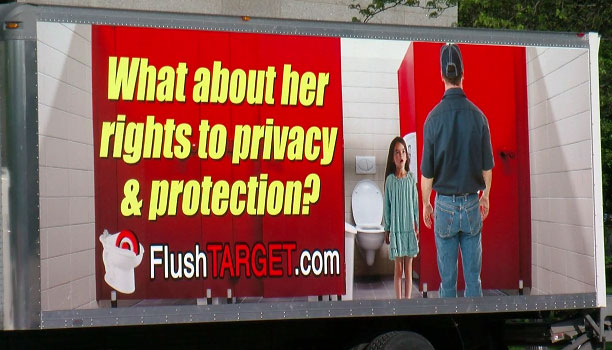 3. Target sales continue to plummet in the wake of their new Transgender policy!
Target shares are being crushed today.
NEWS BRIEF: "Target Misses Targets, Gets Crushed", Barrons News, May 18, 2016
"Shares of Target (TGT) are getting crushed today after the big-box retailer beat earnings forecasts but missed on same-store sales ... "
The reason "same-store sales" are so important an indicator is because you are comparing "apples to apples" in trying to determine the health of the retailer. Chain-wide revenue and earnings may be affected by new stores opening and by the strength or weakness of certain areas of the country or by regional promotions.
In the matter of this current controversy over Target's transgender policy, the news broke in the middle of the Quarter, so the impact may not yet be fully felt.
Therefore, same-store sales is watched carefully.
An anti-Transgender 18-wheeler truck is on the road today, beginning a tour that will take it to all Minnesota Target stores. The ad picture powerfully depicts a little innocent girl standing in front of a toilet, looking fearfully at the hulking man blocking her way!
NEWS BRIEF: "'Flush Target' Truck to Visit Every Target Store in Minnesota: Picture captures essence of parental concern", Breitbart News, 17 May 2016
"According to a CBS Minnesota report, an anti-Target campaign is working to send Target a strong message after the corporation doubled down on its policy to continue allowing patrons to use the bathroom of their self-identified gender. Opponents of Target's bathroom policy unveiled a truck with a young girl standing at a bathroom stall in front of a man staring at her with the message 'What about her rights to privacy & protection?' "
"Claire Chretien, an organizer of the campaign, said, 'I don't feel safe knowing that at Target a six-foot, five-inch, 250-pound man can follow me into a bathroom and store won't do anything about it'."
How about a 6-year-old slightly built girl weighing about 65 pounds being followed into a Target bathroom by a "six-foot, five-inch, 250-pound man" who also is a known sexual predator?
As any parent instinctively knows, the real danger to their little girl in a Rarest bathroom comes from sexual perverts who brazenly use the new Target policy to gain access to little girls through the public bathroom. Since Transgendered people only comprise 1 our of 2,400 people, they are not likely to pose much of a practical problem.
But, sex perverts are the real problem. This picture will yank really hard on the heart strings of parents everywhere. Whoever created this picture truly understands the issue at hand and understands the deepest, darkest fear of all parents.
4. Hillary Clinton supported President Obama's Transgender policy, a move she may soon come to regret.
NEWS BRIEF: "Hillary Clinton Endorses Obama's Decree on Transgender Bathrooms, Gender Identity", 16 May 2016
"Hillary Clinton is cautiously backing President Barack Obama' controversial decree that forces the nation's 100,000 K-12 public schools to open bathrooms and locker rooms to people who claim to be transgender ... a Clinton spokesperson said Hillary is supportive of Obama's demands, but provided only a vaguely written endorsement that reduces the risk of sparking public opposition during her 2016 presidential campaign."
Hillary must be very careful here, with this issue, because Liberal Feminists might just become upset that their niece or their aunt or her own children, could easily become the real-life victims of this Target policy.
Even black activists are blasting Obama's Transgender Shower Claim!
They are mad at the President on two counts.
NEWS BRIEF: "Black Activists Condemn Obama's Transgender Shower Room Claim", Breitbart News, 16 May 2016
"Black leaders slammed President Barack Obama's order that men who claim to be female must be allowed to shower with normal women and girls, and also his claim that federal support for transgenders and 'gender identity' is just like the campaign to win equal civil rights for African-Americans."
"The 'ridiculous transgender/civil rights movement comparison [is' insulting and disrespectful', said Nadra Enzi, a New Orleans anti-crime activist. Once again the Black experience is hijacked by individuals whose contempt and desperation is obvious! Middle- and upper-income Whites in search of artificial oppressed person status can do so without using our history to prop up delusional defenses."
"Comparing gender dysphoria to innate characteristics such as race is a bridge too far for scientific-minded individuals, but not for the organized left', said Stacey Washington, Emmy-nominated TV personality and talk show host on KFTK 97.1 FM in St. Louis. 'The idea that a mentally ill person should assume the mantle of civil rights so hard-fought and won by black Americans is insulting'."
I am surprised that Democrat President Obama is using this Presidential Election time period in which to promote this LGBT agenda. He may cost Hillary the presidency and Democrats dozens of local elections!
Perhaps he feels as though tie time is "Now or Never"!
5. The Liberal Ninth Circuit Court of Appeals handed American gun owners a huge victory!
The Justices ruled that American's Second Amendment Rights to Bear Arms include the right to Procure Arms!
NEWS BRIEF: "Ninth Circuit Court Rules: Right to Bear Arms Includes Right to Acquire Arms", 16 May 2016
"The U.S. Court of Appeals for the Ninth Circuit ruled Monday that the right to bear arms has historically included the right to acquire them, and remanded the case of Teixeira v. County of Alameda to the lower court."
"Writing in the Majority Opinion, 9th Circuit Judge Diarmuid O'Scannlain emphasized, 'Our forefathers recognized that the prohibition of commerce in firearms worked to undermine the right to keep and to bear arms'."
"O'Scannlain also pointed to the recognition of the importance of buying and selling firearms from the time of the English Bill of Rights (1689) to founding of the United States ... The historical record indicates that Americans continued to believe that such right included the freedom to purchase and to sell weapons. In 1793, Thomas Jefferson noted that "[o]ur citizens have always been free to make, vend, and export arms. It is the constant occupation and livelihood of some of them.' "
The right of Americans to own guns and to use them when necessary to protect their lives, the lives of their loved ones and private property is so engrained that the Liberal effort to seize guns will not succeed until the forces of Antichrist make everyone who took the "Mark of the Beast" to fall asleep, allowing foreign soldiers to simply take the guns out of the homes!
---
During this week, we ask you to help Cutting Edge Ministries. To protect our independence, we'll never run outside advertising on our site. We're sustained by donations and Bookstore sales, both of which are declining. Only a tiny portion of our readers give, only about 2%. If everyone reading this right now gave $3, our fundraiser would be done within an hour.
That's right, the price of a cup of coffee is all we need. We're a small non-profit with costs of a top website: servers, staff, studio expenses and programs. We believe everyone should have access to free knowledge, without restriction or limitation. If Cutting Edge is useful to you, please take one minute to keep us online and reaching out to over 100,000 people a year with the Plan of Salvation.
We have tried to make supporting Cutting Edge Ministry easy and convenient, with our green "Donation Button".

May Jesus Richly Bless You. David Bay, Director
---
Hot DVD!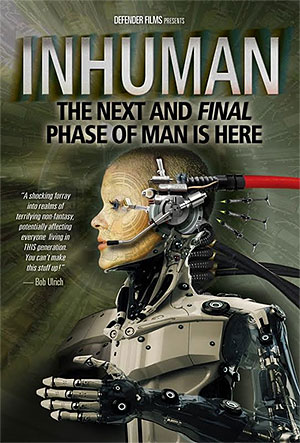 "Inhuman: Final Phase of Mankind Is Here"
DVD by Defender Films
This film is not fiction or a mockudrama but a new investigative documentary from the internationally acclaimed team at SkyWatch TV. INHUMAN travels the globe to unveil for the first time how breakthrough advances in science, technology, and philosophy - including cybernetics, bioengineering, nanotechnology,machine intelligence, and synthetic biology - are
poised to create mind- boggling game-changes to everything we have known until now about Homosapiens.

As astonishing technological developments push the frontiers of humanity towards far-reaching morphological transformation (which promises in the very near future to redefine what it means to be human), an intellectual and fast-growing cultural movement known as transhumanism intends the use of these powerful new fields of science and technology as tools that will radically redesign our minds, our memories, our physiology, our offspring, and even perhaps-as Professor Joel Garreau, Lincoln Professor of Law, claims- our immortal souls.
Certainly, the Global Elite wants desperately to end biological death and to defeat God's plans for our souls.
As viewers will learn, this includes rewriting human genetics, combining human and animal DNA, and interfacing our brains with strong artificial intelligence systems. As a result, new modes of perception between things visible and invisible are expected to challenge bioethics in ways that are historically, sociologically and theologically unprecedented.
The destiny of each individual - as well as the future of their families - depends on their knowledge of this new paradigm, an extraordinary time in the earth's history already being called the "Hybrid Age".
3 Hours long, 2-Disc Set - Only $24.95
As the Apostle John wrote 'Amen! Come quickly, Lord Jesus'
As Jesus promised, 'When ye see these things come to pass, look up, for your Redemption draweth nigh'!
---
NEW DVD PROPHETIC SET!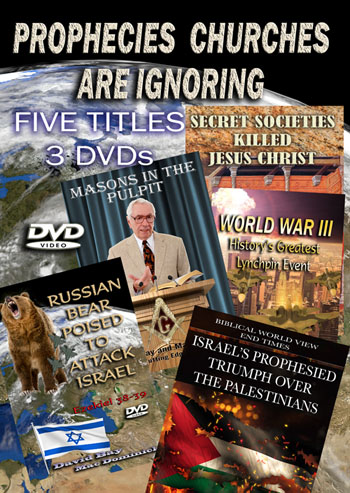 "Prophecies Churches Are Ignoring"
DVD Combo by David Bay
Regularly $84.94,Now only $29.99
You save nearly $55
Why are so many pastors so reluctant to teach prophecy? Why are so many pastors even more reluctant to teach how current events are uniquely fulfilling End of the Age prophecy?
Cutting Edge Director, David Bay, teaches six hard- hitting lessons on six unique End Times instances where events are fulfilling prophecy, but no one is talking about it. Five hot topics on three discs.
1) Israel's Prophesied Triumph over the Palestinians
2) Russian Bear Poised To Strike Israel
3) 'Masons In The Pulpit'
4) World War III: History's Greatest Lynchpin Event
5) Secret Societies Killed Jesus Christ
Each message is followed by a complete Salvation Plan, so each DVD becomes a Soul-Winning tool.
Almost 6 Hours of Teaching -- http://www.cuttingedge.org/detail.cfm?ID=2718
---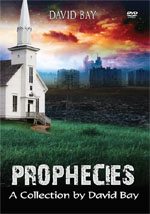 Prophecies a Collection by David Bay- DVD Combo - Volume 1 which contains 3 DVDs with our first six programs.
Here are the six hot topics:
• The Prophetic Beast Arises: Ten Toes of Daniel Are Forming
• Rapture Precedes Israels Final 'WEEK' of History
• Eternal Security: God's Anchor In A Brutal Storm
• End Times' Judgment On Iraq - Worse Than Believed Possible - Isaiah 13
• Israel's Prophesied Annihilation of the Palestinians
• America Identified In Prophecy: Economic Babylon of Revelation 18
Regular Price: $89.94 Sale Price: $29.99
---
Best Value On The Internet?!
See All Our $9.99 Books / DVD's
72 Titles From Which To Choose!

Reg. Up To $39.99

See All Our $4.99 Books / DVD's
30 Titles From Which To Choose!

Reg. Up To $24.99
---
May Jesus Richly Bless You,
David Bay, Director
Cutting Edge Ministries
803-356-2850 -- Customer Service or Orders Toll Free within the USA 855-368-7639