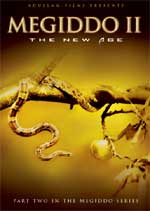 "Megiddo II -- The New Age: Foundation of the New World Order"
Chris Pinto reveals that Hillary Clinton is a channeler of spirits on the level of Aleister Crowley, Adolf Hitler, and Madame Blavatsky (House of Theosophy)!
Watch also "Megiddo I -- The March to Armageddon"
Buy Combination Offer and Save Money
"Megiddo I and Megiddo II Combination Offer "
See also Chris Pinto's Cutting Edge series "Secret Mysteries of America's Beginnings"
---
NEW DVD FROM CUTTING EDGE FILMS
REVELATION, Volume 2 - ARE WE IN EARTH'S FINAL HOUR?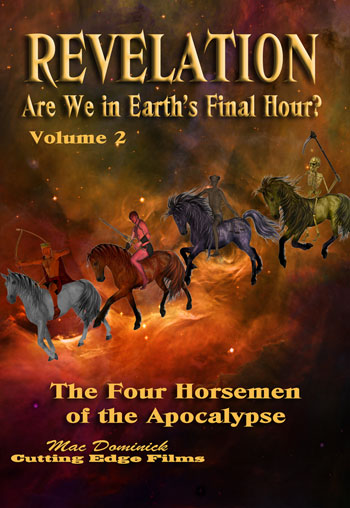 The Four Horsemen of the Apocalypse
New DVD by Mac Dominick
The control of the earth that Adam transferred to Satan is documented in Heaven in the form of a Title Deed of the Earth. As we take up our study in Revelation chapter 5, we are given by God in this inspired account the details of the exercising of this title deed. As with any deed that is held by a lienholder, payment for the property will eventually come due. In Disc 2 and following, we become witnesses to this payment and the judgment for the abuse of said property by those who were entrusted with its care. The Book with Seven Seals, a seven-sealed scroll, is this very title deed, and as the Lord Jesus Christ breaks each of these seals, the demand for payment is executed.
Disc 2 details the breaking of the first four of the seven seals, and with the breaking of each of these seals, the lien-holder (God) allows the empowerment of Satan and his minions their opportunity to exercise their will over the earth and mankind. The manifestation of the will of Satan is illustrated as 4 horsemen who are loosed and empowered to work their evil will over the planet earth and its inhabitants. The results are both tragic and devastating:
• Satan will install his man to rule the earth over a one-world government
• This ruler will deceive the Jews into believing he is their long-awaited Messiah and the savior of the world by instituting world peace.
• However, because this is a false peace, war will break out that reveals the evil that controls the planet.
• Subsequently, there will be famine, pestilence, and death to more than one-third of the earth's inhabitants
• Finally, the world ruler will declare war on the Jews and set up his image in a rebuilt Jewish Temple.
Disc 2 will detail this account, establish its credibility with prerequisites that show exactly how these events can and will take place, and prepare the viewer for the breaking of the remaining seals that initiate the wrath of Almighty God upon the earth dwellers.
Disc 2 includes answers to the following questions:
• Who is Antichrist, and where will he originate?
• Will the Antichrist be a Muslim as many Evangelicals now teach?
• Will Israel declare war on her Arab neighbors, and finally live in peace and safety?
• Is Russia a threat to Israel, and what does Scripture teach concerning this?
• How will the Jews realize that Antichrist is not their Messiah but rather, evil incarnate?
Buckle your seat belts and join us---this is a wild ride. Order - watch trailer here .
"REVELATION: ARE WE IN EARTH'S FINAL HOUR?" VOL. 1
'Jesus' Warning To His 7 Churches', New DVD by Mac Dominick of Cutting Edge Films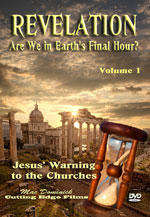 We are going to examine in this series areas which no other teacher has even addressed, but you should expect this kind of in-depth valuable information from Cutting Edge Ministries! Jesus wrote this prophetic book through John the Apostle, addressing:
7 Christian Churches in Asia Minor
7 Prophetic Seals
7 Trumpet Judgments
7 Histories (Persons)
7 Bowls (Vials)
7 Judgments (Dooms)
7 New Things
Since God considers the number Seven as His Perfect Number, we can see that God is offering a final prophetic book which consists of 7 subjects, each of which contains 7 events. A Divinely Perfect Book in all ways!

We are living in an age in which the question, Is there any hope for mankind? seems to become more relevant with each passing hour. Every waking hour is filled with reports of a new crisis, new disasters, new terror threats, and the realization that the fate of all of mankind is spinning out of control.

Additionally, this generation is facing more onslaughts of pure evil than has ever been witnessed in the entire history of man. As we search for answers, we must realize that God has given us a guidebook to prepare us for the future, and that guidebook is none other than the last book of the BibleThe Book of Revelation.

While there have been any who have taught and studied this book, most who teach it either teach it out of the context of the balance of the Word of God or fail to ask the hard questions surrounding the prophecies in this book. We at Cutting Edge Ministries are presenting this series to provide answers to not only the mysteries of this book, but also to deal with difficult subjects and answer the hard questions.

A few of the points we will cover in Volume 1 include:

The Rapture of the Church true or false?

Will the Antichrist be Islamic?

How do we understand Islamic eschatology?

Who is ISIS, and will ISIS conquer the Middle East?

What is the true bloodline of the Antichrist?

What is the fate of Russia?

How can the stars fall to earth from heaven?

Was there any prophetic significance to Nazi Germany?

Can we find the USA in the Book of Revelation?

We will teach the book in a survey format that will mingle a traditional, contextual approach to the book with a digression to apply these teachings and prophecies to cover the influence (or lack of influence) of the events we see taking place right before our eyes.

Run Time is nearly 2 hours Watch the Trailer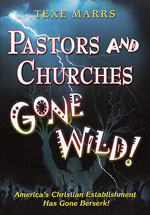 1. America's Christian Churches and her pastors, have drifted so far from the Truth of the Gospel of Jesus Christ that Biblical values have been turned upside down. Evil is now called good and good evil.
"Pole dancers for Jesus" is now a sad reality!
NEWS BRIEF: "'Pole dancing for Jesus' class mixes faith and fitness; Church going women offered free class", New York Daily News, March 24, 2011
"Women in Texas aren't pole-dancing for tips. They're pole-dancing for Jesus."
The Apostle Paul sternly warned that Christians are not to mix the things of Jesus with the abominable things of Baal (the chief of Satan's demons). Listen:
"Be ye not unequally yoked together with unbelievers: for what fellowship hath righteousness with unrighteousness? and what communion hath light with darkness? And what concord hath Christ with Belial? or what part hath he that believeth with an infidel?" (2 Cor 6:14-15)
When a woman is pole-dancing, she is simulating sex. The pole is the phallus and she is simulating sex with a man. She is also nude or nearly so, thus inflaming the sin of adultery in the mind and the heart of a man. Jesus made it quite clear that looking lustily upon a woman is adultery.
"But I say unto you, That whosoever looketh on a woman to lust after her hath committed adultery with her already in his heart." (Matthew 5:28)
Therefore, the entire public sex industry is designed to encourage men to commit adultery, in their inner heart. How serious is this type of sin?
"And if thy right eye offend thee, pluck it out, and cast it from thee: for it is profitable for thee that one of thy members should perish, and not that thy whole body should be cast into hell." (Matthew 5:29)
And when one sin -- simulating public sex on a pole -- is mixed with another sin -- looking with lust upon a woman -- God is especially angered. But, when supposed believers in Jesus do these things, an entire nation is set up for His judgment.
As we return to our featured article, we recognize that these church ladies learning pole dancing in this instance are not nude, nor are they performing simulated sex in front of men. But, they are helping erase a line of morality which defines what is acceptable and what is not. Later, undiscerning women may not see the difference, thinking the Bible condones simulated sex in front of men.
"In a dance studio in the town of Spring, outside of Houston, women are taking on the now-popular fitness trend of stripper aerobics – but instead of moving to a pulsing beat, they're grinding along to Christian music. "
What kind of Christian music is she using? Not the old fashioned revival music, for sure.
" 'Pole Fitness for Jesus' was the brainchild of Crystal Deans, the owner and class instructor at of Best Shape of Your Life. Deans, a former 'dancer', told MyFox in Houston that she quit the pole-dancing business years ago ... 'We do the upbeat contemporary Christian music because people have to bring their church program to get into the class, so we basically are just continuing the whole worship thing here', she said."
Discerning Christians understand that "Contemporary Christian Music" is simply the old Voodoo beat with christian lyrics. Therefore, it is not acceptable to use this kind of music in a christian fitness class.
And, I cannot fathom God being pleased by this mixture of christian worship and dancing to the devil's beat. The Bible makes it quite clear that there is an acceptable way in which to worship Him and there is an unacceptable way.
"Pole dancing for Jesus" is mixing Baal and Jesus and is unacceptable to a "Thrice Holy God". Where will this all end? Probably taking this pole dancing exercise class into the church! At that point, the christian church may one day see the parishioners having sex in the sanctuary -- thinking they are worshipping Jesus -- just as they always have done in the Temples of Baal.
---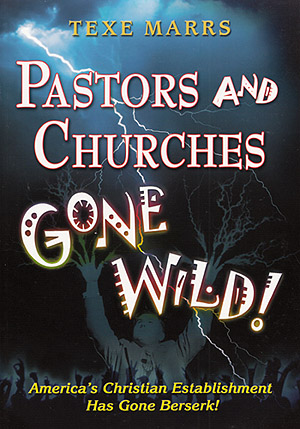 NEW BOOK: The Apostle Paul stated that one of the signs of the End of the Age is the complete apostasy of Christian Church. Texe Marrs abundantly proves that the current beliefs and actions of churches now fulfills this End of the Age prophecy, without any reasonable doubt.
These unbelievable pastors run our largest churches. They are seen by tens of millions on TV. Yet, they are preaching and doing the most horrific thingsand their churches are growing fast.
Surely, the Devil and his demons are laughing and cheering as those pastors go wild, make fools of themselves, and lead entire congregations down pathways straight to hell!
Some examples of clearly sinful, but popular, actions now occurring in our churches: 1) Lesbian theologian encourages prayer to 'Saint Uncumber, a bearded female saint'.
2) Naked pastor preaches to all nude church.
3) Minister resigns from Episcopal Church, says hes 'fleeing the madhouse'.
4) Pastor claims Jesus Christ visited him dressed as a fireman.
5) Attractive Hookers for Jesus dress in sexy pink tops and hand out religious tracts.
250 pages Order Yours Today
---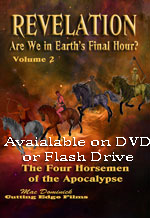 Trailer
2. After losing 58,000 soldiers in the 13-Year Vietnam War, this American President releases the Arms Embargo against the current Vietnam government.
How can this type of betrayal of those men who sacrificed it all for a cause not meant to be won, occur? The answer may surprise you.
NEWS BRIEF: "U.S. lifts arms embargo on Vietnam: Its former enemy is now a bulwark against the threat of China", by Kelly McParland, National Post (Canada), May 24, 2016
"U.S. President Barack Obama arrived in Vietnam Monday for a visit he says has nothing to do with China's expansionist ambitions in the region. He announced that, 40 years after the humiliating end of the Vietnam War, Washington would lift its arms embargo and sell its former enemies a full range of U.S. weaponry."
I felt an instant burn in my heart when I read this news flash. I served in US Army Intelligence during the 13-year Vietnam War, I have agonized over the 58,000 men who gave their "full measure of devotion", only to have that sacrifice washed down the drain when South Vietnam collapsed.
Now, this President, Barack Hussein Obama, is selling military equipment to the Communist Vietnam Government! That whirring sound you hear ringing in your ears is the sound of all our slain soldiers turning over in their graves.
Why is this President now lifting the arms embargo against Vietnam? He is taking this action because of the very same reason he lifted economic restrictions against Communist Cuba a few weeks ago.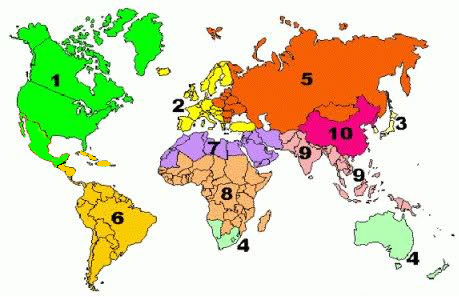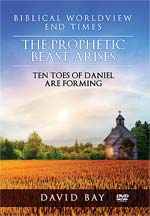 As we report in our DVD, "The Prophetic Beast Arises: The Ten Toes of Daniel Are Forming" -- shown above -- the most important force in the world today is the Illuminati's Plan to reorganize all nations of the world into exactly 10 Supernations! The prophecy in Daniel 2:40-45, 7:7-9 and Revelation 17:12, 17 is not only occurring in the world today, but is the most powerful and most sweeping of all forces driving world events today.
Today, Vietnam is a member of Supernation #9, Southeast Asia, also known as ASEAN! This dynamic supernation is nearing completion and is an economic dynamo. We provide all the relevant statistics in this DVD, and you will be amazed!
The time has come all over the world to "bring the outlaws in from the cold"! The sins of outlaw nations are gradually being forgiven and these nations are being incorporated into the global community of nations.
As soon as the planned 10-Nation Reorganization is completed, Daniel 7:7-8 reveals that Antichrist can arise. Therefore, we can look with interest and with gathering expectation when one of these former Outlaw Nations is drawn back in to the Global Community.
Then can be fulfilled this prophecy:
"And I saw when the Lamb opened one of the seals, and I heard, as it were the noise of thunder, one of the four beasts saying, Come and see. And I saw, and behold a white horse: and he that sat on him had a bow; and a crown was given unto him: and he went forth conquering, and to conquer." (Revelation 6:1-2)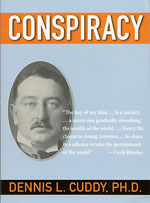 3. Donald Trump is said to be destroying the Republican Party with his rhetoric and his style.
Bernie Sanders seems to be doing the same thing to the Democrat Party.
Dr. Dennis Cuddy sums up this situation succinctly: this is the year when the Global Elite destroys the center -- the core -- of each major party.
NEWS BRIEF: "Robert Reich: Trump's 'Anti-Politics' Resonating with Ordinary Americans", Breitbart News, 23 May 2016
"Robert Reich shares the stories of a handful of regular Americans who are supporting Donald Trump — and warns that the brash billionaire could win November's general election. Throughout the Republican primaries, pundits and pollsters repeatedly told us he'd peaked, that his most recent outrageous statement was his downfall, that he was viewed as so unlikeable he didn't stand a chance of getting the nomination. But in my travels around the country, I've found many who support him precisely because of the qualities he's being criticized for having."
Donald Trump may be brash and vulgar, but he is saying things that so many Americans have felt for the past 40 years. No politician of any stature has ever made a stand on the issues near and dear to the hearts of Conservatives all over this land, "from sea to shining sea"!
People may disagree with how vulgar he can be when saying some things, but at least he is saying them and that a lot better than ignoring these issues altogether, like all the other politicians in this formerly great land.
"Americans who feel like they're being screwed are attracted to an authoritarian bully – a strongman who will kick ass. The former reality TV star who repeatedly told contestants they were "fired!" appears tough and confrontational enough to take on powerful vested interests."
Trump is pulling the center of the Establishment Republican Party to pieces. But, is that such a bad thing to happen? After all the leadership of the Establishment GOP are the Rockefeller Republicans we call RINO (Republican In Name Only). If the traditional GOP center has to be pulled apart in order that someone like Trump can put it back together in a way which conforms to our Conservative values, that may turn out for the good of the Conservative majority!
Do you realize that Bernie Sanders is doing the same thing to the Establishment Democrat Party!
Sanders arose to challenge the Establishment candidate, Hillary Clinton. Hillary had established herself as the "Center-Left" candidate. Since the Democrat Party has no credible "Right-Wing", only the Far Left of the political spectrum remained.
And from that Far Left, Bernie Sanders arose.
Just as millions of Conservative voters are extremely frustrated, believing that no one is truly watching out for their values, so millions of Liberal voters feel the same way. They do not consider Hillary a true Leftist. They reject Hillary because:
* $he is too far into the deep pocketbooks of Wall Street companies. In 2013, she and husband Bill were given over $50 million for "speaking fees" from a variety of fat-cat Wall Street companies. This level of income goes far beyond compensating a speaker for their time and speech and goes to the level of buying their loyalty once they are in office.
* The genuine poor who are always looking out for the next government handout cannot relate to the Fat Cat Clintons.
* Working Class Union members likewise cannot possibly relate to someone who rakes in so much money, yet who vows to "shut down coal" pretending to be interested in the plight of the little guy.
* Radical Feminists are up in arms over the reality that Hillary protected her husband's sexual exploits while he was in the White House to the point of bringing pressure upon his poor sexual victims!
Hillary has shown zero compassion toward Bill's rape and molestation victims; therefore, she is being vigorously attacked by the very constituency which should be her strongest ally -- the Radical Feminist. Nothing gets one of these ladies more upset than seeing a wife protecting a husband who is clearly a sexual predator.
Therefore, Bernie Sanders is pulling apart the Democrat Party Middle, just as Donald Trump is pulling apart the Republican Part Middle. Dr. Dennis Cuddy believes the Elite selected this election, this year, as the most opportune time to pull apart the middle of each major Party.
Why?
As the symbol to the right indicates the Freemason Fraternity has always planned to create their new value system by first sowing disorder, dissent and chaos. Their motto is "Order Out of Chaos". For this reason, the Global Elite has started wars and insurrections that will create the new Order out of the disorder they have just created.
For example, out of the chaos and disorder of World Wars I and II, the Elite finally realized their dream of a United Nations! Out of the chaos sown by these world wars, the Elite was able to create their "infant" One World Government. When their Masonic Messiah -- Antichrist -- arises he will seize control of the United Nations!
Likewise, the Illuminati plans to create chaos out of their destruction of the Democrat and Republican Establishment Parties, for out of this destruction, they will bring about much of what they want, like the formation of Supernation #1, the North American Union.
What was proving to be impossible with the Establishment Parties in power will prove to be possible once they are gone and replaced with a splintered party system in place!
Doubt it not.
---
Brand New DVD From Pastor Billy Crone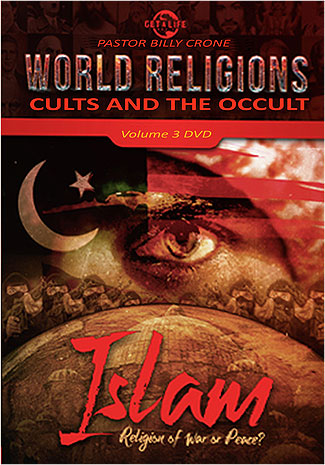 "World Religions, Volume 3: Islam, Religion of War or Peace?"
Islam vigorously defends itself as a 'Religion of Peace', even though today it is the most bloody religion on Earth. Is Islam peaceful, has it just been taken over by 'radical extremists'?

Pastor Billy Crone uniquely examines Islam according to these points:
The Hidden History and Behavior of Muhammad
The Untold Practices and Beliefs of Modern Day Muslims
The Dangerous Global Islamic Invasion
The Islamization of American Courts, Schools & Media
The Lie of Chrislam in the Church
How Best to Witness to a Muslim
Is Barack Hussein Obama a Muslim?

Eight (8) hours of teaching on 3 DVD's -- http://www.cuttingedge.org/detail.cfm?ID=2734
NOTE: See Volumes 1 & 2 -- Pictured Below
---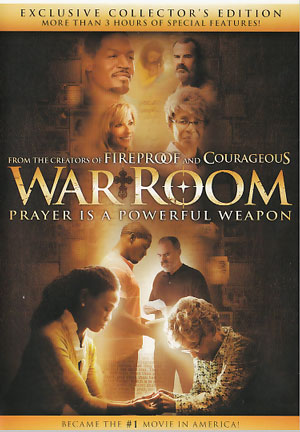 "War Room" DVD