---
"He who dwells in the secret place of the Most High shall remain stable and fixed under the shadow of the Almighty, Whose power no foe can withstand." (Psalm 91:1)
---
"May I Introduce You To: Jeremias dos Santos"
Translator To The Portuguese Language, Brazil
For the past 17 years, Jeremias has worked closely with us to translate English Cutting Edge articles into Portuguese, the official language of Portugal and Brazil. Jeremias felt an uncommonly heavy burden to translate our unique understanding of world events in light of End Times' Prophecy into Portuguese.
And, since God was Sovereign, He set in place two very important factors before raising up Jeremias:
1) Jeremias was a master of Upper Level Portuguese, used by the educated and the Management citizens, thus ensuring that the people who really made decisions for society would be the people to whom Jeremias was writing.
2) God timed Jeremias' endeavor so that his efforts would materialize exactly when tens of millions of Portuguese families were reaching 'critical mass' disenchantment with the Roman Catholic Church because of their never-ending sex scandals with little boys and girls.
Just as millions of families were walking out the Brazilian Catholic Church, looking for an alternative religion, Cutting Edge Portuguese was on the scene, well-rounded and enlightened by God's Holy Spirit.
The results were astounding. So many people were reading so many articles and were reading the Portuguese Salvation Plan that for a few years in the first decade of this century, more Portuguese were reading than English!
From July 2005 until June 2022: 639,811 Salvation Pages were read, an average of 37,631 per year, or 103 per day!
Folks, that is a lot of people reading the Portuguese Salvation Plan.
Jeremias shares our view that the last months before the Rapture hold the promise of reaching more spiritually needy souls than in the entire Christian Age of Grace. But, to accomplish this goal, we need to be able to financially stay up on the Internet.
Jeremias has never had to ask you for financial help. But, now the Brazilian economy is tanking much faster than ours, and he simply cannot raise the money within Brazil.
We at Cutting Edge would love to help him, but we do not have enough in our bank account to pay our first of the month bills, now due in only 3 days.
Will you help? We need to raise $2,500 to pay all Jeremias' bills and start translating again. If you can help, please click on the green "Donation Button" below and fill it out. In the comments section, please type in 'Jeremias'.

"And whosoever shall give to drink unto one of these little ones a cup of cold water only in the name of a disciple, verily I say unto you, he shall in no wise lose his reward." (Matthew 10:42, KJV)
If you wish to help Cutting Edge meet our first of the month obligations use the link below which will allow you to make a one time donation or become a monthly supporter,

May Jesus Richly Bless You,
David Bay
Cutting Edge English
---
"Ancient Cities And The Pagan Gods Who Built Them"
Now available as DVD, Book
or Save $5.00 on the Combo

Who were the Nephilim? What really happened at the Tower of Babel? Where is Atlantis? Who are the Shining Ones? Are these questions relevant to our walk with God today and our understanding of His creation?
Jesus said that as it was in the days of Noah, so shall it be at the coming of the Son of Man. Jesus also said to be ready for His return, that it comes like a thief in the night. This DVD takes an uncomfortable look at the days of Noah and many other topics so that we can be ready for our Savior's return. Topics that God chose to include in His Word are worth taking the time to study.
Ancient Cities looks at the Antediluvian world from a solid biblical foundation. Why are the stories of giants scattered throughout Scripture as well as our world today? Why did Joshua kill not only the men, but also the women, children, and livestock of the Anakim-Rephaim? What parallels do we find between the Bible and ancient Greek mythology? Ancient Cities studies Mount Olympus and the Greek gods whose tales shape our culture today. Why did the Romas at Lystra in the Bible think that Paul and Barnabas were the Roman gods Hermes and Zues? Ancient Cities examines the city of Rome's important role in spreading Christianity. Join Micah Van Huss as he teaches the topics that your Sunday school teacher refused to talk about.
130 Minutes DVD or 203 page book
Order DVD, OR Order Book or Save $5.00 by ordering the Combo
---
Looking Up - Our Redeemer Is Coming Any Day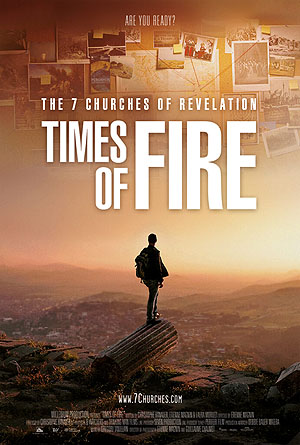 "Times of Fire" DVD - Vol. 1 of 2
"The 7 Churches of Revelation": First Three Churches
By Thinking Man Films -- Watch This Trailer
Only $19.95
These are the times which try men's souls!
Investigative filmmaker, Christopher Hanauer, travels to present-day Turkey, where the 7 Churches were located, to uncover the secrets of these prophetic letters. He uncovered many clues to the daily hardships of these 1st Century churches. His discoveries from the archaeological sites reveal that Christianity had spread like wildfire across the Roman Empire challenging ancient pagan worship and the order established by Imperial Rome. The emperor Cesar was intent on stopping it, punishing anyone who rejected his claim to deity.
With a circle of scholars and theologians to provide the historic and cultural insights, we begin to see connections to our modern world. Within these mysterious letters, we find keys to the heart of God for His Bride. Are our hearts prepared for his return? Is today's Church ready for these times of fire?
Run Time: 94 Minutes --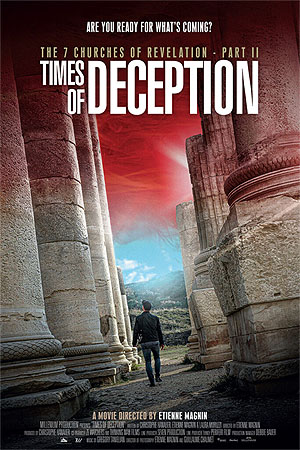 "Times of Deception" DVD - Vol 2 of 2
"The 7 Churches of Revelation": Last Four Churches
By Thinking Man Films -- Watch This Trailer
Only $19.95
These are the times which try men's souls!
"The 7 Churches of Revelation: Times of Deception," the second film in this series, investigates the final 4 churches: Thyatira, Sardis, Philadelphia and Laodicea.
The film ventures to these ancient church locations to uncover what we can learn today from the warnings given to those churches of the 1st Century. These Biblically prophetic letters point to a future that applies to us today. What do they warn? What important understandings are we to heed?
Run Time 91 minutes ---

---
Critical News Analysis
1. The U.S. Supreme Court ruled on Friday, June 24, that Abortion On Demand is not a Constitutional Right!
NEWS BRIEF: "Supreme Court Overturns Roe v. Wade: "Constitution Does Not Confer Right to Abortion"," Life News, June 24, 2022
"The Supreme Court has overturned Roe v. Wade, with a 6-3 majority ruling in the Dobbs case that 'The Constitution does not confer a right to abortion' ... We now overrule those decisions and return that authority to the people and their elected representatives', Justice Samuel Alito wrote for the majority."
The professional opinion of the majority continued:
" 'Roe was egregiously wrong from the start. Its reasoning was exceptionally weak, and the decision has had damaging consequences', Alito wrote. 'And far from bringing about a national settlement of the abortion issue, Roe and Casey have enflamed debate and deepened division'."
"After nearly 50 years, Roe has been responsible for the deaths of over 60 million preborn American children. Today, the Supreme Court has finally overturned the grievous error of Roe v. Wade that has cost so many precious lives," she told LifeNews. "
Abortion plays a large role in the Illuminati. I asked former Black Magick Satanist, Doc Marquis, how Satanists view abortion. Satanists view human sacrifice as the ultimate sacrifice to Lord Satan, and the younger the victim, the more precious, and powerful, the sacrifice. Thus it was, in 1986, the TV documentary program, "20-20", aired a segment on Satanism in America today. One of the last parts of this segment showed women who were Satanists, and obviously pregnant. They said they were giving birth to these babies for the express purpose of sacrificing their infants to Satan. I was not surprised because I had run into this practice in my research into the occult. So, I asked Marquis, 'If a sacrifice increases in power and preciousness the younger the victim is, how does a Satanist view aborted babies.'? He looked at me deadpan, and said, 'Satanists view aborted babies as THE most powerful human sacrifice possible'."
AND, what is the ultimate goal of all these murdered babies? Satanists believe that their Antichrist cannot come to the world scene unless his coming is preceded by oceans and oceans of human blood released through sacrifice to their lord, Satan.
Literally, Satan's spirit controls the mind and the emotions and the actions of pro-abortion activists. People have wondered why Leftists are always so full of hate, and are thus propelled into rhetorical fits of rage and violence and mayhem.
This is your answer: their lord is Satan.
After 49 years of an unconstitutional entitlement plucked out of thin air in 1973, this bloody issue is now sent down to the individual states.
NEWS BRIEF: "Roe v. Wade at 49 today", Lyle Denniston, Law News, Jan 22, 2022
"Forty-nine years ago today, a Texas woman using the name 'Jane Roe' to protect her privacy, won her case in the Supreme Court and access to abortion became a right protected by the Constitution ... A new study by the Guttmacher Institute, which tracks reproductive health policy, shows 12 states have already passed laws that would ban all or nearly all abortions if the Roe decision were overturned, and nine others have laws that currently are blocked by court rulings and probably would be put back into effect."
When was the original Roe vs Wade decision announced by the Supreme Court? The date shall "live in infamy" and was January 22, 1973, 49 years ago.
2. Wait A Minute! Is it just coincidence that God allowed this Federally sanctioned bloody slaughter of pre-born babies to continue for the 49 years of Jubilee?
Has God symbolically "set the captives free" from Federal blood sacrifice?
"... the concept of the Jubilee comes straight out of the Bible. God was talking to the Jews in the wilderness when He said, 'And thou shalt number seven Sabbaths of years unto thee, seven times seven years; and the space of the seven Sabbaths of years shall be unto thee forty and nine years'."
"Then shalt thou cause the trumpet of the jubilee to sound on the tenth day of the seventh month (Tishri 10 or Rosh Hashanah on the Jewish calendar; Sept. 23 on the 2017 Gregorian calendar), in the day of atonement shall ye make the trumpet sound throughout all your land."
"And ye shall hallow the fiftieth year, and proclaim liberty throughout all the land unto all the inhabitants thereof: it shall be a jubilee unto you; and ye shall return every man unto his possession, and ye shall return every man unto his family.
A jubilee shall that fiftieth year be unto you'." (Leviticus 25:8-11a).
What were to be the benefits which God enumerated for a Jubilee Year? (50th Year)
NEWS BRIEF: "What Christians Should Know about the Year of Jubilee", Crosswalk, March 1, 2021
"... the Jubilee Year involved a release from debt (Leviticus 25:23-38) and all types of bondage (Leviticus 25:39-55). All captives and prisoners were to be set free during this year, debts forgiven, and all property returned to the original owners. All labor was to cease for one year. The point of Jubilee's year was that the Israelites would dedicate a year of rest to the Lord, acknowledging that He had provided for their needs. "
Christians do not celebrate Jubilee, as that is strictly a Jewish requirement which God tied to the soil of Israel. Jesus is our Jubilee.
But, the fact is, the reality that Roe vs Wade lasted as the Law of the Country for 49 years and then was abolished in Year 50 is an weird coincidence. Since I have never believed in coincidence, I am compelled to consider how God may be sending a message to America.
One of the most important aspects of the Year of Jubilee is that, after every 49th Year, a Jubilee was to be announced that would result in debts forgiven and captives set free!
While Abortion on Demand is not outlawed, it is certainly curtailed. God certainly set millions of babies free with this Supreme Court decision! With the Psalmist, my heart sings: