NEW!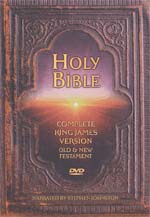 KJV Complete Bible on DVD
Only $29.95!
The King James Version of the Holy Bible on DVD is an effective, entertaining program for bringing Bible learning to life. This DVD collection features the entire Old and New Testaments, including a complete library filled with beautiful images of the Holy Land.
* Dramatized narration of the Old and New Testament
* Synchronized graphics and text showing every verse
* Interactive menus that allow direct access to any book or chapter
* Play a single chapter
—Play a single book
Plays in all regions
---
Most Popular In Bookstore Right Now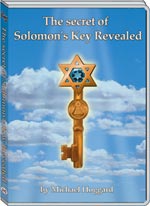 "THE SECRET OF SOLOMON'S KEY REVEALED" - DVD
Author Michael Hoggard reveals from the illuminati the most darkest, diabolical secrets in the world. Using the elements of Scripture numerics, Bible Typology, and the prophetic Word of God, Michael reveals the truth behind:
1) The meaning behind the sacred of Washington D.C. God's Longitude.

2) Freemasons using children to bring in the New World Order.

3) The hidden truth behind the Star of David.

4) A new understanding of the Mark of the Beast and the number 666.
2hrs. 40 min.
Dove-tails with our own DVD, "Riddles In Stone"
---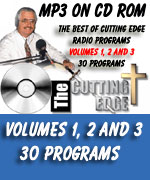 "COMBO OFFER! Best of Cutting Edge Radio" -
By Cutting Edge Director, David Bay
Regularly $59.97
Now On Sale For Only $39.97
You Save $20 over buying these assortments individually!
However, you save almost $110 over buying these radio programs individually!
Get 30 of the best Cutting Edge Radio programs for only $1.34 each!
Click here to see a listing of the 30 radio programs selected to be on these CD's
---
Back In-Stock!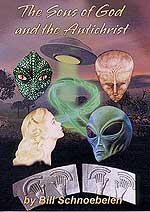 "Sons of God & The Antichrist"
DVD
Did you know that Fallen Angels have their own DNA? And, did you know that plans are in place to start mixing Fallen Angels DNA with human DNA? Nephilim are among us, just as in Genesis 6 and are marrying and cohabitating with human women.
Research is also going forward to make human DNA into a viral substance so humans can be implanted through VACCINATIONS!!
---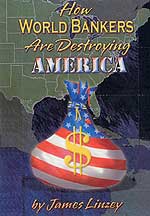 How World Bankers Are Destroying AMERICA!
DVD
Illuminati Plan does, indeed, call for a deliberate economic collapse, but one which will not occur until all other parts of the Plan are also ready to "jump off". However, economic distress must be previously set in place so that a collapse can occur quickly once the other parts of the Plan do explode
---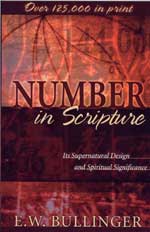 Number In Scripture: Its Supernatural Design and Spiritual Significance
Book by E.W. Bullinger
God is very consistent with numbers, as He causes many of the events and historical facts of Israel to occur "by the numbers" or by multiplication of the numbers! God's usage of numbers in the Bible is one of the most important ways in which He stamps His validity upon His Word!
Did you know that Satan got his fascination with numbers and many of his definitions of certain numbers from God's consistent usage of numbers?
---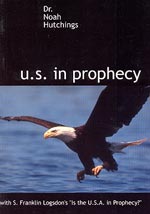 U.S. In Prophecy:
Proofs that Economic Babylon of Revelation 18 IS The United States
By Dr. Noah Hutchings
Regularly $12.99
Now Only $9.99
You Save $3.00
---
Bookstore Resources