What you are about to read is not the stuff of science fiction. It's not a fantastic fable or the musings of an overzealous archaeologist. It's straight out of the pages of the Bible. The 120+ pictures displayed in On the Trail of the Nephilim have not been altered in any way. What you are about to see is truly a ground-breaking revelation - an unparalleled discovery that may leave you in stunned silence.
This amazing book has exposed the whole evolution cover-up for all to see. Marzulli and a team of scientists, archaeologists and scholars traveled to the jungles of a foreign land, perhaps the only place where they could gain access to the unspoiled evidence of this genetic manipulation -- PERU -- toppling perhaps the greatest cover-up in mankind's bizarre history. While in Peru, they had an epiphany. What if these 'fallen angels' were using their superior knowledge of technology to seek world domination, reducing mankind to mere slaves in their sordid scheme? Was it their desire to be worshipped as gods, like their leader, the fallen archangel Lucifer? Were these angels building a network of worldwide power centers in hopes of seeking complete control of God's Creation?
Marzulli may have connected the dots in a story far bigger than the world could ever imagine. The truth is now in your hands. The cover-up must end. This may be the most unusual book offered.
Throughout history, there have been credible reports of giants all over the world, gigantic men of renown, with double rows of teeth, six fingers and six toes! History tell us that some of these giants stood more than ten feet tall! Remember Goliath? Or Og of Bashan? He slept in a bed 13 feet long and 6 feet wide! But where is the proof? Where are the skeletons an the skulls?
In September of 2012, author, speaker and long-time Nephilim expert L.A. Marzulli, and Pastor, author, and popular conference speaker, Russ Dizdar, hosted the first Nephilim Mounds Conference in Newark, Ohio - a place that may have once been a hotbed of Nephilim activity. Giants in America? Who else could have created these massive mounds of dirt and this strange architecture all over the Ohio Valley? Incredible links between he Egyptian Pyramids, the Ruins at Baalbek and The Temple at Stonehenge and these ruins in Newark.
This is real. This is a unspoken part of American history that we can trace all the way back to Genesis chapter 6. THE GIANTS WERE HERE IN AMERICA! They were just "hidden in plain sight". And not just in Ohio. In Michigan and in the Grand Canyon too.
---------- This Week's Hot News -------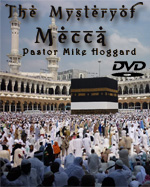 I. When the Elite launched their "Pentagon's New Map Strategy" in the "Non-Integrating Gap" region, did they understand they were unleashing the power of the radical jihadists intent on spreading Sharia Law?
Throughout the region, radical militants are attempting to impose Sharia Law, sometimes on a resistant population.
NEWS BRIEF: "Boy killed for an off-hand remark about God - Sharia spreads in Syria", BBC News, 2 July 2013
"The murder of a boy accused of blasphemy has come to symbolise concerns about the power of Islamist radicals in Syria's armed uprising. Paul Wood reports from Aleppo on how Sharia is spreading in rebel-held areas. Mohammed Qataa's mother wanders the streets of Aleppo looking into strangers' faces as she tries to find her son's killers. She knows she would recognise them. She was looking right at them when, in front of a dumbstruck and terrified crowd, Mohammed was shot dead, accused of blasphemy."
What horrible blasphemy against the Prophet Mohammed did this 14-year-old boy utter? You will be shocked to learn how slight the offense was that got this boy murdered in front of his mother and many onlookers.
"One day last month, someone asked him for a free cup (of coffee). 'Not even if the Prophet himself returns', he had replied, laughing. That remark was a death sentence. "
How can such a mild remark result in a young life being snatched away? Sharia Law was interpreted here as being violated.
"It was overheard by three armed men. They dragged him to a car and took him away. Half-an-hour later, a badly beaten Mohammed was dumped back in the road by his cart. The men, showing no fear that anyone would question what they were doing, summoned a crowd with shouts of 'Oh People of Aleppo. Oh people of Shaar' ... 'Whoever insults the Prophet will be killed according to Sharia' ... One of them shot him again and kicked him. He shot him for a third time and stamped on him."
These are the rebels which President Obama is arming to fight against President Assad of Syria. Can you understand, therefore, how Israel could go public with their belief that the Jewish state would be better off with President Assad remaining in power?
The World Is On Fire In The "Non-Integrating Gap"!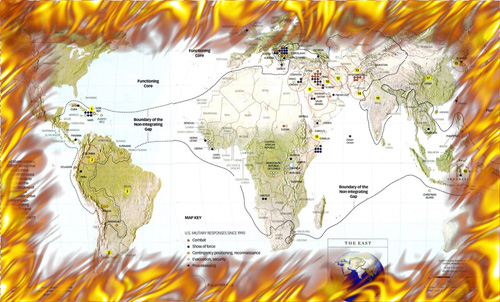 Assad cannot remain as president of Syria, because the overriding goal is to clear Northern Africa and the Middle East plus Central and Southern Africa of all entrenched dictators so the Club of Rome Plan to establish Supernations #7 and #8 can go forward.
Sharia Law is spreading through other nations as well.
NEWS BRIEF: "Two teenage sisters, and their mother, shot dead in Pakistan for dancing in the rain", New York Daily News, 1 July 2013
" Two teenage sisters have been shot dead in Pakistan for allegedly dancing in the rain. Sisters Noor Basra, 15, Noor Sheza, 16, and their mother, Noshehra, were shot dead by five gunmen after a video of the two girls enjoying the rain shower in traditional dress spread throughout their conservative northern town. The sisters' stepbrother is now being blamed for ordering their deaths on June 23 in an effort to restore the family's 'honor' six months after the video surfaced."
This outrage follows a similar murderous incident in which four women were shot dead at a wedding.
" This latest tragedy comes one year after four women were executed for singing and dancing with men at a wedding in a remote village of Kohistan in northwest Pakistan. Tribal elders ordered the women to be shot dead for allegedly tarnishing their families' names by their acts of 'fornication'. Women and men dancing is a strict violation of Sharia law with about a thousand "honor killings" taking place in Pakistan annually..."
But, you say, authorities have arrested the stepbrother who killed his sisters for dancing in the rain. Surely, justice will be realized?
"Of those killings committed nearly 77 percent end in the acquittal of criminals, according to Human Rights Commission activist Tahira Abdullah."
The scourge of Sharia Law has spread to the point where a clergyman who is not Muslim are being killed.
NEWS BRIEF: "Syrian terrorists publicly behead Catholic priest ", Hurriyet News, July 2, 2013
"Syrian rebels have beheaded a Catholic priest at a monastery in northern Syria, the Vatican has confirmed. Father François Murad, 49, was beheaded on June 23 when militants attacked the convent where he was staying. The priest was a member of the Franciscan order ... Local sources told the Vatican the convent was ambushed by militants linked to the jihadi group, Jabhat al-Nusra."
"In the extremely graphic video, a man identified as Murad is seen sitting cross-legged in the grass with his hands bound as a mob of men around him shout in Arabic. Several are seen shamelessly holding up cameras to record the horrific killings, stepping as close as they can to the aftermath of bloody bodies."
These jihadists were as happy over their bloodletting as the Syrian rebels a few weeks ago were after one of them cut the heart out of an enemy Syrian soldier and then proceeded to eat it. These are the terrorists with whom America is collaborating in order to overthrow Syrian President Assad. Obama and his Elite leaders have clearly formed a pact with the Devil in implementing the "Pentagon's New Map Strategy in the Non-Integrating Gap".
These stories reveal the true inner nature of Islam, the most bloodthirsty religion on earth.
Thank God such narrow interpretation of the law is not possible in America, right? If this is your reaction, please take note of this next article, because this might happen to you next.
NEWS BRIEF: "Teenager in jail since March for sarcastic Internet comment faces 8 years in prison", RT News, June 28, 2013
"A teenager from Texas could spend the next eight years in prison if a court decides that the sarcastic comment he made during an online argument is enough to convict him of issuing a terroristic threat. Justin Carter was only 18 years old when he and a friend got into an online spat over Facebook back in February with another person. They were arguing about the computer game 'League of Legends' ... one snarky remark made by the teen was apparently enough to raise suspicion in one woman who was watching the conversation unfold all the way up in Canada."
What was this one "snarky comment"?
" ''Oh you're insane, you're crazy, you're messed up in the head,'" father Jack Carter told KKVUE News, "to which he replied 'Oh yeah, I'm real messed up in the head, I'm going to go shoot up a school full of kids and eat their still, beating hearts.' "
Even though Justin immediately said "JK" (Just Kidding), a parent in Canada who watched the conversation unfold contacted authorities. Under the guise of "fighting terrorism", police arrested him and now he is going to be charged under our horrific terrorist laws.
The major problem with Sharia Law is that there is no provision made for human common sense intervention. Justin could surely use a good dose of common sense here. If anyone who has raised boys through their "snarky" phase can attest to the fact that teen boys can and do say things that seem horrific on the surface, but that they have no intention of ever carrying the threat out.
Sadly, it does look like America's terrorist laws are so set up that they are going to be enforced with the same mindless legality that plagues all those who suffer under Sharia Law.
We live in an increasingly sad society. Thank God I have Jesus and His sweet Holy Spirit to see me through each minute of each day! Remember what Paul foretold about the Last Days.
"But understand this, that in the last days will come (set in) perilous times of great stress and trouble, hard to deal with and hard to bear." (2 Timothy 3:1; Parallel Bible, KJV/Amplified Bible Commentary)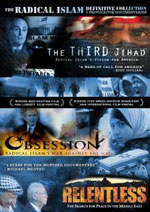 DVD Set
II. Millions of Egyptian citizens have been marching for days to protest President Morsi and his attempt to force Sharia Law upon the nation.
The Army caved.
NEWS BRIEF: "President Morsi tries to ram Sharia constitution down Egyptian people's throats", RT News, June 29, 2013
"President Morsi's attempts to push through a Sharia constitution go against Egyptian cultural tradition and spark an even worse uprising as people don't want religion to be dictated ... That goes against Egyptian cultural tradition – 80-90 per cent of the population are Sunni Muslims – but it is a tradition of tolerance for other religion groups, Coptic and other Islamic groups."
In other words, Egypt has become too Westernized to tolerate the strict and the unrelenting nature of Sharia Law. Egyptians by the millions want to dress Western, carry out Western activities and tolerate other religions.
One New Age author warned that the only force the Illuminati truly fears is an aroused public. In this Egypt situation, Army leadership seems to comprehend that they cannot overcome 15 million angry citizens.
"... the Tamarod campaign – the reorganized opposition group that led the protest a year ago in Tahrir Square and elsewhere – they have claimed to have gathered a 15 million-strong petition asking for Morsi to step down."
Therefore, the Army caved in rather spectacularly.
NEWS BRIEF: "Egypt's anti-government protesters celebrate army's ultimatum to President Morsi (Video)", The Guardian, 2 July 2013
"Scenes of jubilation in Cairo's Tahrir Square after Egypt's army issues an (48 hour) ultimatum to President Mohamed Morsi to resolve the country's political crisis. The announcement is made on state television by the head of Egypt's armed forces, General Abdel Fattah al-Sisi. Helicopters fly over the square with huge Egyptian flags hanging below them. Pro-Morsi supporters hold a counter-demonstration at Cairo's university."
However, Morsi is not about to comply, at least willingly.
NEWS BRIEF: "Morsi fight-back: President rejects army ultimatum ", Albawaba News, July 2, 2013
"Facing an angry tide of political unrest, Egypt's presidency on Tuesday rejected an army ultimatum threatening to intervene if Islamist President Mohammed Morsi did not meet the demands of the people. Instead, the presidency said it had its own plan for national reconciliation."
"Morsi was consulting 'with all national forces to secure the path of democratic change and the protection of the popular will' .... Morsi's rejection of the army ultimatum has raised the stakes in the country's political crisis, which has resulted in 16 people being killed in protests on Sunday, including eight in clashes between supporters and opponents of the president outside the Cairo headquarters of the Muslim Brotherhood."
Meanwhile, the Egyptian Army prepares to deploy.
NEWS BRIEF: "Egypt's army preparing to deploy in cities", Albawaba News, July 2, 2013
"Egypt's army is preparing to deploy in cities across Egypt if necessary to stop rival political factions clashing, military sources told Reuters on Tuesday. General Abdel Fattah al-Sisi, head of the armed forces, issued an ultimatum to Egyptian President Mohamed Morsi on Monday evening, saying the armed forces would propose its own resolution to the massive protests if he failed to address them himself .... rapid response units have been on standby since Friday in case they were needed to protect demonstrators."
When Western forces invaded Afghanistan (2001) and Iraq (2003) as the first wars designed to bring the "Non-Integrating Gap" countries into full modernization, they uprooted the entrenched dictators throughout the area who had successfully repressed the militant jihadists now wreaking havoc.
In 2004, Cutting Edge began to report that repercussions from our wars in Afghanistan and Iraq were spreading outward to affect virtually all countries within the Middle East (Non-Integrating Gap). Unfortunately, our assessment of the situation has proved to be unfortunately too accurate.
The Illuminati will succeed in overthrowing all entrenched dictators within the region, but at the cost of unleashing the "hounds of hell". But, at least the governments replacing the entrenched dictators will be weaker and more divisive, and will most certainly not resist the call to surrender national sovereignty to the planned regional supernations.
III. In the eyes of gay / lesbian leaders, America is now irrevocably on the path to full marriage rights for all gay people, on the same level as straight marriages.
America's physical judgment is now set, as her leaders have systematically set out to "cleanse Christianity" from our formerly great nation.
NEWS BRIEF: "Marriage ruling a 'sign times are changing': President of Stonewall Democratic Caucus of Arkansas", NWA Online, June 26, 2013
"The president of an Arkansas group that advocates for gay rights said Wednesday's Supreme Court ruling striking down part of the federal Defense of Marriage Act is an important one ... Eric McDaniel, president of the Stonewall Democratic Caucus of Arkansas, said the ruling — which enables federal benefits for legally married same-sex couples — is a "step towards the majority of opinion in the United States."
" 'That's a sign that times are changing, hearts are changing, people are becoming more progressive in thought', McDaniel said shortly after the court released its decision. "
Can you just hear God thundering down the halls of time?
"For I am the Lord, I do not change." (Malachi 3:6)
What this ungodly and uninformed people do not understand is that God never, ever changes. Once He makes a decree, that law will remain in effect for eternity. Jesus reiterated this attribute of God.
"For truly I tell you, until the sky and earth pass away and perish, not one smallest letter nor one little hook, identifying certain Hebrew letters, will pass from the Law until all things it foreshadows are accomplished." (Matthew 5:18; Parallel Bible, KJV/Amplified Bible Commentary)
Not even the smallest of Hebrew letters in God's Word shall change until Jesus is ruling over Earth forever! What made God angry 4,000 years ago makes Him angry today! Never forget this Biblical reality.
Yet, the Bible does note that there is a class of people who constantly agitate for "change". We are urged not to pay them any attention.
"My son, reverently fear the Lord and the king, and do not associate with those who are given to change of allegiance, and are revolutionary, For their calamity shall rise suddenly, and who knows the punishment and ruin which both the Lord and the king will bring upon the rebellious?" (Proverbs 24:21-23; Parallel Bible, KJV/Amplified Bible Commentary)
Just as in the days of old, people are calling for "change" because our society has become more "progressive". God's Word warns us not to associate with such a class of people. His voice of warning sounds clearly and loudly.
"I then heard another voice from heaven saying, Come out from her, my people, so that you may not share in her sins, neither participate in her plagues. For her iniquities (her crimes and transgressions) are piled up as high as heaven, and God has remembered her wickedness and her crimes and calls them up for settlement." (Revelation 18:4-5; Parallel Bible, KJV/Amplified Bible Commentary)
America's acceptance of homosexuality, conferring upon the gay lifestyle the same benefits and privileges now granted to heterosexual couples is itself a clear prophetic "signs of the times".
---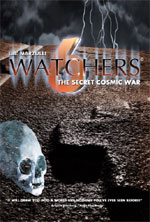 Watchers 6 DVD: The Secret Cosmic War, by L.A. Marzulli - 2-DVD Set
ORDER NOW

L.A. Marzulli has now gone where few men have gone before. Frustrated by the cover-ups that have relegated the Nephilim to nothing more than a fascinating fable, Marzulli and a group of archaeologists, scientists, videographers and Bible scholars traveled to the ancient jungles of Peru to examine and expose the evidence of the GIANTS.
Ancient Peruvian cities show evidence of massive Nephilim architecture, suggesting supernatural strength and advanced technology. They found skeletons tucked away in private museums and perhaps a critical missing link. Were the Nephilim building a worldwide network of energized power centers, intent on controlling the population? Were they using Earth's energized ley lines and their advanced knowledge of the heavens to accomplish their goal of world domination?
Prepare to be amazed by this one-of-a kind adventure into another place in time. The Watchers Series has captured the imagination of the public in a way few DVDs have. This latest adventure to Peru was a once-in-a-lifetime, life-changing event for L.A. and the men who accompanied him on the trip. They brought back the shocking pictures and video that prove their case. Contrary to evolutionary theory, these ancient Giants once roamed the earth. They walked the jungles of Peru and many other faraway lands, fleeing the Promised Land under Joshuas order to wipe them off of the face of the Earth. Wow! What an adventure! All captured on video by L.A.s talented video producer, Richard Shaw. Dont miss this DVD.
See all six titles in the side panel to the right.
Save $20.00 by buying Watchers 1-5 in a Combination Offer
---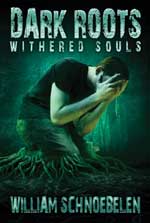 "Dark Roots, Withered Souls"
Spiritual Warfare - Spiritual Healing DVD
Regularly $24.95, Only $19.79 for 2 hours of teaching
Most families have at least one member who is bound by a 'Root of Bitterness', powerfully binding them to the dark spirits of the Abyss. This person seemingly cannot find joy in any part of life, but is continually saturated with a spirit of gall.
Schnoebelen shares critically important spiritual warfare information which can begin a spiritual healing that literally sets a person free!
Lack of forgiveness and bitter-root judgments powerfully bind even a genuine believer, preventing a full spiritual recovery.
Most people understand the need for forgiveness but do not fully comprehend how roots of bitterness and anger can prevent a person from gaining full victory in Jesus Christ.
Over 2 hours long, this DVD contains spiritual warfare and deliverance information you will never get from your local pastor!
NEWS STORY: ""More Americans Committing Suicide than During the Great Depression", Washington's Blog, May 17, 2013
America is a nation whose soul has rejected God and is now bound up in Satan's roots of bondage and unhappiness unto death. Thank God, there is deliverance!
---

Since time immemorial, humans have sought to build artificial creatures that move and talk. You will see and discover many of these fantastic creations in this book.
But you will also see depicted a startling future in which science and alchemy turn everything upside down. Robotic life thrives, the machines conquer the workday world, and humanity shrinks before the advance of a superior life form.
This new age of robotic superiority, a time when humans are outworked, outthought, and outdone in every field, is no more than 25 years away. Artificial life androids, cyborgs, robots will prosper as the era of human life quickly vanishes and fades away. Homo Sapiens, the creator of robotics, must now bow to the strange new creature, for he is stronger, more cunning, and more useful.
Come and envision a near future in which a bold and intelligent Avatar rules a planetary kingdom of machines. It will be a time when artificial men and women are our sex partners, postal deliverers, chauffeurs, entertainers, and bankers; a transhuman era in which the wealthy, favored few are given artificial parts and a biochip to expand intelligence; when fast and brutal robots play an exciting form of professional football; and when the vast majority of humans grow extinct, unworthy of life extension.
236 pages Almost every other page has color! Order Now
NOTE: Texe has departed from his normal rhetoric in this book.
---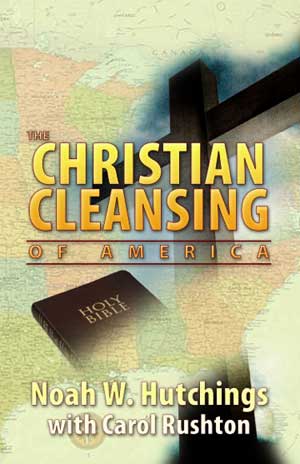 "The Christian Cleansing of America"
New Book by Dr. Noah Hutchings, SW Radio
Regularly $14.99, Introductory Sale $12.99
Current American leaders are cleansing all evidences of Christianity from this once-great nation. Our leaders are trying to remove from life in the United States the existence of anything remotely related to the Bible, church, or individual faith in Jesus Christ as the Son of God who died for the sins of the world.
Listen to the startling words of First Lady Michelle Obama: 'Barack knows that we are going to have to make sacrifices; we are going to have to change our conversation; we're going to have to change our traditions, our history; we're going to have to move into a different place as a nation'
Already, Christianity has been cleansed in a number of treasured national areas: 1) Government; 2) Armed Forces; 3) Science; 4) Sports; 5) Judiciary; 6) The Church; 7) News Media; 8) ObamaCare, based upon the most blatant pagan value system imaginable.
Americans need the message in this dynamic book! http://www.cuttingedge.org/detail.cfm?ID=2521
---
"Freemasonry: FATAL In The First Degree"
New DVD by Bill Schnoebelen, Former Mason, Satanist
Once viewing this video, you will never again believe that your loved one can safely pass through the first degree of Freemasonry!
Bill demonstrates that Freemasonry is Satanic from the First Blue Lodge Degree right up through the 33rd Degree. The first degree of Masonry is taken directly from the first degree of Satanism, where the initiate bows his knee to Baal and Lucifer and MARRIES Baal! The first initiation degree is a spiritual marriage to the god Baal.
When your loved one completes the first degree there is a very high chance he will be demonically possessed or at least demonically afflicted. But, to make matters much worse, your loved one will bring these newly found demonic 'friends' right in the front door of your home, where he will begin to afflict all relationships within the home -- Spousal, siblings, father-children, spiritual. Every meaningful, cherished relationship will abruptly come under severe and continuous attack. Suddenly, there will be no peace in relationships and in your home.
But, there is more spiritual horror! When the new Mason begins a memorization program called 'Posting', his mind begins to change, as his mental programming is quietly and subtly reprogrammed through a mental virus very similar to a computer virus. Suddenly, he is not the same person. His relationships begin to change and he will grow spiritually colder.
Bill then Biblically guides you through the spiritual steps necessary for a person who is already caught by Masonry's trap to be free of the spirit of Masonry and full of the Holy Spirit.
Finally, Bill shows how you can be set free from any spiritual bondage if Freemasonry is in your family background, father, grandfather, mother or grandmother. Spiritual deliverance is thoroughly discussed. http://www.cuttingedge.org/detail.cfm?ID=2459
---
New Powerful NEW Headline News Articles For Our Faithful Supporters
Your faithful support enables us to keep Cutting Edge free for everyone else. Our readers have always loved the indepth correct news analysis found in our "Headline News Analysis".
" Government To 501(C)3 Pulpit: Shut Up "
No wonder the Church no longer has an impact in our society! Pastors are under the heel of the IRS and they know it. No wonder no significant pastor spoke out against the many wars since 9/11.
"President Obama / Malik Obama - IRS Targeting Scandal -- Supporting Radical Islamists While Targeting Patriotic Americans"
Is this the scandal which shall impeach President Barack Obama?
" China Steals Cutting-Edge U.S. Military Technologies, Is Confrontational With Japan, and Is The Major Power Supporter of North Korea"
Is China headed for a major shooting war with the United States?
" Major Prophetic Advance!" The exceedingly poor African nation of Nigeria is forcing its citizens to go cashless! 'Mark of the Beast' prophecy cannot be fulfilled until the economies of all nations of the world are operating without cash, including Africa
" Pope Francis I Displays His Ecumenical Heart"
Since the Illuminati has chosen the Roman Catholic Pope to be the top religious leader of the New World Order
"President Obama Is Gutting The Army, Navy, Marine Corps, and Air Force"
Defense Department Is So Gutted By Sequester Budget Cuts That Planes Are Grounded, Naval Ships Are Being Docked and Marines Lament That They Cannot "Handle Even One War"!
"UNPRECEDENTED! A Former Pope Moves Back Into The Vatican To Live and Work Side-by-Side With the New Pope"
"Is The Future False Prophet Being Set In Place?"
Iraq -- Ancient Babylon -- is nearing the End Times' final annihilating judgment just as God foretold 2,700 years ago in Isaiah 13.
"Mighty Babylon" is falling and her days shall not be prolonged!
The clock of death continues to tick, and soon, Iraq will be history's first "Dead Nation", a place where no person or animal can possibly live. Mighty Babylon is clearly succumbing to God's inexorable judgment -- and Skull & Bones George W. Bush drove the prophetic stake through the heart of the ancient nation of Nimrod!
The Federal Government Has Bought Almost 2 Billion Rounds of Ammunition. Is It Planning To Go To War With The American People?
As frightening as this scenario sounds, we will demonstrate that the Government is NOT planning to go to war with the American people, as they have a far different plan in mind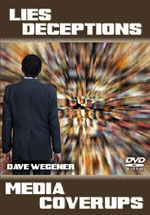 "10th Anniversary of the Iraqi War: At Last, Mass Media Is Admitting The War Was Launched On Lies And Is A Monumental Failure"
Cutting Edge was trumpeting this fact months before Bush's invasion! We knew the Illuminati had planned this war at the 1954 Bilderberg Meeting and we had filtered this knowledge through Bible prophecy and found a precise match.

Iraq's "Operation Enduring Freedom" meant only the 'freedom of the grave" for millions, but the worst is yet to come.
Part 1 of a Series Entitled, "Iraq War: Mad Dash On The 33rd Parallel"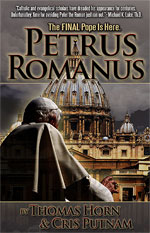 Is The Planned Moment Arriving For The Pope To Preside Over The Building of A Combination Worship Center For All Monotheistic Faiths In Jerusalem?
Israel has signed an historic agreement with the Vatican, giving the Pope a seat at King David's Tomb. Is Rome planning to soon move the throne of the Papacy to Jerusalem? Moving the Papal throne from Rome to Jerusalem would carry enormous End Times religious global implications.
"America Is Leading Western Powers In A Full-Scale Invasion of Africa!"
Now that the wars in Iraq and Afghanistan are winding down, the West is in full invasion mode destabilizing a major part of the "Non-Functioning Gap" region of the world. The "Pentagon's New Map Strategy" is being brilliantly followed. Have you noticed? Mass Media is either clueless as to what is occurring or they are part of a worldwide coverup.

"World War III Will Be History's Greatest Lynchpin Event!"
Many major events are planned to occur just as World War III begins.
Mankind will be systematically hit with unparalleled disasters of every kind as this planned global war unfolds.
But, none of these events will occur until the lynchpin called "World War III" is pulled.
This article is perhaps the most important we have ever written!
---
May Jesus Richly Bless You,

David Bay, Director

Cutting Edge Ministries

800-451-8211