New DVD Titles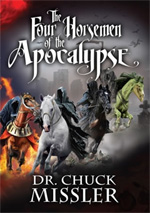 "The Four Horsemen of the Apocalypse"
4-DVD Set - by Dr. Chuck Missler
$79.95 if bought separately; Only $49.95 for this Combo Offer - YOU Save $30
They have become a popular idiom even in secular literature, in connotative terms, of the "End Times". However, Biblically, they speak specifically of real events that will characterize an actual period of time that will appear in the future.
Will that occur in our lifetime? How do we know?
Do we need to prepare in some way? Or are there specific steps we should be taking?
This collection is approximately 8 hours and includes all of these great studies:
1) Behold a White Horse: The Coming World Leader
2) Behold a Red Horse: Wars and Rumors of Wars
3) Behold a Black Horse: Economic Upheaval and Famine
4) Behold a Livid Horse: Emergent Diseases and Biochemical Warfare
Save $30 by buying this Combination Offer, 8 hours on 4 disks
Titles Can Be Bought Individually - $19.95 Each
"Behold a White Horse: The Coming World Leader " - Seal Judgment #1
"Behold A Red Horse (Of War)": Seal Judgment #2
"Behold A Black Horse": Seal Judgment #3
"Behold a Livid (Deathly Pale) Horse": Seal Judgment #4
Second New DVD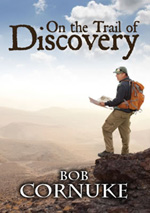 "Biblical History Comes Alive! On the Trail of Discovery"
With Bob Cornuke
Bob Cornuke has been described by some as "The Real Indiana Jones". His exploits have excited the interests of believers and skeptics alike. He has appeared on the National Geographic Channel, CBS, NBC's Dateline, Good Morning America, CNN, MSNBC, Fox, ABC, History Channel and Ripley's Believe It or Not.
Some of his most interesting topics:
* Has anyone found Noah's Ark?
* Does the Ark of the Covenant still exist today?
* Where is the real Mount Sinai?
* Can we know the site of Paul's shipwreck?
Join Bob as he gives a summary of his adventures that have led him to some of the most important discoveries in modern history concerning the possible real location of Biblical sites.
Contains 2 hours of teaching -- http://www.cuttingedge.org/detail.cfm?ID=2703
May Jesus Richly Bless You,
David Bay, Director
Cutting Edge Ministries
800-451-8211