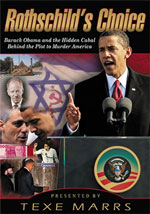 "Obama: Rothschild's Choice" - DVD
Introductory Sale: Regularly $24.99, Now Only $19.99
'Chosen by hidden superiors, we discover that President Barack Obama is heir to a terrible Master Plan conceived long ago and now being lethally implemented. Barack Obama has become the ultimate instrument in a dark plot to deconstruct and 'murder' America'."
Rothschild's Choice documents the astonishing rise of a young, half blood "Prince" of Jerusalem, a Communist adept named Barack Obama who won Rothschilds' favor, and was rewarded for his intense devotion to their sinister Agenda.
Here are the revelations that dissolve the mystery of Obama's meteoric, virtually unheralded rise to global prominence and his elevation to the highest seat of superpower government, the White House. http://www.cuttingedge.org/detail.cfm?ID=2097
---
---------- This Week's Hot News ---------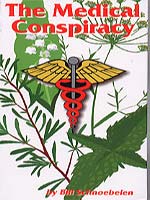 DVD
I. Good News!! Apparently, forced vaccinations are not going to be part of Obama's plan to fight the Swine Flu epidemic.
The CDC issues statement saying that not everyone will need the vaccination in order to get over the flu.
NEWS BRIEF: "CDC Says Most Won't Need Drugs for Flu", By David Brown, The Washington Post, September 9, 2009
"With pandemic influenza cases on the rise across the country, federal public health authorities on Tuesday urged physicians to prescribe antiviral medicines to high-risk patients promptly but reminded the public that most people won't need, and shouldn't expect to get, the drugs if they come down with the flu ... 'the majority of adolescents and adults and most children won't need antiviral treatment and can be cared for with Mom's chicken soup at home."
This statement flies in the face of numerous earlier statements and hints from the Obama Administration that all people would be forced to take the Swine Flu vaccination. When the final global epidemic does strike after Antichrist is on the world scene -- Seal #4, Rev 6:7-8 -- governments around the world will, indeed, force all their citizens to take the vaccination. Specially armed "vaccination teams" will come to the homes of resistant citizens to force them to be vaccinated.
However, we are not at that point yet, and the Swine Flu is not the final epidemic which shall play a major role in killing 25% of all the people in the world. Therefore, intensive public resistance to taking the Swine Flu vaccination is forcing the government to back down for now from its earlier statements that all people would be compelled to take the vaccination.
This appears to be a small victory for the good guys!
Remember, the CDC says that most people can be treated well with "Mom's chicken soup at home"!
However, if you are ever forced to take a flu vaccination, here are some medical tips which will allow your body to fight off any ill effects.
1) "Bring a cold pack with you and place it on the site of the injection as soon as you can, as this will block the immune reaction. Once you get home, continue using a cold pack throughout the day. If you continue to have immune reactions the following day, have cold showers and continue with the cold press."
2) "Take fish oil. Eicosapentaenoic acid (EPA), one of the omega 3 fatty acids found in fish oil supplements, is a potent immune suppressant ... if you take EPA oil one hour before injecting a very powerful adjuvant called lipopolysaccharide (LPS), it would completely block the ability of the LPS to cause brain inflammation."
3) "Flavonoids are third on the list, namely curcumin, quercetin, ferulic acid and ellagic acid, particularly in a mixture. The curcumin and quercetin in particular have been found to block the ability of the adjuvants to trigger a long-term immune reaction. If you take it an hour before the vaccination, it should help dampen the immune reactions."
4) "Vitamin E, the natural form that is high in gamma-E, will help dampen the immune reactions and reduces several of the inflammatory cytokines."
5) "Vitamin C at a dose of 1000 mg, taken four times a day between meals. It is a very potent anti-inflammatory and should be taken in a buffered form, not as absorbic acid..."
6) "Also use astaxanthin as it's an anti-inflammatory."
7) "Zinc is very protective against vaccine toxicity. (Do not use zinc mixed with copper however..."
8) "Take a multivitamin-mineral daily ­ one that does not contain iron."
9) "What is very important is vitamin D3, which is the only 'vitamin' the body can manufacture from sunlight (UVB) ... helps if you are over-reacting immunologically by cooling down the reaction."
10) "Avoid the oils that significantly suppress immunity and increase inflammation – such as corn, safflower, sunflower, soybean, canola and peanut oils."
11) "Ensure you avoid all mercury-containing seafood or any other sources of mercury..."
12) "Pop parsley and celery in a blender and drink 8 ounces of this mixture twice a day." ("Dr. Russell Blaylock: What To Do If Force Vaccinated!")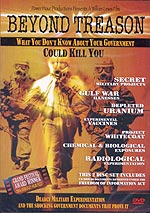 DVD
II. Deadly, fatal Depleted Uranium dust is daily spreading death many hundreds of miles from the Afghanistan battlefields.
Depleted Uranium poisoning of innocent civilians living in the "Non-Functioning Gap" countries will be Bush's final legacy! Depleted Uranium poisoning of millions of "Non-Functioning" people is probably the REAL reason Bush ordered the invasion of Iraq.
NEWS BRIEF: "Downwind Airflow Maps Of US Depleted Uranium War On Afghanistan", From Leuren Moret, Rense.com, 9-6-9
"Here are maps by Peter Eyre (former UK Naval Intel, and weatherman) that he just sent to me for DOWN WIND air flow at three altitudes - Low, Medium and High - for Afghanistan, India and Australia. This provides yet more details on the secret DU nuclear war being carried out right before our eyes in Afghanistan."
Several years ago, we posted a report which showed how the intensive wind flow plus the incredibly powerful dust storms which regularly blow through this region were spreading daily contamination over 1,000 miles from the battlefields of Afghanistan and Iraq. (Read full details in NEWS2063, entitled, "Blinding Sandstorms: How Depleted Uranium Kills An Entire Population")
We encourage you to read this article, for it explains the deadly nature of the D.U. poisoning to which hundreds of millions of civilians and our own soldiers are being subjected on a daily basis. You will be shocked to learn that the Pentagon is knowingly killing our own soldiers with our own D.U. weapons!
Now, let us return to our featured news article.
"INDIA MAP - this shows low, medium, high altitude air flow on September 2, 2009, from Helmand in southern Afghan where heavy bombing/fighting is going on right now, and for the more northern Kabul region in Afghanistan. The highest death rate in the world of pregnant women is north of Kabul in the NE corner of Afghan (attached). You can clearly see that the Punjab (near Lahore green arrow) is really getting the highest concentration of DU in air directly from Afghanistan."
"The summer monsoon will do heavy rainout of the DU. The air currents carry it on across northern India, and then over the Himalayas where there would be high DU rainout and even higher DU snowout rates (95% of particles removed by snowflakes - most efficient scavenging agent for nanoparticles) in the Himalayas where the 7 major rivers of SE Asia have their headwaters."
Did you catch the most critical understanding provided by the last phrase of the last sentence?
Depleted Uranium is polluting " the Himalayas where the 7 major rivers of SE Asia have their headwaters."
Depleted Uranium poisoning may turn out to be one of the most effective weapons the Illuminati wields in their plan to reduce the world's population by over 4 billion people. If you doubt this statement, watch the video, above, "Beyond Treason" as it vividly depicts the fatal effect which D.U. has upon soldiers in the field and civilians left behind after the battle has been completed. The health situation posed by Depleted Uranium is truly "Worst Case Scenario".
One of the greatest tragedies in this modern era is that public Mass Media has refused to report this most important issue; therefore, most Americans do not realize the daily rain of uranium contamination which is occurring up to a 1,000 miles from the battlefields of Iran and Afghanistan.
Truly, the rider on the Red Horse of Revelation 6 will be wielding a "huge sword".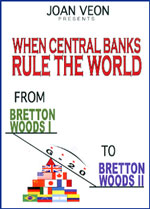 DVD
III. The United Nations has just issued a clarion call for a new global currency!
The rise of such a global currency truly heralds the soon appearance of the global Messiah, Antichrist.
NEWS BRIEF: "UN Says New Global Currency Is Needed to Fix Broken 'Confidence Game' ", By Jonathan Tirone, Bloomberg Financial News, September 7, 2009
" The dollar's role in international trade should be reduced by establishing a new currency to protect emerging markets from the "confidence game" of financial speculation, the United Nations said. UN countries should agree on the creation of a global reserve bank to issue the currency and to monitor the national exchange rates of its members ..."
This call for a worldwide currency is not the first time such a call has gone forth.
"China, India, Brazil and Russia this year called for a replacement to the dollar as the main reserve currency after the financial crisis sparked by the collapse of the U.S. mortgage market led to the worst global recession since World War II. China, the world's largest holder of dollar reserves, said a supranational currency such as the International Monetary Fund's special drawing rights, or SDRs, may add stability."
From the beginning of the manufactured financial crisis starting last September, we have warned that one of the major goals was to set in place the new global financial system owned and controlled by the Central Banks of every major country in the world.
Certainly, a worldwide currency is an integral part of this new global economy -- and it will be run by the Central Banks operating in harmony.
The creation of a single world currency is an indispensable part of the appearance of Antichrist.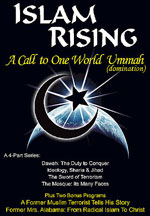 DVD
IV. The 'dogs of war' in Iraq are straining at the leash, scarcely able to restrain themselves until the American withdrawal is so far down the road as to be irreversible.
Shi'ites and Sunnis are set to kill each other in horrific numbers in a civil war which shall shock the world with its ferocity. Ancient Babylon is about to be dismembered as God's final judgment reaches its conclusion.
NEWS BRIEF: "Round-up of Daily Violence in Iraq - Sunday 6 September 2009", McClatchy News, September 6, 2009
"The daily Iraqi violence report is compiled by McClatchy Newspapers Special Correspondents in Baghdad from police, military and medical reports. This is not a comprehensive list of all violence in Iraq, much of which goes unreported."
Baghdad
Five people were wounded by a roadside bomb in Karrada neighborhood in downtown Baghdad around 10 a.m.
Six people were wounded by a parked car bomb in Baladiyat neighborhood in east Baghdad around 1 p.m.
Four civilians were injured by a roadside bomb in Saidiyah neighborhood in south Baghdad around 10 p.m.
Nineveh
Gunmen using pistols with silencers opened fire upon a police checkpoint in Al-Maidan area in downtown Mosul on Sunday morning killing one policeman.
Gunmen using pistols with silencers opened fire upon a police checkpoint in Faisaliyah area in east Mosul on Sunday morning killing one policeman.
Gunmen using pistols with silencers opened fire upon army checkpoint in Al-Jazair area in downtown Mosul on Sunday morning killing one Iraqi soldier.
Gunmen broke in a house killng another policeman and his daughter in Al-Tanak area in west Mosul on Sunday evening.
Diyala
Four explosive experts were injured while they were defusing two roadside bombs in Al-Katoon area in west Baquba.
Clearly, the war in Iraq is not over by any means, despite the dramatic decrease in Mass Media coverage. Rather, it is entering another phase, the Civil War phase. During this period, Shi'ites and Sunnis will murder each other so dramatically that they will be weakened enough that the Kurds from the north (the ancient Medes) will be able to invade the south and carry out God's final execution on the peoples of Ancient Babylon. (Read full prophetic details in NEWS2150, entitled, "Iraq Now Splitting Into Three Nations -- Is Bible Prophecy Being Fulfilled?")
God's End of the Age judgment against Ancient Babylon (Iraq) which He declared 2,600 years ago in Isaiah 13, has been gradually unfolding since President Bush ordered the invasion of Iraq on March 20, 2003. We have been watching major prophecy being fulfilled, in our Daily News!
Newsletter Continues Below: