Exciting New Bookstore Products
"My I-Bibles"
" 'My I-Bible', KJV - Simple elegant way to listen to the Bible" - Only $49.95
Stephen Johnson Reading On The Left
Alexander Scourby Reading On The Right
A simple, elegant new way to listen to the Bible wherever you go. This handy little device is just the thing for when you want to listen to the Bible and ONLY the Bible. Its audio files are organized into a simple tree format: Old and New Testament, book and chapter.
Convenient, LCD display navigational controls let you rewind within the current chapter, move to the previous or next chapter and fast-forward within a chapter. You can even go to another book, and repeat entire books or chapters.
The Ultimate PORTABLE Bible, easy to use, no computer needed. Self-contained, text cannot be erased by accident. Includes earbuds and charger cable with A/C adapter
My I-Bible's ultra-compact size makes it easy to take along, whether you are commuting, exercising, or just seeking personal refreshment from the Word of God.
Please Note: If you live in an area which does NOT have the standard American 110v, you will need an adapter.
---
---------- This Week's Hot News ---------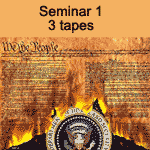 MP3 CD
I. President Obama's Regulatory Czar is advocating the cannibalization of terminally ill patients so their organs can be harvested!
NEWS BRIEF: "Sunstein: Take organs from helpless terminally ill patients: 'Though it may sound grotesque, routine removal would save lives', By Aaron Klein, World Net Daily, October 12, 2009
"President Obama's newly confirmed regulatory czar defended the possibility of removing organs from terminally ill patients without their permission. Cass Sunstein also has strongly pushed for the removal of organs from deceased individuals who did not explicitly consent to becoming organ donors. In his 2008 book, "Nudge: Improving Decisions about Health, Wealth and Happiness," Sunstein and co-author Richard Thaler discussed multiple legal scenarios regarding organ donation. One possibility presented in the book, termed by Sunstein as "routine removal," posits that "the state owns the rights to body parts of people who are dead or in certain hopeless conditions, and it can remove their organs without asking anyone's permission."
" 'Though it may sound grotesque, routine removal is not impossible to defend', wrote Sunstein. 'In theory, it would save lives, and it would do so without intruding on anyone who has any prospect for life'."
This is an excellent example of the "double-speak" of the Neo-Nazis who are advocating the "routine removal" of organs from terminally ill patients without their permission! This is cannibalization! Most people think of a cannibal as one who eats human flesh. But there is another type of cannibal.
"cannibalize - To remove serviceable parts from damaged aircraft, cars, or other machinery for use in the repair of other equipment." (Tormont Webster's Illustrated Dictionary)
Therefore, President Obama's Regulatory Czar has recently advocated the forced cannibalization the serviceable organs of terminally ill patients without their permission and probably without their knowledge.
Your mind is probably reeling right now, as you have never, ever heard of such macabre ideas as this one in your entire life!! Why, this practice is so far removed from Christian values it can only be termed "Satanic"! Indeed, the last time this practice was carried out with National approval was in Nazi Germany under Adolf Hitler, and we now know he was a lifelong adept in the secret society, "The Thule Society", a deep Black Magick organization (a sister organization to Yale's Skull & Bones, of which Prescott Bush, George H.W. Bush, George W. Bush, and Senator John Kerry are adepts).
I well remember my research into the macabre plans of the New Age in which they rather boldly laid out their plans for a Luciferian global government, economy and religion, after which they would stage their Christ.
New Age magazines talked boldly about how important it was to "cleanse" the earth and to reduce the population dramatically. And, believe it or not, a New Age magazine, "Omni" had a featured article in which they enthusiastically reported that medical cannibalization was occurring in America in 1987, and that this procedure was just going to get more and more common!
In Seminar 1, "America's Leadership of the New World Order", we cover, in Chapter 5, this type of cannibalization of human body parts! Listen to some of the most shocking quotes from this article which we featured in Chapter 5.
"Last Rights", Omni Magazine, Vl. 9, No. 12, Sept., 1987, p. 58-67+.
"Must refine Death from Judeo-Christian standard of heart stoppage to: 'cessation of brain death'. This is allowing hospitals to operate on living patients to remove their organs!!
This article boldly reports that, if a healthy person is involved in an automobile accident a long ways from home and if medical staff cannot contact his or her relatives immediately, the chances are excellent that this person will be wheeled into an operating room where he/she is opened up and all usable organs removed.
Then, the doctors and nurses simply turn off the respirator, turn off the operating room lights, and leave the body to be removed by technicians later that evening. Incredibly, this person has just become an organ donor! Against their will, without their knowledge and on an extremely healthy person!
That practice was widespread in 1987! "Death itself is becoming an industry which has an economic incentive to harvest organs."
Yes, in 1987, death was "becoming an industry which has an economic incentive to harvest organs."
Of course, this type of practice was being carried out very secretly, just as doctors and nurses were quietly killing people in the 1920's,. before Adolf Hitler ever took power (1933).
This seminar is incredibly powerful, and well worth listening to, for it reported as fact what we are now so incredulous that a member of a Presidential inner circle is now advocating. Remember my adage which I learned while in Army Intelligence, i.e., that when a nation admitted that it had a 'new' capability, the reality was that they had possessed that capability for at least 10 years?
In this case, the "shocking" statement by Cass Sunstein simply reflects reality which has been occurring for over 20 years!
But, there is more to this Omni Magazine article in 1987. New Agers plan a final redefinition of death, one which will suit their New Age Christ very well.
Final Redefinition of Death: "Proper Self-Awareness" This definition of life is setting the stage where anyone who is not New Age will be considered dead, and be ripe for disposal, because they are already dead! This scenario would fulfill the many prophecies that the Anti-Christ would kill many of God's people. See: Revelation 12:11; 14:12-13; 20:4; and in Daniel 7:25; 11:35.
This is the final agenda which President Obama and his Regulatory Czar intend to lead us. Doubt it not, for their New Age Christ will be Antichrist, and will fulfill all the horrific prophecies which God has laid out in the Bible. Once World War III begins and produces Antichrist on the world scene, the "Worst Case Scenario" will begin to unfold.
If you do not know Jesus Christ as your Savior, you have every right to be completely terrified! If you are not sure that you would go to Heaven if you were to die tonight, please take a few moments to read our Salvation Page and be saved before the prophetic horrors begin to unfold.
Now, let us examine another instance in which economic "Worst Case Scenarios" continue to unfold, terrifying many, many people -- unnecessarily in my opinion.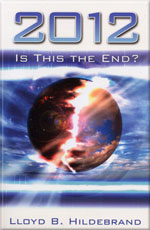 II. Is the world headed into another "Great Depression" in 2012?
NEWS BRIEF: "2012 forecast: Food riots, ghost malls, mob rule, terror: Trends chief says people should brace for 'the greatest depression' ", by Bob Unruh, World Net Daily, October 12, 2009
"A trends forecaster says the current economic 'rebound' from last winter's Wall Street collapse of banks, insurance companies and automobile manufacturers is an artificial blip created by 'phantom money printed out of thin air backed by nothing."
While this sounds scary, the fact of the matter is that the Western World has been operating on the Fractionalized Banking method for the past 150 years, a system set up on a currency which the Illuminati does create money out of nothing! While the programs of Obama are unprecedented in scope, his advisers are following the same method of fraudulently creating the appearance of money out of thin air which the Rothschilds have been following for 150 years.
Now, let us return to this featured article:
"And Gerald Celente of TrendsResearch.com, says people right now should be bracing for 'the greatest recession' which will hit worldwide and will mark the 'decline of empire America'. Crop failures could be among the minor concerns."
" 'Here we are in 2012. Food riots, tax protests, farmer rebellions, student revolts, squatter diggins, homeless uprisings, tent cities, ghost malls, general strikes, bossnappings, kidnappings, industrial saboteurs, gang warfare, mob rule, terror' ..."
Is this true? Is another global "Great Depression" going to hit in 2012? This is scary stuff, as it is designed to be.
Before we panic, let us examine two very important "Truth Indicators": 1) Bible prophecy and 2) The Illuminati Plan. When we do so, a very different scenario begins to emerge.
The scenario which Gerald Celente is presenting is possible, but only after World War III begins, and maybe not until the mid-point of the Tribulation. Time and time again, we have stated that the Illuminati intends to keep Americans feeling fairly prosperous right up until the time of the end. While many Americans today do not feel particularly prosperous, I believe they may feel that way a year from now.
This scary scenario is set in 2012, which is the year so many people expect Antichrist to arise; and, of course, the method by which he will come to the world scene is a final global war, a World War III. So, if he does arise in 2012, this kind of scenario may happen, but on a smaller scale than global.
Further, as I explain below, I do not believe a worldwide depression can occur until the mid-point of the Tribulation Period.
Celente does not quote any Scripture to back his claims, but I have several important ones. Cutting Edge has always taught that America is the financial Economic Babylon of Revelation 18. We first aired our belief on our radio program in 1992, and we believe this scenario more and more with each passing year.
Now, please notice these verses in Revelation 18, as God announces the details of this Economic Babylon's absolute destruction. Remember, he is speaking of America here, just after He has destroyed her in one hour with great fire.
"(18:10-17a) -- "They (the rulers of the earth in verse 9) will stand a long way off, in terror of her torment, and they will cry, `Woe and alas! The great city! The mighty city, Babylon! In one single hour, how your doom (judgment) has overtaken you. And earth's businessmen weep and grieve over her, because no one buys their (cargo) any more."
(18:17b-19)--"...And all ship captains and pilots, navigators, and all who live by seafaring...stood a long way off, and exclaimed as they watched the smoke of her burning, `What city could be compared to the great city!' And, they threw dust on their heads, as they wept and grieved, exclaiming, `Woe and alas, for the great city, where all who had ships on the sea grew rich through her extravagance from her great wealth! In one single hour, she has been destroyed, and has become a desert.'"
This prophetic Babylon was unique in that she imported/exported most of her trade via the sea. As we have already stated, only America is so uniquely situated geographically that she has to carry her imports almost completely via the ocean.
Notice that the loss of this massive Economic Babylon causes enormous consternation to the rulers of the earth, the businessmen of the earth and the ship captains, because America's destruction left them with a money income hole which no other nation on earth could fill. But, the key here is that this nation was prosperous right up to the moment God's destruction fell.
In fact, some nations are going to experience prosperity right up until the mid-point of the Tribulation Period -- NEWS2239, entitled, "Will Some Nations Experience Economic Prosperity In The Tribulation Period?"
NEWS2239 is chock full of Scripture to back up my understanding of the Illuminati Plan. From the beginning of this ministry, I have lined up the Illuminati Plan with Scripture, the only way an End Times ministry can operate.
In fact, this type of economic disaster, this kind of financial "gloom and doom" news, has regularly been poured upon us since mid-1998 and it has always failed to occur. For the past 11 years, wave upon wave of economic disaster stories have come and gone, and every one has failed to occur. While we understand that many people are bring economically hurt, the total collapse which people have been predicting has not occurred.
I could not see any survival merchandise being offered on Trends Research, but World Net Daily heavily promotes survival stuff. Any organization promoting survival stuff needs to keep people worried about the future economic condition; they sell more survival stuff if people are constantly kept worried!!
But, it is clear that a company like Trends benefits also when people are concerned about the stability of the future economy. But, not Cutting Edge. We sell no survival stuff and we are not dependent upon needlessly terrifying our readers. In fact, we carry a great amount of Bible study materials, offering you the best of all news. We only want to tell our readers the unvarnished truth, even if it may cost us some readership until people realize they have been misinformed by these "rumors" sites.
But, then, when the predicted economic disaster does not occur, these "Gloom and Doom" people simply set a new time period for the complete collapse to occur. And when that does not happen, they set another new date. Now, with this new date of 2012, people have three long years in which to worry.
When I line up Scripture with the Illuminati Plan, I see no global Great Depression at all, even during the time World War III is raging. Advanced nations will experience limited, planned trouble in enough dosage that the Illuminati can use the crisis as the excuse to dissolve elected governments and establish Absolute Dictatorships throughout the world. When Antichrist arises, there will be no elected governments anywhere in the world.
But, when Antichrist does arise, he and his economic advisers will be able to resurrect the failed economies of the world as a new global economy, with a cashless global currency and with a "Mark of the Beast" system which will allow Antichrist and his False Prophet to control the peoples of the entire world.
Traditional Bible scholars have long taught that many nations of the world will experience some degree of prosperity right up to the point of the mid-point of the Tribulation, when Antichrist triggers God's Wrath by committing the Abomination of Desolation within the newly-built Temple, inside the Holy of Holies.
We believe that a global Depression will not occur until the second half of the Tribulation Period. All this talk of an impending global economic depression is just talk designed to scare you. It is no wonder that Jesus predicted that, at the End of the Age, "men's hearts will fail them for fear".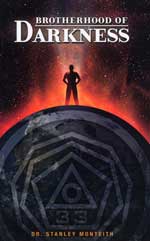 III. Israel has no peace partner because the Palestinians do not want peace and have not prepared their people for it!
NEWS BRIEF: Israel has no partner for peace", Daily Sundial, By Cayley Lazarus, Published on October 13, 2009
"Israel has no partner for peace because the Palestinian leadership hasn't prepared their people for peace. Palestinian society has limited access to ideas and information outside of their society, as they are a totalitarian government that limits free speech and expression. The vast majority of Palestinians cling to the demand of the full return of Palestinian refugees to Israel proper, as well as believing that the fight against Israel is not only to end the occupation of the West Bank and Gaza, but also to destroy the entire state of Israel, or support a 'one-state solution'."
We absolutely concur!!
Palestinian leadership, beginning with Yassir Arafat, never did want their own state if that meant Israel would be left in the land. Arafat always told his people that he would live to see the day when he would force Israel to "drink of the Mediterranean Sea", a euphemism which meant that Arafat intended one day to thoroughly annihilate Israel, completing the genocide which Adolf Hitler attempted but failed to completely carry out.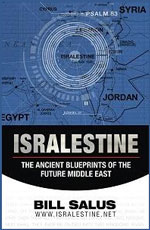 The prophecies identified and explained in this book, "Isralestine" are about to be unleashed. We will most definitely see these prophecies occur in our lifetime.
The unsaved world is about to receive the shock of a Millennia: Israel is close to repelling a coordinated attack from her Islamic neighbors, and she will repel this attack so vigorously that the IDF will expand its control over all the lands God promised Israel -- the very ancient Greater Israel prophecies.
World changing events will occur in the aftermath of the Psalm 83 Arab/Israeli War prophecy. On the nearby horizon looms a massive Arab confederacy foretold to form in order to destroy the tiny Jewish State, but to the bewilderment of the international community Israel wins. In victory Israel enlarges it borders, exploits Arab oil resources, and becomes one of the wealthiest nations in the world. Furthermore terrorism ceases to exist, Islam is dramatically diminished, America prospers, Jordan surrenders to Israeli sovereignty, Damascus is destroyed, and then Russia and Iran turn their sites against a Greater Israel.
At that point, the Palestinians will be annihilated according to Obadiah 15-18 and the nations of the world will be brought by God's heavy hand into the Middle East, to be judged by the way in which these Arab people have treated Israel (Joel 3).
Then, on the horizon, Russia will lead nations against Israel in fulfillment of Ezekiel 38-39.
Let us now go to a current news story involving two prominent nations foretold to be marching against Israel in fulfillment of this Ezekiel prophecy.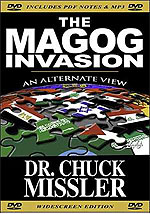 IV. Russia again protects Iran from the West.
NEWS BRIEF: "Russia rejects talk about sanctions against Iran", The Miami Herald, October 13, 2009
"MOSCOW -- If Hillary Clinton was hoping to win Russian support for efforts to use a threat of sanctions to pressure Iran to come clean about its nuclear ambitions, her first trip to Moscow as secretary of state got off to a rocky start Tuesday. Russia's foreign minister, Sergey Lavrov, said that economic sanctions or similar moves during the current standoff with Iran about its nuclear program would be 'counterproductive'."
"Analysts in Moscow said the bottom line is that Russia isn't going to back sanctions against Iran - at least not anytime soon. 'Russia will try to postpone, postpone and postpone the discussion on sanctions', said Dmitry Suslov, the deputy director of the Council on Foreign and Defense Policy, a policy institute with close ties to the Russian government."
Putin pulled this stunt on President Bush for all of the eight years of his presidency. The former Russian president would appear to sound conciliatory on the possibility of sanctions against Iran but then, when the time came to actually apply sanctions, Russia would reverse direction completely and sink the West's attempts to punish Iran.
Russia is prophesied to be the leader of the nations marching under her control and leadership against Israel in fulfillment of Ezekiel 38-39. Putin announced several years ago that any Western attack against Iran would be considered an attack on Russia herself.
Russia has deliberately placed herself in the role of Iran's protector against the big and bad Western powers who want to do her immense harm. Therefore, when the West never does attack Iran, Russia gets all the credit from the Iranians first, and then from the entire Islamic world.
The scene is being set for fulfillment of a most important End of the Age prophecy, as Iran, and Turkey and the other Islamic states prophesied to march with Russia are bring forced into a tight relationship with the Russian Bear.
Watch your Daily News, as prophecy is being dramatically fulfilled!
NOTE: Newsletter continues below the Twitter information