Hot News Analysis
1. President-elect Trump is carrying out Historically unprecedented pressure on private businesses in the Lame Duck period between the November election and the taking of the Oath of Office on January 20.
In American history, the period between the early November election for President and his Inauguration on January 20 has been considered a "dead time" for politics. The outgoing President has always felt an obligation to refrain from taking any significant initiative or making any bold diplomatic moves which might complicate matters for the President-elect.
The new President, on the other hand, can create his Cabinet and plan the actions he will take immediately upon entering the Oval Office. But, since he has no power yet, he feels that he can only sit and watch and wait until January 20, at 12:01pm, when he takes the Oath of Office.
However, President-elect Donald Trump is acting like he is President already!!
And, at least certain privately-owned companies are treating him with the respect that they would treat a sitting President! Trump is almost conducting "business as usual" out of Trump Tower! One of the "hot button" issues which Trump repeatedly raised throughout the campaign was the retention of American jobs in America.
Not surprisingly, this jobs issue is the major emphasis.
NEWS BRIEF: "Trump Says Ford Called to Say It's Keeping SUV Plant in Kentucky: "No Move To Mexico", Bloomberg News,
"United Auto Workers leaders huddled with Ford Motor Co. executives today after the union was caught off guard by President-elect Donald Trump's tweet last night he helped prevent another Ford model from going to Mexico ... More than 5,000 employees are working nearly around the clock on three crews to meet demand for the two SUVs, said Todd Dunn, president of UAW Local 862 in Louisville."
Five thousand jobs are is a very large number to lose to Globalization, a trend set in motion by agreements like the North American Union.
"After Trump's tweets, the company acknowledged for the first time it had been considering moving production of the MKC to Mexico, allowing the plant to boost output of the Escape, one of its hottest models. After talks between Executive Chairman Bill Ford and the president-elect, the automaker decided to keep building the MKC in Louisville after the UAW's current contract expires in 2019."
" 'We had planned to move the Lincoln MKC out of Louisville Assembly Plant', Christin Baker, a Ford spokeswoman, said in an e-mail, noting the UAW contract signed last year allowed for such a move. 'Cuautitlan plant in Mexico was likely the plant for MKC'."
During the campaign, Candidate Trump threatened to slap a 35% tariff on finished Ford product which had been manufactured in Mexico. Ford executives woke up the day the election to discover they were now facing a Donald Trump who was now going to be the 45th President of the United States.
And, when Trump officials contacted Ford executives demanding they stop their plans immediately, they responded.
NEWS BRIEF: "Trump to Announce Carrier Plant Will Keep Jobs in U.S.: America on path to being "Great Again", The New York Times, Nov 29, 2016
"From the earliest days of his campaign, Donald J. Trump made keeping manufacturing jobs in the United States his signature economic issue, and the decision by Carrier, the big air-conditioner company, to move over 2,000 of them from Indiana to Mexico was a tailor-made talking point for him on the stump. On Thursday, Mr. Trump and Mike Pence, Indiana's governor and the vice president-elect, plan to appear at Carrier's Indianapolis factory to announce a deal with the company to keep roughly 1,000 jobs in the state, according to officials with the transition team as well as Carrier."
This Times article then makes the same point I made about how strong perception is when dealing with controversial subjects. Speaking about the threat that only a President Trump, considered to be Conservative, could complete the establishment of the North American Union, we examined that the threat to National Sovereignty would be much greater than if a Liberal Democrat President were trying to force the completion of the North American Union.
We used the example of "Conservative, Anti-Communist", President Nixon, suddenly going to China to declare that Communist China was the genuine representative of the Chinese people. Listen to this Times article on this subject.
"It also signals that Mr. Trump is a different kind of Republican, willing to take on big business, at least in individual cases. And just as only a confirmed anti-Communist like Richard Nixon could go to China, so only a businessman like Mr. Trump could take on corporate America without being called a Bernie Sanders-style socialist. If Barack Obama had tried the same maneuver, he'd probably have drawn criticism for intervening in the free market."
He is dealing with companies as if he were already President!
Results have been fantastic thus far.
President Trump's popularity will skyrocket once he achieves economic success and once he locks in Tax Cuts for the Middle Class. At this point, we are susceptible to Trump pulling the same stunt on Conservatives on the North American Union scheme as President Nixon pulled when he dumped Taiwan and opened the political door to China.
2. How can Donald Trump ruin his Presidency?
The answer may surprise you.
NEWS BRIEF: "Ann Coulter: How Trump Could Ruin His Presidency", Breitbart News, 30 Nov 2016
"Soon after Trump's announcement speech, I said he would win the nomination and likely the election. It wasn't that hard to predict. For anyone familiar with the Republican Party's repeated betrayals of the American people, it was a 2-foot putt. What coalesced Trump's base, what made his support tempered steel, was the fact that voters had been lied to, over and over again — on many things, but most smugly and repeatedly on immigration."
How many times did we have to see the GOP choke? There's 30 seconds left in the game, Republicans are down by two, they move the ball up the court, have a man in position — and, every time, the GOP would do anything to avoid taking the 3-point shot."
Time and time again, we have bemoaned the reality that RINO (Republicans In Name Only) would abruptly collapse against the Democrats when they could have won the battle had they just "taken that shot"! I really cannot remember any issue between Republican leadership in Congress and President Obama when the RINO leaders actually did NOT fold.
"That is the beating heart of the anger that voters felt toward the party. No one trusted Republicans to ever score when they had the ball."
Millions upon millions of American voters from both major parties, voted for Trump because they are convinced that Trump will not fold just when victory is at hand, and with all my heart, I hope they are right! We Americans deserve this kind of rock-solid leadership.
"Most of his promises can be kept with little trouble: He will appoint good judges, cut regulations, replace Obamacare and renegotiate trade deals. In other words, he'll do all the things any Republican president would do — plus the trade deals."
Coulter is deeply concerned that as President, Trump will encounter such fierce opposition to his Immigration Plan that he will cave to the Liberals, and suffer such voter anger that is unprecedented in the history of this country.
"If Trump betrays voters on immigration, he can have as many rallies as he wants, but Americans will say, Been there, done that — you screwed us. He will never escape the stink of broken campaign promises. So unless Trump has another 60 million voters hiding someplace, the appointments he makes today — to State, Defense, Homeland Security, Labor, even the IRS — will determine whether he is remembered as America's greatest president..."
"t this precise moment — not after his inauguration, not in year two of his administration, but today, as he fills his Cabinet — Trump has to decide if he's going to be like every other Republican and throw a brick or grab the ball and score.
Whether he's listening or not, his supporters are screaming: TRUMP! NOW! TAKE THE SHOT!!!"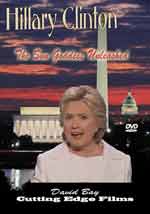 3. The Hillary Clinton campaign decided to promote the Donald Trump candidacy as a "Pied Piper" type candidate!
Not only did this tactic work, it snowballed into the "Trump Movement" that overwhelmed the Hillary campaign.
NEWS BRIEF: "Clinton Campaign Wrote About 'Elevating' Trump Months Before He Declared Candidacy", The Free Thought Project", October 8, 2016
"Wikileaks released a bombshell document on Saturday showing strategies to align the DNC and the Hillary Clinton campaign by promoting — not criticizing — the field of Republican opponents, particularly highlighting Donald Trump. Our hope is that the goal of a potential HRC campaign and the DNC would be one-in-the-same: to make whomever the Republicans nominate unpalatable to the majority of the electorate' ... Muddy the waters on any potential attack lodged against HRC'."
Now you know why the Hillary campaign launched such an intensive effort to discredit Donald Trump by calling him and his supporters filthy names, lying about so many things, and telling us all that he was "unfit for the Presidency".