---
Headline News Analysis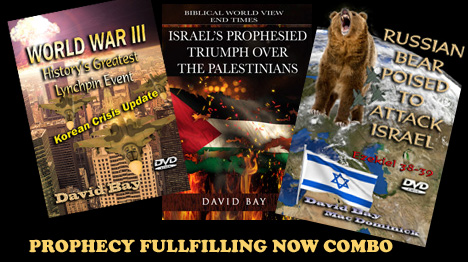 1. President Trump announces that Jerusalem is capital of Israel, bringing powerful international recognition / legitimacy for the first time in nearly 3,000 years!
NEWS BRIEF: "Hallelujah! Trump Will Recognize Jerusalem as Capital of Israel Wednesday, Begin Moving Embassy", Breitbart News, 6 Dec 2017
"President Donald Trump will announce Wednesday that the United States recognizes Jerusalem as the capital of Israel, and that the State Department will begin a process to move the U.S. embassy in Israel to Jerusalem. Trump will first announce that the "United States government recognizes that Jerusalem is the capital of Israel," according to one of three senior administration officials ..."
"The officials conveyed that the change is a recognition of 'reality'— both the historic reality that Jerusalem has been the capital of the Jewish people and the Jewish faith since ancient times; and the modern reality that the city is the seat of government for Israel, housing its legislature, supreme court, prime minister, and executive agencies."
"Next year in Jerusalem" has been the prayer of Jews since the beginning of Diaspora.
"Second, Trump will direct the State Department to begin the process of moving the U.S. embassy from Tel Aviv to Jerusalem ... It will take some time to find a site, address security concerns, design a new facility, fund a new facility…[and] build it', said one of the senior officials'."
"Officials emphasized that the President would not specify a timeline for completing and opening the embassy, and explained that it would take years, not months."
"Officials were also at pains to emphasize that no other issue would be affected by the new policy. Trump is 'prepared to support a two-state solution to the dispute between Israelis and Palestinians if agreed to by the two parties', the official stated. 'President Trump also recognizes the specific boundaries in Israeli sovereignty in Jerusalem are subject to final status negotiations of such an agreement;."
President Trump was smart in limiting his recognition of Jerusalem as the Israeli capital, and not tying it in with the issue of changing the status quo at the Temple Mount and the immediate vicinity.
" 'President Trump reaffirms support for the status quo at the Temple Mount, Haram esh-Sharif', the official continued."
However, his action in recognizing Jerusalem as Israel's capital and announcing his intention of moving the American Embassy there is a strong warning to Palestinian Authority President Abbas that, if he does not move forward to reach an agreement to establish a Two-State Solution, then the White House will move to change the Temple Mount status quo.
God is setting the stage for fulfillment of His prophecy that, at the End of the Age, He will make Jerusalem a "cup of trembling" to all the nations surrounding the City!
NEWS BRIEF: "Palestinian Envoy: US Recognition of Jerusalem Is 'Declaring War'," The Jerusalem Post, Dec 6, 2017
"LONDON - US President Donald Trump would effectively be making a declaration of war if he recognizes Jerusalem as Israel's capital, the Palestinians' chief representative to Britain said on Wednesday. 'If he says what he is intending to say about Jerusalem being the capital of Israel, it means a kiss of death to the two state solution', Manuel Hassassian said in a BBC radio interview."
What a joke!! The Palestinians have given the "Two-State Solution" the kiss of death since the 2000 Camp David meeting between President William Clinton, Israeli PM Rabin and the Palestinian's dictator, Yassir Arafat. When Arafat walked out of the negotiations, even though he had been granted 90% of what he was asking, he placed the "kiss of death" on the "Two State Solution".
No Palestinian leader is ever going to recognize Israel's right to exist by signing a "Two-State Solution" agreement. The only "solution" the Palestinians want is to completely destroy Israel and annihilate all Jews.
Consider all the Middle East nations who are "trembling" at Trump's announcement!
NEWS BRIEF: "Gazans Burn U.S., Israeli Flags Ahead of Trump Recognition of Jerusalem", Brietbart News, 6 Dec 2017
"Hundreds of Palestinians in the Gaza Strip rallied Wednesday against US President Donald Trump's imminent announcement recognizing Jerusalem as Israel's capital and his plan to move the US Embassy there from Tel Aviv. The demonstration on the streets of Gaza City was organized by several Palestinian factions and terror groups that called for Palestinian unity in response to Trump's expected announcement, which would upend decades of US policy regarding the city."
"The protesters burned American and Israeli flags. They also waved Palestinian flags and banners proclaiming Jerusalem as "our eternal capital" and calling it a "red line."
NEWS BRIEF: "Trump to recognize Jerusalem as Israel's capital, sparking Arab 'day of rage' plans", Fox News, 12/6/2017
"President Trump today will order the State Department to begin moving the U.S. Embassy in Israel to Jerusalem from Tel Aviv, senior administration officials said. The move fulfills a campaign promise made to religious conservatives ... In his announcement, Trump will say the U.S. government recognizes Jerusalem as the capital of Israel. In response, terror group Hamas is calling for a 'day of rage' Friday, urging Palestinians to protest across the region. "
NEWS BRIEF: "Israel's Ambassador to the US Dermer: War on northern border could be just 'weeks' away", Israel National News, 12/5/2917
"The chances of war on Israel's northern border could be "weeks" away, according to Israel's Ambassador to the US Ron Dermer. In an interview on Monday ... Dermer said that the chances of a military conflict taking place in the near future between Israel and the Iran-backed Hezbollah terror group were 'higher than people think because of Iran's continued push through the region'."
NEWS BRIEF: "Turkey's President Erdogan calls for an Islamic summit next week on Jerusalem", France 24 News, 6 December 2017
"ANKARA (AFP) - Turkish President Recep Tayyip Erdogan is calling a summit of the main pan-Islamic body in Istanbul on December 13 to discuss the expected US move to recognise Jerusalem as Israel's capital, his spokesman said on Wednesday ... Turkey currently holds the chairmanship of the OIC."
At this point, the Turkish spokesman reveals how deeply Muslims view Jerusalem.
" 'Jerusalem is our honour, Jerusalem is our common cause, Jerusalem is our red line', he added, urging the Trump administration to 'return from this grave mistake immediately'. Deputy Prime Minister Bekir Bozdag said the expected US move risked igniting a 'fire' in the Middle East and will prove a 'great disaster'."
"The recognition will "throw the region and the world into a fire and it's not known when it will end', Bozdag, also government spokesman, wrote on Twitter."
NEWS BRIEF: "Iran 'will not tolerate' Trump Jerusalem 'violation': President Rouhani", France 24 News, 6 December 2017
"TEHRAN (AFP) - Iranian President Hassan Rouhani blasted his US counterpart Donald Trump's plan to recognise Jerusalem as the Israeli capital on Wednesday, saying it would not be tolerated. Iran 'will not tolerate a violation of Islamic sanctities', he said. 'Muslims must stand united against this major plot'."
" 'The Islamic world will undoubtedly stand against this plot and the Zionists will receive a big blow from this action and dear Palestine will be liberated', Khamenei said."
NEWS BRIEF: "Iran warns of 'intifada' against Israel: Arab world blasts Trump's announcement on recognition of Jerusalem as Israel's capital", Israel National News, 12/7/2017
"The Arab world blasted U.S. President Donald Trump on Wednesday, after his announcement that the U.S. recognizes Jerusalem as Israel's capital. Iran strongly condemned the decision, saying it threatened a "new intifada", or uprising against Israel.
" 'The provocative and unwise decision by the U.S.... will provoke Muslims and inflame a new intifada and an escalation of radical, angry and violent behavior', said the Iranian foreign ministry in a statement on its website, according to AFP."
"The Hamas terrorist organization also condemned Trump's decision and said that the move 'open the gates of hell' on U.S. interests in the region. This decision will open the gates of hell on US interests in the region', said Hamas official Ismail Radwan after Trump's announcement.
Notice how this inflamed rhetoric matches the 2,600-year-old prophecy of Zechariah 12?
NEWS BRIEF: "SAUDI ARABIA: King Salman warns against embassy move to Jerusalem", Arab News, 3 December 2017
"JEDDAH/ANKARA: Saudi King Salman told US President Donald Trump that any decision to move the US Embassy in Israel to Jerusalem before a permanent peace settlement is reached will inflame the feelings of Muslims ... It quoted King Salman as saying that Saudi Arabia supported the Palestinian people and their historic rights and asserted that "such a dangerous step is likely to inflame the passions of Muslims around the world due to the great status of Jerusalem and Al-Aqsa Mosque..."
"Earlier, the Saudi Cabinet expressed deep concern over such reports."
Even Great Britain opposed Trump's action!
NEWS BRIEF: "UK Prime Minister May to speak with Trump about Jerusalem decision", Israel National News, 12/6/2907
"British Prime Minister Theresa May will speak with United States President Donald Trump over his expected decision to officially recognize Jerusalem as Israel's capital ... 'I'm intending to speak to President Trump about this matter', May said. 'The status of Jerusalem should be determined in a negotiated settlement between the Israelis and the Palestinians. Jerusalem should ultimately form a shared capital between the Israeli and Palestinian states'."
As you can see, condemnation for the President's decision to recognize Jerusalem as Israel's capital and to start moving the Embassy there, is widespread, virtually coming from the entire world.
Just as God foretold nearly 2,500 years ago:
"And in that day will I make Jerusalem a burdensome stone for all people: all that burden themselves with it shall be cut in pieces, though all the people of the earth be gathered together against it." (Zechariah 12:3, KJV)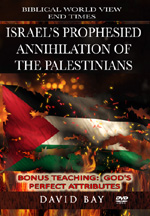 1B. President Trump announced that he recognized Jerusalem, and it was in the 50th year since Israel conquered the city from Jordan in the Six Day War (June 5-10, 1067).
Since every 50 years in Israel is a "Jubilee Year", where all the land automatically returns to the original Jewish owner, is it reasonable to believe that Trump's announcement today falls within the Jubilee parameters?
Furthermore, this declaration is a double-sided event for Israel and the Palestinians, much like the Pillar of Fire vs Darkness, the night before Pharoah's Army was destroyed at the Red Sea.
Consider the Word of God:
"And the angel of God, which went before the camp of Israel, removed and went behind them; and the pillar of the cloud went from before their face, and stood behind them: And it came between the camp of the Egyptians and the camp of Israel; and it was a cloud and darkness to them, but it gave light by night to these: so that the one came not near the other all the night." (Exodus 14:19-20, KJV)
So, the Angel of God came between the Israelites and the Egyptian Army during the night, keeping them separated. To the Israelites, this Angel of God showed a comforting light, but the same angel enveloped the Egyptian Army in total, complete darkness.
This same Angel of God comforted the Israelites, but discomforted the Egyptians.
To the Israelites, His presence foreshadowed deliverance, but was a warning to Egypt of her coming doom at the judgment hand of Almighty God.
I believe the same double-sided message from God is in effect here.
* Israelites today should be ecstatic, recognizing that the hand of God which brought their forefathers back to the land in 1948, and returned Jerusalem back to their control in 1967, is still in control and is still working according to His timetable!
* Palestinians -- today's descendents of the House of Esau / Edomites -- should be very fearful today, because their physical doom as prophesied in Obadiah and in Isaiah 34 is on track and on God's timeline.
NOW is the time to inform all your friends and family of the message of Obadiah, as we have clearly outlined in our DVD shown above, "Israel's Prophesied Victory Over the Palestinians" is very close to occurring!
* All Arabs from around the world must be wary, because, once God annihilates the Palestinians as He foretold 2,600 years ago, Muslims from around the world will be absolutely possessed of the greatest, most powerful spirits which will drive them into a fury against Jerusalem.
And, these furious Muslim armies will march ---
Just as God foretold in Zechariah 12:
"In that day shall the Lord defend the inhabitants of Jerusalem; and he that is feeble among them at that day shall be as David; and the house of David shall be as God, as the angel of the Lord before them. And it shall come to pass in that day, that I will seek to destroy all the nations that come against Jerusalem." (Zechariah 12:8-9)
Read the entire chapter -- Zechariah 12
Mark TODAY as a day of great importance in the prophetic life of Modern Israel!
Read Related Article: "GOD'S MODERN DAY MIRACLE - ISRAEL A NATION AGAIN"
2. GOP Senator Lindsey Graham raised war alarms yesterday when he boldly stated that the time has arrived to begin evacuating US dependents from the Peninsula.
NEWS BRIEF: "Sen. Lindsey Graham (R-SC): It's time for US military families to leave S. Korea", The Korea Herald, Dec 4, 2017
"WASHINGTON -- Sen. Lindsey Graham said Sunday that he believes it's time to start moving the families of American military personnel out of South Korea as North Korea pushes the US closer to a military conflict. Graham, a member of the Senate Armed Services Committee, said he will also urge the Pentagon not to send any more dependents to South Korea."
Any military analyst in the world will read this announcement from Senator Graham as a major sign of imminent war! When the Pentagon begins its war against North Korea, they will not want innocent American citizens killed by the hundreds and maybe by the thousands.
This announcement is a MAJOR WAR SIGN!
Therefore, the Pentagon immediately issued a denial that such a move was being considered.
NEWS BRIEF: "US has no plan to move military dependents out of Korea: Pentagon", The Korea Herald, Dec 6, 2017
"WASHINGTON -- The United States currently has no plan to move military dependents out of South Korea despite rising tensions with North Korea, the Pentagon said Tuesday ... 'The Department of Defense currently has no intent to initiate departures for military dependents, whether on a voluntary or mandatory basis, and no intent to modify the policy authorizing military dependents to accompany military members being stationed in South Korea', Lt. Col. Chris Logan, a Pentagon spokesman, said in emailed remarks to Yonhap."
"The United States has many contingency plans in place all over the world to keep our military families safe."
3. British Intelligence foiled an Islamic plan to murder Prime Minister Theresa May!
NEWS BRIEF: "Islamist suicide plot to assassinate British Prime Minister Theresa May foiled", Sky News, 06 December 2017
"A terror plot to assassinate Prime Minister Theresa May has been foiled ... 'It's the latest in a number of terror plots that police and MI5 believe they've foiled this year ... It is in essence an extreme Islamist suicide plot against Downing Street. Essentially police believe that the plan was to launch some sort of improvised explosive device at Downing Street and in the ensuing chaos attack and kill Theresa May."
4. The Liberal New York Times dropped a bombshell report that severely damages both the Clintons and the Democrat Party.
NEWS BRIEF: "NYT Reveals: Bill And Hillary Were Weinstein's 'Celebrity Shields'," The Daily Caller News, 12/5/2017
"Former President Bill Clinton and First Lady Hillary Clinton were key players in a Democratic cover-up of former Hollywood producer Harvey Weinstein's sexual assault, The New York Times detailed in an exclusive report Tuesday. Two prominent women in media told The NYT that they personally warned Hillary Clinton's presidential campaigns in 2008 and 2016 that Weinstein was a known sexual assaulter and that it was highly unwise to be so closely connected with him."
What was Hillary's response?
""I just want you to let you know that Harvey's a rapist and this is going to come out at some point," actress and writer Lena Dunham reports telling Kristina Schake, the Clinton campaign's deputy communications director, in 2016. 'I think it's a really bad idea for him to host fund-raisers and be involved because it's an open secret in Hollywood that he has a problem with sexual assault'."
"The actress told The NYT that the Clinton campaign never did anything about her complaints and that Weinstein helped organize a star-studded fundraiser for Hillary Clinton weeks after she spoke with Elrod."
"Weinstein coughed up tens of thousands of dollars towards Hillary Clinton's various campaigns for Senate and for the presidency. He offered her access to A-list celebrities for her fundraising events ... The Clintons reportedly shared a dinner table with Weinstein just days after Hillary lost to President Donald Trump in November 2016. Hillary and Weinstein were even reportedly planning a documentary TV show about her 2016 bid for the presidency."
5. Pope Francis I revealed his incredible Global Liberalism twice in two days!
* He urged President Trump to NOT recognize Jerusalem as the eternal capital of Israel.
NEWS BRIEF: "Pope contradicts Trump over US embassy move", Sky News, 06 December 2017
"The US President has been met with international condemnation after reports he plans to recognise Jerusalem as Israel's capital ... Pope Francis called on 'all to respect the city's status quo, in accordance with the relevant UN resolutions' ..."
* He issued one of the most draconian -- and ridiculous -- warnings on 'Global Climate Change" imaginable. Even Al Gore has not gone this far.
NEWS BRIEF: "Vatican Issues Far-Left Declaration on Climate Change:'Very Fabric of Life on Earth at Grave Risk'," Breitbart News, 5 December 2017
"In a dramatic declaration punctuated by dire threats and warnings, the Vatican is urging the world to 'decarbonize the energy system as early as possible and no later than mid-century' to avoid irreversible damage to humans and ecosystems ... In its newly released 'Final Declaration: Our Planet, Our Health, Our Responsibility' from a November workshop on climate change, air pollution and health, the Pontifical Academy of Sciences warns that "there is less than a decade" to put in place a series of sweeping measures to counteract the effects of human-induced climate change. 'The time to act is now', it reads."
More than any other Pope, Francis I has spread his reach to an entire world, on many diverse subjects. In so doing, he is solidifying his future role as the top religious leader of the New World Order Religion, also known as the False Prophet of Revelation 13:11-18!
This world is steadily marching forward to the final events of the Book of Revelation!