News Alert & Bookstore Bulletin

Thursday, October 11, 2012

Customer Service 1-800-451-8211

Scheduled News Alerts/Newsletters

Mon. AM - Alert

Thurs. PM - Alert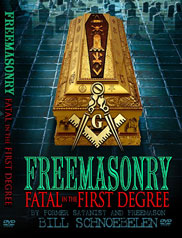 "Freemasonry: FATAL In The First Degree"
New DVD by Bill Schnoebelen, Former Mason, Satanist
Maybe The Most Important Spiritual Alarm We Have Ever Sounded!!
Pre-Order Sale - Regularly $24.99 - Now Only $19.99
During the past 16 years, one of the most often asked questions by concerned mothers and wives is this: 'My son / husband wants to join Freemasonry just for the business contacts. There really is no spiritual danger in the first three degrees, right?'
Former Mason, Bill Schnoebelen, answers this wrenching, heartfelt question very powerfully. Once viewing this video, you will never again believe that your loved one can safely pass through the first degree of Freemasonry!When your loved one completes the first degree there is a very high chance he will be demonically possessed or at least demonically afflicted.
But, then, to make matters much worse, your loved one will bring these newly found demonic 'friends' right in the front door of your home, where he will begin to diabolically afflict all relationships within the home -- Spousal, siblings, father-children, spiritual. Every meaningful, cherished relationship will abruptly come under severe and continuous attack. Suddenly, there will be no peace in relationships and in your home.
Bill then Biblically guides you through the spiritual processes necessary for a person who is already caught by Masonry's trap in order to be free of the demons of Baal, and full of the Holy Spirit. Bill then shows how you can be delivered from any spiritual bondage if Freemasonry is in your family background, father, grandfather, mother or grandmother. Spiritual deliverance is thoroughly discussed.
---
Key Events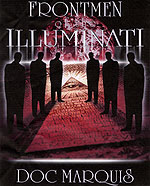 DVD
I. Proof Positive that President Barack Obama is a Muslim!
He has been daily flashing this proof for 30 years.
NEWS BRIEF: "Obama's ring: 'There is no god but Allah' ", by Jerome Corsi, World Net Daily, October 10, 2012
"As a student at Harvard Law School, then-bachelor Barack Obama's practice of wearing a gold band on his wedding-ring finger puzzled his colleagues. Now, newly published photographs of Obama from the 1980s show that the ring Obama wore on his wedding-ring finger as an unmarried student is the same ring Michelle Robinson put on his finger at the couple's wedding ceremony in 1992."
While many people were puzzled at the ring, once a person familiar with the Arabic language and with the custom of Islam saw the ring, he knew exactly what it meant. This ring means that the person wearing it is a Muslim, a lifelong Muslim!
"... according to Arabic-language and Islamic experts, the ring Obama has been wearing for more than 30 years is adorned with the first part of the Islamic declaration of faith, the Shahada: 'There is no god except Allah'. The Shahada is the first of the Five Pillars of Islam, expressing the two fundamental beliefs that make a person a Muslim: 'There is no god but Allah, and Muhammad is Allah's prophet'."
"Sincere recitation of the Shahada is the sole requirement for becoming a Muslim, as it expresses a person's rejection of all other gods ... "By wearing the Shahada on jewelry, a person communicates that Allah is in control of all circumstances. Allah controls you; Allah is the one and only one."
Great! For the past four years, the most powerful man in the world and the man who controls the nuclear launch codes and who can order this nation to war, is a radical, fundamental Muslim. If he is a radical Muslim, then he hates this country -- and Israel!
America Jewish voters should recoil with horror over this conclusive proof that Barack Hussein Obama is a fervent practicing Muslim. At a critical moment in wartime, when Israel is hanging by a thread against her attackers, and when minutes may make the difference, will a Muslim Obama order the supplies to flow? Will he order American planes or naval forces to rush to Israel's aid?
The controversy over Obama's birth certificate absolutely pales in comparison to this concrete proof that he is a practicing Muslim!!
I have not been shocked by much over the last 20 years, because events are following the Illuminati Plan and Bible prophecy. But, I have to tell you that this revelation shocks me. How could President Bush order our forces to war to overthrow an Islamic leader named 'Hussein', only to elect a an Islamic leader named 'Hussein' to the office of President of the United States?
Barack Hussein Obama must go!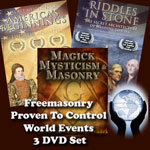 II. American troops enter Jordan, to protect her border from Syria.
Jordanian territory would also be a great launching position for any attempt to seize Syrian Weapons of Mass Destruction.
Can this be the time when the prophecy of the destruction of Damascus (Isaiah 17:1) occurs?
NEWS BRIEF: "US sends forces to Jordan as check on Syria", The Big Story, October 10, 2012
"BRUSSELS (AP) — The United States has sent troops to Jordan to bolster its military capabilities in the event Syria's civil war escalates, U.S. Defense Secretary Leon Panetta said Wednesday, reflecting U.S. concerns about the conflict spilling over allies' borders and about the security of Syria's chemical weapons arsenal ... Speaking at a NATO conference of defense ministers, Panetta said the U.S. has been working with Jordan to monitor chemical and biological weapons sites in Syria and also to help Jordan deal with refugees pouring over the border from Syria."
Right now, the size of the American contingent is small, only about 150 special forces troops are on the ground. However, the real news is not the size of the contingent, but the fact that America has committed troops of any size to Jordan, and against Syria. This small number of troops could be building a base camp which would accommodate many more troops. They also could be exactly the number needed to seize Syria's WND stocks, a matter of great concern to Israel.
Remember the current strategy which the Global Elite are carrying out in the entire Middle East. the largest single geographical part of the "Non-Integrating Gap".
The World Is On Fire In The 'Non-Integrating Gap'
Syria is now ringed on two borders by NATO forces, Turkey on her Syrian border and United States forces on the Jordanian border. The moment for escalation seems imminent. The next step will likely be NATO forces crossing the border on to Syrian soil and airplanes operating in Syrian airspace. At that moment, Syrian President Assad will know that his time is short and that there is nothing he or any of his supposed allies -- Russia and China -- will do about it.
Will Assad put up a small fight and then flee, or will he attempt some kind of military action against Israel before he goes down to defeat? The End Times prophecy concerning the complete destruction of Damascus remains unfulfilled. What is that prophecy?
"The mournful, inspired prediction, a burden to be lifted up concerning Damascus, capital of Syria ... Behold, Damascus will cease to be a city and will become a heap of ruins." (Isaiah 17:1; Parallel Bible, KJV/Amplified Bible Commentary)
God is definitely pronouncing a very physical destruction of Damascus. The significance of this prophecy can only be appreciated when you understand that Damascus is known by historians as the longest continuously occupied city in the world. Damascus has never been destroyed in her 3,000 year history. Therefore, this promise of physical judgment is definitely in this city's future.
Then, God tells us what kind of physical destruction He has in mind for Damascus. He says, 'Behold, Damascus is taken away from being a city, and it shall be a ruinous heap'. This literally means, 'Damascus will cease to be a city, and will become a heap of ruins'. This total destruction is the type which one would expect from an attack with a Weapons of Mass Destruction, like an atomic attack. Normally, when a city is militarily conquered, she does not become a heap of ruins. The city might become substantially destroyed, but generally not the kind of destruction experienced when a city is militarily conquered.
The situation in and around Israel is becoming very volatile. Watch this region carefully, for both the Bible and the Illuminati Plan foresee that the World War III which shall produce Antichrist on the world scene will erupt out of conflict in this very region! You and I have ringside seats to some of the most important End of the Age prophecies. Using your knowledge of how world events fit into prophecy, reach out to your unsaved loved ones and co-workers and neighbors with the precious Gospel Seed, urging them to repent of their sins and be saved through Jesus' blood on Calvary (Use our Salvation Plan).
Eternity is very near. Are you making the most of your time and opportunity to reach sinners with the Gospel?
---
Now Shipping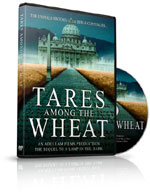 "Tares Among The Wheat" DVD
Sequel to 'Lamp In The Dark' DVD
by Chris J. Pinto, Adullum Films
'Tares Among the Wheat' will likely challenge what most scholars believe about Bible history, and the origins of the current wave of new translations that have flooded churches around the world.
Enter a mysterious world of ancient manuscripts, assailed by forgeries, fakes, and theological intrigue of the highest order. http://www.cuttingedge.org/detail.cfm?ID=2458
---
$9.99 DVD's - Best Value On The Net - New Titles Added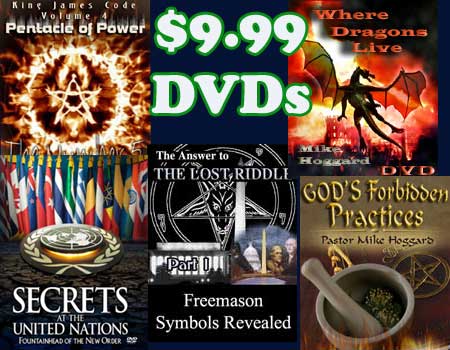 66% to 75% Discounts Off Selected DVD Titles
Variety is good; price is EXCELLENT!
Select From 52 68 Different Titles!
Regular Retails Up To $40, Dual Disc Sets
---
Even More Savings -- At A Very Low Price
---
New Books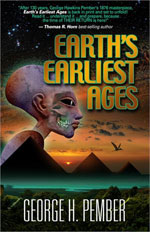 "Earth's Earliest Ages - Reprint of 1870 Masterpiece Book"
Reprinted by Tom Horn
"After 130 years, George Hawkins Pember's 1876 masterpiece, Earth's Earliest Ages is back in print and set to unfold! Read it ... understand it... and prepare, because the time of THEIR RETURN is here!" (Tom Horn)
The influences of the Spirit of God are even now in process of withdrawal, as He prepares for that departure from earth which will leave it open for Nephilim, seven fold worse than those who formerly dwelt in it, to enter, and for a short season to work their will upon the human race; Then will all the Nephilim, who are yet at liberty, be among men, and will quickly make them feel the meaning of that awful utterance, 'Woe to the inhabiters of the earth and of the sea! for the Devil is come down unto you, having great wrath, because he knoweth that he hath but a short time.'"
As far back as the beginning of time and within every major culture of the ancient world, the astonishingly consistent story is told of gods who descended from heaven and materialized in bodies of flesh. From Rome to Greece and before that, to Egypt, Persia, Assyria, Babylonia, and Sumer the earliest records of civilization tell of the era when powerful beings known to the Hebrews as Watchers and in the book of Genesis as the b'nai ha Elohim ('sons of God') mingled themselves with humans, giving birth to part-celestial, part-terrestrial hybrids known as 'Nephilim.'
451 pages, paperback -- http://www.cuttingedge.org/detail.cfm?ID=2461
"The Genius of Ancient Man"
New Book by Don Landis
All over the world there are similar findings of ancient religions, cities and towers, world travel, advanced astronomy, and civilized government. Over the course of two years, a team of researchers from Jackson Hole Bible College has worked to bring together the different pieces of the convoluted mystery and history of ancient man.
Hours of researching, trips to various sites around North and Central America, visits to museums, and meetings with experts have provided the team with an overwhelming amount of evidence for the intelligence of these early innovators. A jumble of anomalies and magnificent structures continue to confound archaeology and anthropology today, yet as the dots are connected, one finds history as described in the biblical record.
Evidences and commonalities explored from ancient man around the globe! (1) Why structures echoing the Tower of Babel have been recreated on almost every continent and major culture. (2) What artifacts and archaeology, technology and innovation, really reveal about the origin of mankind. (3) Why many biblical symbols (rainbows, human sacrifice, mountains, the Son/ sun worship) were, and continue to be, distorted in pagan religious practices. (4) What the historical record reveals about Satan's 'counterfeit' of God's plan for humanity. Now you will have scientific fact about Ancient Man allowing you to refute the evolution teaching of primitive cavemen!
112 pages, hardcover -- http://www.cuttingedge.org/detail.cfm?ID=2460
---
Price Break on "Wide Is The Gate"
Volume 1 Regularly $39.99, Now Reduced to $29.99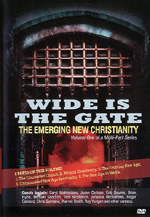 "The Emerging New Christianity, A Paradigm Shift", Volume One
Video is 3 hours, 20 minutes
A look into the invasion of the old New Age Movement in today's Post Modern Church. Today's new brand of Christianity has a different gospel and is targeting thousands of the younger generation with a so-called hip, cool, experiential spirituality, much of which is embracing the mysticism of Roman Catholicism with its ecumenical philosophy of uniting people from all faiths to work together and bring about a new world of peace and harmony.
The dangerous result of this new spirituality in the church is bringing about the rise of today's "Christianized" occultism. Through modern marketing techniques and business management skills a global agenda of faith, commerce and government is being orchestrated for churches to partner with other faiths for world peace and unity. This man made utopia will usher in the reign of Antichrist and his kingdom
3 hours 20 minutes of exciting revelation about the true direction of the Christian Church today, the church whom Jesus will spew out of His mouth!
http://www.cuttingedge.org/detail.cfm?ID=2336
===============================================================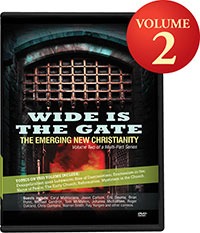 "Wide Is The Gate DVD"
"Vol 2, Emerging Christianity In The Post-Modern Church"
In Volume 2 of 'Wide Is The Gate', Caryl Matrisciana specifically addresses many of the numerous areas in today's church in which Satan has infiltrated into the churches of today.
Examples are: 1) Environmentalism, Global Warming and Mother Earth; 2) Progressive Christianity - merging with Leftist Politics; 3) Kingdom Now, Dominionism now in Mainline Christianity; 4) Ecumenical Movement now uniting Evangelical Protestants and Roman Catholics to further the One World Religion; 5) The Social Gospel, being promoted by Youth Outreach and Evangelicals; 6) Chrislam, melding Islam with Christianity; 7) Replacement of Israel by the Church; and many more
When you understand the true apostate condition of today's 'christian' church, you will understand how Jesus can declare 'I will spew you out of My mouth"! And, you will understand the lateness of the prophetic hour
3 hours, 36 minutes long -- WATCH DYNAMIC TRAILER
---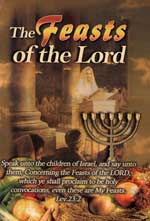 "The Feasts of the Lord In Prophecy'
Would you like to know the specific day of the Lord's return?
Regularly $49.95, Now Only $19.95
At last, a DVD which teaches how the seven Jewish Feasts in the Old Testament accurately portray Jesus in both His first and second comings!
The Spring Feasts were Dress Rehearsals for His First Coming and were accurate to the very day!
The Fall Feasts are Dress Rehearsals for His Second Coming, also to the very day!
Your appreciation of the majesty and Omnipotent Glory of Jesus Christ will grow greatly as you see how He controls world events for the entire 6,000 years of world history, and how He has accurately predicted -- through the seven Feast Days of Israel -- His First and Second Comings, accurate to the exact day!
Five DVD Set, almost 5 hours of teaching -- http://www.cuttingedge.org/detail.cfm?ID=2168
---
Alien Invasion Is Now Underway
"Archon Invasion: The Return of the Nephilim"
Deeper Insights For the Knowledgeable Reader
Part 1 DVD by Ron Skiba
Who, or what, is an Archon? Who were the nephilim? How did they return both before and after the Flood?
Why should we be concerned about the act of mixing animal and human DNA? Why did Jesus say that the Last Days would be like the days of Noah? What differentiates the days of Noah vs the days of Jared?
Ron Skiba tells us in this exciting, 2 hour DVD
http://www.cuttingedge.org/detail.cfm?ID=2442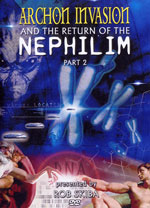 "Archon Invasion: Now And In The Future"
Part 2 DVD by Ron Skiba
What did Aleister Crowley and Jack Parsons deliberately carry out that may have opened up a portal to supernatural dimensions? What does an ancient prophecy concerning the release of the Watchers have to do with the beginning of the 20th Century?
Why should we be concerned about the act of mixing human and animal DNA? How has the Devil been preparing mankind for the End Days and for the appearance of his Man of Sin?
Ron Skiba will take you through an action-packed video presentation that will have you sitting on the edge of your seat. http://www.cuttingedge.org/detail.cfm?ID=2443
Watchers/Giants/Nephilim Walk Amongst Us Again
Key DVD's by L.A. Marzulli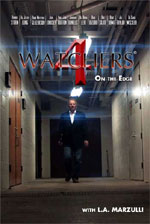 "Watchers 4: On The Edge"
L.A. Marzulli, author of the popular 'Watchers' series, continues his expose' with some of the most unusual supernatural evidences yet.
What is the meaning of the numbers '13-13-13' and 12, 111? What significance can be found in the Torah Codes? Could the Torah Codes pose as a modern Ephod, used by the high priest at the time of Moses?
Is there a cover-up spanning generations to hide the truth about the Nephilim? Is there any evidence that the Giants actually lived in the world, even in North America? Could Ancient cities built on the 30th Parallel have commonalities we are only now discovering?
What is really going on today in Israel? How is Israel handling the massive disruptions caused by the 'Arab Spring'?
Dr. Rogers Leir reveals some of the weirdest and strangest experiences he has seen in his 30- year effort to investigate alien implants and out-of-this-world technologies. One Hour, 21 minutes long - http://www.cuttingedge.org/detail.cfm?ID=2445
Other Titles In This "Watchers" Series - All Titles Only $19.99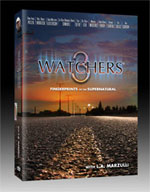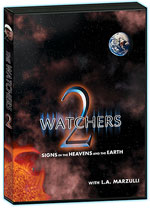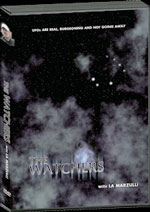 The Prophesied Days of Noah Are Upon Us!
"And as it was in the days of Noe, so shall it be also in the days of the Son of man." (Luke 17:26)
"There were giants in the earth in those days; and also after that, when the sons of God came in unto the daughters of men, and they bare children to them, the same became mighty men which were of old, men of renown."
Giants walk amongst us again, and Marzulli proves it!
---
"Angels: Army of Protection For Believers"
"Angels: The Angelic Realm - Volume I DVD"
by Dr. Chuck Missler
For thousands of years most of us have either had or still hold to misconceptions, myths, legends, or traditions about angels and our own reality. In this study we will deal with these fascinating entities.
And when the servant of the man of God was risen early, and gone forth, behold, an host compassed the city both with horses and chariots. And his servant said unto him, Alas, my master! how shall we do? And he answered, Fear not: for they that be with us are more than they that be with them. And Elisha prayed, and said, LORD, I pray thee, open his eyes, that he may see. And the LORD opened the eyes of the young man; and he saw: and, behold, the mountain was full of horses and chariots of fire round about Elisha.
2 Kings 6:15-17 -- A hidden army of protection: A reality that is normally hidden from our view. But are they real? What are the discoveries on the advance of science that may shed light on our understanding of them?
This DVD contains 2 hours of teaching - http://www.cuttingedge.org/detail.cfm?ID=2456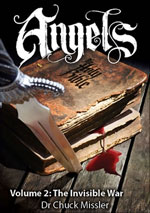 "Angels Volume II DVD: The Invisible War"
by Dr. Chuck Missler
For thousands of years most of us have either had or still hold to misconceptions, myths, legends, or traditions about Satan and the 'underworld'.
Volume two of a two part series, this DVD deals with these and many of the questions you may have such as: 1) What is Hell, Hades and Gehenna?
2) How do Demons differ from Angels and what's their limitations and agenda?
3) What is Satan's origin, agenda and destiny?
4) What is the Age of Hybrids?
5) How do we prepare ourselves through Spiritual hygiene and the Armor of God?
Join Dr. Chuck Missler in the Koinonia Institute Briefing Room at The River Lodge, New Zealand, breaking through misinformation and misconceptions about Angels and insights into the Invisible War. This DVD contains 2 hours of teachings -- http://www.cuttingedge.org/detail.cfm?ID=2457
---
New Headline News Articles: Election 2012
DVD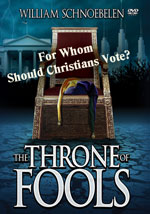 "Presidential Election 2012"
"Challenge To ALL Evangelical Christians Who Are About To Vote For Mitt Romney As "The Lesser of Two Evils"
After discovering Romney's unchristian public record, can you really justify to Jesus that you voted for him? Why suffer loss of reward by casting a vote for either one of these candidates?

"If there come any unto you, and bring not this doctrine, receive him not into your house, neither bid him God speed: For he that biddeth him God speed is partaker of his evil deeds."; Parallel Bible, KJV/Amplified Bible Commentary)
"Are we REALLY faced only with the choice of "Lesser of Two Evils"?


How would Jesus have voted? Which Party Would He Have Considered The "Lesser of Two Evils"? Pharisee or Sadducee; Democrat or Republican; Obama or Romney; Baphomet or Baal?

We have attempted to prove to you that the Democrat Party and the Republican Party are equally evil, as they pursue an equally evil plan to bring the world into the Kingdom of Antichrist, also known as the "New World Order".
Thus it follows that the men in top leadership of each party are equally evil.
Evangelical Christians have no idea whatsoever of the intrinsically evil nature of the Republican Party. They have thoroughly convinced by Evangelical "wolves in sheep's clothing" that a goodly number of top Republican leaders are Christian. Such Evangelicals have been as completely deceived as the Apostle Paul warned:
"For such men are false apostles, spurious, counterfeits, deceitful workmen, masquerading as apostles, special messengers of Christ (the Messiah). And it is no wonder, for Satan himself masquerades as an angel of light; So it is not surprising if his servants also masquerade as ministers of righteousness..." (2 Corinthians 11:131-5; Parallel Bible, KJV/Amplified Bible Commentary)
These articles are a clarion call for Evangelical Christians to wake up to spiritual reality and to do the right thing when they enter the voting booth!
"A Mormon President: Mormon Leadership Has Always Coveted The White House"
If Americans today realized the depth of the power seeking desire that was in the heart of the Founder, Joseph Smith, and then realize that LDS leaders possess this same obsession today, they would be scared to death of a Mormon President. Mormon leaders have always wanted to win the Presidency of the United States. When assassinated in 1844, Joseph Smith was planning to run for President.
Through dramatic reenactments and interviews with top historical experts, A Mormon President looks for answers to timely questions which have great significance today since, especially since a Mormon - Mitt Romney -- is going to be the Republican nominee for President in 2012.
Do the Mormons have an agenda for the White House? As Bill Schnoebelen reveals in "Mormonisms Temple of Doom: 2012 Election Alert", Mormons have always had an agenda, as can be proven by that secret pod room on the top of the Mormon Temple in Washington, D.C. You can't understand the difficulties facing Romney in winning the election until you understand Joseph Smith, the original founder of Mormonism
Is America ready for a Mormon President? American liberties could be in real danger should a Mormon become President.
The DVD also contains a bonus section about Mitt Romney, Jon Huntsman, and other modern-day Mormon candidates.This election could decide the fate of America. Our national soul is going to be tested as never before. http://www.cuttingedge.org/detail.cfm?ID=2419
---
Be sure to visit our Face Book page
and like us so we can keep you updated
and you can share us with your friends.




---

Call us for Customer Service at 800-451-8211

Subscription Promotion

Cutting Edge cannot continue unless we keep a certain level of Yearly Subscriptions and so once or twice a year we run a special giveaway subscription offer. Please reach out at this most difficult time to help support Cutting Edge Ministries. We are reaching 120,000 people a year with the Gospel in five languages so your subscription will enable that wonderful spiritual eternal fruit to continue.

One Year Subscription - Choose 1 FREE Item

Two Year Subscription - Choose 2 FREE Items

Three Year Subscription - Choose 3 FREE Items

Four Year Subscription - Choose 4 FREE Items

Click here to subscribe or just check out the gift options:

---
As always we ask you to pray daily for this ministry.
Be sure to visit the Sale items and Special offers sections where you will find 28 Special offers and 121 items on Sale.
David Bay, Director, Cutting Edge Ministries
1792 South Lake Drive, Ste. 90 PMB 300, Lexington, SC 29073 Email

800-451-8211