Hot News

1. Pope Francis I denies the REAL Jesus Christ.
Francis' most recent proclamation knocks eternal security of the believer down flat!
The Pope is preparing his followers for the Polytheistic teachings of Antichrist.
NEWS BRIEF: "Pope insists conscience, not black and white rules, must lead faithful", The Boston Herald, April 11, 2016
"VATICAN CITY — Pope Francis said Friday that Catholics should look to their own consciences more than Vatican rules to negotiate the complexities of sex, marriage and family life, demanding the church shift its emphasis from doctrine to mercy in confronting some of the thorniest issues facing the faithful."
While God mercifully created a conscience in the human mind He designed to flash a warning whenever a person was about to commit sin. But, a conscience is NOT infallible and can be trained. Many a rank sinner whose crimes are significant has claimed that "his/her conscience is clear".
For this reason, God created His Holy Word on the basis of the never-changing anchor of Doctrine. The word "doctrine" means the entire eternal spectrum of revealed truth as found in the Word of God. And that foundation is eternal. Listen to God's Word, as the Lord laments Israel's turning away from His doctrine/ordinances, and says that Israel must return to His doctrine before the breach in relationship can be repaired.
"For I am the Lord, I change not; therefore ye sons of Jacob are not consumed. Even from the days of your fathers ye are gone away from mine ordinances, and have not kept them." (Malachi 3:6-7)
I can hear the Lord God Almighty lamenting again -- one more time -- that the Roman Catholic Pope is misleading the precious souls under his command! Once again, the Pope is teaching the commandments of men as if they were commandments of God.
Prior to Vatican II, the Catholic Church taught that she was the one true Church whose teachings were eternal.
What is really happening here is that the Pope is forcing the Catholic dogma to align with the dogma of the Hindu, the Muslim, the New Age adherent, the practitioner of Wicca, and all other Mother Earth Religions! You see, the Illuminati decided in early 1991 that the Roman Catholic Pope -- whomever he was at the time -- was to be the Top Religious Leader of the New World Order Religion!
This decision brands the Pope as the Biblical False Prophet of Revelation 13:10-18!
To accomplish this goal of uniting all religions of the world under the "broad tent" of Roman Catholicism, Catholic dogma and long-standing teachings had to change. No longer could Rome declare itself to be the only road to salvation, for example.
And, now, no longer could Rome hold fast to never-changing doctrine if she was to lead adherents of other faiths who most definitely did not believe in eternal doctrine.
With this bold and disastrous proclamation, the Roman Catholic Pope took a strong step toward maneuvering toward his coveted position as the False Prophet.
How bold and disastrous is this abandonment of the Biblical mandate of eternal doctrine? This new position that there is no doctrine will mightily aid the Pope in his goal of becoming the False Prophet. And, it is the False Prophet who will force all mankind to take the "Mark of the Beast"!
Therefore, you could say that this decision to overthrow eternal doctrine for fallible human conscience is a decision which will force the "Mark of the Beast" upon all mankind!
That makes this pronouncement exceedingly portentous for all men, don't you think?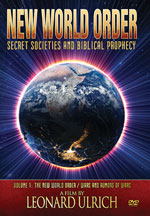 2. Even the Left-Wing Salon magazine is giving up on Hillary's email scandal.
Salon now says that this email fiasco will deny Hillary the Democrat nomination!
NEWS BRIEF: "Left Wing Salon Claims Hillary's Email Scandal WILL DERAIL WHITE HOUSE BID ", Progressives Today, April 9. 2016
"It's getting to the point where it's difficult to tell who dislikes Hillary Clinton more, progressives or conservatives. Many people on the left absolutely despise her. Take a look at this column from left wing Salon:
" 'Hillary's world collapsing around her: Wisconsin, Bernie's surge and FBI probe poised to derail her White House bid ... Wisconsin represents more than just Bernie's sixth straight win, or the likelihood of seven straight wins after Wyoming, right before New York. This political revolution, ignited by Bernie Sanders and fought for by people of all races, faiths, and ethnic backgrounds across the U.S. has been bolstered by political momentum. It's not current delegate count or prior poll numbers, it's unprecedented political momentum that will win Sanders the Democratic nomination."
There is no doubt but that Hillary seems to be on the ropes in her battle against Bernie Sanders, that old man -- the Socialist so Liberal he could not possibly win -- from Vermont who was supposed to be just a "speed bump" on the way to crowning Hillary Clinton as the Democrat nominee. Sanders exposed an angry voter in the Democrat Party who is just as full of wrath as the resentful voter bloc in the Republican Party.
Bernie Sanders revealed how angry Liberal Democrat voters are today.
"Anyone but Hillary" voters are springing up like weeds.
Donald Trump revealed how angry Conservative Republican voters are today.
#Trump is turning into the lightning rod of people who want "anyone but Trump".
And, the Establishment of both major parties are reeling in response.
This election could be very, very interesting.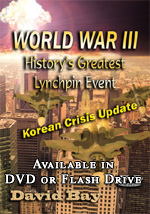 3. Fake terrifying warnings continue to abound!
The sudden persistent presence of these false warnings is, in itself, an End of the Age sign, for Jesus forewarned that events of the End would be so great and so persistent, that "men's hearts shall fail them for fear".
Since none of these "news stories" are true, we are not going to list any of the details they give; rather, we shall give you the headlines, which are hotlinked so you can go read them if you wish.
The content of these fake warnings is not the real issue; the real significance is that they are persistently presented as real, thus fulfilling Jesus' prophecy.
Here are some of the fake headlines:
World War Three may have already begun in Iraq and Syria
Former lawmaker calls fight against Islamic extremists "World War 3?
Donald Trump's Recipe for World War III
Many preppers will die if they don't do this....
$10 Oil Will Trigger Economic Collapse, Warns Economist
Is The American Currency Crash Unavoidable?
Bible prophecy reveals that Antichrist will be produced on the world scene by a number of signs, including 'wars and rumors of wars'. Demonic familiar spirits told the Elite in 1870 that three world wars will be needed to produce Antichrist. Make no mistake about it: Antichrist will be produced by World War III.
Therefore, the question of the hour is, 'when will this global war begin' and 'what are the signs it is about to commence'? Many major disastrous events are planned to occur just as World War III begins. Mankind will be systematically hit with unparalleled disasters of every kind as this planned global war unfolds. But, none of these events will occur until the lynchpin called 'World War III' is pulled.
When the Global Elite pulls this lynchpin event called World War III, disasters are going to be unleashed in such severity and in such great numbers the peoples of the world will not stand in awe, they will panic and run for the hills. Jesus said that 'men's hearts shall fail them for fear', and the Elite is creating just such climactic events which shall not occur until the lynchpin known as 'World War III' is pulled.
In this DVD shown above, "World War III: History's Greatest Lynchpin Event", we will show you the 12 major disasters the Elite has created and is waiting only for the beginning of World War III to unleash them all, almost at once. No one need fear that any of these disasters will jump across the starting line ahead of time; each awaits the 'pulling of the lynchpin', World War III.
When will World War III begin? When the Global Elite completes reorganizing the nations of the world into 10 Supernations, just as Daniel 2:20-25. 7:7-7 and Revelation 17:17 foretell. (Reorganization of the world and a colored Map of the 10 Supernations is provided in the DVD).
Once you know this truth, you shall be set free of needless worry.
---
Anti-Christ Will Be A Black Magick Satanist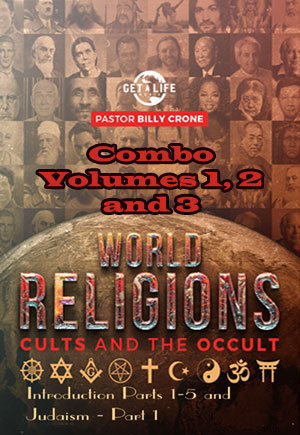 Worlds Religions Combo Savings - DVD's by Pastor Billy Crone
Vol 1 & 2, Cults & The Dark Occult
Regularly $54.98 when bought separately -- Combo Price is only $29.98 -Y
OU SAVE $25.00
There's a lot of confusion in the world about religion, and what the right path is. With so many belief systems and the heart of man trying to fill a void that only God can fill, some people find themselves involved in strange spiritual groups that sometimes lead to awful eternal consequences.
Volume 1 teaches the shadowy world of Cults and Satan's Occult. Volume 2 teaches Importance of the Jewish People at the First & Second Coming of Jesus Modern Analysis of Israel, the Kabbala, and how a Christian witnesses to a Jew.
Each Volume has 2 disks, 6 hours of teaching, so this COMBINATION PACKAGE contains 4 disks, 12 hours of teaching, and still saves you $25.00!
http://www.cuttingedge.org/detail.cfm?ID=2731
DVD's Sharply Reduced
See All Our $9.99 Books / DVD's
89 Titles From Which To Choose!

See All Our $4.99 Books DVD's
27 Titles From Which To Choose!
Anti-Christ Will Be A Mason! Masonry Is Baal Worship!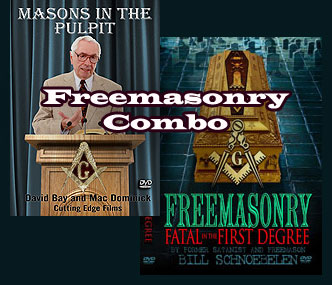 Freemasonry DVD Combination Package: "Fatal In The First Degree Proves BAAL Worship" + "Masons In The Pulpit" Shows What Happens When BAAL Is Allowed In the Pulpit
Regularly $49.98 when bought separately -- Combo Price is only $27.98 -YOU SAVE $22.00
There really is no spiritual danger in the first three degrees, right?' Former Mason, Bill Schnoebelen, answers this wrenching, heartfelt question very powerfully. Once viewing this video -- "Fatal In The First Degree" -- you will never again believe that your loved one can safely pass through the first degree of Freemasonry!
Bill demonstrates that Freemasonry is Satanic from the First Blue Lodge Degree right up through the 33rd Degree. The first degree of Masonry is taken directly from the first degree of Satanism, where the initiate bows his knee to Baal and Lucifer and MARRIES Baal!
The first initiation degree is a spiritual marriage to the god Baal.
Now you know that any Masonic Pastor is married to Baal! This is the very same Baal so condemned by God in the Old Testament. How long do you think it will take for Holy Spirit God to write 'Ichabod' over your church door and leave for good if your Senior Pastor, your Deacons, or Sunday School Teachers are secret Masons?
Almost 4 1/2 hours of solid teaching. You will never look at Freemasonry the same way again
http://www.cuttingedge.org/detail.cfm?ID=2732
"REVELATION: ARE WE IN EARTH'S FINAL HOUR?"
Volume One: "Jesus' Warning To His 7 Churches"
We are going to examine areas which no other teacher has even addressed, but you should expect this kind of in-depth valuable information from Cutting Edge Ministries! Jesus wrote this prophetic book through John the Apostle, addressing:
• 7 Christian Churches in Asia Minor
• 7 Prophetic Seals
• 7 Trumpet Judgments
• 7 Histories (Persons)
• 7 Bowls (Vials)
• 7 Judgments (Dooms)
• 7 New Things
Since God considers the number Seven as His Perfect Number, we can see that God is offering a final prophetic book which consists of 7 subjects, each of which contains 7 events. A Divinely Perfect Book in all ways!
A few of the points we will cover in Volume 1 include:
The Rapture of the Church true or false?

Will the Antichrist be Islamic?

How do we understand Islamic eschatology?

Who is ISIS, and will ISIS conquer the Middle East?

What is the true bloodline of the Antichrist?

What is the fate of Russia?

How can the stars fall to earth from heaven?

Was there any prophetic significance to Nazi Germany?

Can we find the USA in the Book of Revelation?
We will teach the Book of Revelation in a survey format that will mingle a traditional, contextual approach to the book with a digression to apply these teachings and prophecies to cover the influence (or lack of influence) of the events we see taking place right before our eyes. Run Time is nearly 2 hours -- http://www.cuttingedge.org/detail.cfm?ID=2729 - Shipping Friday, Feb 26
---
Dr. Kevin Clarkson and guest, David Bay, explain how Obadiah 15-18 foretells the annihilation by fire of an entire nation, the House of Esau, which today are the Palestinians. Israel possesses the "Weapon of Fire" (Fuel Air Bomb) that could fulfill this prophecy precisely! Order the DVD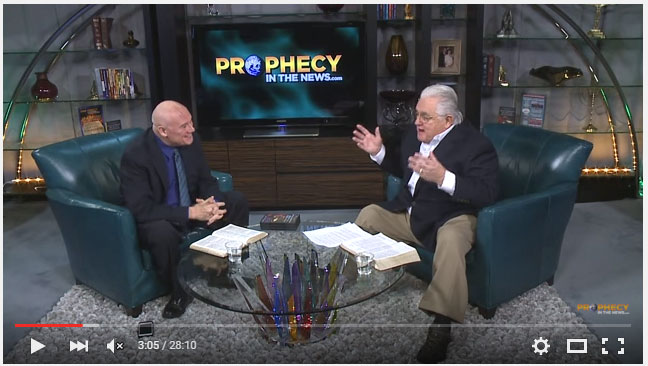 ---
Popular NEW DVD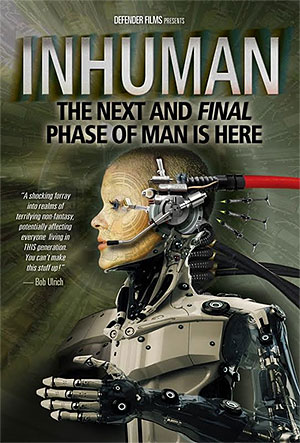 "Inhuman: Final Phase of Mankind Is Here"
DVD by Defender Films
This film is not fiction or a mockudrama but a new investigative documentary from the internationally acclaimed team at SkyWatch TV. INHUMAN travels the globe to unveil for the first time how breakthrough advances in science, technology, and philosophy - including cybernetics, bioengineering, nanotechnology,machine intelligence, and synthetic biology - are poised to create mind- boggling game-changes to everything we have known until now about Homosapiens.

As astonishing technological developments push the frontiers of humanity towards far-reaching morphological transformation (which promises in the very near future to redefine what it means to be human), an intellectual and fast-growing cultural movement known as transhumanism intends the use of these powerful new fields of science and technology as tools that will radically redesign our minds, our memories, our physiology, our offspring, and even perhaps-as Professor Joel Garreau, Lincoln Professor of Law, claims- our immortal souls.
Certainly, the Global Elite wants desperately to end biological death and to defeat God's plans for our souls.
As viewers will learn, this includes rewriting human genetics, combining human and animal DNA, and interfacing our brains with strong artificial intelligence systems. As a result, new modes of perception between things visible and invisible are expected to challenge bioethics in ways that are historically, sociologically and theologically unprecedented.
The destiny of each individual - as well as the future of their families - depends on their knowledge of this new paradigm, an extraordinary time in the earth's history already being called the "Hybrid Age".
3 Hours long, 2-Disc Set - Only $24.95
As the Apostle John wrote 'Amen! Come quickly, Lord Jesus'
As Jesus promised, 'When ye see these things come to pass, look up, for your Redemption draweth nigh'!
---
Why Is Your Pastor Ignoring Fulfillment of Prophecy In the Daily News?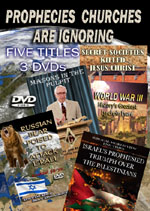 "Prophecies Churches Are Ignoring" - 3 DVD set
Regularly $89.94, Now only $29.94, Saving You $60!
Cutting Edge Director, David Bay, teaches six hard- hitting lessons on six unique End Times instances where events are fulfilling prophecy, but no one is talking about it. Five hot topics on three discs.
1) Israel's Prophesied Triumph over the Palestinians
2) Russian Bear Poised To Strike Israel
3) Masons In The Pulpit
4) World War III: History's Greatest Lynchpin Event
5) Secret Societies Killed Jesus Christ
Almost 6 Hours of Teaching - http://www.cuttingedge.org/detail.cfm?ID=2718
Each message is followed by a complete Salvation Plan, so each DVD becomes a Soul-Winning tool.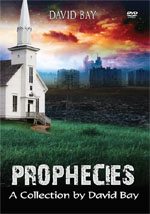 "Prophecies A Collection by David Bay" - 3 DVD set
Regularly $89.94, Now only $29.94, Saving You $60!
Why Are Genuinely Born-Again Pastors So Terribly Blind As To The Prophetic Times In Which We Live? 'Speak to us smooth illusions' [Isaiah 30:10] is the desire of too many pastors, while Jesus is lamenting, 'You did not know the time of your visitation' [Luke 19:44] Too many pastors refuse to believe that the unparalleled deception foretold in Matthew 24:24 really applies to today's events and leaders; thus such pastors are so wide open to spiritual deception.
Pastors also are reluctant to alert their people that events today are uniquely fulfilling key Bible prophecies. As a result, Christians by the many millions do not realize that the time for the Rapture of the Church and for Antichrist to arise is very, very close.
There are a number of unique prophecies being fulfilled that are exceedingly critical, but pastors and ministries are ignoring them totally, to the severe detriment of all Christians. This 3-DVD set contains 6 messages, each of which is unique to Cutting Edge Ministries/Films.
Here are the six hot topics:
* The Prophetic Beast Arises: Ten Toes of Daniel Are Forming
* Rapture Precedes Israel's Final 'WEEK' of History
* Eternal Security: God's Anchor In A Brutal Storm
* End Times' Judgment On Iraq (Babylon) Worse Than Believed Possible - Isaiah 13
* Invisible, Invincible Mind Control You are Targeted
* America Identified In Prophecy: Economic Babylon of Revelation 18
http://www.cuttingedge.org/detail.cfm?ID=2656
POPULAR DVD's FROM
CUTTING EDGE FILMS JUST $14.99
May Jesus Richly Bless You,
David Bay, Director
Cutting Edge Ministries
803-356-2850 -- Customer Service or Orders Toll Free within the USA 800-451-8211