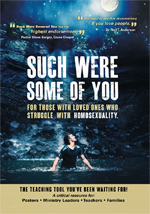 DVD
1. Is this blasphemy against Almighty God the highest possible?
LGBT is claiming that Hebrew Scriptures prove that God is a Transgender!
This level of blasphemy approaches the highest level prophesied for Antichrist!
NEWS BRIEF: "Is God Transgender? It Helps To Know Hebrew", By Dr. Andrew Bartelt, The Federalist, August 19, 2016
"Apparently, being a rabbi doesn't endow one with enough knowledge of Hebrew to be able to make basic gender distinctions in biblical texts. The New York Times published an article last week titled 'Is God Transgender', and to answer that question we must at least get facts right. Rabbi Mark Sameth, the author, should know his historical Hebrew orthography better, certainly before making claims on biblical texts in The New York Times."
If this radical rabbi "should know better" than to make the explosive charges in the most Liberal New York Times, then his motivation must be something other than truth, which means he is lying on purpose.
But, of course, forces wanting a complete system change to the New World Order are making outrageous claims all the time, knowing that these big, bald faced lies will upset enough people to threaten the stability of this current Order (the Old World Order). Lies about God and Jesus are guaranteed to upset a lot of decent God-fearing citizens. In fact, this impact is so great we can examine it through our known principles of Mind Control.
Now, let us return to our featured article, where Dr. Bartlet continues to debunk this premise.
"First, there is no evidence whatsoever for a "highly elastic view of gender" in the Hebrew of what we now call the Old Testament. The examples Sameth cites are all cases of common spelling conventions, due not to elasticity in any "view of gender" but to some elasticity in the use of final vowels and how they were marked, both in the older consonantal texts and then also in the vocalized texts of the Hebrew scribal traditions." (NOTE: Bartelt gives several examples)
"These Words Are Clearly Gender-Specific ... "
"There's Clear References to Binary Sex, Too ..."
"It is a basic principle of biblical interpretation to interpret the unclear in light of the clear, and this applies also to grammatical oddities and spelling conventions. To assert that the Hebrew Bible supports "gender elasticity" by using examples such as these, and even misunderstanding the grammatical facts that remove the very argument Sameth is trying to make out of thin air, is not only bad method but, more importantly, ignores the preponderance of clear biblical evidence that gender is unique and distinct, male and female. Grasping at straws can hardly be considered credible argumentation, especially for The New York Times."
Why would a Hebrew language "who should know better" write an article in which he deliberately desecrates God -- Omnipotent God?
The answer is clear: he wants to lie to you in order to destroy your faith, to confuse you as to whether God really condemned the LGBT lifestyle or whether He is "elastic" on this subject because He is a Transgender?!
This is the level of blasphemy foretold of the forces of Antichrist at the End of the Age. Listen:
"And the king shall do according to his will; and he shall exalt himself, and magnify himself above every god, and shall speak marvellous things against the God of gods, and shall prosper till the indignation be accomplished: for that that is determined shall be done." (Daniel 11:36)
This spurious argument that God is a Transgender certainly qualifies as speaking " marvellous things against the God of gods", and we further know that this author will "prosper till the indignation be accomplished".
This sad and shocking argument is certainly a "Sign of the Times"!
2. More families are homeschooling than ever before, pressured by the Common Core curricula and by the LGBT victories in the Public Schools.
NEWS BRIEF: "Pressed By Common Core And LGBT Agenda, More Families Homeschool", The Federalist, August 19, 2016
"Homeschooling has grown 62 percent in the past decade, and in the era of Common Core and transgender bathroom dictates, that growth has only accelerated"
What forces are driving parents out of Public Schools and into Homeschooling?
"One major reason families homeschool is for academic quality. The United States spends roughly $12,000 per student on education, which is more than every other country in the world except Lichtenstein. While our math and science scores have improved slightly over the last few years, we still rank in the middle of the global pack."
"In addition, LGBTQ activists have successfully inundated schools with their approved ideology inside sex education that starts now as early as kindergarten ... This ensures they can avoid educational indolence and moral apathy while picking and choosing what learning method, curriculum, and schedule works best for their family."
"Data released last year from the U.S. Department of Education shows that "between 2003-2012, the number of American children between ages 5 to 17 who are homeschooled has risen 61.8 percent, and that the percentage homeschooled in that age range has increased from 2.2 to 3.4 percent." Parents are pursuing a style of education they can control that will enrich their children, now with very little fear of the stigma that used to surround it."
How greatly has Public School education failed this country?
"At a recent forum at The Heritage Foundation to promote her new book, 'They're Your Kids', homeschooler, radio host, and actress Sam Sorbo said, 'Education is the beginning and end of everything'. She said the United States spends $600 billion on public K-12 education each year and the system has experienced nine major reforms in 27 years, yet still our student achievement has stagnated, at best. Many fed-up parents who desire academic challenges for their children are choosing homeschooling."
In our DVD shown above, "Escaping Common Core", we prove that the 90-year steady decline in Public School standards are deliberate. New World Order advocates, led by Thomas Dewey and CF Potter, championed, in the 1930's that government take over the curricula and begin lowering the standards, or the New World Order could never be established!
"Common Core" represents the last stage of this dumbed down curricula. Do not be deceived, because: "Common Core" is the education designed for the ignorant "masses", commonly known by the Elite as the "Common Herd"!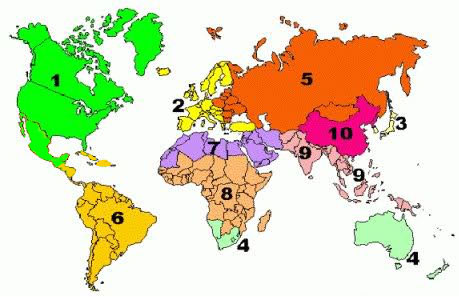 3. Russia's Putin seems to be drawing back from his new confrontation against Ukraine.
NEWS BRIEF: "PUTIN STEPS BACK FROM THE BRINK OF WAR IN UKRAINE", Newsweek, August 20, 2016
"Kiev, Ukraine—In a familiar cycle of brinkmanship, Russia and Ukraine once again edged toward the brink of open war last week, only for the bellicose rhetoric and military posturing to dissipate rapidly, leaving the conflict in eastern Ukraine no closer to a long-term solution. Russia's successor spy agency to the KGB, the Federal Security Service (FSB), claimed to have thwarted attacks on August 10 in Crimea, which Russian authorities pinned on the Ukrainian government."
Remember, this conflict between Russia and the Ukraine is occurring only because Western Ukraine is resisting the Russian efforts to draw her into the Supernation #5, pictured above. This designated Supernation is part of the fulfillment of Daniel 2:40-45, 7:7-8, and Revelation 17:12, 17, where God foretells that, at the End of the Age, all nations in the world will reorganize into precisely 10.
Antichrist cannot arise until and unless these 10 Supernations are fully formed and operating (Read NEWS2363, entitled "There Is Only ONE Sequential Prophecy Which Shall Provide Us A Clear Gauge By Which We Can Know The Approximate Time That Antichrist Will Arise!")
Leaders and citizens alike in Western Ukraine remember that time of horror when Russian Dictator, Josef Stalin, murdered 25 million Ukrainians during the 1930! The European Union would like to spite Russia and snatch this piece of territory from the Bear, but it is full of her own troubles and woe right now.
As I have stated before, I do not know how the Elite can actually pull off this reorganization into 10 until the Holy Spirit snatches the Christian Church from this Earth.
Not only will the Rapture snatch away untold millions of people from every continent who oppose surrendering to a global authority, but the Holy Spirit will stop acting to resist the plans and desires of wicked world rulers.
After the Rapture, whatever world leaders want to do, they can without experiencing Holy Spirit resistance! The rush to complete the "10-Nation Reorganization" could immediately move to the United Nations, where it could be accomplished within weeks!
4. Democrats are now claiming that the next batch of Wikileaks emails will contain many that are fabricated.
NEWS BRIEF: "Dems Claim Next Wikileaks Release Will Include Fabricated Content", Observer Politics, August 19, 2016
"DNC would prefer another Cold War than admit bias for Clinton. After the fallout from the WikiLeaks release of nearly 20,000 Democratic National Committee (DNC) emails, both the party and Hillary Clinton's campaign went into damage control mode."
"Democratic leaders are putting out a warning that could help inoculate Hillary Clinton against an October cyber surprise: Any future mass leaks of embarrassing party emails might contain fake information inserted by Russian hackers," reported Politico, based on a conference call between Rep. Nancy Pelosi and other Democratic Party leaders on how to strategize against future leaks."
"Their only defense now is to provide the public with some sort of plausible deniability to weather the negative publicity the release will create. Future leaks will likely be worse than the first DNC emails provided by WikiLeaks and, depending on the date of the release, the Democratic Party may not have much time to react before the general election."
But Russian President Putin might not like being smeared as the party doing the hacking. but, damage would probably be limited because everyone knows that Russia and China and virtually every major nation on earth attempts to hack all American communications!
If Hillary Clinton cannot fight these emails, then her next best tactic is to smear them -- old fashioned politics.
---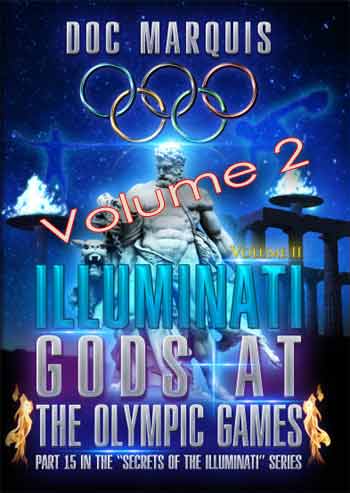 "Through the Olympic Games the adoration and worship of ancient gods are revised and brought back in such a way that no one could've guessed the whole of what the Illuminati had been doing right in front of us all along. And yet, we've always known that something was there, something in those Games that just didn't seem right but were accepted nevertheless. However, with his unique background as a former, 7th generation Illuminati witch Doc Marquis reveals the stories and details of the Olympic Games which the Illuminist wants no one to know.
Beginning where he left off in Vol.1, Doc takes us from the Closing Ceremony of the 2000 Olympic Games of Sydney, Australia all the way through the Closing Ceremony of the 2012 Olympic Games of London, England. At the end Doc makes some startling predictions as to what he expects will occur during the 2016 Olympic Games of Rio de Janeiro in Brazil.
The worship of the "serpent god (Satan), Illuminati symbols, occult stories and myths, ancient pagan rituals, the revival of the ancient gods and so much more will be unveiled as you go through "Illuminati gods at the Olympics Games, Vol.2".
2 DVD set, nearly 4 hours long.