Hot News
DVD
1. Trump won the Houston GOP debate last night, pulling a whopping 64% approval rating!
Is the Trump Presidential Drive moving into irresistible"beast mode"?
If Trump is the Republican nominee, we have some serious questions.
NEWS BRIEF: Poll: Donald Trump Wins Drudge Report Post Texas Debate Poll, Again - Got 64% approval rating", Breitbart News, 25 Feb 2016
"HOUSTON, Texas — GOP frontrunner Donald Trump won the Drudge Report's post GOP debate poll by 46 percentage points. s the six Republican candidates were making their closing statements during CNN's GOP primary debate in Houston on Thursday night, Trump topped the Drudge poll, which asked, "Who won the 10th Republican debate?"
Drudge poll results:
Donald Trump – 64 percent
Sen. Ted Cruz (R-TX) – 18 percent
Sen. Marco Rubio (R-FL) – 13 percent
John Kasich – 3 percent
Ben Carson – 2 percent
These poll numbers are absolutely staggering, but remember that respondents were those people answering a Drudge Report. They are not necessarily representative of the general voting population. Still, Trump continues to crush all opposition from the Establishment GOP. If these poll numbers hold up and are translated into election results, Donald Trump could easily win the Republican nomination well before the Convention.
Is the Trump Presidential Drive moving into irresistible"beast mode"?
Trump certainly is acting as though he was creating an irresistible force, and he well might be. If he solidly wins the nomination before the Convention begins, he could conceivably be nominated on the First Ballot by acclimation! At that point, the Convention could concentrate on uniting behind Trump so the Party and the candidate are marching to the same beat. Elections can be won with a united Party.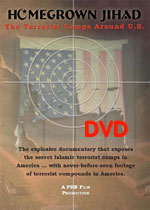 2. Dr. Ben Carson last night reiterated the wisdom from President Abraham Lincoln.
"America can only be destroyed from within"
NEWS BRIEF: "Dr. Ben Carson: How to Destroy America, You Do It 'From Inside'," Breitbart News, 25 Feb 2016
"HOUSTON, Texas — In an apparent hit at President Obama, Republican presidential candidate Dr. Ben Carson, told attendees at the Harris County GOP Lincoln-Reagan dinner if 'you wanted to destroy America, you would do it from inside'."
What President Abraham Lincoln actually said was that America was too strong to ever be defeated from a foreign power; if she was ever defeated, the force would come from within. The 1,200-year Roman Empire was defeated and brought down from a conspiracy within, and the Illuminati is stealthily doing the same work of destruction within our borders!
"The soft spoken candidate then detailed exactly how that could be done. The examples he gave were strikingly familiar to what has occurred during the Obama administration."
Dr. Carson then listed several ways in which to destroy this once-great nation:
1) "... the first thing you would do to destroy the country would be to drive wedges between people. He said you would do so, not only on racial lines, but also with women, age, religion, and Republicans and Democrats.
2) "... bring the country to financial ruin by spending money at "unsustainable levels." You would also bring people in from other countries and put them on public benefits."
3) "... weaken the military, "gut personnel" and reduce military strength to 'historic lows'."
4) "Dr. Carson said the country is in trouble. He said Thomas Jefferson said it would be so when Americans were no longer paying attention. Carson urged that America was at this stage and said Americans were busy 'watching Dancing with the Stars'."
Not only are Americans distracted by "Dancing with the Stars", but they are more distracted by Baseball, Football, and Basketball, and Rock Stars who put on extravagant displays in their concerts, and many other matters of distraction. Just the Roman Government encouraged stadium extravaganzas and gladiator fights to distract the citizens from the bad news from the edges of the Empire, so the Illuminati is distracting us from our troubles as they march us into the Kingdom of Antichrist, the New World Order.
Whenever a national leader urges his citizens to adopt the global New World Order, he is encouraging us to surrender our National Sovereignty and that is the very definition of "Treason". Virtually every single leader has publicly supported the "NOVUS ORDO SECLORUM" (New World Order" on the back of our One Dollar Bill. Acceptance of that plan is treason and will hand the United States of America to the North American Union and will one day surrender control to a leader called the Masonic Christ (the Bible will call him Antichrist)!
We thank Dr. Ben Carson for his candid warnings!
DVD
3. America and Israel simulated an Arab missile attack of unprecedented numbers.
The bottom line: Israel cannot stop them all, she will be hit.
NEWS BRIEF: "US-Israeli war games simulate unprecedented rocket fire", by Yoav Zitun, YNET News. 2/15/2016
"Over 3,000 troops -- 1,500 Israeli Air Force (IAF) officers and pilots, along with 1,700 American soldiers from the US European Command -- will on Sunday begin the main part of the Juniper Cobra 16 joint military exercise held every two years. Most of the month-long exercise involves advanced computer simulations carried out in war rooms, except for a number of missile interception Israel will conduct towards the end. "
Once Israel showed the Arabs that they were serious in building a 15-foot-high concrete fence throughout Israel to separate the Palestinians from the Jews so that suicide bombers could not cross into Israeli property, the Arabs responded by building huge stockpiles of missile which would fly over the fences.
Israel then responded to this threat by inventing new and sophisticated anti-missile systems. Today, three (3) defense systems are in place:
1) David's Sling Interceptors
2) Iron Dome
3) Arrow 2
America has several defense systems also:
1) The THAAD
2) The Aegis
3) The Patriot interceptors
While these defensive systems are engineering marvels, they have one serious defect: they can be overcome by sheer numbers. For this reason, Hezbollah fields an estimated 130,000 missiles. The last part of this news story speaks to this danger posed by huge numbers of missiles.
"Even if we doubled the number of interception systems, the protection would not be hermetic and missiles and rockets would still fall in Israeli territory. Our job is to minimize the damage as much as possible, to protect our most significant assets."
How badly will Israel be hit by these hostile missiles? Prophecy states:
"And at that time shall Michael stand up, the great prince which standeth for the children of thy people: and there shall be a time of trouble, such as never was since there was a nation even to that same time..." (Daniel 12:1)
Israel's Guardian Angel, Michael, will "stand up", that is he will come off his angelic throne in Heaven to spring to the defense of the Jewish State. Michael will be motivated by the fact that Israel is beginning to pass through a time of trouble and distress unprecedented in her long history.
Literally, were it not for Divine assistance, Israel would be destroyed. Israel will be delivered from destruction, but she will be badly damaged. How badly damaged might she be?
"And they that dwell in the cities of Israel shall go forth, and shall set on fire and burn the weapons, both the shields and the bucklers, the bows and the arrows, and the handstaves, and the spears, and they shall burn them with fire seven years: So that they shall take no wood out of the field, neither cut down any out of the forests; for they shall burn the weapons with fire ..." (Ezekiel 39:9-10)
This prophetic verse clearly states that Israel will be so badly damaged that she is again depending upon firewood for her daily heating and cooking needs! In other words, Israel will be bombed back to the 16th Century technology!
God's prophetic Word is clear and is coming to pass. Are you spiritually ready?
---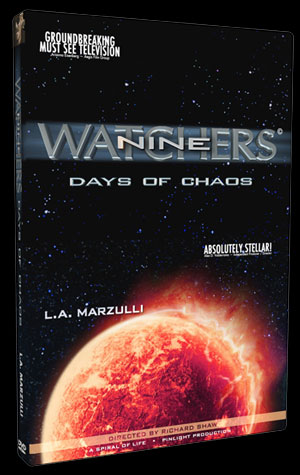 Watchers 9 DVD: Days of Chaos
by Dr. L.A. Marzulli
There are two ways of looking at the events happening in the world around us. The first is that all of these events are just natural phenomena. With this in mind one would look at Israel coming into her ancient homeland after almost 2,000 years of diaspora and would not see any relevance, nor would it matter. To put it bluntly, in this way of thinking one would embrace the world view that there is no god, no prophecy, and no supernatural world. There is only what we can see, hear, taste, smell and observe using the scientific method.
Then there is the other world view that embraces The Holy Bible or The Guidebook to the Supernatural that takes the opposite stance on all of these positions. There is a God and He is good. There is a supernatural world and it is manifesting. There are signs that those who have eyes to see and ears to hear can point to and say that His comingthe Second Coming of Jesusis soon.
There is going to be a profound change in human history, and it begins upon His return.
The skeptic asks, where is the promise of His coming for all things continue as before? We are seeing the birth pains that Jesus warned us would appear before His return. It would seem that prophetic events are accelerating, as I believe we are seeing the signs that warn us of what is coming on the earth... These are the Days of Chaos.
Nearly 2 hours long Shipping Now
---
Popular NEW DVD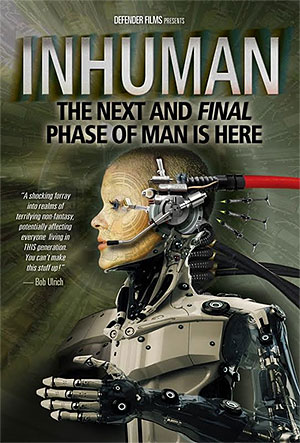 "Inhuman: Final Phase of Mankind Is Here"
DVD by Defender Films
This film is not fiction or a mockudrama but a new investigative documentary from the internationally acclaimed team at SkyWatch TV. INHUMAN travels the globe to unveil for the first time how breakthrough advances in science, technology, and philosophy - including cybernetics, bioengineering, nanotechnology,machine intelligence, and synthetic biology - are poised to create mind- boggling game-changes to everything we have known until now about Homosapiens.

As astonishing technological developments push the frontiers of humanity towards far-reaching morphological transformation (which promises in the very near future to redefine what it means to be human), an intellectual and fast-growing cultural movement known as transhumanism intends the use of these powerful new fields of science and technology as tools that will radically redesign our minds, our memories, our physiology, our offspring, and even perhaps-as Professor Joel Garreau, Lincoln Professor of Law, claims- our immortal souls.
Certainly, the Global Elite wants desperately to end biological death and to defeat God's plans for our souls.
As viewers will learn, this includes rewriting human genetics, combining human and animal DNA, and interfacing our brains with strong artificial intelligence systems. As a result, new modes of perception between things visible and invisible are expected to challenge bioethics in ways that are historically, sociologically and theologically unprecedented.
The destiny of each individual - as well as the future of their families - depends on their knowledge of this new paradigm, an extraordinary time in the earth's history already being called the "Hybrid Age".
3 Hours long, 2-Disc Set - Only $24.95
As the Apostle John wrote 'Amen! Come quickly, Lord Jesus'
As Jesus promised, 'When ye see these things come to pass, look up, for your Redemption draweth nigh'!
New DVD by David Bay - Only $14.99
In the minds of most people, two words carry so much emotional baggage that people cringe whenever they hear these Apocalyptic words. 1) Armageddon; 2) World War III.
In the past 20 years, whenever a battle begins in the Middle East or whenever a verbal confrontation breaks out between major powers, 'gloom and doom' scare-mongers immediately begin to shout 'World War III',much like a person yells 'FIRE' in a crowded theater.
Bible prophecy reveals that Antichrist will be produced on the world scene by a number of signs, including 'wars and rumors of wars'. Demonic familiar spirits told the Elite in 1870 that three world wars will be needed to produce Antichrist. Make no mistake about it: Antichrist will be produced by World War III.
Therefore, the question of the hour is, 'when will this global war begin' and 'what are the signs it is about to commence'? Many major events are planned to occur just as World War III begins. Mankind will be systematically hit with unparalleled disasters of every kind as this planned global war unfolds. But, none of these events will occur until the lynchpin called 'World War III' is pulled.
When the Global Elite pulls this lynchpin event called World War III, events are going to be unleashed in such severity and in such great numbers the peoples of the world will not stand in awe, they will panic and run for the hills. Jesus said that 'men's hearts shall fail them for fear', and the Elite is creating just such climactic events which shall not occur until the lynchpin known as 'World War III' is pulled.
We will show you the 12 major disasters the Elite has created and is waiting only for the beginning of World War III to unleash them all, almost at once. No one need fear that any of these disasters will jump across the starting line ahead of time; each awaits the 'pulling of the lynchpin', World War III.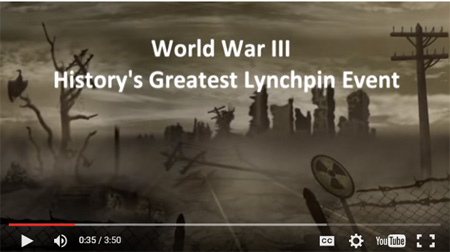 ---
Why Is Your Pastor Ignoring Fulfillment of Prophecy In the Daily News?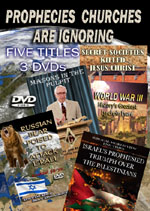 "Prophecies Churches Are Ignoring" - 3 DVD set
Regularly $89.94, Now only $29.94, Saving You $60!
Cutting Edge Director, David Bay, teaches six hard- hitting lessons on six unique End Times instances where events are fulfilling prophecy, but no one is talking about it. Five hot topics on three discs.
1) Israel's Prophesied Triumph over the Palestinians
2) Russian Bear Poised To Strike Israel
3) Masons In The Pulpit
4) World War III: History's Greatest Lynchpin Event
5) Secret Societies Killed Jesus Christ
Almost 6 Hours of Teaching - http://www.cuttingedge.org/detail.cfm?ID=2718
Each message is followed by a complete Salvation Plan, so each DVD becomes a Soul-Winning tool.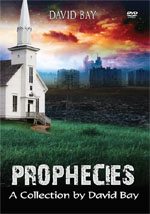 "Prophecies A Collection by David Bay" - 3 DVD set
Regularly $89.94, Now only $29.94, Saving You $60!
Why Are Genuinely Born-Again Pastors So Terribly Blind As To The Prophetic Times In Which We Live? 'Speak to us smooth illusions' [Isaiah 30:10] is the desire of too many pastors, while Jesus is lamenting, 'You did not know the time of your visitation' [Luke 19:44] Too many pastors refuse to believe that the unparalleled deception foretold in Matthew 24:24 really applies to today's events and leaders; thus such pastors are so wide open to spiritual deception.
Pastors also are reluctant to alert their people that events today are uniquely fulfilling key Bible prophecies. As a result, Christians by the many millions do not realize that the time for the Rapture of the Church and for Antichrist to arise is very, very close.
There are a number of unique prophecies being fulfilled that are exceedingly critical, but pastors and ministries are ignoring them totally, to the severe detriment of all Christians. This 3-DVD set contains 6 messages, each of which is unique to Cutting Edge Ministries/Films.
Here are the six hot topics:
* The Prophetic Beast Arises: Ten Toes of Daniel Are Forming
* Rapture Precedes Israel's Final 'WEEK' of History
* Eternal Security: God's Anchor In A Brutal Storm
* End Times' Judgment On Iraq (Babylon) Worse Than Believed Possible - Isaiah 13
* Invisible, Invincible Mind Control You are Targeted
* America Identified In Prophecy: Economic Babylon of Revelation 18
http://www.cuttingedge.org/detail.cfm?ID=2656
---
TWO NEW DVDS from Pastor Billy Crone
World Religions Volume 1

There's a lot of confusion in the world about religion, and what the right path is. With so many belief systems and the heart of man trying to fill a void that only God can fill, some people find themselves involved in strange spiritual groups that sometimes lead to awful consequences. Some of these cults are ran by people who really believe that they are God. Could you be involved in a cult? Have you been deceived by a pseudo form of Christianity? Have you been told that you can become your own god?
Satanism, witchcraft, sorcery and so on. We've all heard of these from one time to another. With the continuing rise of Neo-Paganism, it should be no surprise that the occult is flourishing in these last days. If you want a better understanding of this dark belief system then this series is for you. The war in the spirit realm is very real and you need to be equipped to deal with the realities. 2 Discs, 6 hours of teaching
World Religions Volume 2

The Importance of the Jewish People at the First & Second Coming of Jesus Modern Analysis of Israel & Current Events Jerusalem & the Gog & Magog War What is Jewish Mysticism &the Kabbalah? What are the Dangers of the Hebrew Roots Movement in the Church? How Do I Witness to a Jew? Does a Jewish Person Need to Get Saved Today? 2 Discs, 6 hours of teaching