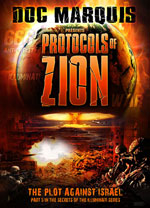 "It is from us [Illuminati] that the all-engulfing terror proceeds." (Protocols of Zion, Protocol #9)
1. An horrific Jihadist terror attack has just occurred in Nice, France, killing at least 80, including children.
NEWS BRIEF: "Truck Crashes into French Crowd Celebrating Bastille Day, At Least 80 Dead", Breitbart News, 14 July 2016
"At least 80 people , including 10 children, have died and dozens were injured during Bastille Day celebrations in Nice, France after a truck ran into a large crowd.
Police are treating the incident as 'an attack' and French President François Hollande declared it an 'undeniable' terrorist attack."
How could authorities be so sure so quickly that the perpetrator was an Islamic terrorist.
1) The truck driver who was killed finally at the wheel was a French-Tunisian
2) Shortly before the attack began, ISIS posted a sick image on their social media, pictured below. (Taken from "Mirror News", 15 July 2016)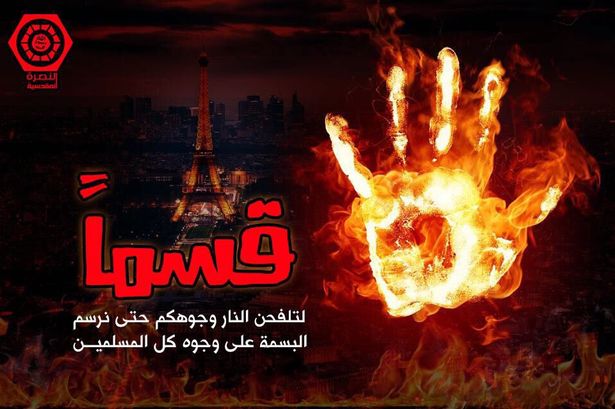 NEWS BRIEF: "Nice Terror Attack", Mirror News, 15 July 2016
"A sick poster apparently created by ISIS celebrating the terror attack on Nice is being shared on Twitter. The image shows the Eiffel Tower in flames and a knife-wielding jihadi together with a message in Arabic."
Do not be deceived: ISIS has declared war on the West, even as her forces are being defeated on battlefields in the Middle East. Since the attacks of 9/11, we have warned that Western societies are uniquely open and vulnerable to attack. I am surprised that extreme Islamic jihadists have taken so long to strike back, since President Bush initially began this conflict in October, 2001!
Now, let us briefly go back to this featured article to examine the part of this picture depicting the Eiffel Tower on fire. Mainline news organizations did not mention the Eiffel Tower being burned. Was it burned"
NEWS BRIEF: "Fire near Eiffel Tower an accidental blaze quickly put out, not connected to Nice attack ", New York Daily News, July 15, 2016
"A truck carrying fireworks caught fire next to the Eiffel Tower in Paris just as an attack killed as many as 73 Bastille Day revelers in the French Riviera capital of Nice. The blaze in Paris ignited at the Pont d'Iéna bridge over the River Seine due to a 'technical incident', the Paris Police Prefecture announced on Twitter Thursday night."
So, fire burning part of the Eiffel Tower was a coincidence to the truck attack in Nice? That is one big coincidence, since the ISIS burning hand poster showed the Eiffel Tower burning!
Both TV Commentator Bill O'Reilly and Donald Trump agreed that terrorism has reached worldwide with a level of carnage that could spark a World War.
NEWS BRIEF: "O'Reilly and Trump Warn: It's a World War Scenario With Terrorism ", Breitbart News, 14 July 2016
"On Thursday's broadcast of the Fox News Channel's 'O'Reilly Factor', while discussing the attack in Nice, France host Bill O'Reilly and presumptive Republican presidential nominee Donald Trump stated there is a world war scenario with terrorism."
"O'Reilly said that if the attack in France is terrorism, 'I believe it's a world war now. We are in a world war scenario. It's no longer just isolated ISIS attacks. Do you agree with that?' Trump responded, 'I certainly do. And I've been saying it for a long time, and it's out of control'."
In 2007, we posted an article in which we revealed that the Global Elite have created five global crises which can only be "solved" by a Global Government.
NEWS2193 - "Five Major Created Global Disasters Are Being Constantly Preached To The World As Reasons To Form The Global New World Order!", Posted 2007
Satan long ago realized that not all the peoples of the world could be duped with just one monstrous lie. Therefore, Satan has always created numerous false religions, knowing that, if a person is not deceived by one lie, he might be deceived by the next one. For that reason, the world struggles under the darkness of many hundreds of false religions.
"In like manner, the Illuminati must have decided that they needed multiple global crises in order to convince the vast majority of the peoples of the world to accept a dictatorial government, and a global economy and a global ecumenical religion! Let us review the five major global crises to which the peoples of the world are now being subjected. Remember, in every instance, the answer to this problem which has set the world upside down is to go global -- to a global dictatorial government!
Let us now examine the numerous global crises which the Illuminati has created:
1) Global Warming / Cooling / Climate Change
2) Global Terrorism
3) Global War -- World War III - Will not officially begin until Antichrist is on the scene
4) Global Economic Disaster - Will not occur until after Global War is occurring
5) Global Virus Pandemic
As you can see, this worldwide terrorist infestation is on schedule and is creating chaos, out of which will come the "NOVUS ORDO SECLORUM" on the back of your One-Dollar Bill!
2. After 8 years of a black President, America seems more racially divided than in many decades, as all-out civil war is possible.
NEWS BRIEF: "How Obama Divides America: You're either with him or one of the bad guys", Reason.com, July 15, 2016
"At the funeral service for five slain Dallas cops, President Barack Obama delivered another one of his needlessly politicized lectures. As is customary these days, those who were critical of his rhetoric were branded racists and unthinking haters ... like most people on the left these days, he no longer bothers to make a distinction between a policy position and a moral struggle."
Virtually every speech given by a politician these days following a really bad news event glosses over the real issue, because the politician wants to use the bad news story to advance their own pet cause, and not to attempt to really solve America's problems.
"In this context, why wouldn't the president lecture us about gun control in his eulogy? Why wouldn't Obama offer completely unsubstantiated claims about guns? "It is easier for a teenager to buy a Glock than get his hands on a computer or even a book," was a contention Obama made that no rational person could ever possibly believe. It's meant to convey the idea that half the nation cares more about the NRA than about children."
This kind of rhetoric is called "creating a straw man", which the speaker can then knock down; it is also called "collective responsibility", i.e., punishing everyone for the actions of one man, or a small group of men. Liberal Democrats love collective responsibility, for it justifies the government stepping in to "solve the problem".
"If you continually claim that every problem in America is driven by hate, people may start believing you. According to a new Pew Research Center poll, Americans' perception of race relations is more negative today than it has been in 20 years. About 48 percent of those polled claim that "race relations are generally bad."
"Meanwhile, this administration has made a habit of using the power of the state to coerce and compel others to accept its cultural attitudes. For him, unity means little dissent ... One man can neither unify us nor break us apart on his own. But it's been a long time since we've had a president as divisive as Barack Obama."
As voters go to the polls in November, will they hold Obama's' former Secretary of State responsible for this precipitous drop in racial harmony?
3. Law Enforcement responsible for maintaining order at both the Republican and Democrat Presidential conventions are very concerned that protestors may riot so strongly that matters could get out of control.
NEWS BRIEF: "Former top law enforcement official warns of inevitable convention clashes", USA Today, July 10, 2016
"The former chairman of a White House policing task force said Sunday that clashes at the upcoming national political conventions may be unavoidable because of an increasingly divisive racial and political climate that has placed the country on edge."
"Former Philadelphia Police commissioner Charles Ramsey, who led President Obama's effort to improve national law enforcement relations in the aftermath of the 2014 civil unrest that followed the police shooting of a black teenager in Ferguson, Mo., said on NBC's Meet the Press that he feared authorities may not be able to totally prevent violence with thousands of protesters poised to descend on Cleveland and Philadelphia in the next two weeks."
" 'We are sitting on a powder keg', Ramsey said."
America is, indeed, sitting on a powder keg. But, this powder keg has long been planned by the Elite to drive America into such chaos and disaster that the only way to restore law and order is by imposing an Absolute Dictatorship on the entire country.
Listen to the Protocols of Zion again, as this part of the Plan is unveiled.
"..... There is another reason also why they will close their eyes: for we shall keep promising them to give back all the liberties we have taken away as soon as we have quelled the enemies of peace and tamed all parties ..... It is not worthwhile to say anything about how long a time they will be kept waiting for this return of their liberties ....." ["The Protocols of the Learned Elders of Zion", Protocol #11 -- The Totalitarian State]
Make no mistake about where this war on Terrorism is leading us -- straight into Totalitarianism!
How does the Illuminati plan to bring all of mankind throughout the world to the point where they can suddenly enslave them all?
"When we come into our kingdom, our orators will expound great problems which have turned humanity upside down in order to bring it, at the end, under our beneficent rule. Who will ever suspect, then, that all these peoples were stage-managed by us according to a political plan which no one has so much as guessed at in the course of many centuries?" [End of Protocol No. 13 ]
Did you catch that telling sentence which proves the fact that world events are being caused by a worldwide conspiracy?
"Who will ever suspect, then, that all these peoples were stage-managed by us according to a political plan which no one has so much as guessed at in the course of many centuries?"
After five centuries of plotting and of warfare, the Global Elite seem to be very close to their final goal of imposing an Absolute Dictatorship over the entire world.
And, more importantly, God's prophecies seem to be coming true at the same time as the plan of the Elite is coming to fruition. but, we should not be surprised, because God's prophecies are driving the script of the Elite.
Listen to Jesus' prophecies describe how He is in control of it all:
"And the ten horns which thou sawest are ten kings, which have received no kingdom as yet; but receive power as kings one hour with the beast .... For God hath put in their hearts to fulfil his will, and to agree (to act in harmony), and give their kingdom unto the beast, until the words of God shall be fulfilled." (Revelation 17:12, 17)
As you go to bed every night, sleep well, knowing that the leaders of the United States, Europe, Russia and China are actually "acting in harmony", are "agreeing" until Antichrist arises to the world scene!
Once you truly understand this powerful Scriptural understanding, you will feel a lot less fear and trepidation. Know this truth, and you shall be set FREE!