Hot News
1. This Palm Sunday, remembering when Jesus fulfilled THE most shocking, and most important, prophecy ever!
Exactly 173,880 days (483 Jewish Years) after the prophecy began, Jesus was declared the Jewish Messiah!
Jesus' Resurrection - Proof of Christianity's Most Important Doctrine
Did you realize that God told the Jewish people THE EXACT DAY in which Messiah was going to be revealed to the entire nation of Israel? Furthermore, God told them 483 years before it happened, so they could not miss it! No Jewish leader could miss is momentous event! All Jewish leaders had to do was to sit back and wait for the clock to tick down and prepare a proper welcome for Messiah!
We are going to study the prophecy concerning the timing of the coming of Jesus Christ, given in unbelievable detail 600 years before Jesus was born.
Daniel 9:24-26, "Seventy weeks of years, or 490 years are decreed upon your people and upon your holy city Jerusalem, to finish and put an end to transgression, to seal up and make full the measure of sin, to purge away and make expiation and reconciliation for sin, and to bring in everlasting righteousness, and to seal up vision and prophecy and to anoint a holy of holies. Know, therefore, and understand, that from the going forth of the commandment to restore and to build Jerusalem until the coming of the anointed one, a prince, shall be seven weeks of years, and sixty-two weeks of years; it shall be built again with city square and moat, but in troublous times. And after the 62 weeks of years, shall the anointed one be cut off (killed) and shall have nothing and no one belonging to and defending Him..."
The remaining one week is found in verse 27, and refers to the last seven years of earth's history, the period which we know as the "Great Tribulation".
The term "Weeks of Years" was a common Jewish term. It meant literally seven (7) years. The term comes from God's commandment in Leviticus 25:3-4 to farm a piece of land for only six years, allowing it to lie fallow for the seventh. This seven-year period came to be known as a "week of years". Therefore, Seventy Weeks of Years was 490 Hebrew years.
Note this prophecy contains three parts:
1. 7 Weeks of Years (49 Hebrew Years)
2. 62 Weeks of Years (434 Hebrew Years)
3. 1 Week of Years (7 Hebrew Years)
At the precise point in history when the 7 + 62 Weeks of Years occurred, Israel could expect Messiah to announce Himself as Messiah. What great news!
And, history confirms that this prophecy was fulfilled to the letter!
The Mathematics Of The Prophecy
A. The First Seven Weeks (49 Jewish Years)
If you study the book of Nehemiah, you will find the account of the Jewish pilgrimage to rebuild Jerusalem following King Artaxerxes' decree. The prophet Nehemiah assumed charge of this rebuilding effort, which was carried out in such extreme hardship and danger that the builders carried swords with them as they were building the walls. Thus was fulfilled precisely the prophecy in verse 25b,"...it shall be built again with city square and moat, but in troublous times."
This effort began in 445 B.C. and culminated in 396 B.C., exactly 49 years, just as foretold.
B. The Second Period (62 Weeks of Years, 434 years)
Daniel 9:26 foretells that the "anointed One" would come after this period and would then be killed. This wording is understood by most conservative scholars to refer to Jesus Christ, not at His birth, but at His presentation as the Messiah-Prince. (2) "There were only two events in the life of Christ when He was officially set apart. One was His baptism and the other was His triumphal entry into Jerusalem." (3) This latter event has become known as Palm Sunday. When did Palm Sunday occur? "The Messiah (Jesus) came to Jerusalem on Passover in the year A.D. 32, which was April 6." (4)
C. The two periods combined (7 + 62 = 69 Weeks of Years, or 483 Jewish years, or 173,880 days).
* When we count from March 14, 445 B.C. to April 6, 32 A.D., we have 477 years, 24 days. However, we must deduct one year because only one year lapses between 1 B.C. and 1 A.D. This gives us 476 years, 24 days or 173,764 days.
* Then, we must add 119 days to account for the 119 leap years during these 476 years (476 divided by 4). Now, we have 173,883 days.
* However, there is a slight inaccuracy in the Julian calendar when compared to the solar year. The Royal Observatory in London calculates that a Julian year is 1/128th of a day longer than the Jewish solar year. When we multiply 476 years times 1/128, we get three days. Subtracting three from our figure above, we arrive at the 173,880 days. (5)
Therefore, there are exactly 69 Weeks of Years (173,880 days) between the decree of King Artaxerxes in 445 B.C. to rebuild Jerusalem to Palm Sunday, April 6, 32 A.D.!! God foretold to the day when Messiah would present Himself to Israel as their Messiah-King. We see this event recorded in Matthew 21:1-11.
Now we come to the next point: God had so wonderfully foretold to Daniel the exact day on which Messiah was to announce Himself as King.
Jesus fulfilled this prophecy to the day when He rode into Jerusalem on a donkey, while the people proclaimed Him as their Messiah. This event is celebrated each year as "Palm Sunday". This day was exactly 69 Weeks of Years (173,880 days) since the decree of King Artaxerxes in 445 B.C.! All the Jewish people had to do is to keep alert and counting, throughout the generations following Artaxerxes' decree! Had they done this, they would not have missed Jesus as their Messiah, would not have killed Him, and perhaps, the promises given to Millennial Israel could have come true right then.
Jesus Himself referenced this particular day on a number of occasions.
"Jesus saith unto her, Woman, what have I to do with thee? mine hour is not yet come." -- John 2:4 -- Strong #5610 - any definite time, point of time, moment
"Then they sought to take him: but no man laid hands on him, because his hour was not yet come." - John 7:30 - Strong #5610
"These words spake Jesus in the treasury, as he taught in the temple: and no man laid hands on him; for his hour was not yet come." - John 8:20 - Strong #5610
"And Jesus answered them, saying, The hour is come, that the Son of man should be glorified." - John 12:23 - Strong #5610
"These words spake Jesus, and lifted up his eyes to heaven, and said, Father, the hour is come..." - John 17:1 -- Strong #5610
As you can see, each time Jesus spoke of His "hour", He was referring to this supernaturally precise prophecy as to when Messiah was going to be announced to the Jewish people.
You would think that this most incredible fulfillment of prophecy would be preached annually at some time leading up to Palm Sunday. Yet, the apostasy of the Christian Church is so deep and wide that very few preaches are even remotely aware of this very important proof of God's Omnipotence and His love for the Jewish people!
Start now informing your pastor of this wonderful prophecy and urgently asking him to preach it during this season!
Mac Dominick covers this prophecy with graphic illustrations in the new DVD, Revelation, shown below as one of the prerequisites to understanding this study.
"REVELATION: ARE WE IN EARTH'S FINAL HOUR?"
Volume One: "Jesus' Warning To His 7 Churches"
We are going to examine areas which no other teacher has even addressed, but you should expect this kind of in-depth valuable information from Cutting Edge Ministries! Jesus wrote this prophetic book through John the Apostle, addressing:
• 7 Christian Churches in Asia Minor
• 7 Prophetic Seals
• 7 Trumpet Judgments
• 7 Histories (Persons)
• 7 Bowls (Vials)
• 7 Judgments (Dooms)
• 7 New Things
Since God considers the number Seven as His Perfect Number, we can see that God is offering a final prophetic book which consists of 7 subjects, each of which contains 7 events. A Divinely Perfect Book in all ways!
A few of the points we will cover in Volume 1 include:
The Rapture of the Church true or false?

Will the Antichrist be Islamic?

How do we understand Islamic eschatology?

Who is ISIS, and will ISIS conquer the Middle East?

What is the true bloodline of the Antichrist?

What is the fate of Russia?

How can the stars fall to earth from heaven?

Was there any prophetic significance to Nazi Germany?

Can we find the USA in the Book of Revelation?
We will teach the Book of Revelation in a survey format that will mingle a traditional, contextual approach to the book with a digression to apply these teachings and prophecies to cover the influence (or lack of influence) of the events we see taking place right before our eyes.
Run Time is nearly 2 hours -- http://www.cuttingedge.org/detail.cfm?ID=2729 - Shipping Friday, Feb 26
2. Russian FM Lavrov "insists" that the Kurds be invited to the Syrian Geneva Peace Talks.
President Bush's "News Middle East Map" of 2006 carves a Kurdish State out of several nations!
NEWS BRIEF: "Russian FM Lavrov: Kurds must be invited to Geneva peace talks to preserve Syria's integrity", Russia Today News, 14 March 2016
"Moscow strongly insists that the Kurds be invited to the the upcoming Syrian peace talks in Geneva, Russian Foreign Minister Sergei Lavrov said ... 'We believe that the process, which starts in Geneva, must necessarily include the Kurds ... The minister also stressed that Russia will press the UN not to "surrender to 'ultimatums' and invite the Kurds to the table of the negotiation process right from the start'."
Over the past several hundred years, the Kurds (Ancient Medo-Persians) have been a most oppressed people. since these Kurds have been spread so wide over the Middle East, a number of nations have been guilty of murdering them: Turkey, Syria, and Iraq have been the most guilty.
However, as the map below shows, a new Kurdish State will be carved out of the Middle East.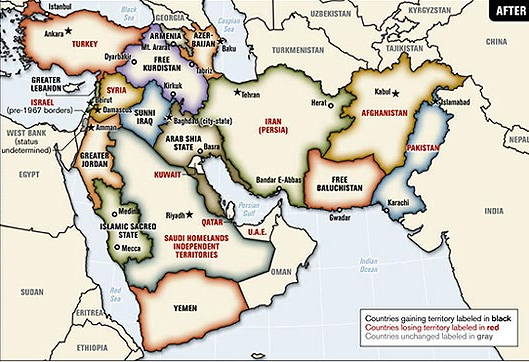 This "New Pentagon Map of the Middle East" was printed in the American Armed Forces Journal in their June, 2006, issue. When furor erupted in the capitals of nations throughout the region -- including from American Islamic allies -- over what this map depicted, the White House quickly and officially distanced itself from it. However, the damage was done, because foreign leaders knew all about new strategy of forcing all nations of the world into the cashless society, a strategy covered in the book, "The Pentagon's New Map", published in 2004, authored by Thomas M. Barnett, strategic researcher and professor at the U.S. Naval College, and Illuminati extraordinare!
As you can see, this map depicts Iraq being split into three distinct nations:
a) "Free Kurdistan" in northern Iraq
b) Sunni Iraq in the south-western sector
c) Shia or Shi'ite Iraq in the south-eastern sector, with Basra as the capital
About six weeks before President Bush ordered the invasion of March 20, 2003, Cutting Edge posted an article in our Daily News Updates charging that President Bush's secret plan was to split Iraq into the three nations, which the map now depicts. Of course, the White House immediately denied that splitting Iraq into three nations was even contemplated!
Obviously, for the Kurds to receive this new country -- Free Kurdistan -- both Turkey and Iran are going to have to relinquish significant territory! Turkey will be forced to give up some land on her Eastern border with Iraq, while Iran will have to forfeit some of her land on her Western border with Iraq. In this past year, since this map was made public, Turkey's pro-American, pro-Western military has undergone a great transformation
Turkey will resist giving up territory to the Kurds the most as she has been fighting the Kurds for decades. But, now that Russia has joined the United States in calling a Syrian Peace Conference, the time for redrawing the entire Middle East Map may be close at hand!
---
3. West Virginia follows the trend in Gun Ownership, allowing Concealed Carry without a permit.
Total gun confiscation will not be possible until Antichrist is on the scene and uses the controversial "technological solution"!
NEWS BRIEF: "West Virginia legalizes concealed carry without a permit", Fox News, March 8, 2016
"The West Virginia legislature successfully overturned the veto of Democratic Gov. Earl Ray Tomblin's veto on Saturday in a bipartisan effort to enact permitless gun carry in the state. Beginning June 5, anyone over age 21 who can legally possess a firearm will be allowed to carry it concealed on their person without having to obtain a permit. West Virginia has long allowed permitless open carry but, like most states, required a permit to carry a concealed firearm. With the new law the state will become the eighth in the nation to implement what gun rights activists call 'constitutional carry'."
With every new public shooting comes calls from Liberal activists and their politician mouthpieces for new Gun Control Laws. And, every time this scenario plays out, more American realists buy guns and ammunition. Further, alternate media has done a very good job raising the teaching of history that no Absolute Dictatorship has ever existed in a country where private citizens owned their own guns.
Given the fact that over 100 million Americans own over 300 million guns, how are New World Order leaders going to ever seize them? The death toll amongst the soldiers sent to confiscate these private guns is so high as to be prohibitive. Some estimates of the death toll run as high as 10 million.
High technology from D.A.R.P.A. may provide the answer.
The fact is very plain. Just as this Illuminati Card demonstrates, Gun Control is one of the actions the Illuminati intends to take in order to implement their New World Order, a.k.a. the Kingdom of Antichrist.
At some point, the government will move to neutralize armed citizens and seize their guns. We believe two factors will allow the Illuminati to successfully remove arms from the clenched hands of determined American citizens.
1) Troops removing the weapons will be foreign. The Russian Communist experience under Lenin proved that national troops cannot be counted upon to be brutal to their own people. However, foreign troops had no trouble being incredibly brutal to the citizenry targeted by the Elite for subjugation. Therefore, the Plan calls for foreign troops to be introduced to American soil in order to implement the new division of this country into "Military Patrol Zones" (Read full details in NEWS2079, entitled, "President Bush Invents Yet Another Reason He Could Impose Martial Law Under Military Rule")
2) DARPA is feverishly working on an implantable chip known as M.M.E.A. -- MULTIPLE MICRO ELECTRODE ARRAY -- which can make all persons in a particular locality, like a large city, go to sleep, as long as they had been implanted with an M.M.E.A. chip. (For full details read NEWS1875b). Once all people in a city were put to sleep, it would be easy for foreign troops to enter their property and seize their guns.
Of course, we know that the implementation of the "Mark of the Beast" awaits the Tribulation Period, when the False Religious Prophet forces all mankind to take this implantable "Mark" (Rev 13:16-18). Thus, gun owners may not need to fear gun seizure until Antichrist is on the world scene.