Hot News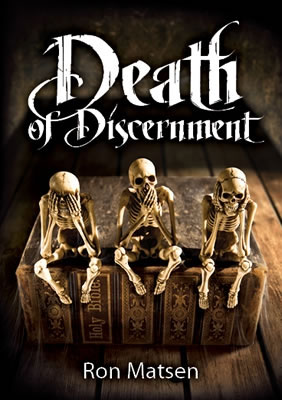 DVD
1. As American Christians gravitate toward Donald Trump as President, let us examine how God chooses a leader of His nation.
Once we understand God's standard for a leader, we will better understand whom we should support.
NEWS BRIEF: "Are Christians abandoning their values to support Donald Trump? Would Jesus have been 'pragmatic'?", AL.com, March 7, 2016
"The list of prominent evangelicals denouncing Donald Trump is growing, but is anyone in the flock listening? The bloc of voters powering the real estate mogul through the Republican primaries is significantly weighted with white born-again Christians."
"... top evangelicals are facing their own dark night, wondering what has drawn so many Christians to a twice-divorced, profane casino magnate with a muddled record on abortion and gay marriage."
Cutting Edge has repeatedly warned that, when I was a salesman of Toys, Trains, and Games, I called on New York City game stores for 15 years. Donald Trump, during the 1980's - 1990's was considered a Liberal Democrat playboy. Yet, during the past 4 years, as he has geared up for a run at the White House, Trump has reinvented himself as a Conservative Republican.
A number of Evangelical Christian leaders have publicly announced their support for Donald Trump, even though he is not a Born Again Christian, and does not claim to be. These leaders say that America needs a man who knows how to run an economy and create jobs. After all, they opine, America is NOT electing a "Religious Commander In Chief".
And, too many Christians who cannot Biblically discern a matter have fallen for this man for President.
What is the basis upon which God chooses a leader for the nation? This issue is critical, because we are living in the End of the Age, where unparalleled deception is sweeping over this nation, and confusing an issue upon which Christians should never be deceived.
God has just told the prophet Samuel to go to Jesse the Bethlehemite, for one of his sons has been chosen to be King of Israel. Samuel looked at all Jesse's sons save one, and he was impressed by them all.
"And it came to pass, when they were come, that he looked on Eliab, and said, Surely the LORD's anointed is before him. " (1 Samuel 16:6) NOTE: Eliab was Jesse's first son to be examined by Samuel. The prophet liked what he saw and would have chosen him. But God said,
"Look not on his countenance, or on the height of his stature; because I have refused him: for the LORD seeth not as man seeth; for man looketh on the outward appearance, but the LORD looketh on the heart." (1 Samuel 16:7)
Ahah! Now we understand. God chooses a leader because of his heart. In other words, God wants a leader of His nation to be a man whose mind, heart and soul are totally inclined toward Him and His commandments. David's prayer demonstrates this truth.
"O lord, thou hast searched me, and known me." (Psalm 139:1, David praying to the Lord)
Now, let us see upon what basis God chose Solomon to be King. God is speaking to young Solomon, giving him wise counsel.
"And you, Solomon my son, know the God of your father [have personal knowledge of Him, be acquainted with, and understand Him; appreciate, heed, and cherish Him] and serve Him with a blameless heart and a willing mind. For the Lord searches all hearts and minds and understands all the wanderings of the thoughts. If you seek Him [inquiring for and of Him and requiring Him as your first and vital necessity] you will find Him; but if you forsake Him, He will cast you off forever!" (1 Chronicles 28:9; Parallel Bible, KJV/Amplified Bible Commentary)
Let us consider all that God required of Solomon's heart and mind, as King.
* "... know the God of your father, have personal knowledge of Him, be acquainted with, and understand Him; appreciate, heed, and cherish Him ..."
* "serve Him with a blameless heart and a willing mind."
* "For the Lord searches all hearts and minds and understands all the wanderings of the thoughts."
Therefore, God chooses a man for a leadership position based upon his personal knowledge of Him and of his daily walk in obedience to His commandments. This Biblical basis is the only firm foundation upon which genuine Christians can select a leader! We moan and groan about how far America has fallen from many Biblical ideals, but we keep electing men as leaders whose hearts are not in tune with Jesus Christ or the commandments of the Bible.
We are now beginning to receive our due Divine Judgment for our sin in selecting ungodly leaders; God's judgment will culminate with the appearance of Antichrist, but for now, tens of millions of unborn babies have already paid the price for our sin, our nation is embracing gay and lesbian unions and our people have gone rushing after pagan practices and beliefs.
During the Presidential election of 1988, I came to the understanding that the Illuminati will not allow anyone to progress through the election process and get to the top unless that person is sold out to the Global Plan to achieve the "NOVUS ORDO SECLORUM" (New World Order) on the back of our One Dollar Bill.
I have not voted for President since that election. I vote for State and Local issues, but not President. The Illuminati simply will not allow anyone to ascend to the White House who is not in full accord with their plan. If Donald Trump truly insists upon following his plan rather than the one laid out for him, he will join Abraham Lincoln and John F. Kennedy in the ranks of the assassinated!
However, I truly believe that Trump is still the old Liberal Democrat he was during all those years in New York City. Pay attention to his positions and you will see into his heart, as God commands us to do. You will begin to exercise proper "Biblical Discernment"!
2. Israel's strategic position in the world is dramatically improved.
Since the attacks of 9/11/2001, Presidents George W. Bush and Barack H. Obama have systematically destroyed Israel's military enemies.
NEWS BRIEF: "Intelligence Report: Israel's strategic position has improved", The Jerusalem Post, 3/5/2016
"The IDF sees an outside possibility of war in 2016 against Hamas in the south or Hezbollah in the north, but all in all Israel's strategic position has improved. The NIE (National Intelligence Estimate) was drafted by the research department of Military Intelligence with input from the research departments of Mossad (the external espionage agency) and the Israel Security Agency (the domestic service – Shin Bet)."
"The most important part of the new report is the assessment that the probability of war this year is low. Senior military sources tell The Jerusalem Report that this applies on all fronts from Gaza in the south to Lebanon and Syria in the north. Neither Hezbollah nor Hamas have plans or any interest to initiate a war against Israel."
This annual report is most notable for what it does NOT say, what it does NOT address. Israel simply does not mention any possibility of a conflict with Iraq, Syria, Egypt, Jordan, Afghanistan, or Saudi Arabia. This glaring omission of traditional Jewish enemies can only be understood when you realize that these enemies of Israel currently have no armed forces with which to challenge Israel on the field of battle!
Since the attacks of 9/11, Presidents George W. Bush and Barack H. Obama have destroyed the armies of these traditional enemies of Israel! Western armed forces have destroyed Islamic armed forces for Israel.
Therefore, whenever anyone starts an alarm about a conflict in the Middle East between Israel and her traditional enemies, you can safely discount these warnings as false. Islamic hordes may demand that their governments launch a Third World War against Israel, but these governments cannot, for America has destroyed them!
The only way in which a conflict in the Middle East can erupt into a Third World War is if the leaders of the Ten Final Kings of the Earth allow it. But, the Bible clearly states that the final ten rulers of the earth are cooperating -- are 'acting in harmony' until all God's prophecies are fulfilled, starting with the appearance of Antichrist.
Listen to God's Word of Prophecy:
"And the ten horns which thou sawest are ten kings ... For God hath put in their hearts to fulfil his will, and to agree (act in harmony), and give their kingdom unto the beast, until the words of God shall be fulfilled." (Revelation 17:12, 17)
3. Establishment Republicans continue to flirt with Third Party disaster.
This scenario is so real, Trump even warned against it, as it would inevitably thrust Hillary Clinton into the White House.
NEWS BRIEF: "Mitt Romney won't rule out accepting GOP nomination at contested convention", The Washington Times, March 6, 2016
"Mitt Romney, the 2012 Republican presidential nominee, refused Sunday to rule out becoming the nominee again this year at a brokered convention, though he insisted he couldn't imagine that happening. 'I don't think anyone in our party should say, 'Oh no, even if the people of the party wanted me to be president, I would say no to it.' No one is going to say that," Mr. Romney said on NBC's 'Meet the Press'."
Donald Trump immediately warned that a Third Party candidacy would immediately hand the election over to Hillary Clinton, a scenario of which we have repeatedly warned.
A vote for a Third Party candidate is an indirect vote for Hillary
---
Dr. Kevin Clarkson and guest, David Bay, explain how Obadiah 15-18 foretells the annihilation by fire of an entire nation, the House of Esau, which today are the Palestinians. Israel possesses the "Weapon of Fire" (Fuel Air Bomb) that could fulfill this prophecy precisely! Order the DVD
---
Why Is Your Pastor Ignoring Fulfillment of Prophecy In the Daily News?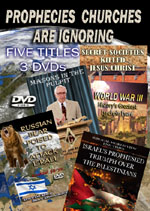 "Prophecies Churches Are Ignoring" - 3 DVD set
Regularly $89.94, Now only $29.94, Saving You $60!
Cutting Edge Director, David Bay, teaches six hard- hitting lessons on six unique End Times instances where events are fulfilling prophecy, but no one is talking about it. Five hot topics on three discs.
1) Israel's Prophesied Triumph over the Palestinians
2) Russian Bear Poised To Strike Israel
3) Masons In The Pulpit
4) World War III: History's Greatest Lynchpin Event
5) Secret Societies Killed Jesus Christ
Almost 6 Hours of Teaching - http://www.cuttingedge.org/detail.cfm?ID=2718
Each message is followed by a complete Salvation Plan, so each DVD becomes a Soul-Winning tool.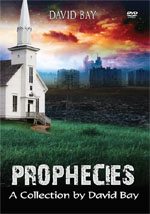 "Prophecies A Collection by David Bay" - 3 DVD set
Regularly $89.94, Now only $29.94, Saving You $60!
Why Are Genuinely Born-Again Pastors So Terribly Blind As To The Prophetic Times In Which We Live? 'Speak to us smooth illusions' [Isaiah 30:10] is the desire of too many pastors, while Jesus is lamenting, 'You did not know the time of your visitation' [Luke 19:44] Too many pastors refuse to believe that the unparalleled deception foretold in Matthew 24:24 really applies to today's events and leaders; thus such pastors are so wide open to spiritual deception.
Pastors also are reluctant to alert their people that events today are uniquely fulfilling key Bible prophecies. As a result, Christians by the many millions do not realize that the time for the Rapture of the Church and for Antichrist to arise is very, very close.
There are a number of unique prophecies being fulfilled that are exceedingly critical, but pastors and ministries are ignoring them totally, to the severe detriment of all Christians. This 3-DVD set contains 6 messages, each of which is unique to Cutting Edge Ministries/Films.
Here are the six hot topics:
* The Prophetic Beast Arises: Ten Toes of Daniel Are Forming
* Rapture Precedes Israel's Final 'WEEK' of History
* Eternal Security: God's Anchor In A Brutal Storm
* End Times' Judgment On Iraq (Babylon) Worse Than Believed Possible - Isaiah 13
* Invisible, Invincible Mind Control You are Targeted
* America Identified In Prophecy: Economic Babylon of Revelation 18
http://www.cuttingedge.org/detail.cfm?ID=2656