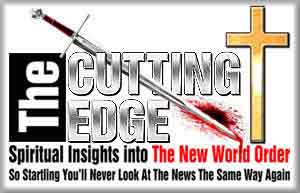 News Alert
Monday 12/15/2017

View the full News Alert online here
Get your daily news from our Daily News Updates -- 40-80 Articles Per Day Trustworthy Articles - "you will never look at the news the same way again"
---
SPECIAL APPEAL - NEARLY AT OUR GOAL!
To all our readers: We will get straight to the point: Last Friday we ask you to ensure the financial success of Cutting Edge Ministries. We would like to thank so many who responded and gave, because we are nearly at our goal. It's December 15, we are close to covering our year end needs, but time is running out in 2017 to help us. We depend on donations averaging about $20. Only a tiny portion of our readers ever give. If everyone reading this contributed only $3, we could keep Cutting Edge thriving for years to come. The price of your Friday coffee is all we need.

---
Critical News Headlines -- End Times
1. President Trump announces he has the votes in Congress to pass his "Tax Cuts and Jobs Act".
President says this act will create a "New Economic Miracle" and will be paid for by increased economic growth.
But, Establishment Republicans are threatening to derail this bill using the same tactics as they used in Alabama to defeat Judge Roy Moore!
2. The Chinese invasion of Taiwan continues as part of the World War III plan.
Chinese warplanes are practicing their "encirclement" of Taiwan.
3. God foretold that, at the End of the Age, He would "call" all His people home to Israel.
Jews are fleeing persecution all around the world; France is the latest country where oppression is so severe that Jews are flowing to Israel.
---
NEW DVD IN OUR GENESIS SERIES - Volume 2
Shipping Now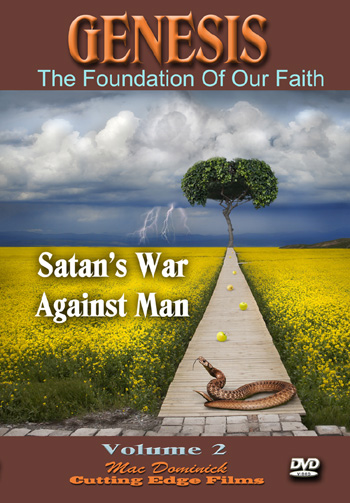 Amidst God's dazzling and resplendent new creation called the 'Heavens and the Earth', created specifically for the happiness and joy of His really special creation, Adam and Eve, Satan suddenly launched a vicious war against man.
And, Satan knew exactly where to strike. Taking the form of a Serpent, Satan spoke gracious words to an innocent, gullible Eve. He convinced her that God REALLY did not mean what He said when he told Adam that they could not eat of the fruit of the Tree of Knowledge and Evil, and then Satan painted such a wonderful word picture of the fruit that Eve simply had to try it.
Satan must have been howling with glee as he witnessed God changing the nature of Adam and Eve to where they would now be susceptible to physical death and they would have to earn their sustenance through hard work fighting weeds and brambles, wild animals, dinosaurs, demons who have taken the form of men (Nephilim, Genesis 6), paranormal activity, parallel dimensions, and a new nature of sin and of murder.
All mankind faced a world as frightening and dangerous as anyone could have possibly imagined. Little did they know Satans true plan, i.e., to so corrupt every human being that Jesus, the Redeemer of Mankind, would be thwarted in His plan to die on Calvary. Therefore, Genesis 6 reveals that Satan flooded the world with Nephilim who mated with human wives, producing a new creation that was no longer purely human, but mixed with demonic DNA.
Satan's strategy was to corrupt the human race and thus make mans redemption impossible. But, God retaliated with a worldwide flood that saved only one genetically pure family that will make the gift of redemption to mankind a reality.
It is an exciting journey that will give you basic theological truths and the answers to may of life's most difficult questions. Please join us as we will take one more step in our quest to reveal how God will ultimately triumph over Satan and empower mankind to share in the glorious victory.
Run Time 98 minutes, Only $19.99 Order your copy - Shipping Now
"GENESIS: The Foundation of Our Faith - Volume 1, The War Against God"
Regularly $24.99, Only $19.99
If you liked Mac Dominick's Revelation Series you will love his Genesis Teaching, because Mac also teaches a combination of Traditional Bible exegesis plus unique Cutting Edge understandings.
'The War Against God'
2 hours run time, Mac plans 3 DVD's in this series Watch the trailer

---
---
---
21 NEW BOOKLETS DESIGNED TO FIGHT OUR SOCIETY'S CURRENT BIBLICAL DECAY
Only $1.95 Each - See them all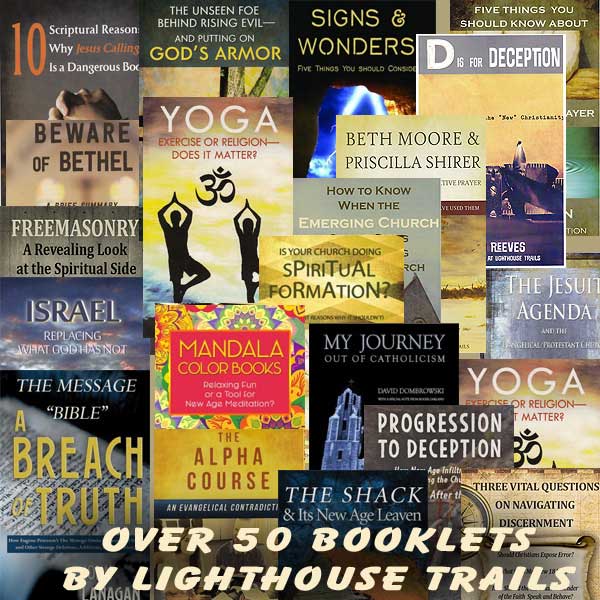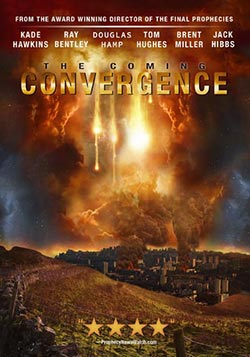 "The Coming Convergence" DVD - Dynamic Prophetic Message Whose Time Has Come
Jesus boldly proclaimed that one of the major prophetic signs that His return was close was CONVERGENCE, "when you see these signs, lift up your heads, for your Redemption draweth nigh" (Luke 21:22) Jesus' second coming was also compared to a woman's labor pains, which converge at the end to give birth to the baby. Likewise, we are to expect a 'convergence' of prophetic labor pains just before Jesus returns. That 'convergence' is upon us NOW!
Jesus chastised religious leaders in the first century for not knowing the time of His arrival. Will we make the same mistake today? Christ stated how His second coming would be preceded by global events signifying the end of our age. We may not know the day or the hour, but we can know the season!
The Coming Convergence also pulls you deeper into the reality of an approaching apocalypse as you follow the story of a young girl that is living through the end of days. Her words of warning are a wakeup call to the horrors mankind will soon face. The
conclusions of The Coming Convergence explain how the scenarios described within Revelation are converging before our very eyes.
BOTTOM LINE: THE CONVERGENCE OF PROPHESIED EVENTS IS THE STORY!
This documentary-film features Kade Hawkins, Ray Bentley, Douglas Hamp, Tom Hughes, Brent Miller Sr and Jack Hibbs!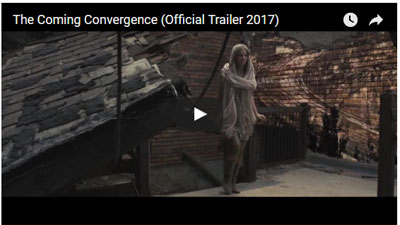 ---
Critical News Analysis -- End Times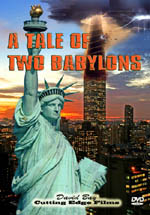 DVD
1. President Trump announces he has the votes in Congress to pass his "Tax Cuts and Jobs Act".
NEWS BRIEF: "Trump Tax Speech: 'We Stand on Verge of New Economic Miracle'," NewsMax, 13 Dec 2017
"President Donald Trump cheered an agreement Wednesday between the House and Senate on tax reform legislation as one giving American families and companies the "dream that you want," and urged Congress to pass the measure before Christmas."
"We are going to make our economy work for you again," Trump said of the cuts. "And we are going to make the American dream . . . be the dream that you want for your children and your grandchildren once again."
"Fifty-five years ago this week, President John F. Kennedy, a Democrat, launched a historic effort to pass sweeping top-to-bottom tax cuts," Trump said. "A half century later we are reminded that lowering taxes is neither a Republican or Democrat idea, but an American principal and an American idea."
While it is true that cutting taxes is an "american principal", the reality is that Liberal Globalists for the past several decades have wasted terrible amounts of money in overseas wars and in domestic Welfare programs have increased taxes on the Middle Class to the point where many "working poor families" are being ground into the dirt.
President says this act will create a "New Economic Miracle" and will be paid for by increased economic growth.
NEWS BRIEF: "Analysis: Tax Cuts and Jobs Act Pays For Itself With Economic Growth", The Washington Free Beacon, December 15, 2017
"The Tax Cuts and Jobs Act proposed by both the House and the Senate will pay for itself by generating higher economic growth, according to an analysis from the Tax Foundation. The Joint Committee on Taxation released a report showing the House tax reform proposal would increase gross domestic product by about 0.7 percent on average over the next decade."
This next statement reveals how a significant tax cut will actually bring in more money to the National Treasury!
"Critics of the plan argue that because the committee estimates that revenue will decline from about $1.5 trillion to $1 trillion, the plan does not pay for itself. 'Whether a tax plan 'pays for itself' is not the right measure for any tax plan," the Tax Foundation explains. "The proper measure is whether it increases the size of the economy, especially relative to any revenue loss it may incur for the federal treasury."
Hong Kong cut taxes significantly immediately after World War II and realized an historic increase in money flow to the treasury that was frankly unbelievable. President Reagan oversaw a great explosion in tax dollars flowing to the Treasury because of his tax cut program.
And, now, President Trump is very close to handing each of us an early Christmas present! With his background in business, Trump knows exactly how his tax cuts will "pay for themselves" by expanding the economy.
This is truly a "Win-Win" situation!
But, Establishment Republicans are threatening to derail this bill using the same tactics as they used in Alabama to defeat Judge Roy Moore!
NEWS BRIEF: "Illness sidelines McCain, Cochran as tax vote nears", Yahoo News, December 14, 2017
"WASHINGTON (AP) — Senate Republicans rushed toward votes next week on their sweeping $1.5 trillion tax package, hopeful ailing Sens. John McCain and Thad Cochran will be back and well enough to cast their votes. The 81-year-old McCain, of Arizona, is at a Washington-area military hospital being treated for the side effects of brain cancer treatment. Cochran, 80, of Mississippi, had a non-melanoma lesion removed from his nose earlier this week."
Senator Rubio is also said to be wavering.
If you and I are denied a tax decrease that will make our life easier and more productive, we need to blame both Democrats and Establishment (R.I.N.O.) Republicans! Truly, President Trump is facing the most incredible opposition from those New World Order advocates in both major parties.
We cannot "drain the swamp" until we defeat both Democrats and R.I.N.O. Republicans!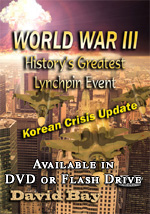 DVD
2. The Chinese invasion of Taiwan continues as part of the World War III plan.
Chinese warplanes are practicing their "encirclement" of Taiwan.
NEWS BRIEF: "China's Warplanes Conduct 'Encirclement' Patrols Around Taiwan's and Japan's Islands", Breitbart News, 13 December 2017
"China's air force has conducted "island encirclement patrols" through international airspace near Taiwan and between the Japanese islands of Okinawa and Miyako in the East China Sea. The People's Liberation Army Air Force (PLAAF) sent two Xian long-range bombers, two fighter jets, an electronic countermeasures aircraft, and an electronic intelligence plane."
In 1996, we posted an article on the planned World War III in which we stated that one of the scripted wars was a Chinese invasion of Taiwan! This article is NEWS1282, entitled "IN 1952, THE ILLUMINATI PLANNED TO GIVE TAIWAN BACK TO THE MAINLAND CHINESE COMMUNISTS!"
We encourage you to read this 19-year-old article because it is coming true right now, in your Daily News!
Consider this most important map of the world, understanding that it shows that, in the coming New World Order, sovereign nations will disappear, having been replaced by "Military Patrol Zones"!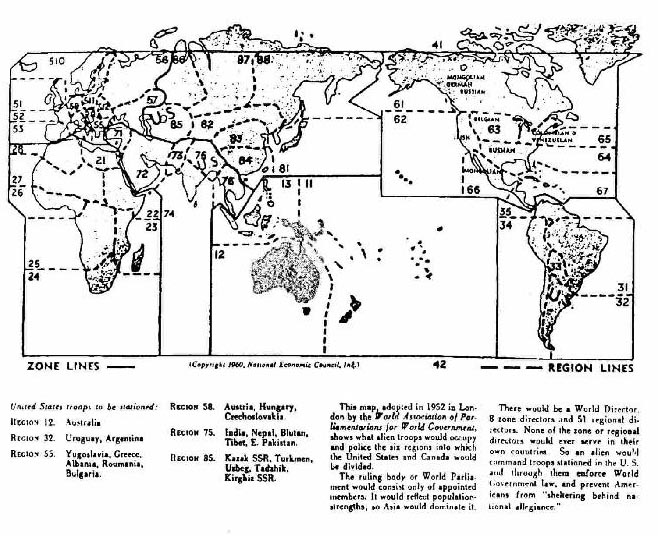 As you can see from this Illuminist map of the world, above, Taiwan is shown a part of China when the world is redrawn into military patrol zones, a plan that will occur well after Antichrist arises; in fact, given the prophecy of Daniel 7:7-8, where infighting breaks out soon after Antichrist arises, resulting in the complete loss of three of the original 10 supernations of the world, I have to wonder if the world will ever see the actual implementation of redrawing the world into military patrol zones.
But, the key issue here is to understand that this 1952 map of the world shows Taiwan as part of China. The Chinese are due to get Taiwan back some time before the world is to be redrawn into military patrol zones.
Most people feel that it is impossible in this day and age that China might actually invade Taiwan. But, this concept is not thought impossible to China's leadership.
"According to China's state media:
"The PLA Air Force focused on combat readiness and has conducted a series of offshore and maritime training. The PLA warplanes' flight paths are continuously extended, with combat readiness growing accordingly. The PLA Air Force's actions are justified and consistent with international laws and practices. The PLA Air Force will stick to its set plans and continue to fly further and deeper. The air force started regular high seas training in 2015. The PLA planes circling the island of Taiwan will become routine during their training."
"China has conducted numerous similar patrols near Taiwan this year, saying such practices have been normalized as it presses ahead with a military modernization program that includes building aircraft carriers and stealth fighters to give it the ability to project power far from its shores."
War rhetoric from Chinese leaders against Taiwan has also increased dramatically.
"Li Kexin, a Chinese embassy official, last Friday said ... any US naval vessel at Taiwan's largest port, Kaohsiung, would trigger China's Anti-Secession Law, followed by an invasion by China's armed forces to take control of Taiwan."
What, you may ask, is "China's Anti-Secession Law", passed in 2005?
"The Anti-secession law provoked massive Taiwan riots when it passed in March 2005. It orders the army to invade Taiwan if any Taiwanese official makes any move toward independence, whether by word or by deed.
"Excerpts of the law are as follows: China's "Anti-Secession Law ... made a mainland invasion of Taiwan legal in case Taiwan moved toward independence ..."
"Article 2: There is only one China in the world. Both the mainland and Taiwan belong to one China. China's sovereignty and territorial integrity brook no division. Safeguarding China's sovereignty and territorial integrity is the common obligation of all Chinese people, the Taiwan compatriots included. Taiwan is part of China. The state shall never allow the 'Taiwan independence' secessionist forces to make Taiwan secede from China under any name or by any means." (Ibid.)
Remember who was President during this time in 2005 when China dared to create such an explosive new law? George Bush was the President, and he never, ever posed a strong and effective obstacle to anything that Russia, or China or even impotent Syria wanted to do. Our enemies now believe that America is the new "Paper Tiger".
Any statement by Taiwan officials, any visit to a Taiwanese port, or virtually any event that Chinese officials can create, provide the foundation for China to invade Taiwan.
"China is biding its time, waiting for the right trigger to justify an invasion. It is possible, though unlikely, that a mere port call would be enough to trigger a major war..." (Ibid.)
Taiwan Always Was The Third War Planned
For nearly 20 years now, Cutting Edge has taught that this planned World War III that will produce Antichrist will be a three-war tragedy.
1. Middle East Conflagration -- Israel to be the trigger
2. North Korea attacking the South, provoking a "hair-raising nuclear confrontation". China and/or Russia may well diplomatically back North Korea, threatening the U.S. with a nuclear attack should we come to South Korea's defense.
But, America will plunge into this war, because North Korea now has the capability of destroying American cities with nuclear conflagration, thanks to the deliberate inaction of Presidents William Clinton, George W. Bush, and Barack Obama.
3. China will invade Taiwan, thus cashing in on the 1952 Illuminati promise, while America is fully committed in active defense of Israel and in active attack on North Korea.
Now, the news is suddenly filled with news stories concerning all three of these planned areas of all-out war. It seems that all things are drawing closer to completion, does it not? As we have said before, this confrontation is really and truly about much more than just Iraq. An Arab attack against tiny Israel is planned to be just the trigger to explode the entire Middle East -- including Pakistan and India -- then the Korean Peninsula, and then Taiwan.
This entire scenario is thoroughly laid out in our DVD shown above, "World War III: History's Greatest Lynchpin Event"!
The prophetic clock is ticking. Are you spiritually prepared!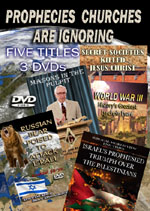 Combo
3. God foretold that, at the End of the Age, He would "call" all His people home to Israel.
Jews are fleeing persecution all around the world; France is the latest country where oppression is so severe that Jews are flowing to Israel.
NEWS BRIEF: "Exodus: Jews Flee Paris Suburbs Over Rising Tide of Anti-Semitism", Breitbart News, 15 December 2017
"French-Jewish families are being forced from their homes in Paris suburbs as Europe continues to be convulsed by levels of anti-Semitism not seen since the end of the Second World War. The Paris commuter newspaper '20 Minutes' documents an 'internal exodus' during 2017 of Jews from the Seine-Saint-Denis department, saying it is emblematic of broader concerns that French Jews, like their brothers and sisters across Europe, are finding it increasingly difficult to reconcile their faith with the changing demographics of the continent."
Of course, the event that has changed the "demographics of the continent" is the massive migration of Arabs from the Middle East whose homes and cities have been reduced to rubble by the incessant Western-sponsored war against Syria, Iraq, and Afghanistan.
""For a long time, Jews were targeted through their symbols — today, people themselves are targeted directly," Ghozlan said .... the experience of Jews in Paris is much the same across the rest of the country. More and more are feeling so unsafe that they now feel they have no other choice but to move to Israel for safety."
The number of Jews leaving for Israel is staggering.
"More than 5,000 departures were recorded in 2016 on top of the record 7,900 who left in 2015 and 7,231 in 2014. In total, 40,000 French Jews have emigrated since 2006 ... that number will not be falling anytime soon."
I find it very exciting to realize that, in all this turmoil, Jews throughout the world are going home to Israel in shocking numbers. God today is "hissing" for His people to return to Israel, just as a beekeeper hisses for his bees!
"I will hiss for them [as the keeper does for his bees], and gather them [the Dispersed Jews] ; for I have redeemed them: and they shall increase as they have increased [before, in Egypt]. And I will sow them among the people [Gentile nations]: and they shall remember me in far countries; and they shall live with their children, and turn again to God and the land He gave them]." (Zechariah 10:8-9)
God's Word is good and will prevail!