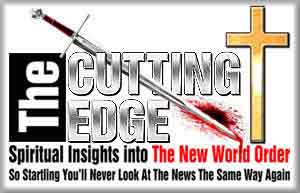 News Alert
Friday 4/14/2017
View the full News Alert online here
HOME - Book Store - News Alert Archives -Daily News Updates - Facebook
---
Prophecies Slipping Into "CONVERGENCE"!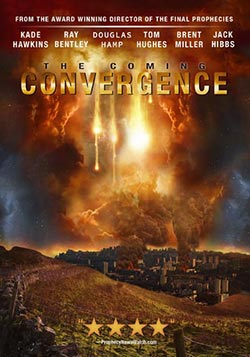 "The Coming Convergence" DVD - Dynamic Prophetic Message Whose Time Has Come
Jesus boldly proclaimed that one of the major prophetic signs that His return was close was CONVERGENCE, "when you see these signs, lift up your heads, for your Redemption draweth nigh" (Luke 21:22) Jesus' second coming was also compared to a woman's labor pains, which converge at the end to give birth to the baby. Likewise, we are to expect a 'convergence' of prophetic labor pains just before Jesus returns.
That 'convergence' is upon us NOW!
Consider Proof: Daily News
"Wars and Rumors of Wars"
Google Searches For 'World War 3' Hit Highest Level Ever
Russia's new ICBMs can 'rip apart' US anti-missile systems – Deputy PM
'Mother of all bombs' video: Footage shows US dropping biggest non-nuclear bomb on Isis in Afghanistan
North Korea
Trump says U.S.-Russia relations "may be at an all-time low"
CFR's John Bolton: Only Way to End North Korea's Nuclear Weapons Program Is to 'End the North'
SEAL Team 6 reportedly training for a decapitation strike against North Korea's Kim regime
N. Korea may be capable of sarin-tipped missiles: Japan PM
South Korea Seeks to Calm Her Citizens as Anxiety Over War Increases
Syria
Assad Charges: US fabricated chemical attack
Iran
Russia and Iran Warn U.S. 'Crossed Red Lines by Attacking Syria
Iran's President Rouhani Warns US Against Striking Syria Again
Iran's Middle-East Enemies 'Ecstatic' Over Trump's Syrian Attack
Israel
ISIS Claims Responsibility For Rocket Attack On Southern Israel
PM wants buffer zones on Syria border as part of deal to end war
Global Terror
Moral Collapse
Global Famine
Monopoly: Global Food Supply Controlled By Ten Companies
The Coming Convergence also pulls you deeper into the reality of an approaching apocalypse as you follow the story of a young girl that is living through the end of days. Her words of warning are a wakeup call to the horrors mankind will soon face. The conclusions of The Coming Convergence explain how the scenarios described within Revelation are converging before our very eyes.
BOTTOM LINE: THE CONVERGENCE OF PROPHESIED EVENTS IS THE STORY!
Related Bookstore Resources
2. Co-designer of the movie front cover for "The Shack" terribly regrets his role in creating this most deceptive movie.
NEWS BRIEF: "Artist 'Deeply Regrets' Designing 'Shack' Cover", Hello Christian News, April 10, 2017
"The graphic artist who played a central role in designing the cover for the controversial novel 'The Shack' has said he deeply regrets working on the project, now disagreeing with the book's contentious theology. '[O]ver 10 years ago, I was captivated by the story and felt honored to be part of the graphic creation of the book. I was so drawn into it, wanting to know the God it portrayed', Dave Aldrich of Aldrich Design posted on Facebook. 'The Shack's story wonderfully painted this picture to me of an incredibly knowable and loving God, one full of forgiveness, but without being judgmental'."
"Aldrich began to read Rob Bell, Brian McLaren and others, and quickly realized he was on a path to holding universalist beliefs. 'I thank the Lord that He pulled me back from that edge', Aldrich wrote. He realized that if God is full of love, he must also be a righteous judge.
" 'The fact is that there are two inseparable sides to God. He is both love and judge', he said. "
Another fact is even more sinister: 'The Shack" was created with Monarch MK Mind Control!
MK Ultra Mind Control Manuals
by Former Satanist, Cisco Wheeler
'The Shack' Movie Presents A Spiritual Danger Which Shall Introduce You To Satanism While Taking Your Breath Away
The official trailer contains colors and filters which create a look and feel of the 'Wizard of Oz', which introduced hundreds of millions to the Black Magick world of the House of Theosophy, and created a most important "Mind Trigger" for the Master MK Mind Controller.
3. Has President Trump given his top military 'carte blanche' authority to carry out the military strikes they feel are necessary without getting specific Presidential authority?
NEWS BRIEF: "Donald Trump appears to admit he didn't specifically authorise MOAB strike", Mirror News, 13 April 2017
"The final, unanswered question at tonight's White House press briefing hung particularly heavy in the air: 'Did the President not know about the MOAB strike'?"
"... despite being asked several times for the same kind of information about the President - which is usually the remit of the White House Press Secretary - Spicer refused, deflecting any questions on detail to the Department of Defence."
"And later, in a separate press pool event, the President himself appeared to admit he didn't specifically authorise the use of the biggest non-nuclear explosive ever dropped."
"Asked specifically if he authorised the strike, Trump said: "Everybody knows exactly what happened, so…and what I do is I authorise my military. We have the greatest military in the world and they've done a job as usual. So we have given them total authorisation, and that's what they're doing. And frankly that's why they've been so successful lately."
Does this mean that President Trump was informed that the U.S. military had dropped the MOAB ordinance only AFTER it had been dropped? I think that it a fair assumption, especially if you watch a video of his response.
I think that President Trump hinted during the campaign that he was sick and tired of the wimpy reactions of President Obama when he seemed to threaten action and then refused to do so once the enemy called his bluff.
Still, it is sobering to hear that the President of the United States has granted nearly a "blank check" authority to his military commanders in the field to attack a specific target using specific ordinance without his being informed. Normally, that type of authority to military officials is granted only during wartime.
However, America's enemies were very close to completely ignoring us, convinced we do not have the will to act. Hearing that President Trump granted broad authority to his commanders must be startling and most worrisome in the eyes of our enemies.
Especially disconcerting is that the Defense Secretary who now apparently holds the final strike decision is a former General who earned the title "Mad Dog" on the battlefield!
---
SHIPPING NOW!

"A Tale of Two Babylons DVD: Trump's Prophetic Appointment With Destiny"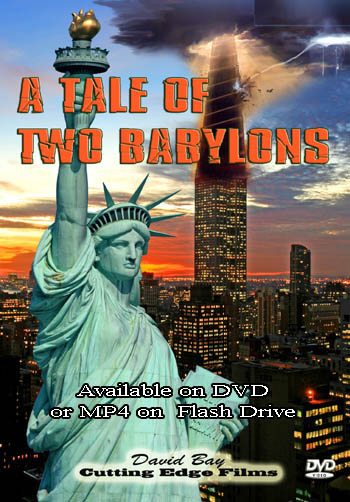 by Cutting Edge Director, David Bay -- Only $19.99
The Bible mentions the name 'Babylon' 264 times in the KJV. Today, many Christians are confused about references in prophetic passages which use Babylon in seemingly different ways. When a Christian tries to shoe-horn one definition into all references to Babylon he / she is unnecessarily confused.
In our study of 'A Tale of Two Babylons', we are going to demonstrate that prophetic literature speaks of God's judgment on one physical nation 'Babylon' (Judged in Isaiah 13) and one nation Symbolically called 'Babylon' ( Judged in Revelation 18).
If you understand this difference, you will properly understand End Times prophecy. But, if you do not understand the difference between these 2 Babylons, you will be unnecessarily confused, and will be open to being mislead on one of the most important End Times subjects.
Since the confusion begins with the definition of Babylon, let us begin at there! Bible scholars recognize that God uses the name Babylon in two distinct ways. (Quoting from The Free Dictionary Online).
1) "... the capital of the ancient kingdom Babylonia in Mesopotamia on the Euphrates. Established as capital c. 1750 bc, rebuilt in regal splendor by Nebuchadnezzar II after its destruction (c. 689 bc) by the Assyrians, Babylon was the site of the Hanging Gardens, one of the Seven Wonders of the World 2) A city or place of great luxury, sensuality, and often vice, corruption or a place of captivity or exile.
In this study of 'A Tale of Two Babylons', we are going to demonstrate that End Times' prophecy speaks of God's judgment on one physical nation 'Babylon' and one nation Symbolically called 'Babylon'.
We will also reveal two major contributions to End Times' prophecy which Donald J. Trump is poised to fulfill. In fact, Trump may be the only leader who can fulfill these prophecies in America today. President Trump does not realize it, but he has 'An Appointment With Destiny', a favorite term uttered many times by 33rd Degree Masonic President, Franklin Roosevelt, referring to the New Age / Masonic Messiah, whom the Bible calls Antichrist.
1 hour 40 minutes - Watch the trailer from the link below.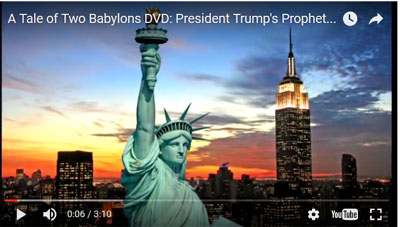 Order yours today - http://www.cuttingedge.org/detail.cfm?ID=27