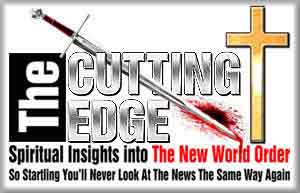 News Alert
Monday 5/8/2017
View the full News Alert online here
HOME - Book Store - News Alert Archives -Daily News Updates - Facebook
---
"The Watchman Chronicles"
A Roswell Insider Speaks Out For the 1st Time!
by L.A. Marzulli
After spending the last 10 years co-creating the well-known Watchers DVD Series, L.A. Marzulli is off on another mission. Hes launched a new project called 'The Watchman Chronicles', a continuing look into the supernatural, UFOs, the Nephilim, and the ongoing hunt for ancient artifacts.
On this DVD in the new Watchman Chronicles series you will see and hear from real people who have had real UFO encounters. Some of the encounters are absolutely chilling.
The highlight of the DVD is the interview with a Roswell insider who breaks the silence and spills a few more of the alien beans! Spectacular! Where does L.A. find these people? Then theres live video footage of a UFO that was captured on a cell phone that lasts for over 3 minutes! This unknown object changes shape, color and pretty much puts on a show for the audience! The dark side is real. UFOs are real.
Shipping now - Run Time 1 hr 37 minutes -- Only $19.99 http://www.cuttingedge.org/detail.cfm?ID=2773
---
Critical News Headlines
1. Liberal TV talk show hosts are at it again!
Bill Maher regurgitated an disgustingly filthy incest joke about Donald and Ivanka Trump!
Let 'em rant and rave using gutter tactics from Hell, because they are turning vast numbers of decent Americans against everything Liberal!
2. Is President Trump preparing to flip-flop on Climate Change?
Even though he has campaigned against the false science in the Climate Change debate, he has nominated Ivanka as the head of the American delegation to the international Climate Change conference.
3. France has voted for President, and the Establishment, Pro-New World Order candidate has won!
This election may have more to do with the perceived quality of the opposition candidate than any love for Globalism.
4. A 'Convergence' of events appears to be building in various parts of the world, just as Jesus predicted.
And, Israel is at the forefront!
---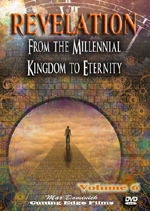 "REVELATION, Volume 6, From The Millennial Kingdom to Eternity" DVD"
From Mac Dominick, Cutting Edge Films - Final Volume in this Series
JESUS CONQUERS ALL!! This video examines Rev 19-22, a most exciting and impactful chapter as Jesus Christ speedily concludes His dealing with wicked, sinful mankind, preparing the world for the purity required for his Millennial (1,000 Year) Reign!
Jesus begins this final segment with His holy angels proclaiming ' Alleluia; Salvation, and glory, and honour, and power, unto the Lord our God' and concluding with Jesus proclaiming to John 'Surely I come quickly'!
During these four chapters, Jesus consummates His 'Marriage Supper of the Lamb', His final judgment - the 'White Throne Judgment' - seizing Satan and binding him and his demons for Jesus' 1,000 year reign, the final battles as Jesus releases Satan for a short while, and the New Heaven / New Earth, and the glorious beginning of Eternity!
A triumphant wrap-up to a glorious book in which Jesus purifies Earth of its sinners and their sin so that He can begin the Eternal reign which He planned far back in Eternity Past.
1 Hour, 15 Minutes, Only $19.99
============================================
"Revelation Five"!"Fall of Babylon, Capital Of The New World Order"
by Mac Dominick of Cutting Edge Films
REVELATION 15-18

In all of prophetic Scripture, there is one overwhelming theme: God does not take sin lightly. As a result of that attribute of God's Divine Justice, we have been witness through our study of the Book of Revelation of the wrath of Almighty God poured out on the inhabitants of Planet Earth. This wrath is particularly evident in the second half of the Tribulation period and will culminate with the Battle of Armageddon as Jesus Christ will return to rule and reign for 1000 years.
More on Disc 5 of our study. Runtime 93 minutes http://www.cuttingedge.org/detail.cfm?ID=2765
For more information and trailers on the DVDs individually select the front cover in which you are interested, below:
Combo Offer is Available, Volumes 1-4: You save $16
---
Critical News Analysis
1. Liberal TV talk show hosts are at it again!
Bill Maher regurgitated an incest joke about Donald and Ivanka Trump!
NEWS BRIEF: "Bill Maher makes incest joke about Donald and Ivanka", The New York Post, May 7, 2017
"Bill Maher cracked a crass incest joke about President Trump's close relationship with daughter Ivanka on Friday night ... A lot of us thought: Ivanka is gonna be our saving grace," the host of HBO's "Real Time" said during an interview with New York Magazine's Gabriel Sherman.
"When he's about to nuke Finland or something, she's gonna walk into the bedroom and — 'Daddy, Daddy,'" Maher cooed, making a lewd hand gesture. "'Don't do it, Daddy.'"
As a possible sign that very few Conservatives watch Bill Maher, complaints were few and mild. But, even some fellow Liberals understood that Maher had crossed a significant line of behavior.
" 'Ivanka Trump is a problematic, puzzling figure', Marlow Stern wrote Saturday in thedailybeast.com. 'But if liberals are going to castigate Donald Trump for his boorish, sexist behavior, they shouldn't behave in a similar fashion'."
" '"Lewd jokes are a waste of time and say much worse about the men telling them', wrote Lindsey Ellefson of Mediaite.com."
Interestingly, David Limbaugh opined in a similar vein to our opinion which we expressed last week.
Let 'em rant and rave using gutter tactics from Hell, because they are turning vast numbers of decent Americans against everything Liberal!
NEWS BRIEF: "Thank You, Stephen Colbert": by David Limbaugh, CNS News, May 5, 2017
"I oppose the push to remove 'The Late Show' comedian Stephen Colbert from the air because of his obscene tirade against President Donald Trump. In fact, I wish the video of his boorish diatribe would go viral. The best remedy against the political left's ongoing crusade to remake America in its own vulgar image is maximum exposure of its irrationality."
That was my point last week, exactly. When Hillary Clinton began to fear that she would lose, what did she do? Her campaign persuaded a number of Hollywood celebrities to publicly express their support for Hillary. And, they did, strongly and in significant numbers.
But, their language was so filthy and laced with sexual innuendo, that significant numbers of voters who are still decent in their minds and hearts, turned away in droves. Celebrities speaking filthy language cost Hillary Clinton unimaginable numbers of votes.
And, now, after the election, Liberals have still not learned their lesson! Celebrity talk show hosts are rampaging against President Trump, again with filthy language and innuendos which simply infuriate the average American voter, i.e., you know, the voters living in Middle America, also known as "Fly Over Country".
Let these uninformed talk show hosts with seared minds and consciences continue to blast away, for they are cementing permanently into the minds of decent Americans who is causing the immense problems this country faces.
Along with the insane demand by the new Democrat Party Chairman that all Democrats leave the Party who could not support Abortion on Demand (23% of all Democrats), this continued hellish public rhetoric on TV should render the Democrats a minority party for at least 20 years!
2. Is President Trump preparing to flip-flop on Climate Change?
NEWS BRIEF: "Donald Trump's anti-climate shadow hangs over UN meeting", Straits Times, May 6, 2017
"PARIS (AFP) - For the first time since Donald Trump's ascent to the White House, United Nations negotiators gather next week to draft rules to take forward the climate-rescue Paris Agreement he has threatened to abandon. The mid-year round of haggling in Bonn is meant to begin work on a crucial rulebook for signatories of the pact."
"But it risks being sidetracked by mounting uncertainty over the world's number two carbon polluter, with Trump at its helm."
Donald Trump has vigorously attacked the Paris Climate Accord on the basis that the science upon which this concept is fatally flawed. Time and time again, during the 2016 election, Trump called for the United States to simply withdraw!
This call rung true with countless Conservatives, who gladly gave him their vote! But ---
Even though he has campaigned against the false science in the Climate Change debate, he has nominated Ivanka as the head of the American delegation to the international Climate Change conference.
NEWS BRIEF: "Ivanka Trump to Head Review of U.S. Role in Paris Climate Change Agreement", Brietbart News, 7 May 2017
"Ivanka Trump has been tapped by her father, President Donald Trump, to review the United States' commitment to the Paris Climate Change agreement ... The U.S. is expected to have a representative at the United Nations' climate change meeting in Bonn, Germany, next week but Trump's advisers — including daughter Ivanka and Environmental Protection Agency Administrator Scott Pruitt — are meeting on Tuesday in Washington to decide whether to stick with or withdraw from the deal."
For the first time during Trump's young Administration, the slightest hint has been offered that the United States might decide to stay in the Climate Change Agreement. This viewpoint is given further weight by the fact that Ivanka Trump -- known as a supporter of Climate Change -- is to lead the official review as to what action this country should take -- 'whether to stick with or withdraw from the deal'."
Scott Pruitt laid out the Trump opposition to this agreement:
" 'Last month, in an interview with FOX and Friends, Pruitt said that the 'Paris [agreement] is something that we need to really look at closely. It's something we need to exit, in my opinion. It's a bad deal for America. It was an America second, third, or fourth kind of approach. 'China and India had no obligations under the agreement until 2030," Pruitt added. "We front-loaded all of our costs."
Therefore, a significant amount of Trump's opposition to this accord arises from the same source as his disagreement to NAFTA (North American Free Trade Association); the terms to which "weak" American leaders in the mid-1990's agreed were slanted heavily against American interests.
I find it troubling that Secretary of State, Rex Tillerson, has emerged as a strong supporter of staying within the Accord!
Rex Tillerson comes from "Exxon Mobil, which was led by Rex Tillerson before he was nominated for Secretary of State, a post he now holds."
Thus, the supporters of staying within the Climate Accord Agreement now has three formidable supporters: Ivanka Trump and her husband, Jared Kushner, plus the new Secretary of State, Rex Tillerson.
But, just as things were looking somber for the Trump hostile Climate Change position, the Director of the EPA abruptly fired all but 5 scientists!
I suspect that President Trump will instruct his delegation to demand a better deal for America, just as he has been demanding a better deal economically and through international deals.
He would threaten to withdraw from the climate agreement, unless the other countries surrender much of their "advantage" over America.
Vintage Donald Trump.
Vintage "Art of the Deal"!
3. France has voted for President, and the Establishment, Pro-New World Order candidate has won!
NEWS BRIEF: "Israeli Leaders Congratulate French President-Elect Macron", Breaking Israel News, May 8, 2017
"Israeli parliamentarians from across the political spectrum congratulated French President-elect Emmanuel Macron on his victory in the French presidential elections. The independent centrist and former economy minister won 65 percent of the votes counted compared to far-right rival Marine Le Pen who received 35 percent of the votes, according to interim results from the French Interior Ministry."
Israeli leaders expressing satisfaction with the election of this Establishment politician ranged from Left to Right within Israel.
"Other Israeli well-wishers included members of the political right such as former Defense Minister Moshe (Bogie) Ya'alon and former Likud MK Gideon Sa'ar as well as opposition leaders such as Zionist Union MK Tzipi Livni and former Prime Minister Ehud Barak ... Congratulations to Macron," wrote Barak on Twitter. "Sanity prevailed, hope succeeded, France won."
REALLY!? Did sanity win? Consider that Macron is "A former Rothschild banker and economy minister", I believe that the "victory" which Establishment leader, Macron, won is the right for France to continue promoting the policies of the Globalist One-world System known as the New World Order.
This election may have more to do with the perceived quality of the opposition candidate than any love for Globalism.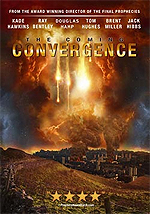 4. A 'Convergence' of events appears to be building in various parts of the world, just as Jesus predicted.
First, Korea is in the Far East!
NEWS BRIEF: "North Korea Warns Region Is 'Close to Nuclear War' Amid U.S. Drills", NBC News, May 2, 2017
"North Korea's state-controlled media warned Tuesday that America's 'military provocations' risked triggering nuclear conflict — with one newspaper claiming Kim Jong Un's regime was 'waiting for the moment it will reduce the whole of the U.S. mainland to ruins'."
And, Israel is at the forefront!
NEWS BRIEF: "Trump and Israel: Flashpoint of Jerusalem hangs over White House meeting", Opinion by Jonathan Cook, 13 February 2017
"Often described as the powder-keg issue in the Israeli-Palestinian conflict, Jerusalem was expected to loom large in Wednesday's meeting in Washington between Donald Trump and Israeli Prime Minister Benjamin Netanyahu ... The two have major issues to address, including Israeli settlement expansion and the nuclear deal with Iran. But even these matters are likely to be overshadowed by their discussion of Jerusalem's status. Tensions about the city's future are high, given that Trump has vowed to relocate the US embassy from Tel Aviv to Jerusalem, a move that would implicitly recognise the city as Israel's capital."
Not the capital of any Arab nation, but "Israel's capital"!
"These various moves have the potential to trigger an explosion of anger, both among Palestinians and more generally across much of the region ... Palestinians demand East Jerusalem as the capital of a future state," he told Middle East Eye. 'If it is denied them, then it means the end of the two-state solution, hopes of Palestinian self-determination, and any kind of peace process. That would be a very dangerous step indeed'."
What is the greatest threat an angry Islamic counter move against Israel be? All-out War.
But, as we have noted on numerous occasions in the past several years, the threat of an all-out Islamic war against Israel does not carry the sense of danger that it did before President George W. Bush invaded Afghanistan in October, 2001, and Iraq in March, 2003.
In the time period between the Afghan invasion and today, Western forces, led by the United States, have systematically destroy Israel's neighbors for the Jewish State. Today, only Iran has formidable military forces.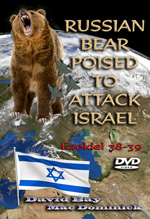 And, that brings us to the subject of Iran.
Can you say, 'CONVERGENCE"!?
NEWS BRIEF: "Russian Plan for Syria Places Iranian Military In the Golan Heights, Breaking Israel News, 8 May 2017
"Russian President Vladmir Putin's plan to set up Iranian Army officers as observers on the Israel-Syria border is even more audacious than first reported. If implemented, Putin's plan will establish the Golan as part of Syria, supervised by the Iranians, and it will become a no-fly zone for the Israeli Air Force (IAF) protected by advanced Russian anti-aircraft systems."
Remember, Iran is Ancient Persia, and therefore, is prophesied to march against Israel in the Ezekiel 38-39 prophecies. Therefore, it is highly significant that Iranian military forces will partner with Russian on the Syrian/Israeli border!
Iran does have a powerful military and her political / religious leaders remain totally committed to Israel's destruction.
".... President Putin suggested to President Donald Trump that a solution for the Syrian crisis would be to establish "de-escalation zones" manned by Russian, Turkish, and Iranian military personnel. These would replace similar zones currently manned by US military personnel. Israel immediately responded by informing both the Russian and US government that 'the Israeli government will on no account countenance an Iran military presence along its border'."
"It became clear this week that the Russian plan is even worse than previously thought. The plan would, in fact, put Iranian military personnel inside the borders of Israel, ceding parts of the Golan to Syria..."
"The plan has a hidden aspect which is even more disturbing. General Qassem Suleiman, commander of Iranian forces in Syria and Iraq, recently reorganized the military structure of the troops in Syria. Under the new arrangement, the 8,000 Hezbollah troops currently fighting for Syrian President Bashar al Assad are now under Iranian command. If Putin's plan takes effect, Hezbollah troops could simply put on an Iranian uniform and act as ceasefire monitors in the 'safe zones'."
Prophecies ARE, indeed, globally "CONVERGING", and that is THE most important development of all!

As Jesus predicted, two of His major prophecies is located in Matthew 24.
Matthew 24:6 -- "And ye shall hear of wars and rumours of wars"
Matthew 24:7 -- "For nation shall rise against nation, and kingdom against kingdom..."
Consider the nations lining up for war in each region:
Far East -- North Korea against South Korea, Japan, Phillipines, Vietnam, Cambodia, Thailand, (Eastern) China, (Eastern) Russia
Middle East -- Israel against the Palestinian Authority, Syria, Lebanon, Jordan, possibly Egypt, Iraq, Saudi Arabia, and Iran
We Christians are to be looking up for our Redeemer and becoming more active in soul-winning!
"What Must I Do To Be Saved"? Biblical Salvation Plan!