Critical News Analysis
1. Russia created far more worry about the North Korean nuclear standoff when her ambassador abruptly vetoed an American resolution calling on all nations to join the fight against the Communist dictator!
NEWS BRIEF: "Russia nixes U.S.-drafted U.N. Security Council resolution against North Korea, The Washington Times, July 6, 2017
"President Trump's sit-down with Russian President Vladimir Putin isn't getting any easier."
Let us stop right here, to dispense with this fraudulent concept, that Trump and Putin are going to "lock horns" on this issue of Russia vetoing Trump's UN resolution against North Korea. God states boldly that He is in control of all events and that includes Revelation 17:16-17!
"And the ten horns which thou sawest ... For God hath put in their hearts to fulfil his will, and to agree (to act in harmony), and give their kingdom unto the beast, until the words of God shall be fulfilled." (Revelation 17:16, 17, KJV)
Did you catch that key understanding? "to act in harmony"?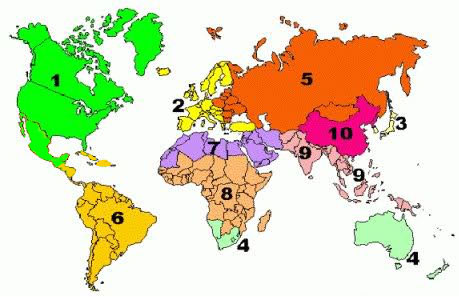 This map depicts the Illuminati Plan by which they are fulfilling Daniel 7:7-8, and Revelation 17:17!
They are quietly implementing the prophecy that the world at the End Times would be reorganized into the prophetic 10!
Putin is the head of Supernation #5.
Trump is the head of Supernation #1.
And, according to Revelation 17:16, 17, quoted above, they are "acting in harmony" now and will be at the time they meet at G-20! If this concept is foreign to you, then you have not been reading Cutting Edge very long, for we have shouted this Biblical Truth for almost 20 years.
In fact, the entire G-20 Summit is an annual exercise in the working out of Revelation 17:16, 17, as the key economic countries of the world get together to determine the best way in which to achieve their unity according to this map!
Now, let us return to our featured news story.
"Russia on Thursday blocked a U.N. Security Council Resolution drafted by the U.S. that called for "significant measures" in response to North Korea's launch of an intercontinental ballistic missile (ICBM)."
"The U.S. circulated the statement among the 15-member council after announcing plans for a new sanctions resolution against the nuclear-armed regime in North Korea. But an objection by Russia killed the statement, said a U.N. diplomat."
"Russian officials argued that the missile launch Tuesday had not been verified as an intercontinental missile."
We had always believed that the most effective way in which to create the planned "hair-raising nuclear confrontation" would be to turn it into a superpower confrontation.
After all, the picture of the tiny mouse -- North Korea -- going to war with the giant King Kong -- United States of America, will not frighten many people. But, the idea that this North Korea conflict could erupt into a superpower confrontation will immediately fulfill the wording of this Plan:
"A hair-raising nuclear confrontation in Korea may ... threaten man's very survival." (Peter Lemesurier, 'The Armageddon Script", p. 223, 1981)
We have always believed that China and Russia will diplomatically join North Korea, setting up a reenactment of the 1962 Cuba Missile Crisis, but this time, on steroids.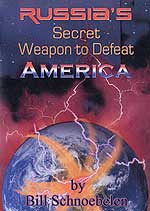 DVD
2. One sure-fire method of creating a confrontation which will "stop your heart" with fear is to tell people you have absolutely no defense against incoming missiles.
"Panic" is the operative word here!
NEWS BRIEF: "North Korea's ICBM test raises stakes on US homeland defense amid 'gap in capabilities': "No guarantee it could destroy any incoming nuclear warhead from the rogue regime", Yahoo News, July 6, 2017
"North Korea 's test-firing of an intercontinental ballistic missile this week came as the U.S. still had reliability issues with its homeland missile defense system and no guarantee it could destroy any incoming nuclear warhead from the rogue regime."
Did you understand the key statement here?
"... no guarantee it could destroy any incoming nuclear warhead from the rogue regime."
Since the beginning of the Cold War, people grew comfortable with the concept of "Mutual Assured Destruction", i.e, that any country attacking the United States would be quickly annihilated themselves. Since no ruler wants to die in a nuclear attack, he would be restrained from launching missiles against America.
But, the West views the North Korean dictator, Kim Jong-un, as a boyish, immature, and unpredictable leader. Might he not be afraid to die and to carry his entire nation into the grave?
Returning to the featured article:
" 'All of this is creating a panic, if you will, because the ground-based interceptors in Alaska and California, while they have been tested, U.S. government agencies have critiqued the test as not being realistic', said John Park, director of the Korea Working Group at the Harvard Kennedy School. 'There is concern about gap in capabilities there as well as with respect to defense of the homeland'."
The problem with "ground-based interceptors" is that the whole enterprise is like "hitting a rifle bullet with a rifle bullet"! Even if you destroy some incoming missiles, your defense will be easily overwhelmed with sheer numbers.
"The NBC News report cited multiple sources as saying the height the missile reached — more than 1,700 miles — and its capability to reach even as far as Alaska was something that 'took U.S. intelligence by surprise ... North Korea seems to be moving faster than we are', said Thomas Karako, a senior fellow with the International Security Program and director of the Missile Defense Project at the Center for Strategic and International Studies."
Therefore, our intelligence experts are telling us that the United States does not have the capability to defend our homeland from even one incoming North Korean ballistic missile. And, that is terribly worrisome.
Even if it is not true!
America, Russia and China all have the "Tesla Dome" capability, which will protect an entire area with a Dome, and will prevent 100% penetration, of missiles, airplanes, and even birds!
This is a depiction of the protection a Tesla Dome provides. Notice the jumbo passenger jet flying inside the electromagnetic wave bubble, commonly called a "Tesla Dome".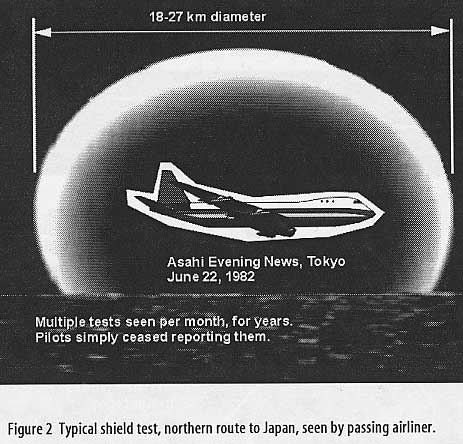 This system is electromagnetic wave, or Scalar Wave, and its capabilities are quite spectacular, especially if the general public has no idea that these systems even exist!
First of all, you must understand that our window of understanding in this incredible weapon's system was opened in April, 1997, by Defense Secretary William Cohen, in his speech to an anti-terrorism conference in Atlanta, Georgia. Listen to his comments:
""Others are engaging even in an eco-type of terrorism whereby they can alter the climate, set off earthquakes, volcanoes remotely through the use of electromagnetic waves..."
Our enemies have a weapon called "Electromagnetic Waves" which they can use to set off earthquakes and volcanoes remotely? Yes, they do and the system is called "Scalar Wave".
Israel is reported to have this capability, as well; and, they have outfitted their tanks with a Tesla Dome.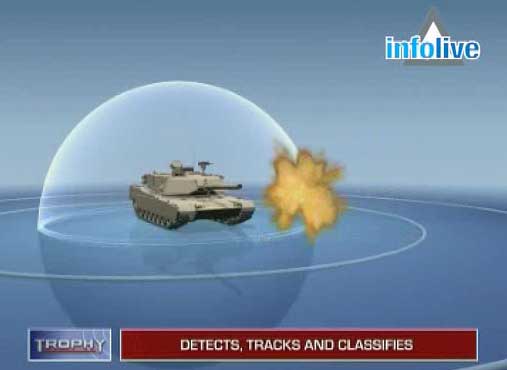 You can read more about this terrific technology in NEWS2155, entitled, "Israel Seems To Be Outfitting Her Tanks With Scalar Tesla Dome Shields!", posted in October, 2006. Military analysts report that, finally, the United States has caught up with the Russians in this electromagnetic wave technology! We can now use the invaluable Tesla Dome.
Today, no army unit and no naval group moves without the protection of a Tesla Dome!
North Korea has stationed several thousand artillery positions along the DMZ and is said to be able to rain many thousands of shells into South Korea, including the capital, Seoul. But, given our Tesla Dome capability, none those artillery shells can penetrate the Dome.
In my research into Scalar Wave, I discovered that Scalar Wave had many more capabilities, as we report in NEWS1776, entitled, "The Emperor Has No Clothes".
Then, you will understand that, if any North Korean nuclear missile hits any target in the United States, our leaders have allowed it to happen!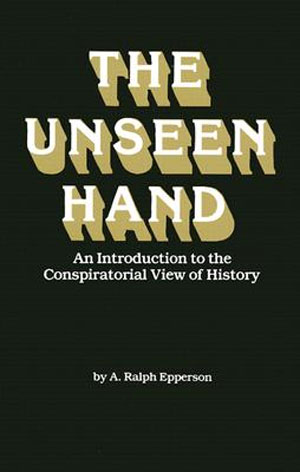 3. As over 100,000 protestors tangle with police at the G-20 summit in Hamburg, did you know the organizers of G-20 have always paid the protestors?
"The wealthy were buying themselves a revolution!" [Epperson, The Unseen Hand, p. 404]
NEWS BRIEF: "DISTRESS OF NATIONS: 100,000 protesters from across Europe pouring into Hamburg", End Times Headlines, July 6, 2017
"Hardcore anti-capitalist protesters have been hit with water cannons and pepper spray by German riot police after they attacked officers with bottles and stones at the G20 summit in Hamburg ... As many as 100,000 protesters from across Europe are pouring into the port city for a demonstration dubbed 'Welcome To Hell'. Up to 20,000 police officers were on duty to watch over the main demonstration, organized by the alliance of anti-capitalist groups. Police are already investigating whether an overnight fire which burned down a luxury Porsche car dealership in Hamburg was an arson attack linked to the summit. "
Reiterating our original question: Did you know the organizers of G-20 have always paid the protestors?
"These radicals ... were being used by the establishment to condition the people to radical change ... Rubin [Vietnam War Protest Leader] admitted as much, that he knew the young people were being used. He wrote: 'Revolution is profitable. So the capitalists try to sell it. The hip capitalists have some allies within the revolutionary community, longhairs who work as intermediaries between the kids of the street and the millionaire businessmen.' Rubin also knew that there was another group who knew the young people were being used. He identified that group as well. 'Only the right wing sees us for what we are.' " [Epperson, p. 403]
During the Vietnam War, the right wing was regularly vilified in the press as reactionaries; yet, here we see hippie war protester, Rubin, boldly state that the only group who saw through the veil of the war protest movement was the right wing movement! The only people who could see the connection between the Illuminati Industrialists and the Vietnam War Protesters was the right wing "reactionaries"! Now, why would the press want to vilify the right wing and "puff up" the Vietnam War protesters? Epperson tells us:
Extremist Jerry Rubin, in chapter ten of his book, "Every Revolutionary Needs A Color TV", says, "... Television proves the domino theory: one campus falls and they all fall [to riot]. The media does not report news; it creates it." [Ibid., p. 404; Emphasis was in the original] Let us repeat that phrase just in case you missed it:
"The media does not report news; it creates it."
"One of the groups making up the 'revolutionary community' was the group known as the Students for a Democratic Society [SDS]. It was well known by the establishment that they were Communist in nature ... Yet in spite of all of this evidence about the nature of the SDS, they continued to receive money from the establishment they were supposedly out to overthrow. In 1970, a group of Ohio legislators received a briefing on campus upheavals in which they they heard that '... $192,000 in Federal money and $85,000 in Carnegie Foundation funds were paid to the Students for a Democratic Society ... during the fall of 1969." [Ibid.]
Thus, the very Establishment that was supposedly being attacked by these war protest groups was funding the protest groups, and was doing so from the very beginning; if this is shocking news to most you, wait, for the news gets even more shocking.
"Another similar report came from a former undercover police intelligence operative who had participated in SDS demonstrations. David Gumaer, who reported that he had 'wondered where the money was coming from for all this activity, and soon discovered it came through radicals via the United Nations, from the Rockefeller Foundation, the Ford Foundation, United Auto Workers, as well as .... American money from the Cuban Embassy ... Young people have no idea they are playing into the hands of the Establishment they claim to hate. The radicals think they're fighting the forces of the super-rich ... and don't realize that it is precisely such forces which are behind their own revolution, financing it, and using it for their own purposes." [Ibid., p. 403-4]
"... revolutionaries are manipulated by the ruling class to appear to be a bigger threat than they really are ... They want us to make a lot of radical commotion so they can look more in the center as they move to the left." [Unseen Hand, p. 404]
Did you catch the purpose of funding and staging these huge protests?
"...so they [ruling class] can look more in the center as they move to the left."
The Illuminati knows a lot more about human psychology than they should, for they certainly use it against us a great deal. By filling streets with hordes of people, including some 'maggot-infested, drug smokin', free-love Hippies' protesting against the Iraq war -- the most current example -- the average American is filled with a high degree of disgust, and he looks at the president in a new light. Compared to the hippie-type protesters, the president looks downright Mainstream! Even as he is moving toward left-of-center in many of his policies, he still looks like a rock-solid Conservative by comparison.
As you look upon the scenes of extreme violence being carried out by protestors at the G-20 Summit occurring right now in Hamburg, Germany, remember these facts:
* "The media does not report news; it creates it."
* "...so they [ruling class] can look more in the center as they move to the left."
* "Compared to the hippie-type protesters, the president (Establishment) looks downright Mainstream!"
* "'Revolution is profitable"
Now you know the truth behind these massive protests at all the global summits - G10, G20, etc!
4. President Trump is announcing his mainstay foreign policy agenda so often that we can call it the "Trump Doctrine".
President Teddy Roosevelt announced his key foreign policy the "Monroe Doctrine", so can we announce the "Trump Doctrine"?
NEWS BRIEF: "Virgil — The Emerging Trump Doctrine: The Defense of the West and Judeo-Christian Civilization", Breitbart News, 6 July 2017
Listen to President Trump's ringing words!