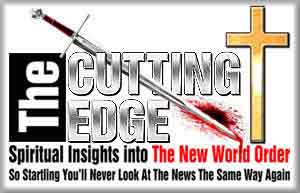 News Alert
Friday 9/15/2017

View the full News Alert online here
---
We Have Dramatically Upgraded Our Most Explosive DVD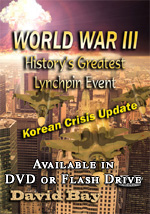 "DRAMATIC UPGRADE FINISHED AUGUST 23, 2017, REPORTING CHANGES IN THIS STAGED WAR IN NORTH KOREA SINCE PRESIDENT TRUMP'S INAUGURATION ON JANUARY 20, 2017!
In the minds of most people, two words carry so much emotional baggage that people cringe whenever they hear these Apocalyptic words. 1) 1) Armageddon; 2) World War III.
In the past 20 years, whenever a battle begins in the Middle East or whenever a verbal confrontation breaks out between major powers, 'gloom and doom' scare-mongers immediately begin to shout 'World War III',much like a person yells 'FIRE' in a crowded theater.
Bible prophecy reveals that Antichrist will be produced on the world scene by a number of signs, including 'wars and rumors of wars'. Demonic familiar spirits told the Elite in 1870 that three world wars will be needed to produce Antichrist. Make no mistake about it: Antichrist will be produced by World War III.
Therefore, the question of the hour is, 'when will this global war begin' and 'what are the signs it is about to commence'? Many major events are planned to occur just as World War III begins. Mankind will be systematically hit with unparalleled disasters of every kind as this planned global war unfolds. But, none of these events will occur until the lynchpin called 'World War III' is pulled.
When the Global Elite pulls this lynchpin event called World War III, events are going to be unleashed in such severity and in such great numbers the peoples of the world will not stand in awe, they will panic and run for the hills. Jesus said that 'men's hearts shall fail them for fear', and the Elite is creating just such climactic events which shall not occur until the lynchpin known as 'World War III' is pulled.
We will show you the 12 major disasters the Elite has created and is waiting only for the beginning of World War III to unleash them all, almost at once. No one need fear that any of these disasters will jump across the starting line ahead of time; each awaits the 'pulling of the lynchpin', World War III.
Run Time Is Now 77 Minutes -- This upgraded DVD is shipping NOW!
HOME - Book Store - News Alert Archives -Daily News Updates - Facebook
---
---
Critical News Headlines -- End Times
1. North Korea fired a missile 3,700 kilometers over northern Japan, 300 kilometers more than the distance to Guam!
South Korea then fired two missiles over North Korea,
Japan panics.
The entire world is about to panic.
No need for Christians to panic!
Mankind is entering into the End Times' period to which Jesus referred: "Men's hearts failing them for fear"!
New Headline News Analysis
Are You Prepared For The Avalanche of 'Fake News' Which Will Overwhelm News Broadcasting During The North Korean Confrontation?
2. America is in crisis mode over the Democrat's insistence that they had reached an agreement with President Trump over D.A.C.A. program.
The President's remarks land on both sides.
Is Trump being politically neutralized?
3. Slowly, the Supreme Court -- SCOTUS -- is moving toward's Trump's direction!
The Supreme Court blocks the 9th Circuit Court of Appeals ruling in the explosive Travel Ban issue.
4. Cutting Edge believes the following wars are going to break out in the next few weeks / months, as explained by these three DVD's:
See the full text of these articles below our book store update
---
Giant Nephilim Roamed Ancient World
"The Holocaust of the Giants" DVD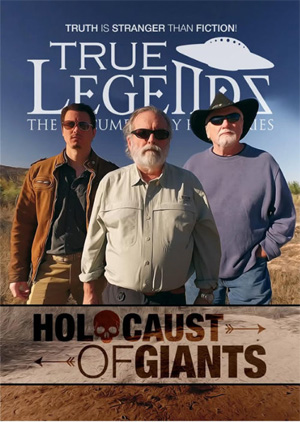 by Tom Horn, Steve Quayle, Timothy Alberino.
Will these giants of ancient days, including those from America, RISE from the DEAD? An ancient conspiracy has been quietly burgeoning behind the bustle of the modern world. From the mounds of America, to the megalithic ruins on the island of Sardinia in the Mediterranean Sea, the desiccated bones of dead giants are being systematically disentombed and secreted away to clandestine vaults for apocalyptic purposes. While occultists are attempting to harness the arcane necromancy of the Canaanites, genetic engineers are working feverishly to reconstitute the genomes of the giants, and resurrect the dreaded race of Rephaim in the earth.
Join Timothy Alberino as he explores the enigmatic island of Sardinia in the Western Mediterranean Sea where the skeletal remains of giants are still being extracted from the tens of thousands of megalithic towers and tombs all over the island, and hear the jaw dropping testimony of those who were hired by the government to dig them out. Discover why Sardinia was ground-zero for the man-eating Canaanite giants that ravished the Promised Land before their expulsion by Joshua the Robber.
Shipping July 27 -- http://www.cuttingedge.org/detail.cfm?ID=2781
---
"COMBO OFFER REVELATION DVD VOLUMES 1-6: Mac Dominick's Startling Studies on the Book of Revelation "
SAVE $24 - $119.94 if you bought them separately - On Sale $95.94
This systematic study combines standard Biblical Interpretation plus a number of distinctive Cutting Edge teachings. You will be blessed and enlightened.
Volume 1 examines 'Jesus' Warning To His 7 Churches', both then and now.
Volume 2 studies 'The Four Horsemen of the Apocalypse', a most dynamic and exciting event.
Volume 3 demonstrates 'The Wrath of God', culminating in Him peeling back the covering of Heaven so that wicked mankind can see an Angry, Almighty God sitting on His Throne of Judgment.
Volume 4 reveals 'The Final Trumpet Judgments: Time Is Running Out'which stampede the peoples of the world in a panic mode unprecedented in all of human history.
Volume 5 -- Mankind is drawing very near to the finale of God's wrath. Chapters 15 and 16 describe the 7 vials of God's wrath that will be suffered by those who have received the Mark of the Beast, and we will discuss how Lucifer counters the wrath of God with evil spirits.
Volume 6 - JESUS CONQUERS ALL!! This video examines Rev 19-22, a most exciting and impactful chapter as Jesus Christ speedily concludes His dealing with wicked, sinful mankind, preparing the world for the purity required for his Millennial (1,000 Year) Reign!
"COMBO OFFER REVELATION" DVD VOLUMES 1-6
---
Book of Genesis: Critical to Christian Faith
New DVD Series by Mac Dominick
"GENESIS: The Foundation of Our Faith "
Volume 1, In The Beginning, GOD Created
Regularly $24.99, Only $19.99
If you liked Mac Dominick's Revelation Series you will love his Genesis Teaching, because Mac also teaches a combination of Traditional Bible exegesis plus unique Cutting Edge understandings.
'IN THE BEGINNING, GOD CREATED..."
God instantly claims this Earth and the Universe as HIS, uniquely belonging to Him because He created it by His Wisdom and Power. Evolution is forever debunked as a false system of belief, coming from Satan out of the Abyss.
Did you know that the sequence of creation listed in Genesis 1 is precisely the order scientists and mathematicians know that is essential to creating the world? At the conclusion of each of the SIX DAYS OF CREATION, God examined His work for that day, and pronounced it 'good', or 'approved'. But, on the sixth day, when all was created, God pronounced His work 'very good'.
Mac teaches Genesis One in light of essential faith and in End Times' prophecy, surprising even the most hardened skeptic.
2 hours run time, Mac plans 4 DVD's in this series - shipping NOW http://www.cuttingedge.org/detail.cfm?ID=2775
---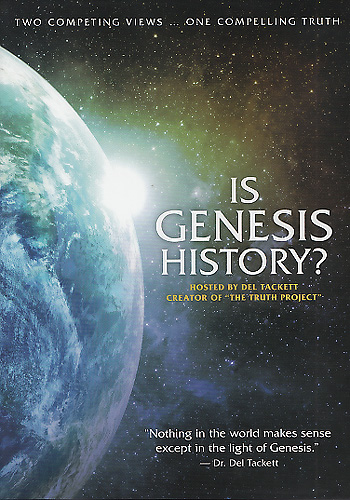 "Is Genesis History? DVD"
"Two Competing Views ... One COMPELLING TRUTH"
Is Genesis "History"? Author examines the world and explains how physical evidence intersects with the history recorded in Genesis. From rock layers to fossils to lions to stars, this fascinating film will challenge and change the way you see the world.
This new documentary is hosted by Dr. Del Tackett, creator of 'The Truth Project', and features CMI's own Dr. Robert Carter. Featuring top notch footage and over a dozen scientists/scholars, it's a fascinating look at the biblical, historical, and scientific evidence for Creation and the Flood.
Dr. Del Tackett, serves as your guide- hiking through canyons, climbing up mountains, and diving below the sea in an exploration of two competing views & and one compelling truth.
103 minutes run time
---
Critical News Analysis
1. North Korea fired a missile 3,700 kilometers over northern Japan, 300 kilometers more than the distance to Guam!
NEWS BRIEF: "North Korea fires another missile over Japan", The Korea Times, September 15, 2017
"North Korea fired another missile over Japan and into the Pacific on Friday, officials from Seoul and Tokyo said. The launch came after the United Nations Security Council imposed new sanctions against the country over its missile and nuclear provocations."
""North Korea fired an unidentified missile from near Sunan, Pyongyang, around 6:57 a.m. It flew over Japan to the North Pacific," the Joint Chiefs of Staff (JCS) said in a statement. "
"The missile flew some 3,700 km, with its maximum altitude reaching some 770 kilometers, the JCS said."
The island of Guam is 3,400 kilometers from North Korea, so this test clearly proves that North Korean missiles can reach Guam and the American military bases there. Dictator Kim has repeatedly threatened to destroy Guam with atomic missiles.
At what point do the people of Guam panic?
South Korea fired two missiles over North Korea.
NEWS BRIEF: "Seoul carries out missile drill targeting NK's nuclear sites", The Korea Herald, 9/13/2017
"South Korea has successfully conducted its first live-fire exercise for an advanced long-range cruise missile capable of striking North Korea's underground military facilities and command centers ... the Taurus missile fired from a F-15K fighter jet traveled about 400 kilometers before hitting a target on Jikdo in the West Sea on Tuesday. It flew through obstacles at a low altitude of 500 meters and rose up to 3 kilometers before hitting the target, the Air Force said. "
Of course, such underground military command centers will be the first target hit once war does break out, so South Korea is reminding North Korean leaders that she knows where these critically important facilities are located and she has the weapons with which to quickly destroy them.
This "exercise" is clearly a warning to North Korean leaders to "back off or else"!
Japan panics.
NEWS BRIEF: "'Missile launch, take cover': Another terrifying wake-up call for Japanese", Japan Today News, 9/15/2017
" 'Missile launch! Missile launch! A missile appears to have been launched from North Korea. Take cover in a building or underground'. To the accompaniment of blaring sirens and emergency phone alerts, that was the terrifying loudspeaker message that jolted millions of Japanese awake in the early hours as North Korea blasted its second missile over the country in less than a month."
Citizens are getting close to panic.
""I cannot say that we are used to this. I mean, the missile flew right above our town. It's not a very comforting thing to hear," said Yoshihiro Saito, who works in the small fishing town of Erimo on Hokkaido. 'It's pretty scary. I heard that it went 2,000 kilometres in the Pacific and dropped in the sea' where 16 of his ships were operating under the missile's flight path."
"Citizens in earthquake-prone Japan are well-drilled in seeking cover when emergency strikes but with only a matter of minutes from launch to impact, several residents voiced a feeling of helplessness. "It's really scary. The government tells us to flee to stable buildings but we can't do that quickly."
Even Japan's Prime Minister seemed panicked.
"An ashen looking Shinzo Abe, Japan's prime minister, said his country could "never tolerate" such 'dangerous provocative action that threatens world peace'."
The entire world is about to panic.
Such panic is planned for the entire world: "The script is now written ... A hair-raising nuclear confrontation in Korea may ... threaten man's very survival." (Peter Lemesurier, 'The Armageddon Script", p. 223, 1981)
No need for Christians to panic!
"There is no fear in love; but perfect love casteth out fear: because fear hath torment (fear of judgment). He that feareth is not made perfect in love." (1 John 4:18, KJV)
Mankind is entering into the End Times' period to which Jesus referred: "Men's hearts failing them for fear"!
"Men's hearts failing them for fear, and for looking after those things which are coming on the earth: for the powers of heaven shall be shaken." (Luke 21:26, KJV)
2. America is in crisis mode over the Democrat's insistence that they had reached an agreement with President Trump over D.A.C.A. program.
NEWS BRIEF: "Democrats Insist: Trump-OK'd Amnesty 'Dream' Bill For 3.3 Million Illegals", Breitbart News, 14 Sept 2017
"President Donald Trump is offering amnesty and citizenship to at least 3.7 million illegal aliens and foreign residents, not just to the 800,000 DACA illegals, according to statements from Sen. Chuck Schumer and Rep. Nancy Pelosi. The huge scale of Trump's expanded amnesty is obscured by the media's routine use of the Democratic-developed "dreamer" term for the almost 800,000 younger illegals who enrolled in Obama's 2012 DACA amnesty. But the Democrats' actual "Dream" Acts provide amnesty to roughly 3.3 million illegals and 400,000 other foreign residents."
Liberals for decades now have seized upon the concept of destroying America's Christian foundation by opening the immigration flood gates and letting in anyone who wants to come in, even criminals and terrorists.
Did the President just sell out his Conservative voters?
Because these claims were made by Democrats Schumer and Pelosi, are they true or are they just "fake news"?
The President's remarks land on both sides. Conservative voters very, very angry!
NEWS BRIEF: "Trump Voters Throw MAGA Hats into Twitter Bonfire", Breitbart News, 14 Sept 2017
"Donald Trump's supporters have begun burning his signature MAGA hats in protest against his big-amnesty-for-no-wall deal with Democrats. Trump has sold millions of hats so there are many more to burn if Trump goes ahead with the vaguely described plan to support the Democrats big "dream" amnesties in exchange for token improvements to border security — despite his campaign-winning, pro-American, immigration-reform-and-border-wall platform."
"More importantly, the hat-burning may presage a huge demoralization among Trump's loyal followers, and cause his support to drop down to the basement levels achieved by President George W. Bush when he pushed for an amnesty in 2006 and 2007."
The President stepped in immediately to set the record straight.
NEWS BRIEF: "President Trump: 'No Deal Made' With Dems on DACA", NewsMax, 14 Sept 2017
"President Donald Trump, in a series of early morning tweets Thursday, denied reports that he'd made a deal Wednesday night with Democrats on the Deferred Action for Childhood Arrivals program, and that the wall at the Mexican border is 'already under construction'."
These statements seem very clear that Trump did not cave in to Schumer and Pelosi, but then the President seemed to be supportive of the Liberal idea that D.A.C.A. people are too valuable to deport en masse.
"Does anybody really want to throw out good, educated and accomplished young people who have jobs, some serving in the military? Really!..... They have been in our country for many years through no fault of their own - brought in by parents at young age."
Is Trump being politically neutralized?
NEWS BRIEF: "Rep. Steve King (R-IA): If Reports Correct 'Trump Base Is Blown Up, Destroyed, Irreparable'," Breitbart News, 13 Sept 2017
"Rep. Steve King (R-IA) gave a catastrophic assessment of President Donald Trump's reportedly hatched amnesty deal with Sen. Chuck Schumer (D-NY) and Rep. Nancy Pelosi (D-CA) and other Democratic leaders Wednesday night. If AP is correct, Trump base is blown up, destroyed, irreparable, and disillusioned beyond repair. No promise is credible."
"King, a long-time immigration hawk, told Breitbart News Washington political editor Matt Boyle that an amnesty move like the one onto which Trump reportedly signed Wednesday was 'Republican suicide' ... 'It was a clear campaign promise', King said at the time, referring to an immediate end to the program upon Trump's taking office'."
"King's tweet came as part of an ongoing flood of outrage from the populist-nationalist right as news of Trump's apparent betrayal of a central element of his electoral coalition coursed through the net."
We have always been skeptical that any Presidential candidate could ever be successful running on a platform which repudiates every key element of the New World Order Plan which has consistently been pursued for the past 100 years.
We have always been skeptical that President Trump was a genuine Conservative and that he would actually keep his campaign promises. Up until now, he has kept his promises, but if he breaks here, he will reveal himself to be the double-crosser we have feared he would be.
3. Slowly, the Supreme Court -- SCOTUS -- is moving toward's Trump's direction!
The Supreme Court blocks the 9th Circuit Court of Appeals ruling in the explosive Travel Ban issue.
NEWS BRIEF: "SCOTUS restores Trump travel ban of refugees, blocking the US 9th Circuit Court of Appeals' restriction", RT News, 13 Sept 2017
"The US Supreme Court decided in favor of the Trump administration's request to block the US 9th Circuit Court of Appeals' restriction on banning refugees from entering the US. On Tuesday, all nine US Supreme Court justices blocked the 9th Circuit ruling that exempted refugees with contractual relationships with resettlement organizations. About 24,000 refugees would have reportedly fallen into that description."
I find it interesting that this decision was unanimous! Even the Liberal Justices voted to overturn the 9th Circuit's ruling. Are we witnessing a turn-around on the Supreme Court, to a point where the Conservative position is going to dominate all questions before the Court?
We can only hope so!
4. Cutting Edge believes the following wars are going to break out in the next few weeks / months, as explained by these three DVD's:
The "nuclear confrontation in Korea" will first break out, followed by the Israeli attack against the Palestinians, which fulfills Obadiah and Isaiah 34. Other wars will soon break out, thus giving the Global Elite their World War III!
Then, once Israel is triumphant over her Arab foes once again, the Arabs will turn to Russia, asking for President Putin to invade Israel with his more powerful Russian military, since the Arabs can simply not defeat the Jewish State by themselves. even though Putin was planning to use the Russian military in a different manner, the Holy Spirit forces the Russian overlord "Gog" to "put a hook in his jaws" to turn him around to lead an attack against Israel in fulfillment of Ezekiel 38-39.
Iran (Ancient Persia) will be destroyed by God as her forces assemble with Russian forces on the border of Israel, just as this Ezekiel prophecy foretold 2,600 years ago!
The Rapture of the Church will occur somewhere along this time frame!
Christian, look up, for your Redemption draweth nigh!