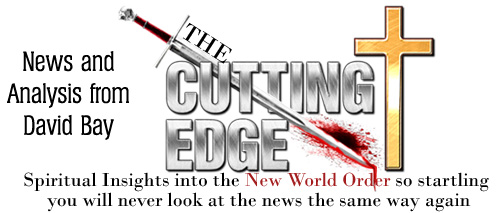 ---
News Alert - Thursday, 3/18/2021
---
"The key to success is sincerity. If you can fake that you've got it made." George Burns
Leftist / Globalist Politicians Today
===========
---
HOME - Book Store - Newsletter Archives - Daily News Updates
Read the full, most current, News Alert online
---
Just click on this button

to guarantee that Cutting Edge will not disappear for lack of funds. We have a unique message and worldview which has proven correct for the past 23 years.
---
Four new booklets from Light House Trails - click images for more information or to purchase.
---



QUOTES
World-Wide Plans For A World-Wide Dictatorship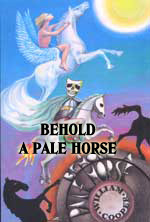 F.E.M.A. Is an "interdepartmental unit which is empowered in the event of a national security emergency to become the unelected national government, a sort of F.E.M.A. secret government, so to speak. A pretext for invoking this emergency can be found almost daily in the newspapers .... anything, in fact." [Page 122] ("Behold A Pale Horse"]
"... the elite would use some other excuse to bring about the New World Order. They have plans to bring about things like earthquakes, war, the Messiah, extraterrestrial landing, and economic collapse. They might bring about all of these things just to make ... sure that it does work. They will do whatever is necessary to succeed. The Illuminati has all the bases covered ... Can you imagine what would happen if Los Angeles is hit with a 9.0 quake, New York City is destroyed by a terrorist-planted atomic bomb, World War III breaks out in the Middle East, the banks and the stock markets collapse, Extraterrestrials land on the White House lawn, food disappears from the shelves, some people disappear, the Messiah presents himself to the world, and all in a very short period of time?" ("Behold A Pale Horse", p. 177]
Coming Into Their New World Order
In this economy, all private property and inheritance would be abolished. Once this economy is established, all individuals in this world will be forced to pledge allegiance to the Anti-Christ in a ceremony entitled a "World-Wide Luciferic Initiation". Then, "later, a permanent tattooed body number invisible under normal ambient illumination" will be marked on each person. ("Behold A Pale Horse", p. 44)

NOTE: The global plan to establish the New World Order as William Cooper so brilliantly informed us in "Behold A Pale Horse", is now finally beginning to occur with great rapidity!
---
Critical News Headlines
1. Why Are The Chinese Military and Businesses Now In Canada?
The Answer: Operation Vampire Killer 2000!
2. The first diplomatic reasoning as to why America does not have to defend Taiwan militarily has just popped up.
Biden can, therefore, hide behind this fig leaf excuse to order American troops to "stand down" as China overwhelms Taiwan.
3. The Mayor and City Council of Portland, Oregon, defunded the police.
Murders instantly exploded 2000%!
Portland Mayor wants funding restored!
The remedy to our children being educated as LGBT-Q Marxists is really quite simple!
5. New York Governor Cuomo may be in serious political trouble after all!
President Biden tells him to go.
6. In less than 100 days in office, President Biden has proven himself to be morally bankrupt.
Christians must prepare for martyrdom from formerly free nations!
---



REVERSING HERMAN: Enoch, Watchers, & Forgotten Recovering Mission From Jesus - Book
Reversing Hermon is a groundbreaking work. It unveils what most in the modern Church have never heard regarding how the story of the sin of the Watchers in 1 Enoch 6-16 helped frame the mission of Jesus, the messiah.
Jews of the first century expected the messiah to reverse the impact of the Watchers' transgression. For Jews of Jesus' day, the Watchers were part of the explanation for why the world was so profoundly depraved. The messiah would not JUST revoke the claim of Satan on human souls and estrangement from God, solving the predicament of the Fall. He would also not ONLY bring the nations back into relationship with the true God by defeating the principalities and powers that governed them. Jews also believed that the messiah would rescue humanity from self- destruction, the catalyst for which was the sin of the Watchers and the influence of what they had taught humankind.
The role of Enoch's retelling of Genesis 6:1-4 in how New Testament writers wrote of Jesus and the cross has been largely lost to a modern audience. Reversing Hermon rectifies that situation.
Though every topic addressed in Reversing Hermon can be found in scholarly academic literature, Reversing Hermon is the first book to gather this information and make it accessible to Bible students everywhere. The book also includes lengthy appendices on the ancient debate on the inspiration of the book of 1 Enoch, New Testament allusions to the book, and academic resources for studying 1 Enoch and the Book of Giants from the Dead Sea Scrolls. ORDER YOUR COPY
Only $19.95
---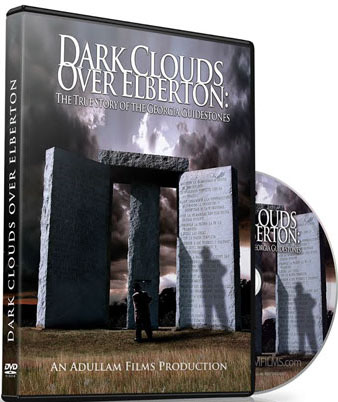 Georgia Guidestones Mystery Revealed: Dark Clouds Over Elberton
"Launch Global Genocide"?
DVD by Chris Pinto - Only $24.95
At Long Last: The mysterious 'R.C. Christian' who funded the massive Georgia Guidestones is revealed by Chris Pinto. Masterful research project finally pays off.
In 1979, a mysterious stranger appeared in the remote town of Elberton, Georgia. The man introduced himself as R.C. Christian, but admitted this was not his real name. He claimed to represent a small group of loyal Americans who wanted to erect a monument they hoped would inspire 'the Age of Reason'.
The monument was named the Georgia Guidestones. Written on the great granite stones are ten commands or guides that were intended to provide wisdom for mankind. But the first of them calls for a reduction of the world population to a mere 500 million. In order to achieve this, billions of people would have to die. Many have wondered: is the monument designed to inspire wisdom? Or to launch a global genocide?
Researchers have wondered for decades about the identity of R.C. Christian and the purpose of his mysterious structure. Was he part of a globalist group? Was he working with the United Nations? After a five year investigation, this powerful documentary presents groundbreaking information, and dares to solve the mystery of who R.C. Christian really was.
This film is a must see for those who wish to learn more about the globalist use of environmentalism in the cause of population control.
Role of both Rosicrucian and Freemason secret societies in the building of the Georgia Guidestones is revealed -- 2 Hours Long -- https://www.cuttingedge.org/detail.cfm?ID=2709
---
New World-Class DVD From Chris Pinto
"THE TRUE CHRISTIAN HISTORY OF AMERICA"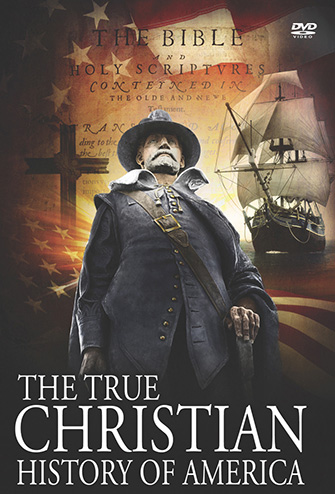 New DVD Title from Chris Pinto
The 'True Christian History of America' is a powerful documentary, showing the Bible-based Christian origins of the early American view of freedom, tracing the principles of liberty back to England and the great Reformation.
For many years, Americans have been taught in our schools and universities that the founding of our Republic was the result of the Enlightenment from France, or from the deists of that time. But is that truly the case? Did the Enlightenment first declare no taxation without representation? Or trial by jury? Were they the champions of freedom of speech, or of the press? And why did Samuel Adams declare that the "reign of political Protestantism" would commence, just before signing the Declaration of Independence?
Filmed on location in the United States, as well as in England, Switzerland, and the Czech Republic, this insightful documentary contains unique interviews with experts from around the world, who relate how the champions of the Gospel pursued the cause of freedom across the centuries, and how it is their beliefs which are enshrined in the Declaration, the Constitution and the Bill of Rights.
At a time when America and the principles of freedom stand in peril, it has never been more important for the Christian world to reclaim its historic heritage. This documentary is perfect for churches, Bible study groups, homeschool parents, or anyone who desires to learn a detailed history on the influence of Christianity in the United States. Watch Video clips online
Presented by Christian J. Pinto Running Time: 150+ minutes --
Other Chris Pinto Titles
---
Analysis -- Headline News
1. Why Are The Chinese Military and Businesses Now In Canada?
NEWS BRIEF: "Confirmed: Chinese Troops on Canadian Soil During Military Exercises", Western Journal, December 14, 2020
"Canada is not a military superpower ... In a shocking revelation, Canada's Department of National Defence has confirmed that it allowed communist China's army onto Canadian soil to observe its winter training exercises in February 2018 ... The DND claimed that members of the People's Liberation Army only observed and did not participate in any training — as if that minimizes the potential threat to national security."
Even if the threat is not severe to Canada, national security threats to the United States are enormous.
"Because Canada shares more than 5,500 miles of border with the United States, this lapse of military judgment also potentially endangers Americans' national security ... Secretary of State Mike Pompeo has pointed to the threat of pervasive infiltration of communist ideology in the United States by agents of the CCP."
"He added that 'the Chinese government has been methodical in the way it's analyzed our system. It's assessed our vulnerabilities and it's decided to exploit our freedoms, to gain an advantage over us at the federal level, the state level and the local level'."
"With the Chinese working so hard to infiltrate our government and exploit our public officials, we don't need our neighbor to the north making it any easier for them."
So, the question remains: What on Earth is Canada thinking as they allow such a bitter enemy to place military troops when such a move clearly threatens the life of the United States? What justification could Canada's leaders possibly offer?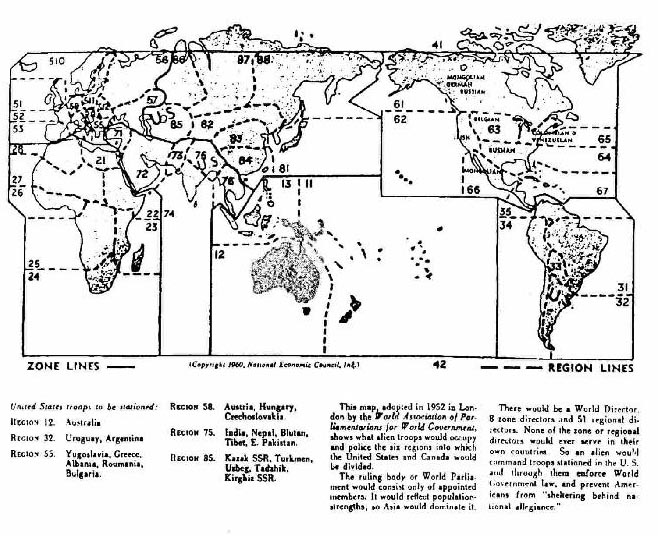 The Answer: Operation Vampire Killer 2000!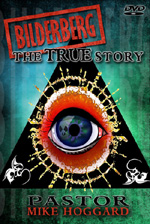 NEWS BRIEF: "OPERATION VAMPIRE KILLER 2000: Map shows future Chinese control over portion of Canada!", Cutting Edge Newsletter December 17, 2020
"Several decades ago, the United Nations determined that American soldiers could not be counted upon to brutally murder massive numbers of fellow citizens in a nationwide gun confiscation program. They then decided to bring foreign troops and deploy them across the country in "military patrol zones".
"Look carefully at this map, created during the 1952 Bilderberger Meeting. Notice that all sovereign nations of the world have been divided into individual military patrol zones. Then, notice that each formerly sovereign nation of the world is going to be ruled by foreign troops."
Canada is planned to be patrolled by foreign troops from three (3) nations:
1. Mongolian (Chinese)
2. Russian
3. Belgian
Therefore, it is not surprising to realize that Chinese troops are periodically allowed to send military troops to watch Canadian military exercises. In fact, if you look at this map again you can see that Chinese troops are to control, from the Panama Canal to the Canadian-USA border!
Therefore, we should not be too surprised to learn that China has now become a dominant force in Panama!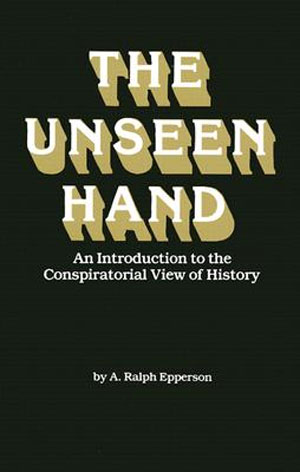 The wheels of conspiracy in world events grind slowly, but finely. The fact that this plan was created at the 1952 Bilderberg Conference means and is slowly being implemented, means that the plan has passed through 13 changes of Presidents!
"... a series of oppressions, begun at a distinguished period and pursued unalterably through every change of ministers, too plainly prove a deliberate, systematical plan of reducing us to slavery." ["The Unseen Hand", by A. Ralph Epperson, p. 196]
This reality fulfills the definition of a conspiracy as enunciated by President Thomas Jefferson! Conceived during the administration of President Dwight D. Eisenhower, this plan has remained active during the terms of Kennedy, Johnson, Nixon, Ford, Carter, Reagan, Bush, Clinton, Bush, Obama, Trump and now Biden!
CONSPIRACY PROVEN! JUST AS THE BIBLE FORETOLD!
2. The first diplomatic reasoning as to why America does not have to defend Taiwan militarily has just popped up.
NEWS BRIEF: "US officials who are ready to fight China over Taiwan don't understand how much is at stake", Lt. Col. Daniel L. Davis, ret, Business Insider, March 18, 2021
"Many of America's leading military and political figures have issued increasingly alarmist warnings in recent days about the potential for conflict with China, especially related to issues surrounding Taiwan. But before the US gets into a crisis that brings it to the threshold of war — or finds itself stumbling into one — policymakers and military leaders need to address some hard realities."
Reality #1 - "There is almost no scenario in which the United States can successfully intervene in a war between China and Taiwan that will not leave our country in far worse shape than it is right now; in a worst-case scenario, American territory could be struck by nuclear missiles."
Reality #2 - "In testimony before the Senate Armed Services Committee last week, Adm. Phil Davidson, commander of US forces in the Indo-Pacific, warned that Chinese military developments looked to him like a nation planning for a war."
"As a freedom-loving democracy, the United States is a strong advocate for the independence and freedom of any people, including those in Taiwan. But to that laudable belief must be added a willingness to assess the world in a realistic way."
Reality #3 - "If we eventually choose war with China over Taiwan, we will at best suffer egregious losses in ships, aircraft, and troops; in a worst-case, the war could deteriorate into a nuclear exchange in which American cities are turned into nuclear wastelands, killing millions."
Biden can, therefore, hide behind this fig leaf excuse to order American troops to "stand down" as China overwhelms Taiwan.
3. The Mayor and City Council of Portland, Oregon, defunded the police.
NEWS BRIEF: "BACKFIRE: Portland defunds police, murders surge near 2,000%, and mayor suddenly wants to RE-FUND police again!", The Right Scoop, March 16, 2021
Murders instantly exploded 2000%!
"The socialist bastion that is Portland, Oregon has now seen a surge in their murder rate of nearly 2,000 percent after cutting police funding in the wake of the death of George Floyd in police custody last year. It's gotten so bad that their sorry excuse for a mayor is now asking for some of that funding back for police:
Portland Mayor wants funding restored!
"Mayor Ted Wheeler has requested $2 million in emergency funding for the police department, pointing directly to the surge in gun violence. At this point last year, Portland had seen just one homicide. This year, that number is 20, with 208 shootings in the city so far."
"Portland, like Minneapolis, doesn't have and never did have an overpolicing problem. The city has an underpolicing problem, compounded by cowardly city leaders who pander to anti-police activists. Portland city leaders, just like their Minneapolis counterparts, humored these leftist ideologues while turning a blind eye to riots. Now, they reap the whirlwind in the form of a surge in violent crime."
And, to make political matters worse, there are no Republicans to blame!
"... this is Portland, so there is no Republican to blame for this issue. Wheeler is a Democrat. So are the city council members, with one independent who was endorsed by the council's Democratic members. Gov. Kate Brown, who said that former President Donald Trump was "provoking confrontation for political purposes" by protecting the courthouse, is a Democrat. So is President Biden, who currently has federal agents trying to protect the courthouse."
"This is exactly how radical socialism works. The government enforces ridiculous activist-based policies for the common good and it's the public who has to pay the price, in this case with their lives."
The REAL purpose of all this nonsense is to send our nation into a paroxysm of social collapse where the only answer is to implement the OPERATION VAMPIRE KILLER 2000 MAP" and to wake up one morning with tanks, armored personnel carriers and armed soldiers from China, Russia, Belgium, Venezuela, and Columbia enforcing a tight curfew.
At this point, our freedoms have been destroyed and the "New World Order" has come to your town and street!
The remedy to our children being educated as LGBT-Q Marxists is really quite simple!
NEWS BRIEF: "Cancel Public School", By Dan Gelernter, American Greatness, March 16, 2021
"A Friend who volunteers at a Sunday school in Harlem for low-income children called me the other day, greatly upset: She had been working with a pair of students who failed to learn the assigned reading, which was a short psalm or a prayer. She thought perhaps the fourth graders, a boy and a girl, weren't applying themselves. The truth was much worse: The two children turned out to be illiterate."
But, the problem was really the deliberately incompetent schools and teachers:
"Their public school teachers had passed them, grade by grade, into the fourth, and no one had ever taught them how to sound out words. Their teachers graded spelling tests and assignments—they knew they were passing kids who couldn't read."
However, the cost of this deliberate incompetence is high, very high!
"The New York City public school system spends $28,800 per student per year—more than anywhere else in the world. A brand-new public school teacher with a master's degree and zero prior experience starts at $65,000 a year, plus benefits. And the children can't read. "
This author then identifies the solution perfectly -- almost perfectly.
"If we took the future of the nation seriously, we would end public schools tomorrow. We would then take our young children, sit them down with the first and simplest of McGuffey's English textbooks from the 1880s, and teach them to read. "
If we took the future of America seriously we would reinstate the Holy Bible as a textbook like they used to do in 1900! In fact, we should reprint the old textbooks from that era and distribute them to our public schools.
Children are being taught occult concepts right under your noses, let me quote Dr. C.F. Potter, a renowned American Educator in the early part of this century. Dr. Potter was a contemporary with John Dewey, of the Dewey Decimal Library System. Both Dewey and Potter were famous Humanists, and were very supportive of the New World Order. Listen to what Dr. Potter says about his objectives concerning the Public School System.
`Education is thus a most powerful ally of Humanism, and every American public school is a school of Humanism. What can the theistic Sunday Schools, meeting for an hour once a week, and teaching only a fraction of the children, do to stem the tide of a five-day program of humanistic teaching?'" [`Humanism, A New Religion', 1930].
In other words, Potter and other Humanists viewed Public Schools as the training ground for turning children into loyal, obedient citizens of the New World Order, the Kingdom of the New Age Christ!
For seventy years now, the children in public schools have been the Number One target, since they will become the parents and citizens of the future. Sadly, I must admit that the goals enunciated by C.F. Potter, above, have been realized all too well. Each decade, America, as a nation, has slipped further and further away from God and into the value system of Satan. Today, the vast majority of Americans have absolutely no thought of Jesus Christ or His values, preferring the Lust of the Eyes, the Lust of the Flesh, and the Pride of Life of Satanism. Children have always been the target; right now, your precious children are in the bulls-eye of the Public School system.
The crisis of COVID-19 has presented America with an opportunity that may never come again. We can cancel Public Schools, save tons of money and get our nation back on track!
However , cancelling our public schools will prove to be more problematic than cancelling funding for Planned Parenthood!
5. New York Governor Cuomo may be in serious political trouble after all!
President Biden tells him to go.
NEWS BRIEF: "Biden: Cuomo Should Resign if Claims Confirmed:'A Woman Should Be Presumed to Be Telling the Truth' and Claims Investigated", Breitbart News, March 16, 2021
"During a portion of an interview with ABC News released on Tuesday, President Joe Biden stated that New York Gov. Andrew Cuomo (D) should resign and would "probably" be prosecuted if the investigation into the sexual misconduct allegations against him confirms the claims. Biden also stated that women who make accusations of sexual misconduct "should be presumed to be telling the truth," and 'there should be an investigation to determine whether what she says is true'."
And, just as in the movie "Wag the Dog", the cries and salacious detail coming from a sexual assault trial of Governor Cuomo would drown out the real crime of deliberately murdering 15,000 elderly patients in New York nursing homes!
Four other Democrat governors who carried out the same murderous campaign as did Cuomo, will be waiting breathlessly in the wings.
6. In less than 100 days in office, President Biden has proven himself to be morally bankrupt.
Christians must prepare for martyrdom from formerly free nations!
NEWS BRIEF: "Bishop Strickland: Joe Biden is on the wrong side of basic moral issues", LifeSite, 2/9/2021
"In the latest episode of his weekly podcast, Bishop Joseph Strickland discussed how the Church and Christians must prepare for modern-day martyrdom — now more than ever. Bishop Strickland told co-host Terry Barber that Joe Biden, a self-described Catholic, is 'on the wrong side of basic moral issues', not only on abortion, but also on other family issues."
Cutting Edge has stridently demonstrated the many sinful issues on which we shall soon answer to God!
---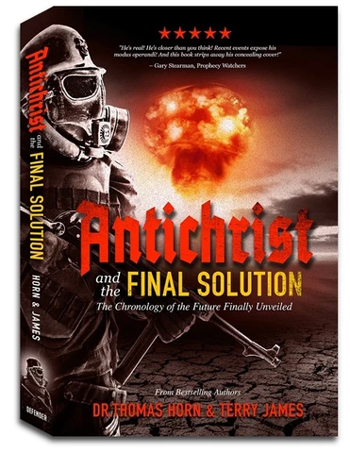 "Antichrist & The 'Final Solution' "
New Book by Tom Horn, Only $19.99
It's been assumed for centuries that a prerequisite for the coming of Antichrist would be a revived world order an umbrella under which national boundaries dissolve and ethnic groups, ideologies, religions, and economics from around the world orchestrate a single and dominant sovereignty. At the head of the utopian administration, a single personality will surface. He will appear to be a man of distinguished character, but will ultimately become a king of fierce countenance (Daniel 8:23).
With haughty, dictatorial decrees, he will facilitate a One-World Government, universal religion, and global socialism. Those who refuse his New World Order will inevitably be imprisoned or destroyed until at last he exalts himself above all that is called God, or that is worshiped, so that he, as God, sitteth in the temple of God, showing himself that he is God (2 Thessalonians 2:4).
Bible prophecy depicts this coming tyrant as the deadliest in human history. He will try to carry out a satanic Final Solution to inflict genocide far beyond that done through Adolf Hitler's plan by the same name. And this soon-to-come era is closer than many can imagine; yet, most don't comprehend the events that lie just ahead.
For the first time in decades, the truth of dispensational history is laid out in order that the world can understand what is unfolding now and coming very, very soon. https://www.cuttingedge.org/detail.cfm?ID=2948
---

Monthly Support and one time donations.
Cutting Edge Ministries has a few monthly supporters and some who make single donations and regular donations and we thank you all from the bottom of our hearts. These donations enable us to pay our small staff and the regular bills. We humbly ask that if you can make a donation or become a regular supporter for any amount that you click the donate button and make a donation with either PayPal or a credit card. Thank you all for your prayers and financial support.
CUTTING EDGE
P.O. BOX 1067, Wagener, SC 29164
Customer Service/Ordering 803-564-3341 / 803-528-0199 / dbay@cuttingedge.org
Toll-Free Number Is: 800-451-8211
May Jesus Richly Bless You,
David Bay, Director
Cutting Edge