Hot News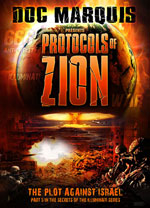 DVD
I. Thirteen years after the attacks on 9/11/2001, daily news reports are filled with headlines screaming "global terror" or "Islamic terrorism".
We are reaching the end of the final period to the New World Order, as envisioned by the Protocols of the Learned Elders of Zion, written nearly 200 years ago!
NEWS BRIEF: "New ISIS Recording Urges Muslims to Kill Civilians in US-Led Coalition Countries", ABC News, 9/22/2014
" A 42-minute audio recording by an ISIS spokesman was released on social media Sunday, in which the group calls on Muslims to kill civilians in countries that belong to the anti-ISIS, U.S.-led coalition. 'If you can kill a disbelieving American or European, especially the spiteful and filthy French, or an Australian, or a Canadian or any other disbeliever, then rely upon Allah, and kill him in any manner or way however it may be', an ISIS spokesman says. "
For weeks now, British and American leaders have been warning that terrorism in the Middle East might spill over into terror attacks on countries fighting ISIS. To combat this "horrific threat", the British PM has demanded a large array of new laws that would make it easier to prevent a large-scale terrorist attack.
Of course, as we have been strenuously protesting ever since late September, 2001, these terror attacks and/or the threat of terror attacks, are planned to be used to demand new laws that will systematically take away our Constitutional rights and privileges, to the ultimate point at which the Illuminati wants, which is a tough Absolute Dictatorship!
Australia is the latest Western nation to use the threat of terrorist attacks as an excuse to expand its police powers against her own people.
NEWS BRIEF: "Australia seeks broad new security powers after anti-terror raids", Reuter's News, 9/22/2014
"Australia's government is seeking broad new security powers to combat what it says is a rising threat from militant Islamists, the prime minister said on Monday, on the heels of sweeping counter-terrorism raids last week ... Under the tough legislation, which Prime Minister Tony Abbott said would be introduced into parliament this week, it would be a crime for an Australian citizen to travel to any area overseas once the government has declared it off limits."
This demand for dictatorial powers comes on the heels of an Australian security sweep in which police conducted a sweep against potential terrorists and "discovered" an Islamic plot to kidnap an Australian and behead him on TV. No such terrorist attack actually occurred and we only have the word of the police that the plot was real after all.
What is the plan of the Protocols of Zion as the world gets closer to the Kingdom of the Masonic Christ (Antichrist)? Read and weep.
"These laws will withdraw one by one all the indulgences and liberties which have been permitted ... and our kingdom will be distinguished by a despotism of such magnificent proportions as to be at any moment and in every place in a position to wipe out any ... who oppose us by deed or word." [PROTOCOL 5 -- DESPOTISM AND MODERN PROGRESS]
Did you catch the kind of dictatorship [despotism] that the Illuminati has planned for every nation once they are brought under the rule of Antichrist?
"... a despotism of such magnificent proportions as to be at any moment and in every place in a position to wipe out any ... who oppose us by deed or word."
Further, once they have full control, they plan on "wiping us out".
Now, let us consider their plan by which they are going to take away our liberties so they can institute "a despotism of such magnificent proportions".
"The [people] are a flock of sheep, and we are their wolves. And you know what happens when the wolves get hold of the flock? .....

5. There is another reason also why they will close their eyes: for we shall keep promising them to give back all the liberties we have taken away as soon as we have quelled the enemies of peace and tamed all parties .....

6. It is not worthwhile to say anything about how long a time they will be kept waiting for this return of their liberties ....." [PROTOCOL 11 -- THE TOTALITARIAN STATE]
In other words, this 200-year-old plan says that the Illuminist leadership of the day will "keep promising" the people that they will get "all the liberties we have taken away as soon as we have quelled the enemies of peace and tamed all parties ..." How did the Illuminati know, 200 years ago, that we would be facing "enemies of peace" in a crisis situation? The only way in which they could know is if they had deliberately planned such an "enemies of peace" scenario.
The world stands at the brink of worldwide dictatorship, the kind that is so severe and so effective that authorities can fulfill the "Mark of the Beast" prophecy. Interestingly, the world also stands at the brink of the appearance of the Antichrist and the False Prophet of Revelation 13 who will force the peoples of the world to take this hideous "Mark"!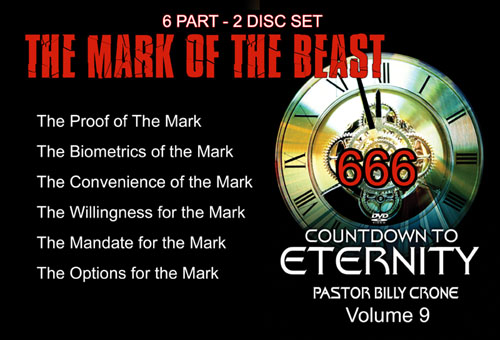 II. The "Left Behind" book series by Tim LaHaye is scheduled to be released October 3, 2014, starring Nicholas Cage.
Will this move depict, as did the last three books in the series, that a Christian can take the Mark of the Beast and still go to Heaven?
NEWS BRIEF: "Left Behind (2014 film)", Wikipedia
" 'Left Behind' is an upcoming American apocalyptic thriller film directed by Vic Armstrong and written by Paul LaLonde and John Patus. It is based on the series of novels of same name, written by Tim LaHaye and Jerry B. Jenkins, and is a reboot of Left Behind: The Movie. The film is set for an October 3, 2014 release."
"Without warning, millions of people around the globe simply vanish. All that remains are their clothes and belongings. The vanishings cause unmanned vehicles to crash and burn. Emergency forces everywhere are devastated. Gridlock, riots and looting overrun the cities. And there is no one to help or provide answers. In an instant, the earth has been plunged into darkness."
"Chloe Steele, Ray's daughter, tries to find her mother and brother. Lost in a post-apocalyptic landscape, she is forced to head home through a world where despair and rage rule the day."
As the "Left Behind" books were coming on to the market, millions of Christians and Christian pastors, devoured them. They were thrilled that one of their most favorite subjects of all time was finally getting publicized by Mass Market Media. Truly, hundreds of millions of unsaved people learned of the Christian expectation called the "Rapture" for the first time in their lives.
Therefore, what harm can there be if a series of novels depicted the Rapture of the Church? We had some real reservations about this exceedingly popular book series.
1) The major premise is that people who had missed the Rapture but became saved afterwards, had organized themselves into an armed rebellion and were strenuously fighting the forces of Antichrist.
While this idea proved popular, is it Biblical? Where in the Bible does Jesus or any other writer, urge the Christians at that time to stand up and fight the forces of Antichrist? Not only is this an unbiblical concept, Jesus actually speaks of Christians meekly going to their slaughter at the hands of Antichrist.
"And when he had opened the fifth seal, I saw under the altar the souls of them that were slain for the word of God, and for the testimony which they held: And they cried with a loud voice, saying, How long, O Lord, holy and true, dost thou not judge and avenge our blood on them that dwell on the earth? And white robes were given unto every one of them; and it was said unto them, that they should rest yet for a little season, until their fellowservants also and their brethren, that should be killed as they were, should be fulfilled." (Revelation 6:9-11)
Notice that these Christian martyrs were murdered because they "bore the testimony" of Jesus Christ. They are not depicted as brave soldiers who fell on the field of battle fighting the forces of Antichrist. Notice also that Jesus will allow this slaughter of Christians to continue until the number of the slain has reached a number Jesus had selected to die for His glory.
2) In the last three books, LaHaye writes the plot so that one of the Christian leaders, Chang, is forced down by his father's bodyguards and forced to take the "Mark of the Beast". They threw him to the floor, and then physically restrained him as they injected him with the "Mark".
From that moment onward, Chang discovered that having the "Mark of the Beast" gave him numerous advantages as he directed the Christian forces in their battle against Antichrist. Chang was depicted as still in right standing with God and still going to Heaven. In the last book, Jesus returns to Earth to begin setting up His Millennial Reign. He specifically seeks a meeting with Chang, where He congratulates him for taking advantage of all the advantages inherent in having the "Mark" in his right hand.
We believe that no depiction should ever be made and publicized which opens the forbidden door to taking the "Mark" even just a little. We posted an article at the time entitled, "WARNING! YOU CANNOT TAKE THE "MARK OF THE BEAST" FOR ANY REASON AND STILL GO TO HEAVEN! '
Part 1 -- This article discusses foundational issues, plus the deception that God gives believers a visible mark.
Part 2 -- This article demonstrates that no one can take the "Mark of the Beast" and still go to Heaven!
Please brush up on the issues so that you can demonstrate to anyone who believes this lie and still expect to go to Heaven. Many people will be interested in this monumentally important issue if the movie also depicts this scenario.
---
New DVD - Doc Marquis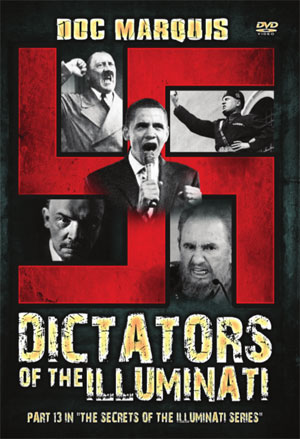 "Dictators of the Illuminati"
In order to understand the present, you must examine the past, and only then you comprehend the future.
Almost 6 years ago when Barak Obama entered the White House people have been saying, 'What is going on?', 'Obama is destroying everything,' 'None of this makes sense anymore.' Actually, it all makes perfect sense if you understand the plans and the inner dealings of the Illuminati.
Barak Obama is following a very well-honed plan of the Illuminati, one that had also been meticulously followed by Lenin, Stalin, Mao Tse Tung, Fidel Castro, Adolf Hitler and other such dictators. This plan is so devious and deceitful that even with all of her media savvy, famed journalist, Barbara Walters said: "We thought that he (Obama) was going to be...the next messiah."
National/International author, producer, lecturer and ex-Illuminati which, Doc Marquis takes us through the annals of history and reveals the origins of the Illuminati plan that past dictators had used to bring their nations under the subjugation of the Illuminati. Next, he will show how Obama is using the same Illuminati plan in the present time. And, then Doc will unveil how this same Illuminati plan will be used by the coming antichrist as found in the Book of Revelation.
Regularly $24.99, http://www.cuttingedge.org/detail.cfm?ID=2636
---
Halloween - Satan's Hell-Night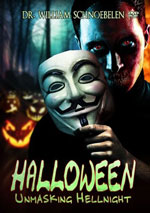 "Halloween: Unmasking Hell Night"
New DVD by Bill Schnoebelen
Do the gates of Hell really open up on Halloween night? Did you know that Satanists believe that, beginning October 1, the veil separating this Earthly dimension from the Abyss begins to thin. On Halloween, that veil disappears for 24 hours, allowing free access by the demonic realm into Earth.
Ritual murders are committed during the 24 hours of Halloween day / night. Former Satanist, Bill Schnoebelen, helps us comprehend the desperately wicked demonic celebration, Halloween.
In this teaching, Bill shares compelling historical and Biblical evidence about Halloween's origins and proves that this day is a Biblically 'unclean thing' in which no Christian -- or their child -- should participate (1 Cor 6:17).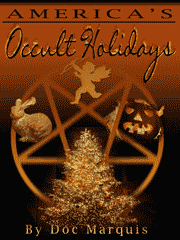 ""America's Occult Holidays"
DVD by Former Satanist, Doc Marquis
Former Satanist, Doc Marquis, delivers a knockout punch against the practice of all our major holidays, providing details only a former Witch would know.
Doc begins by demonstrating how the Illuminati effected the change in our calendar and how that change has affected a dramatic change in our everyday lives. The Illuminati copied heathen holidays from Satanism and then just gave them Christian names. You will be shocked to realize how very pagan our annual celebrations are! You will be shocked to realize how most of the symbols used in our holidays originated within Satanism.
Too many Christians are enthusiastically celebrating Luciferian holidays, thinking they are Christian. Once you understand how very pagan America and the rest of the Western world has become, you can see how God's judgment cannot be far behind.
Doc Marquis only uses the King James Bible
Download printable Occult calendar shown in this video
---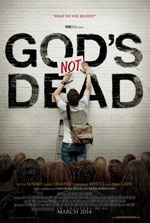 "God's NOT Dead DVD"
You Will Laugh, Cry, Shout Out Loud
Regularly $24.99, Now Only $19.99
Present-day college freshman and devout Christian, Josh Wheaton (Shane Harper), finds his faith challenged on his first day of Philosophy class by the dogmatic and argumentative Professor Radisson (Kevin Sorbo).
Radisson begins class by informing students that they will need to disavow, in writing, the existence of God on that first day, or face a failing grade. As other students in the class begin scribbling the words 'God Is Dead' on pieces of paper as instructed, Josh find himself at a crossroads, having to choose between his faith and his future.
Josh offers a nervous refusal, provoking an irate reaction from his smug professor. Radisson assigns him a daunting task: if Josh will not admit that 'God Is Dead', he must prove God's existence by presenting well-researched, intellectual arguments and evidence over the course of the semester, and engage Radisson in a head-to-head debate in front of the class. If Josh fails to convince his classmates of God's existence, he will fail the course and hinder his lofty academic goals.
With almost no one in his corner, Josh wonders if he can really fight for what he believes. Can he actually prove the existence of God? Wouldn't it just be easier just to write 'God Is Dead' and put the whole incident behind him?
GOD'S NOT DEAD weaves together multiple stories of faith, doubt and disbelief, culminating in a dramatic call to action. The film will educate, entertain, and inspire moviegoers to explore what they really believe about God, igniting important conversations and life-changing decisions.
Your soul will be filled with the Joy of Heaven by the message of this video. You will not only find fresh reasons for your faith in God, but you will want to buy this video for unsaved friends and loved ones.
120 minutes
---
New "Biblical Worldview" Teaching DVD Series
"Eternal Security"
"God's Anchor In A Brutal Storm"
New DVD by David Bay -
For centuries, a debate has raged amongst Christians, 'Can I lose my salvation', and 'Am I eternally saved the moment I received Jesus'? Proponents have argued endlessly about this subject, with many people believing that the question carries little to no real importance, and it is not worth dividing the brethren over it.
BUT -- the world stands at the End of the Age, and every Christian will discover that their belief on this subject may be the most important topic in the world. As Christians face the possibility of tortures at the hand of Antichristian forces, what kind of confidence do we have as we turn to face the enemy of our souls?
Did you know that Russian Communist prison guards believed they could force a person to lose their salvation? These guards delighted into so torturing the body, mind and soul of Christians that even devout Christians would commit a sin at the very end of their life that would plunge them into Hell. The future prison guards we will face will believe the very same doctrine and will specifically attempt to make you lose your salvation.
What does the Scripture say on this most important issue? What does Jesus say, and the Apostle Paul and others? The truth is that no believer can lose their salvation, and once you understand this doctrine thoroughly, you can face any torturer with absolute confidence. The message of this DVD arms you with that sure knowledge, thus becoming a true 'Anchor of Your Soul'!
See Other Three Titles Below
"The Rapture Precedes Daniel's 70th Week"
New DVD by David Bay
Is there a tie-in between the Rapture and the beginning of Daniel's 70th Week, which is known as the Great Tribulation?
Consider the Global rapture. Every Born Again believer will be instantaneously snatched from this dimension. Will be like a strong magnet passed over a bed of steel and aluminum fragments. What happens? The steel flies through the air to attach themselves to the bottom of the magnet while the aluminum pieces remain in the bed.
Jesus Himself will appear in the air over the Earth and utter a strong shout for His Church. At that instant, believers will be snatched from their earthly dimension and will fly through the air to meet Jesus, getting a glorified body along the way.
The 70th Week is the 7-Year Tribulation, whose major purpose is to further purify Israel to accept Jesus as their Messiah. The Christian Church is not in view here because Gods purpose is to finally deal with Israel.
Once God removes His Church, He can deal with Israel's last punishment and her preparation to receive Jesus as the Jewish Messiah.
Exciting times. Do not miss the Rapture of the Church! Watch Dynamic Trailer
One hour long http://www.cuttingedge.org/detail.cfm?ID=2637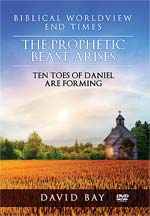 "The Prophetic Beast Arises: Ten Toes of Daniel Are Forming"
New DVD by David Bay, Director, Cutting Edge
One of the most exciting End Times' prophecies is that, at the End of the Age,all nations of the world are going to be reorganized into Ten (10) supernations, each one with a leader (Daniel 7:7-8).
Antichrist can arise only after this global reorganization has been completed. The Club of Rome created a global reorganization in 1972, and it printed the plan in a book entitled, 'Mankind At The Turning Point'.
After many years of moving forward on this plan very slowly, the pace has suddenly jumped forward! Antichrist may be closer to appearing than we had previously believed.
Yet, even though the majority of news every single day is moving the world rapidly toward this prophesied 10-Nation set-up, none of the Mass Media and very few of the Christian media are even aware that this exciting prophetic advance is being made.
We examine each of the 10 Supernations being created, and demonstrate how the news of the day is propelling the fulfillment of this great prophecy. You will be amazed and thrilled to learn how events that you had written off as being of no lasting value are really working hard to re-create the world into the 10 Toes (Supernations) of the prophet Daniel!
One hour long - http://www.cuttingedge.org/detail.cfm?ID=2633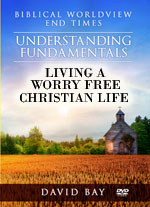 "Living A Worry-Free Christian Life"
by Cutting Edge Director David Bay
How is a Christian to live during these evil End Times? Most Christians are in some degree of depression because our values are constantly under cultural and moral attack, and because times are hard economically, with wars raging on all continents save one, with hatred and anger raging on the Daily News. How does one live a 'Worry Free Life'?
We must live our lives in strict adherence to Biblical teachings. For Example: 1) How can we begin practicing this kind of joyful day-by-day living? We start to 'cast and release'. Psalm 55:22 "Cast thy burden upon the LORD, and he shall sustain thee: he shall never suffer the righteous to be moved."
'Cast and release' * Examples in daily living
* Notice from the IRS
* Mechanical difficulty with the car
* Distressing call from a loved one
* Distressing news from your job
* Unexpected bill & you don't have the money
The Psalmist understood this 'cast and release' principle as a means to lift his spirits during hard times. "Why art thou cast down, O my soul? and why art thou disquieted within me? hope thou in God: for I shall yet praise him, who is the health of my countenance, and my God." (Ps 43:11)
Peter understood this principle of releasing the weight of our troubles. 1 Peter 5:7, "Casting the whole of your care, all your anxieties, all your worries, all your concerns, once and for all on Him, for He cares for you affectionately, and cares about you watchfully."
This "worry-free life" brings us that most important state in which we can rest:
Heart Peace
Run Time is 1 hour Order now
---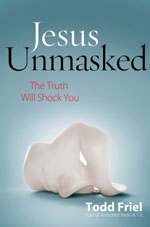 "Jesus Unmasked"
"What Jesus Taught About Himself"
"The Truth Will Shock You"
How much does God hate sin and how much does He love you? If you ever doubt how kind, good and loving God is look at the Cross. Jesus' brutal death on the Cross is God's greatest and clearest demonstration of His holy wrath and perfect love.
Jesus Unmasked will blast a bright light into a dark and dying world. Give the book to the atheist in your life. -- RAY COMFORT
Todd Friel has written the book you always wanted to give to your friends. Jesus Unmasked is clear, direct, and simple all without ever being shallow. Get several copies so you can share them with friends who need Jesus. -- TEDD TRIPP
No matter where you are in the Christian walk, you'll find "Jesus Unmasked" a profitable and spiritually uplifting study. -- PHIL JOHNSON
224 pages - Download a free preview - Watch the promo
---
Have the interventionist overthrow actions -- in Iraq, Afghanistan, in Northern Africa, the Middle East and Central and Southern Africa -- by Bush/Blair/Obama failed or have they succeeded beyond anyone's wildest imagination?
---
May Jesus Richly Bless You,
David Bay, Director
Cutting Edge Ministries
800-451-8211