Hot News
1. God continues to fulfill His prophecies concerning Israel!
Prominent Orthodox Rabbis are "taking a new look at Jesus" and are reducing their animosity toward Him, setting the stage for fulfillment of Zechariah 12:10, and John 19:37)
"They shall look on him whom they pierced" (John 19:37) Spiritual change is beginning to sweep modern Israel!
NEWS BRIEF: "Orthodox Rabbis Bring Jesus Home for Christmas: "Undoing 2,000 years of Jewish rejection and animosity towards Jesus, a miracle", Israel Today News, 12/24/2015
"More than 25 prominent rabbis from Israel and abroad recently issued a statement calling for a renewed look at Jesus, Christians and the New Testament faith. Quoting from their own sages, these outstanding Orthodox rabbis are not ashamed to exalt the name of Jesus, welcoming the carpenter from Nazareth back into the Jewish fold."
" 'Jesus brought a double goodness to the world', declare the group of well-known rabbis. 'On the one hand he strengthened the Torah of Moses majestically… and not one of our Sages spoke out more emphatically concerning the immutability of the Torah', and on the other hand 'he removed idols from the nations'."
What is the importance of these changes of belief in Jesus by prominent Orthodox Rabbis? Remember, Orthodox Jewry has always been the major obstacle to Christianity in Israel.
"Saying that Jesus, even more that any other Jewish Sage, honored, strengthened and protected the 'immutability of the Torah', is an extraordinary acknowledgement. These leading rabbis are turning the tides of history by removing one of the main stumbling blocks in the path of a major Jewish reclamation of Jesus!"
"What we are now witnessing is the undoing of 2,000 years of Jewish rejection and animosity towards Jesus, a miracle by any estimation. For the out-and-out refusal by Jews to accept Jesus is slowly, but surely, coming to an end, as growing numbers of prestigious Orthodox rabbis welcome Jesus back. After nearly two millennia of mutual hostility and alienation, we Orthodox Rabbis who lead communities, institutions and seminaries in Israel, the United States and Europe… seek to do the will of our Father in Heaven by accepting the hand offered to us by our Christian brothers and sisters," the statement reads."
"Two thousand years of Christian Anti-Semitism, Crusades, Inquisitions and a Holocaust can not keep the Star of Bethlehem from rising again in Israel. This call by these distinguished rabbis to embrace Christians as "brothers and sisters" is no less a miracle. For Jews to accept Christians with such endearment, after so much misunderstanding and anti-Semitic ugliness, can only be understood as a divine work of heavenly grace, the likes of which I find unfathomable."
The Holy Spirit is sweeping Israel today, at the same time as ancient prophecies near fulfillment. Once Antichrist arises and then fulfills his 7-year Tribulation Reign, the Jews whom God has protected for the last 3 1/2 years, will constitute Israel at that moment. And, they will all be Born Again Christian Jews!
Thus will be fulfilled in its entirety:
"And I will pour upon the house of David, and upon the inhabitants of Jerusalem, the spirit of grace and of supplications: and they shall look upon me whom they have pierced, and they shall mourn for him, as one mourneth for his only son, and shall be in bitterness for him, as one that is in bitterness for his firstborn." (Zechariah 12:10)
That Spirit of Grace and supplications is beginning to sweep over Israel, and will culminate at the end of the Great Tribulation Period. as the author of this article states:
"So while these rabbis are making major and unprecedented strides in bringing my people closer to Jesus, they are still far from the truth. For if Jesus is the Messiah for the Gentiles, how much more must he be for the Jews?"
"Perhaps Jesus will not quite be at home this Christmas in Israel, or Jewish homes around the world, but he is certainly knocking on the door."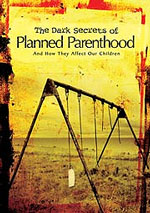 2. America is showing her true spiritual blindness regarding Abortion.
Support for Abortion is now the highest in two years, even after the disgusting Neo-Nazi practices of Planned Parenthood were shown to the public by undercover videos!
NEWS BRIEF: "Pro-Choice Nation? Support For Abortion Highest In Two Years", Townhall News, Dec 23, 2015
"Abortion remains at the epicenter of America's culture wars ... The recent release of a series of undercover videos the Center for Medical Progress, allegedly showing the illegal sale of aborted baby parts by Planned Parenthood officials, has reignited the abortion debate."
This debate has also ignited a battle between Republican and Democrat candidates for President of the United States. While some Republican candidates attacked Planned Parenthood on the basis of the awful truths revealed by these undercover videos, Democrat Hillary Clinton firmly stood by Planned Parenthood. On the basis of these poll results, did Hillary have a better understanding of American politics today?
"A new Associated Press/GfK poll found that support for abortion has reached a two-year high, with almost 60 percent of Americans feeling that it should be legal in most cases: Support for legal abortion in the U.S. has edged up to its highest level in the past two years, with an Associated Press-GfK poll showing an apparent increase in support among Democrats and Republicans alike over the last year."
"Nearly six in 10 Americans — 58 percent — now think abortion should be legal in most or all cases, up from 51 percent who said so at the beginning of the year, according to the AP-GfK survey ... "
The issue was clouded by the public killing of three abortion workers at a Planned Parenthood clinic in Colorado.
"... we had a Colorado man open fire on a Planned Parenthood center in Colorado Springs on November 27, where he allegedly said 'no more baby parts' to law enforcement officials when he was taken for questioning following his arrest ... Yeah, a possible domestic terrorist incident could shed some negative light on pro-lifers ... Recently, Americans social attitudes have been trending towards the left, which is probably welcome news for those in the Planned Parenthood camp as they plan a $20 million offensive for next year's elections."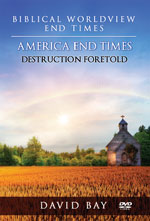 Trailer
Can you see babies' bodies murdered in the womb like God sees them? Listen to God's view of the national sin of America, whom He is about to physically annihilate:
"... Babylon the great is fallen, is fallen, and is become the habitation of devils, and the hold of every foul spirit, and a cage of every unclean and hateful bird ... For her sins have reached unto heaven, and God hath remembered her iniquities." (revelation 18:2, 5)
Can you just see these national sins stacking up in God's eyes as corkwood is stacked, reaching all the way from Earth to Heaven?
America has become a nation of legalized murder -- within the womb!
Spread the Word -- God's is bathing His mighty sword in Heaven. just as He warned:
"... For my sword shall be bathed in heaven: behold, it shall come down ... upon the people of my curse, to judgment." (Isaiah 34:5)
3. Arab terrorists are now using moving vehicles as their murder weapon against innocent civilians.
On Sunday, December 20, a male terrorist shouted "Allahu Akbar!" (Arabic for "God is great") as he aimed his car at innocent civilians.
For weeks now, Palestinian terrorists have used cars to kill and to wound civilians.
NEWS BRIEF: "Driver Shouting 'Allahu Akbar!' Runs Down 11 French Pedestrians ", NBC News, Dec 22, 2015
"A driver screaming "Allahu Akbar!" (Arabic for "God is great") appeared to deliberately mow down about a dozen pedestrians in the French city of Dijon before being arrested on Sunday ... The driver ... hit groups of pedestrians in five parts of the eastern city before being arrested, a spokesman for the Ministry of the Interior said on French television. Eleven people in all were injured, two of them seriously, officials said."
"According to testimonies on the scene, the driver also invoked "the children of Palestine"' to explain his actions, the ministry's spokesman said. France's Interior Ministry Spokesman Pierre Henry Brandet said "the man acted alone..."
"A day earlier, French police in a Tours suburb shot and killed a man also shouting "Allahu Akbar" who had stabbed and wounded three officers in a police station."
Donald Trump is absolutely correct: no nation can protect its citizens from Islamic terrorism as long as we are allowing hundreds of thousands into our country! This is war, and we had better adopt a warriors frame of mind.
---
New DVD by David Bay - Only $14.99
In the minds of most people, two words carry so much emotional baggage that people cringe whenever they hear these Apocalyptic words. 1) Armageddon; 2) World War III.
In the past 20 years, whenever a battle begins in the Middle East or whenever a verbal confrontation breaks out between major powers, 'gloom and doom' scare-mongers immediately begin to shout 'World War III',much like a person yells 'FIRE' in a crowded theater.
Bible prophecy reveals that Antichrist will be produced on the world scene by a number of signs, including 'wars and rumors of wars'. Demonic familiar spirits told the Elite in 1870 that three world wars will be needed to produce Antichrist. Make no mistake about it: Antichrist will be produced by World War III.
Therefore, the question of the hour is, 'when will this global war begin' and 'what are the signs it is about to commence'? Many major events are planned to occur just as World War III begins. Mankind will be systematically hit with unparalleled disasters of every kind as this planned global war unfolds. But, none of these events will occur until the lynchpin called 'World War III' is pulled.
When the Global Elite pulls this lynchpin event called World War III, events are going to be unleashed in such severity and in such great numbers the peoples of the world will not stand in awe, they will panic and run for the hills. Jesus said that 'men's hearts shall fail them for fear', and the Elite is creating just such climactic events which shall not occur until the lynchpin known as 'World War III' is pulled.
We will show you the 12 major disasters the Elite has created and is waiting only for the beginning of World War III to unleash them all, almost at once. No one need fear that any of these disasters will jump across the starting line ahead of time; each awaits the 'pulling of the lynchpin', World War III.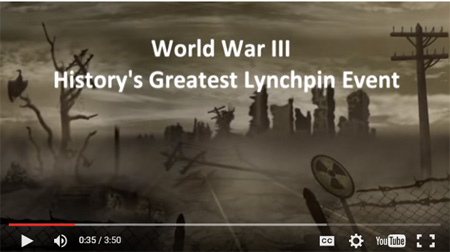 ---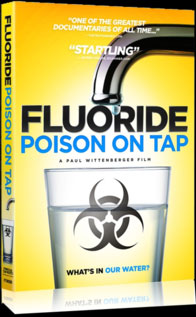 "FLUORIDE: POISON ON TAP" DVD
Water fluoridation has been hailed by the CDC as one of the ten great public health achievements of the 20th century. However, the practice has been mired in controversy since it began over 70 years ago. Does water fluoridation actually prevent tooth decay, or have we been sold a lie?
Join producers Paul Wittenberger and Chris Maple as they engage with world-renowned experts in exposing one of the biggest frauds the world has ever known. Together, they unravel the shocking secrets and deception of a corrupt industry that has been poisoning communities for generations. This surprising research creates a compelling case against the fluoridation of our water supplies, revealing long hidden health hazards, fraudulent findings, and corporate corruption.
FLUORIDE: POISON ON TAP will inspire you to take action on a local and global scale before its too late!

FEATURING SPEAKERS::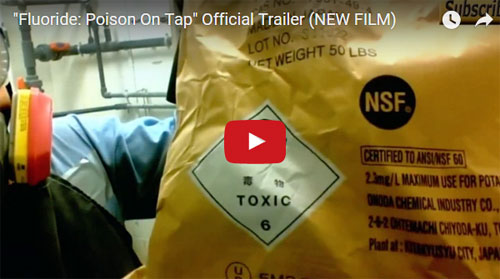 Dr. Edward Group
Dr. David Kennedy
Mike Adams
Dr. Paul Connett
Dr. James E. Rota
Dr. Charlie Goetschel
Karen Johnson
Neil Carman
Dr. Laura Pressley
Chris Maple
Gary Pittman
Paul Wittenberger
Mary Ellen Moore
Jeff Green
Dr. Doris Rapp
Gianluca Zanna
Only $19.98 - http://www.cuttingedge.org/detail.cfm?ID=2716
---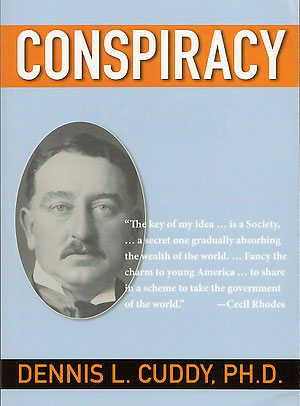 NEW BOOK by Dennis Cuddy
Have you ever wondered how people like H.G. Wells seemed to know what was going to happen? These people either had to be privy to the plans of the power elite, or they were extraordinarily intelligent at figuring out what the secret cabal running the world had planned.
An ancient saying 'Ordo ab Chao' (Order out of Chaos) applies to the power elite's machinations. And so as to make particular problems seem intractable, they select global leaders who feign incompetence. This is one way the American people are manipulated. In the end, the public really doesn't have much choice when it comes to political candidates, and the power elite controls both major parties.
207 pages. Order yours today
---
Dynamic New DVD
"Masons In The Pulpit"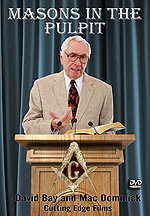 New DVD by David Bay and Mac Dominick - !
If your church allows Masons to fill the pulpit, or be Deacons, or Sunday School teachers, you have a very serious spiritual problem with Almighty God. The Holy Spirit has written 'Ichabod (The Glory Has Departed)' above your front door!
While Freemasonry has successfully deceived a great many people, convincing them that Freemasonry is compatible with Christianity, God knows the Truth and is not tolerant of Masons In The Pulpit.
We begin at a very reasonable beginning premise: If a pastor refuses to resign from the Masonic Lodge he does so because he feels greater loyalty to the Lodge than to Jesus Christ.
Starting from this premise, we examine a number of key Masonic teachings and then ask the Pastor how he can reconcile these teachings with Biblical Christianity. We ask, 'Mr. Pastor, when you are teaching key Biblical doctrine, are you really thinking of the radically different teaching of Freemasonry?
Prime Example: Freemasonry teaches that its religion is far superior to any other religion on Earth, including Christianity. Mr. Pastor, are you thinking how superior Masonry is to Christianity when you are teaching Biblical doctrine. Second Example: Freemasonry teaches that it is necessary for Lodge leaders to deliberately lie to their people until they are 'mature enough' to comprehend and accept the truth; Mr. Pastor, when you are teaching key Biblical doctrine, are you secretly thinking that it is necessary for you to teach these 'lies' about Jesus and the God of the Bible until your people are spiritually mature to comprehend the true Masonic doctrine?
We prove that a Holy God cannot tolerate Masons in the pulpit of a church for which His Son, Jesus, bled on that cruel cross of Calvary.
Almost two hours of teaching
Authors are Mac Dominick and David Bay.!
- http://www.cuttingedge.org/detail.cfm?ID=2712
Shipping NOW!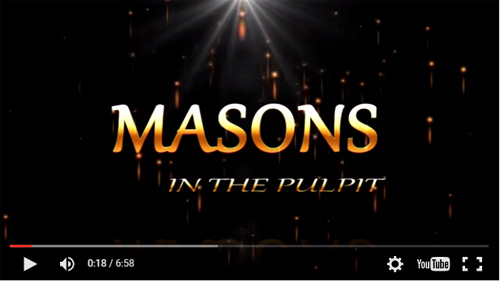 ---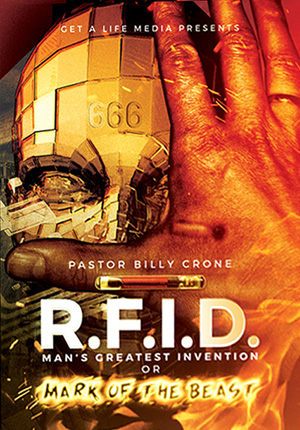 "RFID - Man's Greatest Invention, or 'Mark of The Beast'?"
New DVD by Pastor Billy Crone - Only $14.99
This device is being heralded as a silent revolution, a state of the art global tracking device, and as significant of an invention as the Internet or even the computer itself.
What is this device? It's none other than RFID. But with all the hoopla aside, the question we need to be asking ourselves is this, Is RFID man's greatest invention or Mark of the Beast?
Yet the irony is that even though this technology is sweeping the planet, hardly anyone, even Christians, have any idea what it is in the first place, let alone its Biblical ramifications!
Therefore, this series takes a look at three things to equip you with the facts concerning this planetary tracking device.
1) First you'll see the Definite Concern of RFID and what this technology can do as well as what the corporations will do.
2) Secondly you'll see the Dangerous Deployment of RFID and its current and planned usage to monitor and track everything from retail, food, shipping, transportation, medical, government, money, and everything else in between.
3) Thirdly, you'll see the Dark Future of RFID with not only plans to monitor and track animals with an RFID implant, but humans as well.

This technology is not a science fiction scenario of the future; it is present day reality with today's technology called RFID. And that's why the Mark of the Beast is not only real, it's really going to be implemented just like the Bible said. In fact, it might be sooner than you think.

2 DVD set - 3 hours -- http://www.cuttingedge.org/detail.cfm?ID=2714

POPULAR DVD's FROM
CUTTING EDGE FILMS JUST $14.99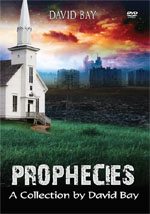 Prophecies Churches Are Ignoring - DVD Combo by David Bay - Volume 1 contains 3 DVDs with our first six programs.
Here are the six hot topics:
• The Prophetic Beast Arises: Ten Toes of Daniel Are Forming
• Rapture Precedes Israels Final 'WEEK' of History
• Eternal Security: God's Anchor In A Brutal Storm
• End Times' Judgment On Iraq (Babylon) Worse Than Believed Possible - Isaiah 13
• Israel's Prophesied Annihilation of the Palestinians
• America Identified In Prophecy: Economic Babylon of Revelation 18
Regular Price: $89.94 Sale Price: $29.99
See All Our $9.99 Books / DVD's
89 Titles From Which To Choose!

See All Our $4.99 Books DVD's
27 Titles From Which To Choose!
May Jesus Richly Bless You,
David Bay, Director
Cutting Edge Ministries
803-356-2850 -- Customer Service or Orders Toll Free within the USA 855-368-7639