Hot News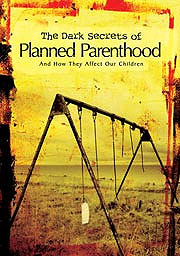 1. Planned Parenthood shooter kills 3, injures 9, in Colorado Springs, Colorado.
If he is described as a "Conservative Christian", Planned Parenthood may have just been saved from shutdown.
How could Mike Huckabee play right into the hands of the Liberal Democrats on this shooting?
NEWS BRIEF: "Colorado Springs Planned Parenthood Shooting: Three Killed, Nine Injured", Slate News, Nov 27, 2015
"After a five-hour standoff, police arrested a gunman who opened fire inside a Colorado Springs Planned Parenthood clinic in an attack that left three people dead and injured nine others ... There is almost no information about the man—wearing a white T-shirt and with a white beard—who was arrested and taken out of the clinic after the standoff. The suspect apparently told the police officers he acted alone ... Three sources tell CBS News the suspect is Robert Lewis Dear, 59. Investigators still don't know the motive of the attack."
Planned Parenthood has been on the political ropes in this country since videos have been released demonstrating how callously doctors who work in the clinics talk about butchering unborn babies to sell their parts for enormous profit. Videos also show the murder of babies in graphic fashion which only the medium of video can deliver.
Several states have decided to defund Planned Parenthood, while a strong Congressional action to defund the organization is currently underway ("Clarification: Congress-Health Repeal story")
While a vast majority of Americans do oppose dismembering bodies of babies so the parts could be sold, they do not support shooting up a Planned Parenthood clinic, killing three people and wounding nine. This shooting might single-handily blow back against anti-abortion efforts, and strongly so.
The Republican Party is also coming under attack as being partly responsible for this shooting tragedy. Immediately after the shooting, Left-wing media exploded with articles saying that the Republican effort to defund Planned Parenthood was creating an atmosphere of the kind of hatred which spawns deranged shootings.
Then, Republican Pastor Mike Huckabee played right into the hands of the Liberals by a statement he probably wishes he had never uttered.
NEWS BRIEF: "Huckabee: Planned Parenthood shooting is 'domestic terrorism'," KRDO News, November 29, 2015
"Mike Huckabee called the Friday shootings at a Planned Parenthood clinic in Colorado an act of "domestic terrorism."
Does Huckabee not know that the term "Domestic Terrorism" was created during the Clinton/Reno years as the label by which the Federal Government one day is going to persecute and treat Conservative / Christian citizens one day? This term is designed to be so close to the Arab / Islamic terrorism that "domestic terrorists" could be lumped in with the Muslim and be attacked with lethal weapons just as we are attacking ISIS today!
Watch news reports about the motives of this shooter. If his views coincide with the anti-abortion viewpoint, then we all will be painted with the broad brush which will be used to try to destroy the Conservative/Christian/Republican movement. These are the End Times in which we are living.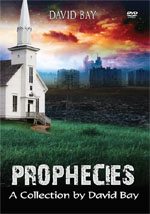 DVD Set
2. Are Democrats riding the Illegal Immigrant issue to their political death?
Vast numbers of Americans are terribly upset over Democrat Plan to open our border with Mexico
NEWS BRIEF: "Democrats' Death Wish: The Disappearing Destiny of the Donkey Party", Breitbart News, 27 November 2015
"Let's state our thesis up front: The Democrats are in so much trouble on the immigration/border security/counter-terrorism issue that only a truly bone-headed move by the Republicans could save the Democrats from electoral debacle in 2016 and beyond."
This thesis is quite startling, for it runs completely against Conventional Wisdom, which states that the Democrats have a lock on upcoming elections because they are attracting the votes of all those Syrian refugees which President Obama wants to allow into this country?
"Republicans are overwhelmingly hostile to the Syrian influx, and, crucially, independents feel the same way. But Democrats are just as monolithic in their support of Obama's position. In other words, we can be sure that inside the Obama White House, there's unanimity that The Chief is on the side of the angels. Indeed, in its invincible self-righteousness, the Obama administration threatens legal action against states that don't knuckle under to his Syrian Surge."
Obama even got caught up in his own inflated rhetoric.
"... on Thanksgiving, he compared the Syrians to the Pilgrims who came over on the Mayflower. And it's more than possible that Obama, who once told The New York Times that the Muslim call to prayer was "one of the prettiest sounds on Earth," might really believe that the Syrians are like the Pilgrims—only better."
"However, unless Obama finds a way to change the 22nd Amendment to the Constitution, his reign of error is coming to an end soon. Indeed, the American people have put together, in their minds, an extensive bill of particulars against Obama: The latest CBS News survey found that 66 percent of Americans said the president has no clear road map for combating ISIS, and just 36 percent approved of his overall handling of terrorism, an historic low."
Even though Barack Obama is protected from the wrath of the voters, the rest of Democrat office-holders are not. Both black leaders and the heads of American labor union oppose unlimited immigration because such a flood of no-skill people will endanger the jobs of their own constituents.
Additionally, enough American voters across the spectrum have come to vigorously oppose illegal immigration on any grounds, that the Democrat party holder may be in serious trouble. Let us hope so!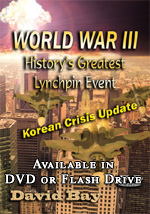 Trailer
3. Former CIA official raises the false alarm that events in the Middle East have caused so much turmoil that World War III might break out!
Revelation 17:12, 17 forbids a world war until the 10-Nation reorganization is complete.
We shall examine the progress of Supernation #6, "Latin and South America".
NEWS BRIEF: "Ex-CIA Ops Bob Baer: Middle East Getting Out of Control, Looks Like WWIII ", News Max, 24 November 2015
"The downing of a Russian fighter jet by Turkey is a "huge moment" and is beginning to look like World War III, former CIA operative Bob Baer says. This mosaic in the Middle East of conflict is getting out of control," Baer said Tuesday on CNN's Out Front. 'It's not just Russia and Turkey, it's Iran and Saudi Arabia. It is expanding rather than contracting, and nobody has a strategic plan'."
At this point, we need to stop to contradict former CIA agent, Bob Baer. President Obama is following the same strategic plan for the Middle East that President Bush authorized in 2006. See the map, below: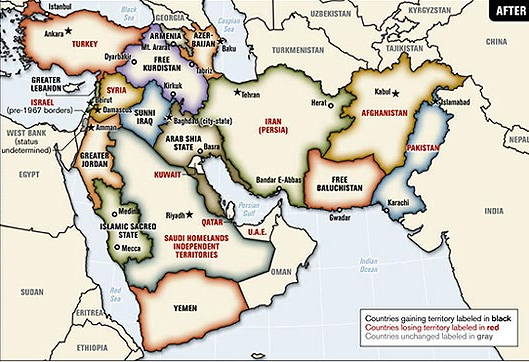 We encourage you to read our original analysis in NEWS2213, entitled, "President Bush's "New Middle East Map" Is Enraging Friends and Foes Alike".
We discuss this Strategic Plan in great detail and note that Saudi Arabia must go to war to prevent this dramatic change, which she did, nine years later, against Yemen. Indeed, our new DVD "Bringing Saudi Arabia Down", shows that Saudi Arabia is acting just as we predicted in 2006, and that her defeat is already becoming apparent.
Now, let us return to our original news article:
"Baer said he wouldn't be surprised if there is a wider conflict between Turkey and Russia unless the United States steps in."
At last, Baer listed the fundamental requirements for a world war to erupt out of the Middle East. The Superpowers -- America and Russia (and China too) -- must go to war against each other if the Third World War is to spring into reality.
And, therein lies the prophetic rub. Bible End Times prophecy states clearly and boldly that the leaders of the final 10 Supernations are going to "act in harmony" until God's prophetic words are fulfilled. Listen;
"And the ten horns which thou sawest are ten kings ... God hath put in their hearts to fulfil his will, and to agree (act in harmony), and give their kingdom unto the beast, until the words of God shall be fulfilled." (Revelation 17:12. 17)
Since President Obama is the de facto leader of Supernation #1 (North American Union), and President Putin is the de facto leader of Supernation #5 (Russia and Eastern Europe) and President Xi Jinping (China) are "acting in harmony"! That is the plain meaning of Revelation 17:12, 17).
I have been studying the progress of the plan to produce Antichrist and his kingdom, a.k.a., New World Order, for over 20 years and I can tell you boldly that the leaders of the final 10 kings have been cooperating since before World War I. Today, that cooperation is very deep and very strong.
No war between Final 10 Nations until Antichrist is arisen. Explained in DVD, "World War III: History's Greatest Lynchpin Event"
We know that this viewpoint runs completely counter to Conventional Wisdom, but that Wisdom has proven to be wrong so much of the time since the attacks of 9/11, that discerning believers must start paying more attention to prophecy than to Conventional Wisdom. Do you have the courage to believe prophecy over Conventional Wisdom of the Mass Media Establishment?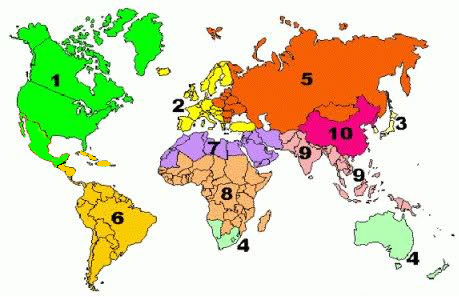 Now, let us examine progress toward creating Supernation #6, Latin and South America.
"The Union of South American Nations, USAN ... is an intergovernmental regional organization comprising 12 South American countries ... The UNASUR Constitutive Treaty was signed on 23 May 2008, at the Third Summit of Heads of State, held in Brasília, Brazil. According to the Constitutive Treaty, the Union's headquarters will be located in Quito, Ecuador. On 1 December 2010, Uruguay became the ninth state to ratify the UNASUR treaty, thus giving the union full legality. As the Constitutive Treaty entered into force on 11 March 2011, UNASUR became a legal entity during a meeting of Foreign Ministers in Mitad del Mundo, Ecuador, where they had laid the foundation stone for the Secretariat Headquarters. The South American Parliament will be located in Cochabamba, Bolivia, while the headquarters of its bank, the Bank of the South are located in Caracas, Venezuela." (Wikipedia, the free encyclopedia)
"At the Third South American Summit on 8 December 2004, presidents or representatives from 12 South American nations signed the Cusco Declaration, a two-page statement of intent announcing the foundation of the South American Community. The group announced their intention to model the new community after the European Union[citation needed] including a common currency, parliament, and passport. According to Allan Wagner Tizón, former Secretary General of the Andean Community, a complete union like that of the EU should be possible by 2019."
Union's HQ -- Quito, Ecuador
Secretariat HQ -- Mundo, Ecuador
Parliament -- Cochabamba, BoliviaBank HQ -- Caracas, Venezuela -- "Presidents of the seven founding countries (Argentina, Bolivia, Brazil, Ecuador, Paraguay, Venezuela and Uruguay) officially launched the South American Bank in Buenos Aires in December 2007 ... The Brazilian Minister, Guido Mantega,stated that the bank is not similar to the International Monetary Fund; it will be a credit institution similar to the World Bank."
Defense Policy -- "The South American Defense Council (CDS) was proposed by Venezuela and Brazil to serve as a mechanism for regional security, promoting military co-operation and regional defense. From the beginning Brazil, Argentina and Chile, the countries that took the leadership of the project, made clear that they did not intend to form a NATO-like alliance, but a cooperative security arrangement, enhancing multilateral military cooperation, promoting confidence and security building measures and fostering defense industry exchange. Colombia initially refused to join the defense council due to the strong military ties it has with the United States through the Plan Colombia. However, after reviewing the proposal they decided to join on 20 July 2008."Citizenship -- "Free movement of people
Visits by South American citizens to any South American independent country of up to 90 days only require an identification document issued by the traveler's country. On 24 November 2006, Argentina, Bolivia, Brazil, Chile, Colombia, Ecuador, Guyana, Paraguay, Peru, Suriname, and Uruguay abolished visa requirements for tourists between any of those nations ... At a summit in Guayaquil, Ecuador on 4 December 2014, UNASUR general secretary Ernesto Samper announced, " 'We have approved the concept of South American citizenship', including the creation of a single passport."Did you catch that intent to create a single super state? Listen again:
" 'We have approved the concept of South American citizenship', including the creation of a single passport."

And, reporting again on the timetable: "a complete union like that of the EU should be possible by 2019."
Be encouraged, dear supporter! One more supernation is now forming, bringing the entire world closer to the Rapture of the Church!
4. Israeli Prime Minister Netanyahu drew a line in the sand regarding the issue of surrendering more land to the Palestinians.
He vowed Israel will not surrender "one meter" of land to the Palestinian Authority!
The Palestinians have no choice but to go to war against Israel after this inflammatory declaration!
NEWS BRIEF: "Israeli PM Vows: 'Not one meter' will be transferred to Palestinians", Israel National News, 11/29/2015
"Facing down angry Likud ministers, Netanyahu promises there are no plans to deliver land from Area C in Judea-Samaria to Palestinians. 'There will be no transfer of land to the Palestinian Authority - not 40 thousand dunams, not 10 thousand, not one meter', Netanyahu stressed to outraged ministers. "
"The transfer of territory controlled by Israel to the Palestinian Authority, as occurred in the Oslo Accords and the Disengagement, reward terrorism and provides support to terrorists. The Prime Minister's policies should be the exact opposite - no more lapses and surrendering to terrorism, rather a thaw in the building freeze and the extension of Israeli sovereignty in Judea and Samaria'."
Indeed, this is the plan of PM Netanyahu - no more concessions and no more worthless/dangerous "good will gestures". Israel is getting ready to carry out the annihilation of the Palestinians as foretold in Obadiah 15-18. Please take the time to watch our new DVD, "Israel's Prophesied Triumph Over The Palestinians"!
Again, do you have the courage to believe prophecy instead of Conventional Wisdom?
---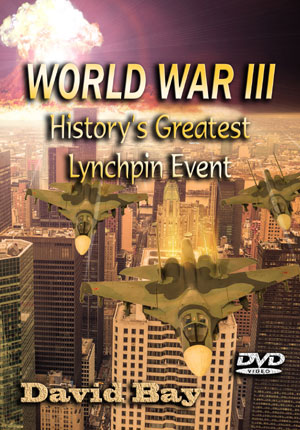 World War III: History's Greatest Lynchpin Event
New DVD by David Bay - Only $14.99
In the minds of most people, two words carry so much emotional baggage that people cringe whenever they hear these Apocalyptic words. 1) Armageddon; 2) World War III.
In the past 20 years, whenever a battle begins in the Middle East or whenever a verbal confrontation breaks out between major powers, 'gloom and doom' scare-mongers immediately begin to shout 'World War III',much like a person yells 'FIRE' in a crowded theater.
Bible prophecy reveals that Antichrist will be produced on the world scene by a number of signs, including 'wars and rumors of wars'. Demonic familiar spirits told the Elite in 1870 that three world wars will be needed to produce Antichrist. Make no mistake about it: Antichrist will be produced by World War III.
Therefore, the question of the hour is, 'when will this global war begin' and 'what are the signs it is about to commence'? Many major events are planned to occur just as World War III begins. Mankind will be systematically hit with unparalleled disasters of every kind as this planned global war unfolds. But, none of these events will occur until the lynchpin called 'World War III' is pulled.
When the Global Elite pulls this lynchpin event called World War III, events are going to be unleashed in such severity and in such great numbers the peoples of the world will not stand in awe, they will panic and run for the hills. Jesus said that 'men's hearts shall fail them for fear', and the Elite is creating just such climactic events which shall not occur until the lynchpin known as 'World War III' is pulled.
We will show you the 12 major disasters the Elite has created and is waiting only for the beginning of World War III to unleash them all, almost at once. No one need fear that any of these disasters will jump across the starting line ahead of time; each awaits the 'pulling of the lynchpin', World War III.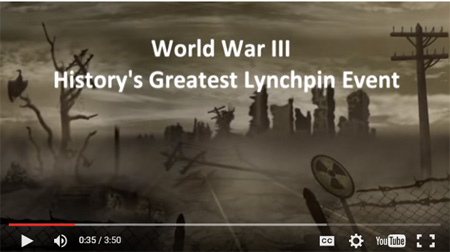 ---
\
NEW BOOK

A Marriage Built To Last Paperback Book
from Pastor Billy Crone
Many marriages today are under severe strain. Most of us can identify with this. But is this the kind of relationship that God had in mind when He instituted marriage? Absolutely not! A Marriage Built to Last looks at eleven steps to having a lasting and fulfilling marriage, including: Men and Women are Different. Love is and Action. The Need for Communication, Honor, and Intimacy. The Need for Biblical Men and Women. The Need for a Strong Family It's going to take some time and work, but if we'll just get back to God's plan for marriage, we're well on our way to having A Marriage Built to Last.
170 pages
NEW DOC MARQUIS DVD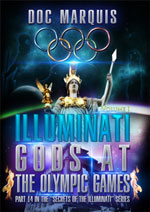 "Illuminati Gods At The Olympic Games"
by Doc Marquis, 2-DVD Set, 4 Hours Long
Regularly $24.99, Reduced To $19.99
Today's Olympic Games are dedicated to the ancient Serpent God of the global Illuminati, preparing the world for Antichrist.
You will vicariously be taken back to the very beginnings of the ancient Olympic Games and then brought up to the very time in which Adolf Hitler inculcated into the 1936 Games the Illuminati's brand of occultism.
You will then be brought to 1996 where the Illuminati began their tale of the serpent god, and through various occult practices and symbols prove that his return is imminent. 2 DVD set, nearly 4 hours long. Part 14 in the series, 'Secrets of the Illuminati'.
---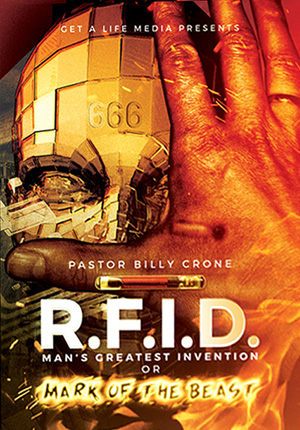 "RFID - Man's Greatest Invention, or 'Mark of The Beast'?"
New DVD by Pastor Billy Crone - Only $14.99
This device is being heralded as a silent revolution, a state of the art global tracking device, and as significant of an invention as the Internet or even the computer itself.
What is this device? It's none other than RFID. But with all the hoopla aside, the question we need to be asking ourselves is this, Is RFID man's greatest invention or Mark of the Beast?
Yet the irony is that even though this technology is sweeping the planet, hardly anyone, even Christians, have any idea what it is in the first place, let alone its Biblical ramifications!
Therefore, this series takes a look at three things to equip you with the facts concerning this planetary tracking device.
1) First you'll see the Definite Concern of RFID and what this technology can do as well as what the corporations will do.
2) Secondly you'll see the Dangerous Deployment of RFID and its current and planned usage to monitor and track everything from retail, food, shipping, transportation, medical, government, money, and everything else in between.
3) Thirdly, you'll see the Dark Future of RFID with not only plans to monitor and track animals with an RFID implant, but humans as well.

This technology is not a science fiction scenario of the future; it is present day reality with today's technology called RFID. And that's why the Mark of the Beast is not only real, it's really going to be implemented just like the Bible said. In fact, it might be sooner than you think.

2 DVD set - 3 hours -- http://www.cuttingedge.org/detail.cfm?ID=2714

POPULAR DVD's FROM
CUTTING EDGE FILMS JUST $14.99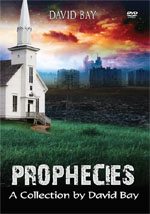 Prophecies Churches Are Ignoring - DVD Combo by David Bay - Volume 1 contains 3 DVDs with our first six programs.
Here are the six hot topics:
• The Prophetic Beast Arises: Ten Toes of Daniel Are Forming
• Rapture Precedes Israels Final 'WEEK' of History
• Eternal Security: God's Anchor In A Brutal Storm
• End Times' Judgment On Iraq (Babylon) Worse Than Believed Possible - Isaiah 13
• Israel's Prophesied Annihilation of the Palestinians
• America Identified In Prophecy: Economic Babylon of Revelation 18
Regular Price: $89.94 Sale Price: $29.99
See All Our $9.99 Books / DVD's
89 Titles From Which To Choose!

See All Our $4.99 Books DVD's
27 Titles From Which To Choose!
May Jesus Richly Bless You,
David Bay, Director
Cutting Edge Ministries
803-356-2850 -- Customer Service or Orders Toll Free within the USA 855-368-7639