Hot News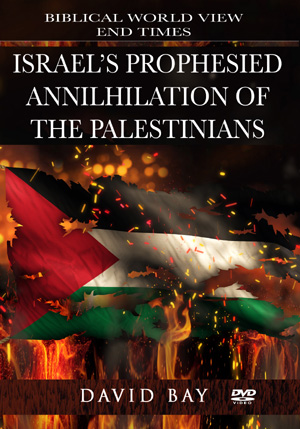 1. Palestinian leaders may have just set the stage for the legal annihilation of their people.
Now, all Palestinian citizens are combatants!
NEWS BRIEF: " 'Every single Jew in Palestine is a combatant, even the children' ", The Jerusalem Post, 10/22/2015
"In a recent appearance on Hamas's Al-Aksa TV, a Gaza university official justified killing Jewish women and children. According to the video posted by MEMRI (the Middle East Media Research Institute), Dr. Subhi Al-Yaziji, Dean of Quranic Studies at the Islamic University of Gaza said: 'All Jews in Palestine today are fair game - even the women'."
Then, just to make sure his listeners properly understood his remarks, the professor repeated himself.
" 'Every single Jew in Palestine is a combatant, even the children', he said adding, 'They train their children to use tanks and various kinds of weapons. They breastfeed them on hatred for the Palestinian people'."
This statement ignores the incessant anti-Israel and anti-Jew propaganda which fill the minds of Palestinian schoolchildren from the most tender ages. Islamic hatred promises great eternal reward for anyone who kills a Jew. In the last few weeks, calls have gone out from Palestinian leaders to kill Jews wherever they find them, on public streets, in their homes, in their neighborhoods and even in places of recreation.
Weapons to be used are knives, guns, bombs, anything that can kill or injure a person.
Therefore, the official word from Palestinian leaders is to treat every single Jew -- even a tiny baby in her mother's arms -- as an enemy combatant, worthy of death!
I am no international legal scholar, but this type of official declaration of war down to the men, women, and children can be used by Israel as legal justification for Israel to carry out the same kind of extreme war uttered by this Palestinian "Dean of Quranic Studies at the Islamic University of Gaza".
At least, killing of men, women, and children is the essence of God's judgment of 2,600 years ago against these people.
"Then the house of Jacob shall be a fire And the house of Joseph a flame in executing God's wrath; But the house of Esau will be like stubble. They Jacob shall set them on fire and consume them (the Edomites), So that there shall be no survivor of the house of Esau,"
For the Lord has spoken." (Obadiah 18, Amplified Bible Commentary)
One major fact about End of the Age judgments is that this is the only time in world history in which entire populations of people disappear. This war between Israel and the Palestinians may be the first of such genocidal wars. As the IDF is placing concrete barriers to set apart the Palestinian population from the Jewish, even in high density city areas, everyone should pause to consider that God's judgment, above, is close to occurring!
Please allow God the final Word:
"So shall all the nations drink continually, one by one, of My wrath; Yes, they shall drink and swallow the full measure of punishment, And become as though they had never existed. 'But on Mount Zion in Jerusalem there shall be deliverance for those who escape, And it shall be holy, no pagan will defile it'." (Obadiah 16b-17)
NOTE: News Alert continues after the advertisement, below
---
The Horsemen of the Apocalypse - Ready To Ride
Revelation 6:1-8 - DVD's by Dr. Missler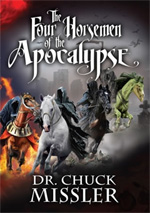 "Four Horsemen of the Apocalypse"
4-DVD Set by Dr. Chuck Missler
Regularly $79.99, Only $49.99You Save $30 buying the combo
This collection is approximately 8 hours and includes all of these great studies:
1) Behold a White Horse: The Coming World Leader
2) Behold a Red Horse: Wars and Rumors of Wars
3) Behold a Black Horse: Economic Upheaval and Famine
4) Behold a Livid Horse: Emergent Diseases and Biochemical Warfare
You can buy the titles individually, see below. http://www.cuttingedge.org/detail.cfm?ID=2701
BUY THESE TITLES INDIVIDUALLY
---
2. As Islamic hordes rage across the Middle East, they do what comes naturally:
They murder Christians.
NEWS BRIEF: "New Report Finds Mideast Christians May Disappear in Less than a Generation ", Breaking Israel News, October 22, 2015
"A report from the United Kingdom-based Catholic charity group Aid to the Church in Need (ACN) has found that Middle East Christians, especially in Iraq and Syria, are "on course for extinction" within a generation or sooner. The report—titled 'Persecuted and Forgotten? A report on Christians oppressed for their Faith 2013-2015'— finds that the time period from October 2013 to July 2015 has been 'catastrophic for many Christians in the regions where persecution is worst', such as in the Middle East, Africa, and Asia."
"The report blames "religio-ethnic cleansing" that is being powered by the 'well-publicized threat of genocide' as the main factor behind the persecution of Christians ... that is "the primary cause of the contraction of Christians—changing from being a global faith to a regional one, with the faithful increasingly absent from ever-widening areas', said the report. 'Christianity is on course for extinction in many of its biblical heartlands within a generation, if not before', the report concluded."
In the aftermath of Israel's annihilation of a people who have been trying to eradicate Jews for the past 4,000 years, we must remind people that Islam virtually eradicated Christianity one thousand years ago in the Middle East and they are actively murdering Christians in the same area of the world today.
As the world spins toward its Divine Appointment with Antichrist, let us examine prophecy concerning Christians during the Tribulation.
"... as soon as they finish shattering and crushing the power of the holy people, all these things will be finished." (Daniel 12:7b)
"And I said unto him, Sir, thou knowest. And he said to me, These are they which came out of great tribulation, and have washed their robes, and made them white in the blood of the Lamb." (Revelation 7:14)
But, Jesus comforts us.
"They shall hunger no more, neither thirst any more; neither shall the sun light on them, nor any heat. For the Lamb which is in the midst of the throne shall feed them, and shall lead them unto living fountains of waters: and God shall wipe away all tears from their eyes." (Revelation 7:16-17)
"Because thou hast kept the word of my patience, I also will keep thee from the hour of temptation, which shall come upon all the world, to try them that dwell upon the earth." (Revelation 3:10)
For Jesus to keep us from the very hour during which He is pouring His judgment upon the world, He must snatch us out of this dimension, i.e., the Rapture of the Church.
Amen! Come quickly, Lord Jesus.
NOTE: News Alert continues after the advertisement, below
---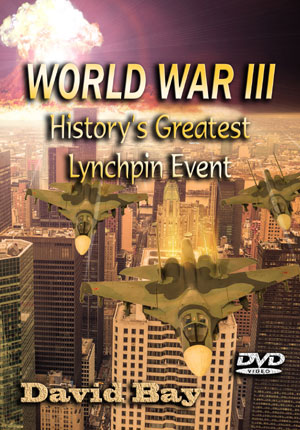 World War III: History's Greatest Lynchpin Event
New DVD by David Bay - Only $14.99
In the minds of most people, two words carry so much emotional baggage that people cringe whenever they hear these Apocalyptic words. 1) Armageddon; 2) World War III.
In the past 20 years, whenever a battle begins in the Middle East or whenever a verbal confrontation breaks out between major powers, 'gloom and doom' scare-mongers immediately begin to shout 'World War III',much like a person yells 'FIRE' in a crowded theater.
Bible prophecy reveals that Antichrist will be produced on the world scene by a number of signs, including 'wars and rumors of wars'. Demonic familiar spirits told the Elite in 1870 that three world wars will be needed to produce Antichrist. Make no mistake about it: Antichrist will be produced by World War III.
Therefore, the question of the hour is, 'when will this global war begin' and 'what are the signs it is about to commence'? Many major events are planned to occur just as World War III begins. Mankind will be systematically hit with unparalleled disasters of every kind as this planned global war unfolds. But, none of these events will occur until the lynchpin called 'World War III' is pulled.
When the Global Elite pulls this lynchpin event called World War III, events are going to be unleashed in such severity and in such great numbers the peoples of the world will not stand in awe, they will panic and run for the hills. Jesus said that 'men's hearts shall fail them for fear', and the Elite is creating just such climactic events which shall not occur until the lynchpin known as 'World War III' is pulled.
We will show you the 12 major disasters the Elite has created and is waiting only for the beginning of World War III to unleash them all, almost at once. No one need fear that any of these disasters will jump across the starting line ahead of time; each awaits the 'pulling of the lynchpin', World War III.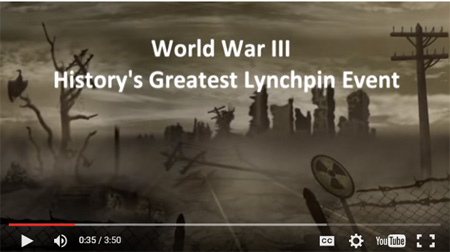 ---
3. Egypt continues marching down her path toward God's judgment of Isaiah 19.
The outlines of a bitter civil war which will result in a very harsh dictatorship is on the horizon.
Ethiopia continues to build that Weapon of Mass Destruction, the Renaissance Dam!
Just as we warn in this DVD, "Egypt's Prophetic Tsunami"!
NEWS BRIEF: "Egypt locks up lawyers in Islamist fight ", Reuters News, October 22, 2015
"As Egypt cracks down on its Islamist dissidents, many of the country's lawyers are finding themselves on the wrong side of the law as well. Attorney Mohsen al-Bahnasy says so many fellow lawyers have been arrested or charged in recent months that he now spends much of his time defending them in court. One of the lawyers he represents is accused of distributing leaflets supporting the Muslim Brotherhood, the Islamist group banned by the government of President Abdel Fattah al-Sisi."
General/ President al-Sisi has declared war unofficially against the radical Muslim Brotherhood, even though over half of Egypt's population is sympathetic to the Brotherhood. Egypt is now much more repressive than its predecessor, Mubarak!
"n all, more than 200 lawyers are behind bars ... the number of arrests is far higher than during the rule of President Hosni Mubarak, who imposed an emergency law allowing individuals to be imprisoned for any length of time. Even under Mubarak, lawyers rarely faced jail and were free to defend his fiercest opponents, attorneys say ... the number is "probably up to 10 times" the number held under Mubarak."
One elderly citizen sums up the mood of the country: "... things now are worse than he has seen them. 'I've never been so scared'."
NEWS BRIEF: "Egypt arrests senior Muslim Brotherhood figure", Thompson Reuter's Foundation, October 22, 2015
"Egyptian security forces have arrested Hassan Malik, a leader of the outlawed Muslim Brotherhood, security officials said, part of a sustained crackdown on Islamists ... Malik, a businessman, was one of the few prominent Brotherhood members to escape the toughest crackdown on Islamists in Egypt's modern history."
One day, a tipping point may well be reached, where tens of millions of Egyptian citizens take to the streets to violently oppose al-Sisi's repressive government, triggering a wide-spread civil war. Out of this war, a dictator will arise that will make Sisi seem calm and kind. That kind of dictator is the first part of Isaiah 19, and it is unfolding right now.
Consider the prophecy:
" 'And I will hand over the Egyptians to a hard and cruel master, And a mighty king will rule over them', declares the Lord God of hosts." (Isaiah 19:4)
Now, what about the next part of the prophecy of Egypt's demise. The waters of the Nile drying up and then a wall of water rushing down? Consider the news:
NEWS BRIEF: "Grand Renaissance Dam almost at halfway completion stage", Aramba Times, October 15, 2015
"The Grand Ethiopian Renaissance Dam (GERD) is now almost halfway ... the project hits 47 percent completion point."
Egypt is very concerned that, during the two years it will take to accumulate the waters behind the dam, the Nile River will dry up. What does the prophecy say?
"And the waters shall fail from the Nile, and the river shall be wasted and become dry. And the rivers shall become foul, the streams and canals of Egypt shall be diminished and dried up, the reeds and the rushes shall wither and rot away. The meadows by the Nile, by the brink of the Nile, and all the sown fields of the Nile shall become dry, be blown away, and be no more. The fishermen will lament, and all who cast a hook into the Nile will mourn; and they who spread nets upon the waters will languish." (Isaiah 19:5-8)
Because Egypt will be so devastated by the loss of Nile River water for at least 2 years, Egypt is very concerned. She has attempted to negotiate a deal with Ethiopia but has been stalled every time.
NEWS BRIEF: "Ethiopia accused of stalling negotiations with Egypt and Sudan over Renaissance Dam", Nazret.com, October 4, 2015
"A tripartite meeting that was supposed to be held in Egypt on Sunday has been postponed upon the request of Addis Ababa in the latest setback to efforts to reach a compromise over Ethiopia's Renaissance Dam. Egypt had invited Ethiopian and Sudanese officials, along with representatives from the consultancy firm studying the impact of the dam, to a meeting headed by the Egyptian National Committee of the Grand Ethiopian Dam (TNC). The meeting was arranged to discuss the recent differences between the countries over the building of the Renaissance Dam in Ethiopia."
Why is Ethiopia so reluctant to even talk to Egypt about this massive Renaissance Dam? I believe Ethiopia considers this dam to be a weapon of mass destruction to be used against its old enemy, Egypt. Truly, Egypt will be destroyed if she is forced to go without the Nile River flow for at least two years.
The situation is so grave that one might consider the possibility that Egypt might resort to war to prevent the dam from being built. But, the Muslim Brotherhood is giving Sisi's Egyptian Army real trouble in the Sinai and the threat of civil war is worrisome to the Egyptian government.
Watch events in Egypt, as Isaiah 19 foretells.
NOTE: News Alert continues after the advertisement, below
---
NEW CHRIS PINTO DVD!!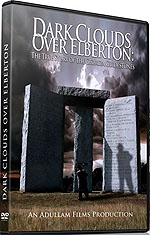 "Georgia Guidestones Mystery Revealed: Dark Clouds Over Elberton"
New DVD by Chris Pinto
At Long Last: The mysterious 'R.C. Christian' who funded the massive Georgia Guidestones is revealed by Chris Pinto. Masterful research project finally pays off. The monument was named the Georgia Guidestones. Written on the great granite stones are ten commands or guides that were intended to provide New Age wisdom for mankind. But the first of them calls for a reduction of the world population to a mere 500 million.
Researchers have wondered for decades about the identity of R.C. Christian and the purpose of his mysterious structure. Was he part of a globalist group? Was he working with the United Nations? After a five year investigation, this powerful documentary presents groundbreaking information, and dares to solve the mystery of who R.C. Christian really was.
This film is a must see for those who wish to learn more about the globalist use of environmentalism in the cause of population control.
Role of both Rosicrucian and Freemason secret societies in the building of the Georgia Guidestones is revealed Two (2) Hours Long

DVD Trailer
---
Donald Trump seemed pleased that Vice-President Joe Biden made the right decision to stay out of the 2016 Democrat race for the White House.
Trump announced he was looking forward to running against Hillary's horrible record.
This election of 2016 may turn out to be one of the most interesting in a very long time.
NEWS BRIEF: "Trump: Biden Made 'Correct Decision,' Bring On Hillary's 'Bad Record' ", Breitbart News, October 22, 2016
"Once again, by using his Twitter account, Republican presidential frontrunner Donald Trump was able to beat his challengers in immediately shaping a news cycle, this one surrounding Vice President Joe Biden's Wednesday afternoon decision not to run for president. Trump was also able to get his message out unfiltered by the DC media — that message being how eager he is to run against Hillary Clinton's 'terrible record'."
Hillary has been so offensive in so many ways to Christian Conservatives since 1992 that she would seem to be an easy target for someone like Donald Trump who can focus on issues in such a colorful way that he can effectively drive home the pertinent facts he wants to highlight.
In other words, Trump seems to have the ability to really make voters aware of Hillary's many disastrous policies and beliefs and goals.
Nevertheless, since the 1960 election, America has always gotten the man in the White House that the Elite desires. Therefore, if the Illuminati wants Hillary to be President, she will be President.
Sad, but very true.
---
NEW DOC MARQUIS DVD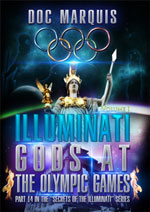 "Illuminati Gods At The Olympic Games"
by Doc Marquis, 2-DVD Set, 4 Hours Long
Regularly $24.99, Reduced To $19.99
Today's Olympic Games are dedicated to the ancient Serpent God of the global Illuminati, preparing the world for Antichrist.
You will vicariously be taken back to the very beginnings of the ancient Olympic Games and then brought up to the very time in which Adolf Hitler inculcated into the 1936 Games the Illuminati's brand of occultism.
You will then be brought to 1996 where the Illuminati began their tale of the serpent god, and through various occult practices and symbols prove that his return is imminent. 2 DVD set, nearly 4 hours long. Part 14 in the series, 'Secrets of the Illuminati'.
POPULAR DVD's FROM
CUTTING EDGE FILMS JUST $14.99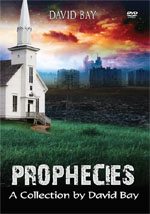 Prophecies Churches Are Ignoring - DVD Combo by David Bay - Volume 1 contains 3 DVDs with our first six programs.
Here are the six hot topics:
• The Prophetic Beast Arises: Ten Toes of Daniel Are Forming
• Rapture Precedes Israels Final 'WEEK' of History
• Eternal Security: God's Anchor In A Brutal Storm
• End Times' Judgment On Iraq (Babylon) Worse Than Believed Possible - Isaiah 13
• Israel's Prophesied Annihilation of the Palestinians
• America Identified In Prophecy: Economic Babylon of Revelation 18
Regular Price: $89.94 Sale Price: $29.99
---
See All Our $9.99 Books / DVD's
89 Titles From Which To Choose!

See All Our $4.99 Books DVD's
27 Titles From Which To Choose!
---
May Jesus Richly Bless You,
David Bay, Director
Cutting Edge Ministries
800-451-8211