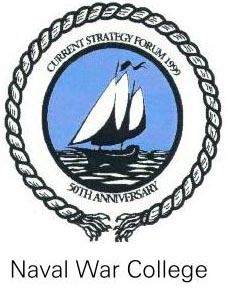 Title: LESSONS LEARNED FROM ATTENDING THE CURRENT STRATEGY FORUM, 1999, AT THE U.S. NAVAL WAR COLLEGE, NEWPORT, RHODE ISLAND
Subtitle: This annual conference invites key civilian leaders within local communities throughout the United States to attend, to participate in discussions with key military and civilian leaders about trends of the future and key decisions that must be made.
You will be shocked to learn that the U.S. Military and key civilian leadership consider the New World Order to have already been established and that they support its key elements completely! The Verbatim Notes with Brief Comments are all linked to this document.



---
The New World Order is coming! Are you ready? Once you understand what this New World Order really is, and how it is being gradually implemented, you will be able to see it progressing in your daily news!!

Learn how to protect yourself, your loved ones!

Stand by for insights so startling you will never look at the news the same way again.

YOU ARE NOW ON

THE CUTTING EDGE



Every year, the U.S. Navy holds a Strategy Forum in which they invite key civilian leaders to join the military officers of Navy, Marine Corps, and Army in discussing current national and global trends and the most desired direction in which our country should be heading. Imagine my surprise when I received an invitation to attend! Here is the actual invitation.

I looked forward to attending the conference to determine if certain elements of key New World Order Plans would be echoed in official governmental and military thinking. I wanted to know if the key leadership of the U.S. Navy, and its civilian Clinton leaders, were marching lockstep with key elements of the Plan; if I could not ascertain any parallels with my research, then perhaps I would then need to rethink certain elements of the articles on The Cutting Edge.

Further, I wanted to know the current state of the U.S. Navy. For example, were news reports correct when they reported some very serious problems within the Navy? For example:

1. Was the U.S. Navy out of supplies of cruise missiles?

2. Was the U.S. Navy short of supply of precision guided munitions? Precision munitions are critical to the Navy during any ship-to-ship combat, far more important than cruise missiles. If the U.S. Navy were to engage any enemy in combat at sea, her precision-guided munitions would be of paramount importance. If we were to be short of such munitions, our President might be well advised to keep our forces out of any sea combat for fear of annihilating losses.

3. Could the U.S. Navy fulfill its traditional objective of fighting 2 1/2 wars simultaneously throughout the world? Since the New World Order Plan calls for just such a scenario in the time period leading up to the appearance of Antichrist, the U.S. Navy might be called upon to perform just such an important task. But, since the President of the United States is an active leader in this New World Order Plan, we might expect that he would be engaged in a clandestine plan to so draw down critical munitions so as to render our Navy impotent. Could I see any such concern from officials within the Navy?

4. My research has been primarily through civilian New Age and New World Order leadership, quoting their books and articles. Was the U.S. Military being led by the same civilian ideas? Once again, I was prepared to change my thinking somewhat if I could not detect signs that our military was being led by the same type of civilian principles and plans.

5. Were U.S. Navy commanders concerned about the huge budget cuts with which the Clinton Administration has forced upon them? If they are concerned, would I hear anything about such concern? If I did hear such concern, what form would it take, since the President is their superior? You will be surprised at the concerns I heard expressed.

6. Could I detect any Strategic Thinking that would allow me a definitive peek inside the military in this time in our history? Think Tanks are the inner brains of both civilian and military organizations these days, and provide the most clear direction possible of what future course our government might take us. If I could get a glimpse into the Think Tank of the U.S. Navy, I could more accurately ascertain what may lie in our immediate future. The Newport Naval College contained the U.S. Navy Think Tank, so I was in the right place to learn, if I could only be so fortunate. You will be surprised by what I discovered!

We have created two (2) types of articles.

1. Verbatim Speaking Notes, Related Information, and Brief Analyses

2. Cutting Edge Analysis. Please bear with us as the In-depth Analysis will come in batches.

Truly, what I learned at this Current Strategy Forum at the Newport Naval War College strongly reinforced what I have been teaching on The Cutting Edge Web Site. I found nothing that would make me change one iota of what we have been teaching. This government and military forum confirmed all we have been teaching.

BRIEF BIOGRAPHIES AND/OR MESSAGES FROM THE KEY PARTICIPANTS

BRIEF HISTORY OF THE NAVAL WAR COLLEGE AND THE CURRENT STRATEGY FORUM

The End of the Age is really and truly here.

Are you spiritually ready? Is your family? Are you adequately protecting your loved ones? This is the reason for this ministry, to enable you to first understand the peril facing you, and then help you develop strategies to warn and protect your loved ones. Once you have been thoroughly trained, you can also use your knowledge as a means to open the door of discussion with an unsaved person. I have been able to use it many times, and have seen people come to Jesus Christ as a result. These perilous times are also a time when we can reach many souls for Jesus Christ, making an eternal difference.

If you have accepted Jesus Christ as your personal Savior, but have been very lukewarm in your spiritual walk with Him, you need to immediately ask Him for forgiveness and for renewal. He will instantly forgive you, and fill your heart with the joy of the Holy Spirit. Then, you need to begin a daily walk of prayer and personal Bible Study.

If you have never accepted Jesus Christ as Savior, but have come to realize His reality and the approaching End of the Age, and want to accept His FREE Gift of Eternal Life, you can also do so now, in the privacy of your home. Once you accept Him as Savior, you are spiritually Born Again, and are as assured of Heaven as if you were already there. Then, you can rest assured that the Kingdom of Antichrist will not touch you spiritually.

If you would like to become Born Again, turn to our Salvation Page now.

We hope you have been blessed by this ministry, which seeks to educate and warn people, so that they can see the coming New World Order -- Kingdom of Antichrist -- in their daily news.

Finally, we would love to hear from you.

You can contact us by mail or email.

God bless you.

Subscribe to our email updates and messages from our editor by entering your email address below


Return to: