Title: INDICATIONS SEEM STRONG THAT IRAQI INSURGENTS NOW HAVE ANTI-AIRCRAFT CAPABILITY TO SHOOT DOWN OUR PLANES!
Resources to aid your Understanding
Subtitle: Word surfaced weeks ago that Russia may have sold very sophisticated shoulder-fired missiles to Syria, who could then ship them to Iraqi fighters. Losing multiple planes in one week may provide the evidence that our air power is no longer unchallenged. This Iraq War may be about to become much more bloody soon.
The New World Order is coming! Are you ready? Once you understand what this New World Order really is, and how it is being gradually implemented, you will be able to see it progressing in your daily news!!
Learn how to protect yourself, your loved ones!
Stand by for insights so startling you will never look at the news the same way again.
YOU ARE NOW ON
THE CUTTING EDGE
Copyright © 2004 Cutting Edge Ministries. All rights reserved. See full copyright notice below.
During much of this past year in Iraq, stories have consistently surfaced indicating that this war is running parallel to the disaster in Vietnam. In Vietnam, our forces relied heavily upon air power and air transport to make up for a lack of manpower on the one hand, while delivering supplies on the other. Military reality forced us to begin relying upon air resupply because the enemy was inflicting heavy losses upon our land-based convoys. History records that our effort to resupply through the air was a significant sign that we had lost the Vietnam war.
Similarly, Coalition Forces in Iraq have used air power to make up for our lack of manpower. If you recall, a Pentagon general testified before Congress before the invasion began, saying that 360,000 men would be required to win this war and establish the peace. When we sent in only one-half that amount, our generals relied upon massive firepower to make up for the lack of soldiers.
In Iraq, our land-based resupply convoys similarly came under heavy enemy attack, largely through roadside bombs. We have lost so many men and so much materiel through these attacks that we have begun relying upon helicopters and fixed wing aircraft to deliver the required supplies. The premise was that this course of action was safer, since we owned the skies and since the enemy had no effective weapon against our aircraft.
Events during these past several weeks have indicated that this situation may be changing; if it is changing, we could lose many more aircraft, the war could become a lot more bloody, and we may have to throw in a lot more manpower, even if our leaders have to reestablish the military draft.
Before we begin, please take a few moments to read one of our latest articles on the weaponry Russia has provided Iran and plans to provide Syria. Experts worry that some of these anti-aircraft weapons might be shipped to the Iraqi insurgency, possibly tipping the balance of power in the country. Our article is:
"RUSSIAN CHECKMATE IN THE MIDDLE EAST?" -- NEWS2003
Let us now examine the news stories which seem to tell the story.
NEWS BRIEF: "Mystery Deepens Over Brit SAS C-130 Hercules Crash", Rense.com, 1-15-2005
"New questions emerged today over whether the downed RAF Hercules was shot down or destroyed by an on-board explosion. Military experts believe the plane should not have been flying low enough for a low-technology terrorist missile to have reached it and some have suggested a bomb may have been planted on the flight. Another possibility is that some volatile equipment on the plane exploded halfway through its flight from Baghdad to the US airbase at Balad.

"The 'effective range' of shoulder-launched surface-to-air missiles is between 5,000 and 10,000 feet, although it is possible that a freak missile could get higher, said an RAF source. The flight, which some sources say was at least 15,000 feet up when it exploded, came down 20 miles from Baghdad airport. Any normal transport flight would be flying at a height of at least 20,000 feet, probably higher, by the time it reached this point in its journey, precisely because of the risk of missile attack."
Other news reports indicate that this C-130 transport plane was, indeed, flying nearly 20,000 feet high, thus making it improbable that anti-aircraft missiles could have brought this plane down. Since we also have trouble believing that on-board sabotage brought the plane down, hostile action cannot be ruled out, even if the weapon does not seem to be an anti-aircraft missile.

Let us now examine some other news stories which seem to indicate that insurgents do have anti-aircraft capability -- very effective against low-flying aircraft.
NEWS BRIEF: "Bloodiest day for US as violence grows: Helicopter crash kills 31 Americans", The Guardian (London), January 27, 2005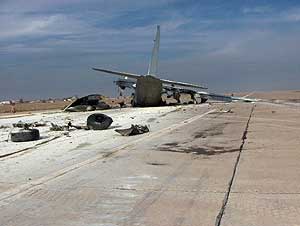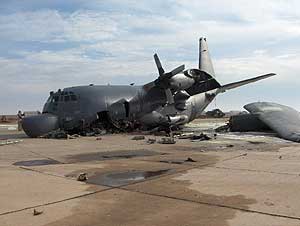 "The US yesterday suffered its worst day in Iraq since the war began when a marine helicopter crashed in the western desert and insurgents launched a new wave of attacks, leaving a total of 37 Americans dead ... Yesterday early reports suggested there had been no hostile fire at the helicopter crash site near the Jordanian border, and that desert fog may have contributed to the accident. A military inquiry was launched into the crash ... There were no reports of survivors on the three-engined CH-53E Super Stallion, the biggest US helicopter in military service."

NEWS BRIEF: "US Copter Downed By Surface-To-Air Missile - Witnesses", Daily Dispatch, South Africa, 1/27/05

"BAGHDAD - At least 31 US Marines were killed in a US transport helicopter crash near the western Iraqi city of Rutbah ... the US military in Baghdad confirmed the crash saying it happened overnight as the helicopter was transporting soldiers from the 1st Marine Division, headquartered in Fallujah. Witnesses said the helicopter appeared to have been hit by a surface-to-air missile and exploded on hitting the ground. A second helicopter also came under fire but was able to reach safety, the witnesses said."

NEWS BRIEF: "Video claims strike on UK plane", Al-Jazeera News, 1 February 2005

"Aljazeera has aired a video showing a purported Iraqi group firing missiles at the British C-130 transport plane which crashed on Sunday afternoon northwest of Baghdad. The video, issued by the military wing of the 1920 Revolution Brigades, also showed an explosion at a distance and what appeared to be the debris of a plane on the ground ... The Royal Air Force C-130 Hercules went down at 4.40pm (1340 GMT) on Sunday ... the number killed in the crash was 10. The British government later said nine Royal Air Force personnel and one soldier were missing and believed dead. The crash is Britain's biggest single military loss since the invasion of Iraq in March 2003."

"The Sun newspaper said it had been told the plane exploded at an altitude of 4500m, too high for such a missile to strike. Citing what it called a 'senior Ministry of Defence insider', the paper said military investigators were instead looking into whether a bomb had been placed inside the plane. 'It is clear the C-130 exploded in mid-air and shattered into thousands of pieces', the source told the paper's Tuesday edition."

Officials were quick to discount this video, noting tiny irregularities in the film which seemed to indicate that the video had been created for propaganda purposes through sophisticated video techniques. A second problem is that 4500 meters is nearly 15,000 feet, much too high for shoulder-fired missiles.

In our NEWS2003, above, we quoted DEBKAfile as saying that the Russians had possibly introduced SA-18 shoulder-fired anti-aircraft missiles into the Middle East, and that our experts were worried that this missile would be shipped to Iraqi insurgents.

A check on the equipment capabilities of the SA-18 anti-aircraft missile shows that its height limit is 6,900 feet. This reality means that, while helicopters and lower altitude fighter aircraft were susceptible to the SA-18, a C-130 Hercules flying at nearly 15,000 feet would not be.

We shall have to wait to see if more such unexplained crashes like this occur with planes flying really high. If they do, we might consider that Russia is beginning to use their tactical scalar weaponry against Coalition Forces, much as they did in Vietnam against our new F-111 fighter jets. These jets just exploded in midair, many times very high up. Later scientific data confirmed that these planes were shot down with Russian scalar weaponry. [Lt. Col. Bearden, Fer de Lance, p. 159]

NEWS BRIEF: "THE BAD NEWS: Today a C-130 Hercules crashed in Iraq", What Really Happened, 1-30-05

"Today a C-130 Hercules crashed in Iraq. According to witnesses, the wreckage was spread out over a wide area. Anyone familiar with aircraft accidents will confirm that this indicates that the aircraft came apart high in the air, not on impact with the ground. A week ago, a helicopter crashed in Iraq, killing 31 people. Officially blamed on the weather, reports from the crash site indicate the wreckage covered 2 square kilometers. Again, this strongly suggests that the helicopter came apart high in the air. The Baghdad meteorological office confirms that the weather was clear with only moderate winds and no sandstorms at the time of the crash.

"The bad news is that the Iraqi people have gained the ability to shoot down our aircraft."

The reality may be a little more complex.

What may be occurring right now in Iraq may be two-fold:

1) The insurgency may now possess the Russian SA-18 shoulder-fired anti-aircraft missile which would be effective from 200 feet to 6,900 feet. The page detailing Russian SAM capabilities indicates that the SA-18 has already been shipped to the Middle East to Iran and Iraq.

2) Russia may be using their scalar weapons technology to shoot down higher-flying aircraft. If you doubt the Russians would intervene like this against America, go back to our NEWS2003, reading carefully Putin's stark warning that he would not tolerate any more invasions, attacks, or any measures designed to bring about a "Regime Change". A leader who cares about his international standing will not make threats like this unless he is prepared to back them up. The leaders of Germany and France sat behind Putin as he uttered his warning.

If our aircraft superiority is now challenged, events could turn very bloody very quickly. Without adequate manpower on the ground already, our military would suddenly be under great strain. If President Bush does not pull out, might he turn to a military draft to quickly bring large numbers of Americans into the military?

We seem to be close to an escalation of war in Iraq. Once the President's State of the Union address is completed, and once the planned election results are announced, be prepared for a bloody escalation of this war.

Are you spiritually ready? Is your family? Are you adequately protecting your loved ones? This is the reason for this ministry, to enable you to first understand the peril facing you, and then help you develop strategies to warn and protect your loved ones. Once you have been thoroughly trained, you can also use your knowledge as a means to open the door of discussion with an unsaved person. I have been able to use it many times, and have seen people come to Jesus Christ as a result. These perilous times are also a time when we can reach many souls for Jesus Christ, making an eternal difference.

If you have accepted Jesus Christ as your personal Savior, but have been very lukewarm in your spiritual walk with Him, you need to immediately ask Him for forgiveness and for renewal. He will instantly forgive you, and fill your heart with the joy of the Holy Spirit. Then, you need to begin a daily walk of prayer and personal Bible Study.

If you have never accepted Jesus Christ as Savior, but have come to realize His reality and the approaching End of the Age, and want to accept His FREE Gift of Eternal Life, you can also do so now, in the privacy of your home. Once you accept Him as Savior, you are spiritually Born Again, and are as assured of Heaven as if you were already there. Then, you can rest assured that the Kingdom of Antichrist will not touch you spiritually.

If you would like to become Born Again, turn to our Salvation Page now.

We hope you have been blessed by this ministry, which seeks to educate and warn people, so that they can see the coming New World Order -- Kingdom of Antichrist -- in their daily news.

Finally, we would love to hear from you.

You can contact us by mail or email.

God bless you.

Copyright © 2004 Cutting Edge Ministries. All rights reserved. This password protected article and its contents are protected under the copyright laws of the United States and other countries. This article is provided by subscription only for use by the subscriber and all other rights are expressly reserved by the copyright owner. Copying and pasting this article, in whole or in part, into e-mails or as attachments to e-mails or posting it on the Internet is strictly prohibited and may subject the offender to civil liability and severe criminal penalties (Title 17, United States Code, section 501 and 506).

Copying and distributing this article in violation of the above notice is also a violation of God's moral law.


Become a Headline news subscriber HERE.

Subscribe to our free email updates and messages from our editor by entering your email address below :

Return to: