Title: Natural Gas Leaks Are Occurring All Over The World At The Same Time!
Resources to aid your Understanding
Subtitle: Are fissures opening up across the world, releasing these natural gasses? Remember, Yellowstone Volcanic Caldera is again exceedingly hot, a volcano which is part of the Pacific Rim of Fire!
Another indication that the world is entering into the final phase leading up to the appearance of the Masonic Christ.
The New World Order is coming! Are you ready? Once you understand what this New World Order really is, and how it is being gradually implemented, you will be able to see it progressing in your daily news!!
Learn how to protect yourself, your loved ones!
Stand by for insights so startling you will never look at the news the same way again.
YOU ARE NOW ON
THE CUTTING EDGE
Copyright © 2007 Cutting Edge Ministries. All rights reserved. See full copyright notice below.
As of this moment, natural gas leaks are being reported all across the globe. When an earthquake is about to occur, fissures open up in the earth's crust and begin to allow natural gas to pour into the atmosphere. Dead animals is one of the signs scientists look for when trying to ascertain whether an earthquake is about to occur. This fact was shown vividly in the TV movie, "10.5", where the two scientists on the ground were trying to determine the nature of the quakes which were beginning to hit California. As soon as they saw the dead animals strewn on the ground, they saw a bubble occurring in the middle of the river; they immediately sprinted to their helicopter where they started to put on their gas masks. The gas was so deadly and spread so quickly that one of the scientists nearly died before he could get his mask on.
This natural gas can be very deadly. However, since the gas smell is allowed to escape by shifting gas, it can easily disappear again because the rock has shifted again and has sealed off the hole which was allowing the pocket of natural gas to come out.
Authorities are also very reluctant to admit that the natural gas is coming from fissures in the ground, so they will most likely deny it was natural gas, trying to attribute the gas odor to something else. To admit gas is emitting from the ground raises earthquake questions no public official wants to answer!
Let us review this story now, remembering that the real story lies in the fact that natural gas smell is being reported all over the globe, in the same general time frame. No one news story carries the weight that the sum total of them carry. The sum total of natural gas being reported tells us that an gigantic earth-changing event may be about to occur.
NEWS BRIEF: "Gas-Like Odor Spreads Through NYC", My Way News, January 8, 2007
"NEW YORK (AP) - They bombarded 911 with calls, crowded the sidewalks in front of evacuated buildings and tuned to the news for word of what was happening. The question on the minds of many New Yorkers on Monday morning was: 'What's that smell?' A natural gas-like odor hung over much of Manhattan and parts of New Jersey, confounding authorities. The smell seemed to be gone by early afternoon."
"Mayor Michael Bloomberg said there was no indication the air was unsafe. 'It may just be an unpleasant smell', he said. He said sensors did not show an unusually high concentration of natural gas, and Con Edison reported it found no gas leaks ... Susan Badger, a retiree who lives in Chelsea, said she left her apartment building to escape the smell. 'If it's throughout the whole city, it seems that it must be a lot of gas. It's really extreme', she said."
NEWS BRIEF: "New Jersey's P.U. Ripens The Big Apple", N.Y. Post, January 9, 2007
"Across the length and breadth of Manhattan, people were asking, 'What's that smell?' after a pungent odor like natural gas or rotten eggs blanketed the borough and northern New Jersey for three hours yesterday morning. By evening, the answer seemed to be a stinky gas emitted by a New Jersey swamp or marsh. "
If the natural gas came from a New Jersey swamp, that would be consistent with the other reports of natural gas being emitted from fissures in the earth across a wide swath of the world.
Now, let us examine reports of natural gas erupting in enough quantity into the atmosphere to kill birds -- again, across a wide swath for many thousands of miles -- a phenomenon consistent with a worldwide massive earth-change underway.
NEWS BRIEF: "Bird Flu Ruled Out On Dead Birds; Testing Continues Tuesday", KXAN.com News, January 9, 2007
"It should be business as usual Tuesday around Downtown Austin, but there's still no word on what caused the deaths of more than 60 birds. Preliminary tests showed no dangerous chemicals in the area, and the bird flu has been ruled out. While officials search for answers, they say they're confident that there's no public health threat. 'Yeah, it sounds most like a poisoning, if I had to guess', said Jacob Mireles, D.V.M., with the Brykerwood Veterinary Clinic, 'and I'm pretty sure that's what it's going to come out as'."
Therefore, what mysterious substance could poison so many birds in a relatively tight geographical area? Why, it must be some sort of gas in the area -- poisonous gas. But, of course, such a poisonous gas is of no threat whatsoever to humans! Don't you just love public health officials? Just as in one natural disaster movie after another, public officials are more concerned about keeping people from panicking than they are in getting to the truth of a matter.
The fact is that birds are much more susceptible to methane gas than are humans. A quantity which would not even faze a human would kill a bird. And smaller birds are the most susceptible. This scientific fact is the reason small birds are used in coal mines to detect leaking methane gas and sound the alarm by dying before the level of the gas reaches a proportion which could kill a human being!
NEWS BRIEF: "2,000 Ducks Found Dead", KTVB, Boise, Idaho, January 9, 2007
"BOISE - More than 2,000 dead mallard ducks have been found in the Magic Valley. A Fish and Game spokesperson says that it is unlikely bird flu in a cause in the mass deaths, but an investigation is underway ... Preliminary diagnosis is a bacterial infection is the likely cause', said Magic Valley Fish & Game supervisor David Parrish. "State veterinarians in Boise have found the lung tissue of the ducks to be full of white and yellowish bacterial abscesses. They also found hemorrhaging around the heart. At this point in time, however, we are not ruling out any potential cause'."
It seems to be that, if these ducks died of a bacterial infection, they would die more "one-by-one" and less in such massive heaps as the picture on this site shows. The only thing that would cause such great numbers of fowl to drop dead is something that they all simultaneously encountered in the environment -- like a sudden eruption of natural methane gas.
NEWS BRIEF: "Mystery as thousands of birds fall from sky", The Australian, January 10, 2007
"THOUSANDS of birds have fallen from the skies over Esperance and no one knows why. Is it an illness, toxins or a natural phenomenon? A string of autopsies in Perth have shed no light on the mystery. All the residents of flood-devastated Esperance know is that their 'dawn chorus' of singing birds is missing. The main casualties are wattle birds, yellow-throated miners, new holland honeyeaters and singing honeyeaters, although some dead crows, hawks and pigeons have also been found. Wildlife officers are baffled by the 'catastrophic' event, which the Department of Environment and Conservation said began well before last week's freak storm. On Monday, Esperance, 725km southeast of Perth, was declared a natural disaster zone."
"... Birds Australia, the nation's main bird conservation group, said it had not heard of a similar occurrence. 'Not on that scale, and all at the same time, and also the fact that it's several different species', chief executive Graeme Hamilton said ... Dr Sunderman said there were no leads yet on which of potentially hundreds of toxins might be responsible. Some birds were seen convulsing as they died ... Michelle Crisp was one of the first to contact the DEC after finding dozens of dead birds on her property one morning. She told The Australian she normally had hundreds of birds in her yard, but that she and a neighbour counted 80 dead birds in one day. "It went to the point where we had nothing, not a bird', she said. 'It was like a moonscape, just horrible. But the frightening thing for us, we didn't find any more birds after that. We literally didn't have any birds left to die'."
This story affirms our earlier assertion, that mass numbers of birds dying -- and across species -- indicates that they all encountered a very deadly environmental poison, all at once. This fact again seems to indicate a natural gas leak, probably methane.
NEWS BRIEF: "Australian Shoppers affected by gas leak", thewest.com.au, 8th January 2007
"Twelve people were treated for breathing problems after they were overcome by a toxic gas leak at The Woolstore Shopping Centre in Fremantle this morning ... Fire and Emergency services were called to the shopping centre about 1pm after people complained of being affected by an unidentified gas ... A Fire and Emergency Services Authority spokesman said an team was investigating the source of the gas but as yet they had not identified the gas or where it was leaking from."
While this gas leak might just be a leaking gas pipeline, emergency crews in that area would surely know exactly where the gas line runs and check that out first thing. The fact that they cannot identify the source of the leaking gas leads me to believe the source might be a natural fissure in the area.
Natural Gas Eruptions In 2005 - 2006
Lest we forget that the world has seen this type of natural gas erupting out of fissures in the ground, let us remember.
NEWS BRIEF: "Mysterious Kingfisher-area gas geysers leave officials puzzled", By Cass Rains, Staff Writer, The Enid News and Eagle, December 13, 2005, reported on Daily News Updates, December 16, 2005
"KINGFISHER -- Mysterious unrefined natural gas leaks erupting in rural Kingfisher County in recent days continue to have officials puzzled as to their cause. 'We originally thought a pipeline had exploded', said Matt Skinner, Oklahoma Corporation Commission public information manager. 'We had the pressure to zero pressure, and the leaks seemed to get bigger. So that's not it'."
"Skinner had said at a press conference Monday geologists and hydrologists are beginning to study underground maps of the area to find an explanation. 'We've ruled out the probables, and now we're into the unprobables', he said. 'We've never seen one like this before, one that covers such a large area. It's another animal'. Skinner said the leak was unusual because of its size and that it was 'moving with no explanation'."
This quote is simply filled with information:
* Expert scientists advising the state government are unable to explain how this unrefined natural gas could be exploding out of dry ground. They have ruled out all the possibilities based upon traditional science and upon what they have observed before, and nothing makes sense.

* Skinner, the Oklahoma Corporation Commission public information manager, admitted that these gas eruptions cover a very large area, and are moving. While traditional explanations may not make sense, the untraditional reality of a Yellowstone Caldera building up heated magma underneath virtually the entire area West of the Mississippi makes a lot of sense. Remember, the area of America, West of the Mississippi River, is really a very small area geologically speaking.
Magma building up under this entire region seems to be rising and may be starting to cause natural gas eruptions which this story details, above.
Matt Skinner then details the areas which are experiencing these natural gas explosions.
"Skinner said the leaks and geysers were occurring closest to Winter Camp Creek, formerly Dead Indian Creek. Sunday evening, one eruption was reported in Kingfisher Creek, 'up to within a mile' west of the city of Kingfisher ... Winter Camp Creek flows into Kingfisher Creek, which could explain why an eruption would occur near the city, he said. Kingfisher Fire Chief Jack Crawford said the leaks, which cover a stretch of 12 to 13 miles between Kingfisher and Okarche 'had not progressed toward Kingfisher' since Sunday afternoon. 'The bulk of the action is in the creek -- in terms of the visual', Skinner said. 'It's one long continuous leak'."
A "one long continuous leak" of unrefined natural gas leak of 12-13 miles is, indeed, one very, very long fissure in the ground! Kingfisher County is located just north and a bit west of Oklahoma City.
"Skinner said reports of the geysers were first received Friday by hunters who reported the gushing holes of gas, water and mud to the local game warden, who then contacted the Corporation Commission ... By Monday, smaller geysers had appeared about eight and a half miles west and a mile north of Okarche on a county road. For about 50 yards, small geysers pocked the north side of the dirt road, bubbling and spitting gas and mud. Sounding like a pot of boiling water, other geysers on the south side of the road, for a stretch of about 20 yards, did the same. Some of the geysers shot only inches into the air, but others shot water into the air as much as two feet."
This activity is very similar to the geysers and mudpots of the Yellowstone Caldera which have attracted untold millions of visitors throughout past centuries. Geysers and hot mudpots literally dot the landscape in the Yellowstone National Park; everyone understands this activity means that hot magma is flowing under and through the region. We should have no problem understanding that hot magma likewise is flowing under and through this region of Oklahoma.
Officials discount the likelihood that this natural gas could ignite, a denial which goes to the heart of our premise. However, these same authorities admitted it is "possible" for the gas pockets to be ignited -- but improbable in their view.
NEWS BRIEF: "Lake Erie burps and nearby residents smell it", Post-Gazette, Friday, September 30, 2005
" ERIE, Pa. -- State and federal environmental officials are trying to determine the cause of a big stink reported along Lake Erie. Hundreds of residents called authorities or the National Weather Service yesterday to report the smell, which has been variously described as like gasoline, natural gas or even decaying garbage and rotten eggs..."
NEWS BRIEF: "Mysterious Stench Nauseates Northeast", The Washington Post, September 29, 2005
"Olive Taylor first noticed the odor Tuesday night outside her Northeast Washington home. By yesterday morning, the smell had turned into a stench so bad that it woke her up. 'It was so unlike anything that should have been in my home', said Taylor, 71. 'It wasn't really a gas smell. My son said it was a propane smell ... Scores of people in the District called authorities yesterday to complain that a similar odor was invading homes, businesses, a dozen schools and two police stations. Many mistakenly thought the trouble was a natural gas leak ... Some top fire officials initially worried about a major gas line rupture or equipment failure...".
Notice that people are reporting that they are smelling a horrible stench which they believe to be natural gas. Also note that officials are reacting as though it was a natural gas leakage. Virtually no one is tying these reports to the possibility that natural methane gas is leaking out of the rock formations and/or out of level ground, as The End News and Eagle reported.
Even people in Thunder Bay, Ontario, were reporting gas smells.
NEWS BRIEF: "Strange smell in Longlac", TB Television, 9/27/2005
"Municipal officials are urging Longlac residents to exercise caution as they investigate reports of 'gasoline-type' odours in the towns sewer system. The problem first cropped up about ten days ago in a variety of homes and businesses ... The Municipality of Greenstone says it still doesn't know if the smell is from sewer gases, natural gas or an industrial solvent."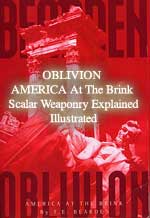 Yellowstone Super Volcano The Key
Now, let us turn our attention back to the Yellowstone Caldera, for that huge volcano is suddenly very hot and very active once again. We wrote about the possible devastating effects of a huge explosion of the Yellowstone Super Volcano about three years ago. If you have not read of this horrific reality, please take a few moments to read NEWS1852 to see how this volcano was probably in the early stages of a very slow build-up to eruption three years ago.
Now, let us examine current news about the Yellowstone Volcano.
NEWS BRIEF: "Supervolcano Yellowstone Domes Rising At 'Really Pronounced' Pace", by Mike Start, Billings (Montana) Gazette, reprinted in Raiders News, December 17, 2006
"Parts of the collapsed, restless volcano in Yellowstone National Park are swelling faster than has ever been recorded. Geologists from the University of Utah say two domes inside the Yellowstone caldera have steadily inflated at two to three times the rate as some of the most rapid movements recorded between 1923 and 1984. 'We've gone to this really pronounced, and I would say unprecedented, uplift of the caldera', said Bob Smith, a Utah geologist and one of the leading researchers into Yellowstone's busy volcanic life."
Notice the important facts we have just learned:
* "Parts of the collapsed, restless volcano in Yellowstone National Park are swelling faster than has ever been recorded."
* "We've gone to this .... unprecedented, uplift of the caldera."
Geologically speaking, this magma flowing around and upward within the Yellowstone Caldera is not too far from the gas leaks as seen from New York City to Australia. It seems as though geological activity is surging all along this geographical area. And, remember what we learned in our original article on Yellowstone, NEWS1852: the Yellowstone geological activity is being stimulated by Russian Scalar Electromagnetic Waves!
This means that the Russians are responsible for the stoking of the magma waves underneath Yellowstone, and probably along this stretch from New York City to Australia, as well. The nature of magma buildup is that it may deform parts of the ground and/or cause fissures to open up, only to have the ground shift again to stop this activity -- at least for a while. But, the magma continues to slowly rise, and the ground will deform and/or open fissures somewhere else at some other time. Then, one day, the magma pressure will get so huge that it will blow and blow big.
America could literally be destroyed by the Yellowstone exploding magma and ash in one day. What better way for Russia to destroy America than through a "natural" volcanic eruption, since a "natural" eruption would not invite American retaliation! Cutting Edge has always maintained that the economic superpower which dominates the world at the End of the Age in Revelation 18 is America (Read NEWS1830, second half). Since we believe that, listen to God's own prophecies concerning this economic superpower.
"Therefore, shall her plagues come in one day, death, and mourning, and famine; and she shall be utterly burned with fire: for (mighty) is the Lord God who judges her." (Revelation 18:8; Parallel Bible, KJV/Amplified Bible Commentary)
Since we believe America is that economic superpower, for all the reasons we enunciate in NEWS1830, we find it very logical that evidence of tectonic plate movement and movement of molten lava should be occurring right now, throughout much of the United States. For a lot of moral and Biblical reasons, America is richly deserving of God's judgment. Evidence does suggest that these physical evidences of volcanic and related tectonic plate movements involve incredible heat -- "she shall be utterly burned with fire" in "one day".
Assuming that the scalar activity which is stoking the Yellowstone Caldera, is now causing wide areas of earth - from North America to Australia - to display one of the obvious signs of volcanic activity -- hot mudpots, geysers coming out of the ground, gas erupting from the ground, micro-quakes -- we can readily understand the danger posed to the entire continent.
Since this prophetic destruction of America will occur at the last part of the period leading up to the appearance of Antichrist and his "confirming the covenant" with America, let us examine other events which indicate that we are in the last part of this period.
* Nuclear confrontation building with North Korea - Consider the wording of the Illuminati Plan:
"A hair-raising nuclear confrontation in Korea may, towards the end of the period, threaten man's very survival." [Peter Lemesurier, "The Armageddon Script", p. 223]
* Israel is preparing to support a Palestinian State and to annihilate the entire people -- NEWS2095

* America is preparing an escalation of the war which might ignite the entire region into conflict, thus beginning the planned World War III

* America's intelligence network continues to fund the incredibly effective implantable chip, M.M.E.A. -- NEWS1875E

* Messianic fever hits Iran in full force -- NEWS2177 -- thus adding this country to a long list of countries and religious people expectantly awaiting a Messiah!

Doubtless, you can think of other indications that the world seems to be entering into that "final end of the period" leading up to the appearance of the Masonic Christ (Antichrist) and his confirming of the covenant with Israel, in fulfillment of Daniel 9:27. Events are swirling at break-neck speed.

Are you spiritually ready? Is your family? Are you adequately protecting your loved ones? This is the reason for this ministry, to enable you to first understand the peril facing you, and then help you develop strategies to warn and protect your loved ones. Once you have been thoroughly trained, you can also use your knowledge as a means to open the door of discussion with an unsaved person. I have been able to use it many times, and have seen people come to Jesus Christ as a result. These perilous times are also a time when we can reach many souls for Jesus Christ, making an eternal difference.

If you have accepted Jesus Christ as your personal Savior, but have been very lukewarm in your spiritual walk with Him, you need to immediately ask Him for forgiveness and for renewal. He will instantly forgive you, and fill your heart with the joy of the Holy Spirit. Then, you need to begin a daily walk of prayer and personal Bible Study.

If you have never accepted Jesus Christ as Savior, but have come to realize His reality and the approaching End of the Age, and want to accept His FREE Gift of Eternal Life, you can also do so now, in the privacy of your home. Once you accept Him as Savior, you are spiritually Born Again, and are as assured of Heaven as if you were already there. Then, you can rest assured that the Kingdom of Antichrist will not touch you spiritually.

If you would like to become Born Again, turn to our Salvation Page now.

We hope you have been blessed by this ministry, which seeks to educate and warn people, so that they can see the coming New World Order -- Kingdom of Antichrist -- in their daily news.

Finally, we would love to hear from you.

You can contact us by mail or email.

God bless you.

Copyright © 2007 Cutting Edge Ministries. All rights reserved. This password protected article and its contents are protected under the copyright laws of the United States and other countries. This article is provided by subscription only for use by the subscriber and all other rights are expressly reserved by the copyright owner. Copying and pasting this article, in whole or in part, into e-mails or as attachments to e-mails or posting it on the Internet is strictly prohibited and may subject the offender to civil liability and severe criminal penalties (Title 17, United States Code, section 501 and 506).

Copying and distributing this article in violation of the above notice is also a violation of God's moral law.


Become a Headline news subscriber HERE.

Subscribe to our free email updates and messages from our editor by entering your email address below :

Return to: