Title: Amidst All The Voices of Controversy About "Dividing" Jerusalem, The Real Plan Actually Calls For Unifying The Holy City!
Resources to aid your Understanding
Subtitle: If the "New Jerusalem Covenant Plan" is being followed during this upcoming "Peace Conference", you may see the agreement unifying Jerusalem rather than dividing it. This dividing talk may be a ruse.
The New World Order is coming! Are you ready? Once you understand what this New World Order really is, and how it is being gradually implemented, you will be able to see it progressing in your daily news!!
Learn how to protect yourself, your loved ones!
Stand by for insights so startling you will never look at the news the same way again.
YOU ARE NOW ON
THE CUTTING EDGE
Copyright © 2007 Cutting Edge Ministries. All rights reserved. See full copyright notice below.
Love For Jerusalem -- Overview
In order to preserve the Jewish heritage and bloodline throughout the nearly 2,000 years of Diaspora (Dispersion), God placed a love for Jerusalem within the hearts of the Jewish people which is nearly unbelievable. Listen to some of the love expressed in the Bible for the Holy City, Jerusalem. "Jerusalem" is mention 860 times in the Bible, so it is a city after God's own heart, also.
"If I forget you, O Jerusalem, let my right hand forget its skill with the harp. Let my tongue cleave to the roof of my mouth if I remember you not, if I prefer not Jerusalem above my chief joy!" (Psalms 137:5-6; Parallel Bible, Amplified Bible Commentary)

"Pray for the peace of Jerusalem: they shall prosper that love thee. Peace be within thy walls, and prosperity within thy palaces.
(Psalms 122:6-7; Ibid.)

"Rejoice ye with Jerusalem, and be glad with her, all ye that love her: rejoice for joy with her, all ye that mourn for her..."
(Isaiah 66:10; Ibid.)

"For thus says the Lord: Behold, I will extend peace to her like a river, and the glory of the nations like an overflowing stream; then you will be nursed, you will be carried on her hip and trotted [lovingly bounced up and down] on her [God's maternal] knees. As one whom his mother comforts, so will I comfort you; you shall be comforted in Jerusalem. When you see this, your heart shall rejoice; your bones shall flourish like green and tender grass. And the powerful hand of the Lord shall be revealed and known to be with His servants." (Isaiah 66:12-14a; Parallel Bible, Amplified Bible Commentary)
This is the love for Jerusalem which beats in the hearts of Jews everywhere around the world in every era of time. In fact, at the end of every Passover Seder, Jews would express this longing: "Next year, in Jerusalem". Let us examine this particular expression, for it is rich with meaning pertinent to our time.
"What, then, does it mean for today's Jew to utter the words 'next year in Jerusalem' at the end of every Passover seder? The most straightforward answer is that 'Jerusalem' refers to the future city--and its Temple--rebuilt when the Messiah comes. Most traditional Jews feel quite comfortable expressing this messianic longing at the end of the seder, just as at the end of each Shabbat Jews recite the hope that the Messiah should come 'speedily in our day'. And to clarify for Israelis, some traditional Haggadot indicate that those in the Jewish state should replace the phrase with 'next year in Jerusalem, the rebuilt', implying a rebuilt Temple." ("Next Year in Jerusalem", My Jewish Learning.com)
Therefore, this yearning for Jerusalem which God placed in the hearts of most Jews of the last 2,000 years is inexplicably interwoven with the yearning for the Jewish Messiah and for the Temple which prophecy foretells he shall build! Make no mistake about the fact that, today, this yearning for Jerusalem is still very strong within the heart of all Bible-believing Jews.
"Dividing Jerusalem" -- Current Topic of Debate
Therefore, when secular Israeli leaders -- led by Prime Minister Olmert -- speak of dividing Jerusalem between Israeli and Palestinian forces during this upcoming Peace Conference in Annapolis, the reaction from Bible-believing Jews is instantaneous and severe. Let us examine this current debate now.
NEWS BRIEF: "Palestinians offered Jerusalem olive branch: Israel is willing to hand over Arab east Jerusalem to the Palestinians as part of a new peace initiative", Times On Line, October 9, 2007
"Israel is willing to hand over Arab east Jerusalem to the Palestinians as part of a new peace initiative, the Deputy Prime Minister said yesterday ... Haim Ramon, the Israeli Deputy Prime Minister, said that handing over parts of the predominantly Arab east Jerusalem could be on the table during a regional conference to be held in the United States next month. The Israeli Right has opposed transferring parts of Jerusalem, which both sides consider to be their capital. 'We must make concessions on the Jerusalem issue ... Mr Ramon said that he hoped a special administration could be set up to manage the disputed holy centre of the Old City, the site of the destroyed Jewish temple and the Dome of the Rock and al-Aqsa Mosque."
Other Israeli leaders denied that any leader was even contemplating dividing Jerusalem into an Arab section and a Jewish section.
" 'The issue of the division of Jerusalem is an inalienable asset of the state of Israel. Palestinian refugees will not be returned to Israel and Jerusalem will not be divided', Shaul Mofaz, the Transport Minister, added."
Still, this issue refuses to go away -- probably because Israeli leadership finds it in their best interest to keep the controversy pot boiling.
NEWS BRIEF: "Academics wrestle with ramifications of dividing Jerusalem", By Stan Goodenough, Jerusalem Newswire, October 21, 2007
"A think-tank whose earlier recommendations underpinned the offer made by at least one leftist Israeli leader to 'share' Jerusalem with the as yet non-existent "Palestine" is reportedly drafting a document identifying some of the enormous complexities that will have to be dealt with if Israel's capital is truly to be put on the chopping block. The Olmert government and other politicians who have expressed a willingness to consider dividing up Jerusalem in recent months have also been encouraged on this course by recommendations of the Jerusalem Institute for Israel Studies (JIIS)."
When the Illuminati wants to convince a population to accept a radical change, they always seem to conjure up a "Think Tank" study which trumpets to the whole world what a wonderful idea this radical change represents. Of course, the Think Tank is wholly owned and operated by the Elite, but few people ever understand this reality!
However, this issue of dividing Jerusalem between Arab and Jew is a lot more complicated than it seems on the surface.
"How to separate or cut in half a city the Bible describes as having been made into an 'immovable rock'– these are the thoughts currently occupying the JIIS ... health benefits, unemployment benefits, pensions and welfare stipends - are throwing spanners in the works. JIIS Director-General Ora Ahimeir explained that "Jerusalem functions as a united city for 40 years, twice as long as the period when it was divided between Israel and Jordan. 'Separating from the Arab neighborhoods, even with an agreement, will not be easy. It involves complex issues of international and Israeli law, questions of rights and practical problems with regard to both the separated areas and the city from which they will separate'."
"Hundreds of thousands of Arabs living in those parts of the city that are now on the table have been enjoying most of the constitutional rights of regular Israeli citizens. However, 'the sweeping cancellation of social services, allowances, the right to receive health services and other rights associated with the withdrawal of permanent residency status [from these Arabs] will provide strong grounds for a claim of violation of the right to an honorable livelihood'." (Ibid.)
Before you jump to the conclusion that the difficulties of dividing Jerusalem and her inhabitants are so severe that it could never be done, listen to this last sentence.
"The JIIS, which describes its role as being to 'illuminate the difficulties and to put all the information on the table so that all the implications are clear' to Israel's decision makers, goes so far as to suggest they indeed prepare to pay such compensation." (Ibid.)
Therefore, JIIS intends that, before Israel's leaders fly off to attend the Peace Conference in Annapolis in late November, they shall be armed with all the facts and statistics they would need to make an informed decision.
In the meanwhile, the controversy continues to rage, between Jews of varying religious persuasions, as to whether it would be in Israel's interests to divide Jerusalem between Arab and Israeli. Even many secular Jews possess their doubts.
NEWS BRIEF: "Most Israelis say no to sharing Jerusalem", Khaleej Times, 9 October 2007
"JERUSALEM - Most Israelis oppose sharing Jerusalem with the Palestinians as part of a final peace deal, an opinion poll said on Tuesday after an Israeli minister sparked uproar by suggesting the idea. Asked whether Israel should agree to 'any sort of compromise on Jerusalem' as part of a final deal to end the decades-old Middle East conflict, 63 percent said no, according to the survey in the mass-selling Yediot Aharonot. Sixty-eight percent oppose transferring Arab neighbourhoods in occupied east Jerusalem to Palestinian control and 61 percent said Israel alone should have sovereignty over the holy places in the Old City, revered by the world's three leading monotheistic religions."
Those are very strong poll numbers and suggest that any suggestion that Jerusalem be divided would be "D.O.A." ("Dead On Arrival").
Don't be so sure.
Palestinians, on the other hand, are equally vociferous in demanding that they be given East Jerusalem as the capital of their new Palestinian State. President Abbas (who is a Freemason) is being repeatedly warned that he cannot cede control of the Temple Mount and the Islamic holy places, especially the "Dome of the Rock" temple.
Therefore, in this intense debate and jockeying for position, you apparently have the proverbial "Irresistible Force" meeting the "Immovable Object". While the Bush White House has declared that "now is the time" for a Palestinian State ("Irresistible Force"), Jews from both the secular and religious camp are opposing the whole idea ("Immovable Object").
What is the Illuminati to do?
"The New Jerusalem Covenant Project"
They play the old shell game, getting you to believe that their plan is really to divide Jerusalem! You see, their plan is not to divide, but to unify, under international leadership! To side-step all the problems created by either dividing control between Jews and Arabs, or by allowing Jordan to control Islamic holy sites, the Illuminati has another plan -- one which they had created almost 20 years ago! All this nonsense about Jerusalem being divided and control of the Holy Sites passing to another party is just the old shell game, designed to get you looking at the wrong shell.
Let us examine the genuine plan of the Illuminati -- it is called "The New Jerusalem Covenant Project"!
We shall quote pertinent portions of the House of Theosophy Seminar into which I was sneaked on August 18, 1991. This seminar was for members and their guest only and since John -- a Theosophist who had recently been saved -- was still officially a member, he took me as his guest. This seminar provided me some of the finest insights I have ever received into the New World Order Plan.
The Illuminati had just made some major decisions, and Bill Lambert, the Director of the New England House of Theosophy wanted to tell his members and their invited guests. Oh, yes, and by the way, Lambert had been in Jerusalem for the previous three years, serving on a committee called "The New Jerusalem Covenant Project".
Some aspects of this Plan have already been fulfilled (NEWS1395, "THREE GLOBAL MEETINGS TO PRODUCE ANTICHRIST ARE NOW!"), and I believe this Peace Conference in Annapolis in late November might fulfill more parts of this plan. Listen now to pertinent excerpts of NEWS1052, the notes I took at this House of Theosophy Seminar.
The name of this seminar was most interesting: "Possible and Probable Events In The Future"
Of course, events are "possible and probable" when they occur because a preconceived plan dictates that they will occur! Remember, Lambert is revealing details of a human plan, created in cooperation with supernatural 'Guiding Spirits' to establish the New World Order. They have no idea that their Plan simply and accurately fulfills Bible prophecy.
Listen as Lambert describes the ultimate Illuminati plan for Jerusalem, and determine if you can see this plan possibly being fulfilled in this Peace Conference.
First, Lambert sets the stage by talking about prophecy fulfillment:
"Prophecy -- Self-fulfilling nature of:
"What a person thinks, he creates. Occult law states that energy follows thought. Therefore, collective belief in wrong prophecy by millions of people can cause an immense unconscious level of negative feelings that can lead to fulfilling prophecy."
"Armageddon is a good case in point. People believe in the Armageddon concept, which is that this present world must be destroyed before the new can be created ... Therefore, massive collective belief in this concept leads toward a self-fulfillment of that concept. Belief in Armageddon is intertwined around Israel and the Middle East, and is causing nations toward this region, possibly setting the stage for massive, even nuclear, war."
This belief is standard New Age thinking. They believe that, when a person utters a Bible prophecy, that prophecy takes on a life and an energy all its own. As the years go by, the force created by this prophecy demands fulfillment. When a person "fulfills" this particular prophecy, he is only doing so as part of a "self-fulfilling nature". If a particular prophecy is not fulfilled, then its force hangs over the head of mankind, until someone steps forward to fulfill it.
Therefore, the Illuminati believes that "fulfillment" of all Messiah prophecies must be deliberately staged so that mankind can relieve itself from the force of these old prophecies, whose force is threatening all peoples of the earth until it is harmlessly "discharged", like a lightening bolt is harmlessly discharged into the ground by a lightening rod.
Getting back to Lambert:
"New Jerusalem Covenant Project"
"Sometime between 1985-2010, the following scenario will unfold, depending only on the right set of circumstances:
* Moslem and Jewish areas in Jerusalem will be combined with Christian to create the New Jerusalem Covenant
* All religions will convene to celebrate three (3) religious festivals simultaneously:
1. Festival of Goodwill -- normally in May-June

2. Festival of Easter -- normally in April

(Celebrates new birth, as exemplified by

the Christ -- Jesus Christ to Christians)

3. Festival of Wesak -- normally in March
(Celebrates birth of the Buddha)
"This celebration of these three combined Festivals will create the New World Order"
"Religion and will be the spiritual equivalent to the political United Nations."
"When the religious communities of the world are thus merged, political governments to simultaneously hold the following political/business conferences:
1. Planetary Goodwill Congress

2. Planetary Human Resource and Disarmament Congress

3. Planetary Environmental Resource and Space Congress"
Please note that these three interlinking conferences -- religious, political government, and business -- were held during a 13-day period between August 28 - September 10, 2000 (NEWS1395). We believe that the New World Order was officially and quietly established on September 10, 2000. One year, one day later, the attacks of 9/11 were carried out. When you understand the witchcraft significance of "one year, one day", you will never doubt again that the Illuminati deliberately carried out the attacks in order to overthrow the Old World Order (Read NEWS1789 for the unbelievable explanation of this "one year, one day" period).
Now, let us return to the notes of this Theosophy seminar. Note that Lambert suddenly shifts gears and vaults directly into a discussion of Jerusalem:
"Thus, when the three religious conferences and the three political/business conferences are simultaneously held, a grand merger of all forces will occur world-wide that will move the world in any desired direction. Then, and only then, will it be possible to build a combination Temple/Church/Mosque in Jerusalem." (Ibid.)
How did we get from the August-September, 2000, time period when the three conferences were actually held, to a "combination Temple/Church/Mosque in Jerusalem" which has yet to occur? The fact of the matter is that the Illuminati apparently planned for a lengthy time period to follow the "grand merger of all forces will occur world-wide" which shall maneuver the parties in the Middle East to reach agreement to build this combination religious building in Jerusalem which shall be comprised of all three Monotheistic religions - Jewish/Christian/Islamic.
This is the direction which this long-awaited Peace Conference may lead us! Rather than trying to divide Jerusalem, the Illuminati plans to unify Jerusalem into one combined Monotheistic worship city, to be administered by an international body. Bill Lambert refused to say that this combination church building would be built on the Temple Mount, as I directly questioned him. But, note that the specific part of the New World Order Plan, called the New Jerusalem Covenant Project, envisions the establishment of a combination religious Jerusalem -- Islam, Christianity, Judaism.
However, Lambert took another surprising leap when he said: "Any purely political settlement in the Middle East would not, by itself, bring peace. In other words, a purely political settlement would leave the religious nature of the problem unsolved. Any permanent solution to the Middle East conflict would also have to see the religious portion of the problem solved. Once this religious problem is solved, then the power and influence of the Orthodox Jews in Israel would permanently decline."
How about that? This Monotheistic combination worship center in a Jerusalem controlled by international forces is really aimed toward reducing/eliminating the "power and influence of the Orthodox Jews in Israel". The Jewish Illuminati has always been disgusted by those Orthodox Jews, who cling to the Hebrew Scriptures (Old Testament) as the only Absolute Rule in the world today; they believe this plan will permanently reduce and/or eliminate the influence of the Orthodox Jew in Israel, long a coveted plan.
But, now Lambert leaps again in a surprising direction: the Roman Catholic Pope!
"At the proper moment in history, the Pope will visit the combined Jewish/Christian/Moslem sector of Jerusalem to announce that all religions should be combined into one. This action will then finally break the Middle East logjam."
If this Peace Conference does, indeed, set up a combination Temple/Church/Mosque in Jerusalem, then we should soon hear of plans by the Roman Catholic Pontiff to visit Jerusalem to make this historic announcement, i.e., that "all religions should be combined into one". This announcement will establish the worldwide Ecumenical Religion of the False Prophet, which the Pontiff will lead. This Illuminati decision officially brands the Roman Catholic Pope as the False Prophet of Revelation 13:10-18.
Finally, Bill Lambert revealed the external force which had to be continually applied in Israel if this Plan were to be realized.
"The impetus toward this type of settlement is made possible only because of a general fear of war. This fear of war must be maintained until the desired political and religious changes have been instituted." (Ibid.)
Now you know why the world has been writhing in such a "fear of war" scenario since August-September, 2000! Ultimately, Joel 3 and other Scriptures tell us that genuine all-out war will break out in the Middle East, but until this Plan has fully matured, the hounds of war will be restrained, and only "fear of war" will reign.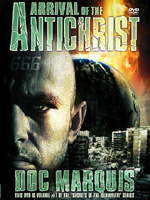 Final Step = Antichrist!

The final step in this "New Jerusalem Covenant Project" is the appearance of Antichrist. Listen to Lambert explain:

"The Spirit of Peace is hovering close to humanity, seeking opportunity to make His Presence felt. The Spirit of Peace is not an abstract concept but a potent Individual, wielding forces hitherto unfamiliar to our planet. Great Forces are awaiting the hour when They can function as the Liberators and the Deliverers of mankind. But the door to Their entrance must be opened by humanity itself and it will be opened by a united act of the will, expressed through some formula of words and expressed in sound. It will be brought about by an activity performed simultaneously by all men and women of goodwill and by all the world aspirants and disciples. The door will not open unless the act of invocation is backed by the focused will. The directed determination of the man or the group who is using the suggested formula, prayer, or invocation is essential." (Alice A. Bailey, "The Externalisation of the Hierarchy", p. 173. Bailey was the global head of the House of Theosophy for nearly 40 years at the beginning of the 20th Century)

In other words, minutes before Antichrist arises, some supernatural sound will be heard, and spiritually felt, by everybody on the planet simultaneously. At no other moment in world history will so many people be impacted at once. This sound is designed to get everyone looking around and upward, trying to figure out what caused this sound. This sound will also "jar" people's souls, much like a bowl of jelly is jarred by a severe shaking. Then, with everyone's attention aroused and focused, images of Antichrist will appear simultaneously over the entire earth, speaking to mankind, each in his own language. The "signs and wonders" foretold of Antichrist will have begun.

Then, after speaking of the appearance of the New Age Christ (Antichrist), Lambert speaks of the Rapture of the Church!

Energies want to flow from the Hierarchy to earth to produce the physical manifestation of the Christ; but, such flow can only occur when humanity raises its collective consciousness to be properly awakened receptors." (Page 617-618, Externalisation of the Hierarchy, paraphrased by Mr. Lambert).


At this point, I raised my hand to ask Mr. Lambert, 'You spoke earlier about the Pope going to Jerusalem; when Lord Maitreya makes his appearance, there will be three types of people:

1. Those whose consciousness has been properly raised so they can readily accept him;

2. Those whose consciousness has been raised somewhat but not so high that they can readily

and immediately accept him, but they might be able to accept him after further enlightenment;

3. Those who will never accept him.'

Bill then explained the fate of those members of Group #3, those whose personal consciousness was not now, nor could ever be, raised sufficiently to accept the Christ. Bill likened them to a person who had spent his entire life in a totally darkened room. If a sudden, intense light were to shine into this room, the person's eyes would not be able to endure the light. The person would try to flee the light and go into another room which was dark. Persons of Group #3 will "elect to leave for another room". [Lambert's exact words]

At this point, I raised my hand and asked, 'How do these people do this, Bill? No one can simply declare his spirit to leave this world. Do these people commit suicide?' Bill answered emphatically, "NO". He said, "I do not know how it will happen, but these people will leave this dimension."

After much thought, I have concluded that Bill is talking about the Rapture of the Church. He refused to say that these people would be killed, and we know the Bible teaches that Anti-Christ will not begin killing Christians until the mid-point of the Great Tribulation. But, Bill is saying that the timing of the departure of the people of Group #3 is immediately after the appearance of the Christ; and the method of their leaving is mysteriously voluntary. I believe the Guiding Spirits of the New Age leaders have created this story as a means of explaining the world-wide Rapture of the Church. Thus, when the Rapture occurs, people will not credit God and will continue being deceived.

Therefore, Bill Lambert listed a sequence of events culminating in the appearance of Antichrist and the Rapture of the Church. These sequential steps are:

1) Three conferences to be held at once or overlapping -- Religious, Political and Business. These three conferences were held August 28 - September 10, 2000

2) Jerusalem unified as a Monotheistic city, with a combination Monotheistic worship center built.

3) The Roman Catholic Pope will travel to Jerusalem to declare all world's religion are ONE.

4) Antichrist appears on the world scene, amidst tremendous "signs and wonders".

5) Rapture of the Church

As you can see, this seminar contained such block-buster information about the Illuminati Plan and how it fit into Bible Prophecy, I could scarcely contain myself! Today, at long last, the impetus seems irresistible to a Peace Conference in which startling concessions will be made for peace, possibly including an internationalization of Jerusalem and the building of a combination worship center dedicated to the three Monotheistic religions of the world.

We can only wait to see how events turn out. Truly, mankind is at the End of the Age.

Are you spiritually ready? Is your family? Are you adequately protecting your loved ones? This is the reason for this ministry, to enable you to first understand the peril facing you, and then help you develop strategies to warn and protect your loved ones. Once you have been thoroughly trained, you can also use your knowledge as a means to open the door of discussion with an unsaved person. I have been able to use it many times, and have seen people come to Jesus Christ as a result. These perilous times are also a time when we can reach many souls for Jesus Christ, making an eternal difference.

If you have accepted Jesus Christ as your personal Savior, but have been very lukewarm in your spiritual walk with Him, you need to immediately ask Him for forgiveness and for renewal. He will instantly forgive you, and fill your heart with the joy of the Holy Spirit. Then, you need to begin a daily walk of prayer and personal Bible Study.

If you have never accepted Jesus Christ as Savior, but have come to realize His reality and the approaching End of the Age, and want to accept His FREE Gift of Eternal Life, you can also do so now, in the privacy of your home. Once you accept Him as Savior, you are spiritually Born Again, and are as assured of Heaven as if you were already there. Then, you can rest assured that the Kingdom of Antichrist will not touch you spiritually.

If you would like to become Born Again, turn to our Salvation Page now.

We hope you have been blessed by this ministry, which seeks to educate and warn people, so that they can see the coming New World Order -- Kingdom of Antichrist -- in their daily news.

Finally, we would love to hear from you.

You can contact us by mail or email.

God bless you.

Copyright © 2007 Cutting Edge Ministries. All rights reserved. This password protected article and its contents are protected under the copyright laws of the United States and other countries. This article is provided by subscription only for use by the subscriber and all other rights are expressly reserved by the copyright owner. Copying and pasting this article, in whole or in part, into e-mails or as attachments to e-mails or posting it on the Internet is strictly prohibited and may subject the offender to civil liability and severe criminal penalties (Title 17, United States Code, section 501 and 506).

Copying and distributing this article in violation of the above notice is also a violation of God's moral law.


Become a Headline news subscriber HERE.

Subscribe to our free email updates and messages from our editor by entering your email address below :

Return to: