Title: "Men's Hearts Failing Them For Fear"! (Jesus, Luke 21:26)
Resources to aid your Understanding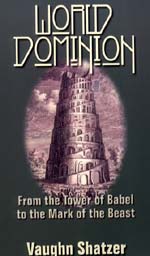 DVD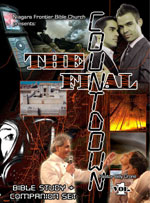 5-DVD Set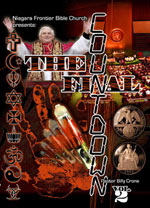 5-DVD Set
Subtitle: As financial markets look as though a global meltdown could occur at any day, it is helpful to realize that the world is being deliberately subjected to financial rumors and events designed to make our hearts fail for fear so the Global Elite can accomplish the sweeping changes they so ardently desire.
Let us review some of the stories designed to scare us to death.
The New World Order is coming! Are you ready? Once you understand what this New World Order really is, and how it is being gradually implemented, you will be able to see it progressing in your daily news!!
Learn how to protect yourself, your loved ones!

Stand by for insights so startling you will never look at the news the same way again.

YOU ARE NOW ON

THE CUTTING EDGE

Copyright © 2008 Cutting Edge Ministries. All rights reserved. See full copyright notice below.

"Men's hearts failing them for fear, and for looking after those things which are coming on the earth, for the powers of heaven shall be shaken. " (Luke 21:6)

One of the major End of the Age prophecies is that events will get so bad that people will have heart attacks. How momentous will events become? Even the "powers of heaven shall be shaken".

While the context of this prophecy lies in the Tribulation Period, I could not help but remember it in connection with the many instances where the normal life of hundreds of millions of people are being shaken as never before. As a tree is violently shaken so its ripe fruit will fall to the ground, so the lives of untold numbers of people in the Developed World is being deliberately shaken as never before.

World Shaking Events

Let us now examine some of these most frightening news stories which are shaking the world.

NEWS BRIEF: "Is now the time to panic?", Sydney Morning Herald, October 7, 2008

"FRIDAY'S $US700 billion bailout was hailed as a financial saviour - but it's failed to stop fear spreading throughout the world economy. Desperate measures by governments in Europe and North America to steady the banking system failed to stem panic in global markets overnight amid deepening gloom at the scope of the financial crisis ... The world economy is running on fear. Consumers predict hard times ahead and are cutting back, banks don't trust each other and are reluctant to lend money, and markets are panicking as the US bailout fails to stop Wall Street and world markets from plunging."

NEWS BRIEF: "Advisers warn clients not to sell in a panic", The State, October 7, 2008

"Amid a day of panic on Wall Street, Columbia-area investment advisers encouraged clients to remain calm. Most people invest in stocks for long-term financial gain, so there's no need to sell off a portfolio in this crisis, they said ... "We have a patina of panic working into the system," said Steven Mann, a finance professor at USC's Moore School of Business.

"As a result, stocks, IRAs, and 401(k)s lost value. On paper, people lost money. At Anchor Investment Management LLC, customers are prepared to stay for the long haul, said Pat Dorn, the agency's principal. The firm invests in conservative stocks for people who want to earn money for retirement, he said.

" 'To sell now is to get out at the bottom', he said."

NEWS BRIEF: "People are panicked", The State, October 7, 2008

"On Day One, the $700 billion plan didn't help. Just the opposite .. From Asia to Europe to Wall Street, there was a fearful international sell-off as administration officials began work on a plan investors feared would be too little and too late to stave off a world-wide recession. While markets around the world tumbled amid fast-spreading anxiety, officials in Washington worked quickly to put the new financial plan into effect and to shovel more money into the banking system."

Panic and anxiety seems to be the operative words these days. And, well it should be, for that is the plan of the Illuminati. The more panic people feel, the more likely they are to cooperate with the Global Bankers who desperately want control, the kind of control which the Fascist Economic system will give them.

These bankers and political leaders are already filthy rich; what they want now is absolute control, and that means a government controlled Fascist economy.

NEWS BRIEF: "Germany takes hot seat as Europe falls into the abyss", The Telegraph (London), October 7, 2008

"We face extreme danger. Unless there is immediate intervention on every front by all the major powers acting in concert, we risk a disintegration of global finance within days. Nobody will be spared, unless they own gold bars."

NEWS BRIEF: "Financial crisis: Iceland's banks to sell assets to shore up financial system", The Telegraph (London), 6 October 2008

"Iceland's prime minister Geir Haarde has confirmed the country's major banks have agreed to 'sell their foreign assets and decrease their activity abroad', as pressure mounted for the government to secure a rescue deal for its ailing financial system."

Central governments around the world acted in concert for the first time in world history!

NEWS BRIEF: "Fed joins global scramble to contain credit crisis ", Reuters News, October 7, 2008

"NEW YORK (Reuters) - The Fed emerged as a commercial lender of last resort on Tuesday as nations around the world scrambled one by one to slow the global financial crisis despite calls for concerted action."

Notice the phrase, "nations around the world scrambled one by one to slow the global financial crisis".

In other words, Central Banks throughout the world are suddenly coordinating their efforts to "solve" the very financial crisis which they created in the first place! This coordinated effort will create the very global financial system which the Illuminati so desperately wants. After "solving" the crisis with their coordinated efforts, they will be applauded for their cooperation, which shall make it easier to continue this new global cooperation, until a silent, almost invisible melding into a unified global banking cartel will naturally occur.

Before the crisis struck, a variety of powerful factors always prevented the Central Banks throughout the developed world from launching such an obvious coordinated plan of action. Thus, the new worldwide banking control is taking shape before our very eyes, and we are letting it happen because we are so relieved that a global financial collapse is being averted. We are literally giving up financial independence in order to gain financial security.

This next news story tells of another aspect of this coordinated effort.

NEWS BRIEF: "Australia Cuts Rate, Raising Specter of Global Coordinated Response To Credit Crisis", Bloomberg Financial News, October 7, 2008

"Australia's central bank cut its benchmark interest rate by one percentage point, the most since a recession in 1992, triggering a rebound in Asian stocks on speculation other countries will follow to unlock credit markets. 'Rumors are now circulating that today's aggressive move by the Reserve Bank of Australia is the precursor for coordinated rate cuts by global central banks', said Katie Dean, a senior economist at Australia & New Zealand Banking Group Ltd. in Melbourne."

"Coordinated rate cuts by global banks"!

That is the order of the day. Coordinated Central Bank action is creating the global banking system for which the Illuminati yearns.

Now, let us return to the "panic" button stories.

NEWS BRIEF: "Germany guarantees savings to avert panic", Financial Times, October 5, 2008

"Germany said on Sunday it would guarantee all private German bank accounts – currently worth €568bn – in a dramatic move to prevent panic withdrawals as fears over the worldwide financial crisis spread to Europe's largest economy."

NEWS BRIEF: "Congress hits the panic button", Salon.com, September 25, 2008

"As George Bush speaks of doom and gloom, lawmakers fret about whether it's worse to pass a bailout plan or not to pass a bailout plan. And Republicans get nervous."

What is the "panic" bottom line as far as the Illuminati Plan is concerned?

Events are planned so as to so panic Americans they will be willing to give up their liberties and their Constitutional Government in return for "peace and safety". We have repeatedly stated that, at the right moment of absolute panic, the President of the United States is to appear on television to announce that, in order to deal with this panic, he is "temporarily" suspending the Constitution, the Bill of Rights, and all other liberties and is dissolving Congress and the Supreme Court. From that moment on, FEMA [Federal Emergency Management Agency] will execute all the directives of the President.

But, in accordance with this 200-year-old Illuminist Plan to produce Antichrist, the President will assure all "fellow Americans" that he is going to be dictator only as long as "necessary" to quell the enemies of peace and restore order. Liberals will follow him because they instinctively trust Big Government; Moderates will follow him because he seems like such a nice guy, and he has promised to restore our prosperity as well.

How long will the President hold the powers he has seized? Listen to the Protocols again: "It is not worthwhile to say anything about how long a time they will be kept waiting for this return of their liberties ....."

This Illuminati Plan uses panic as the operative emotion they want which will enable to seize total control.

Meanwhile, Jesus' words ring loudly and true: ""Men's hearts failing them for fear, and for looking after those things which are coming on the earth, for the powers of heaven shall be shaken. " (Luke 21:6)

Make no mistake about it. The world is spinning toward the final prophecies of Antichrist and his seven-year kingdom. Are you spiritually ready? Is your family? Are you adequately protecting your loved ones? This is the reason for this ministry, to enable you to first understand the peril facing you, and then help you develop strategies to warn and protect your loved ones. Once you have been thoroughly trained, you can also use your knowledge as a means to open the door of discussion with an unsaved person. I have been able to use it many times, and have seen people come to Jesus Christ as a result. These perilous times are also a time when we can reach many souls for Jesus Christ, making an eternal difference.

If you have accepted Jesus Christ as your personal Savior, but have been very lukewarm in your spiritual walk with Him, you need to immediately ask Him for forgiveness and for renewal. He will instantly forgive you, and fill your heart with the joy of the Holy Spirit. Then, you need to begin a daily walk of prayer and personal Bible Study.

If you have never accepted Jesus Christ as Savior, but have come to realize His reality and the approaching End of the Age, and want to accept His FREE Gift of Eternal Life, you can also do so now, in the privacy of your home. Once you accept Him as Savior, you are spiritually Born Again, and are as assured of Heaven as if you were already there. Then, you can rest assured that the Kingdom of Antichrist will not touch you spiritually.

If you would like to become Born Again, turn to our Salvation Page now.

We hope you have been blessed by this ministry, which seeks to educate and warn people, so that they can see the coming New World Order -- Kingdom of Antichrist -- in their daily news.

Finally, we would love to hear from you.

You can contact us by mail or email.

God bless you.

Copyright © 2008 Cutting Edge Ministries. All rights reserved. This password protected article and its contents are protected under the copyright laws of the United States and other countries. This article is provided by subscription only for use by the subscriber and all other rights are expressly reserved by the copyright owner. Copying and pasting this article, in whole or in part, into e-mails or as attachments to e-mails or posting it on the Internet is strictly prohibited and may subject the offender to civil liability and severe criminal penalties (Title 17, United States Code, section 501 and 506).

Copying and distributing this article in violation of the above notice is also a violation of God's moral law.


Become a Headline news subscriber HERE.

Subscribe to our free email updates and messages from our editor by entering your email address below :

Return to: